It's already week 2 of my trip, following the post about week 1. Have no clue/context, then the original post, It's finally time for an adventure, is for you.
08.03 Zürich
Today was the first day in Zürich where I could explore the city a bit more.
Marco provided me with a key and allowed me to stay at his place even though he is not home, which was really helpful and allowed me to sleep a bit longer.
After getting ready for the day and getting some sleep, it was time for Zürich. Since the weather forecast was pretty likely, rain in the afternoon started with the trip to Uetliberg. It is the highest mountain in Zürich and allows a view over the entire city. The view was really magnificent up there. Took the S-Bahn up to the top and enjoyed the really nice view. It was super windy and started to rain closely after, but I got a good 30 minutes of clear view of the city from all perspectives. It was really pleasant and enlightening.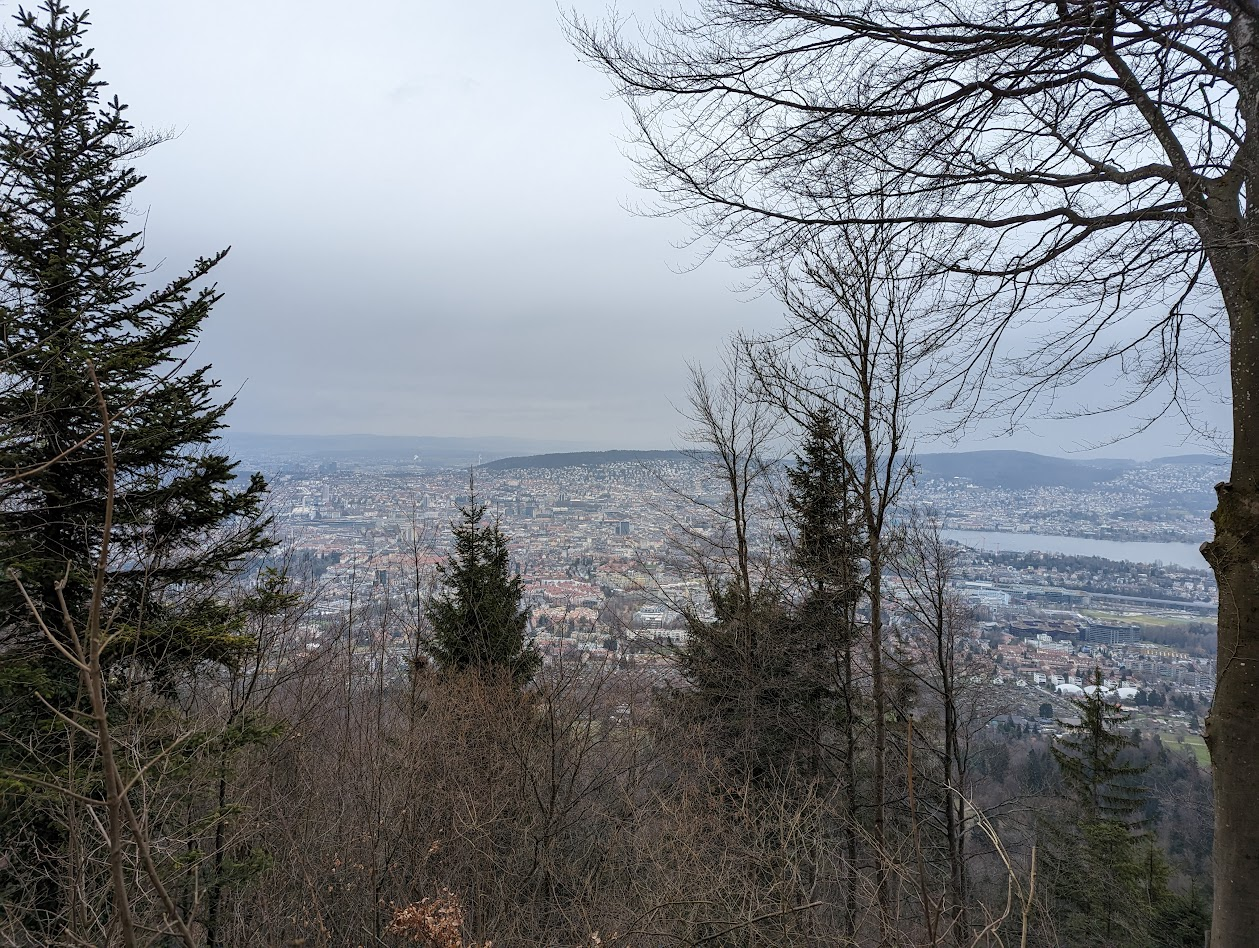 As it started raining, I went downhill, taking the hiking way. When it started to be more rainy, switched to the S-Bahn back to the main station. Headed back to the flat, where I washed my stuff and published the blog post for the first week.
With fresh energy and better weather went back to Zürich, the old quarter was my target this time. Took some charming pictures, enjoyed the atmosphere and, of course, also visited the Lindehof.
Since I had still plenty of time left, I went to the Home Of Chocolate, a museum operated by Lindt. Took the "Chocolate Tour". It was really an enjoyable and enlightening tour with a lot of interactivity as well as some insights that will change the way I see chocolate in general.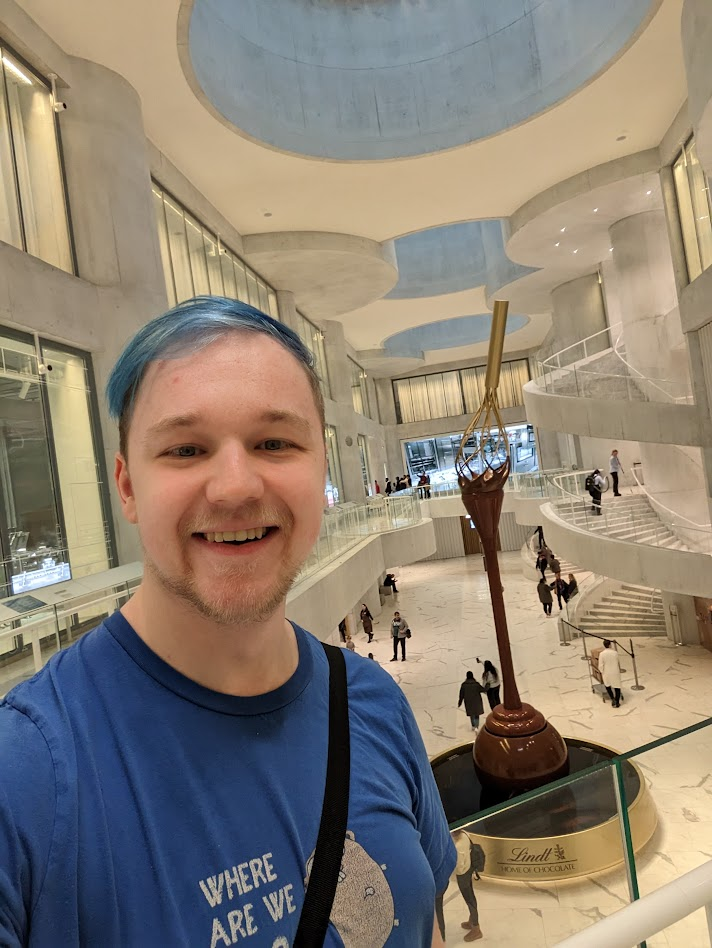 The architecture of the whole museum and the huge chocolate fountain was also really impressive, so I couldn't resist taking a selfie.
As I got out, it was pouring like hell again. Waited for the next bus and got back to Marco's apartment. We had a great evening cooking lasagna and ranting about Germany, especially the Deutsche Bahn.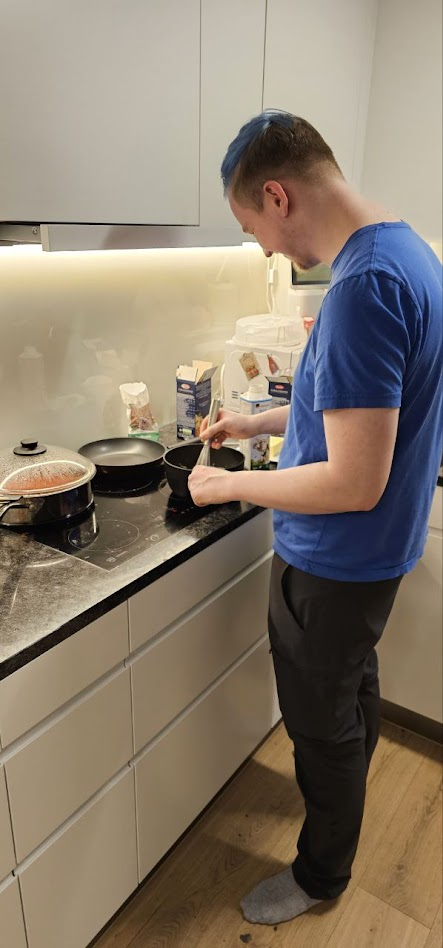 As the strikes in France got prolonged until 11.03 will have to check if the train is still an option. For now also will keep an eye on taking the bus or, if everything fails, just renting a car to get through France.
09.03 – Travelling to Lyon
At midnight checked the trains, and yes, all I could have taken were cancelled. Fortunately, I was able to get the last seat on the FlixBus driving at 09:10 in Zürich. Arrived a good 30 minutes earlier, and waited for an hour more because the bus was delayed.
To comply with the maximum luggage size and keep the camera etc. close to me, repackaged to have the admin pouches attached to my day bag.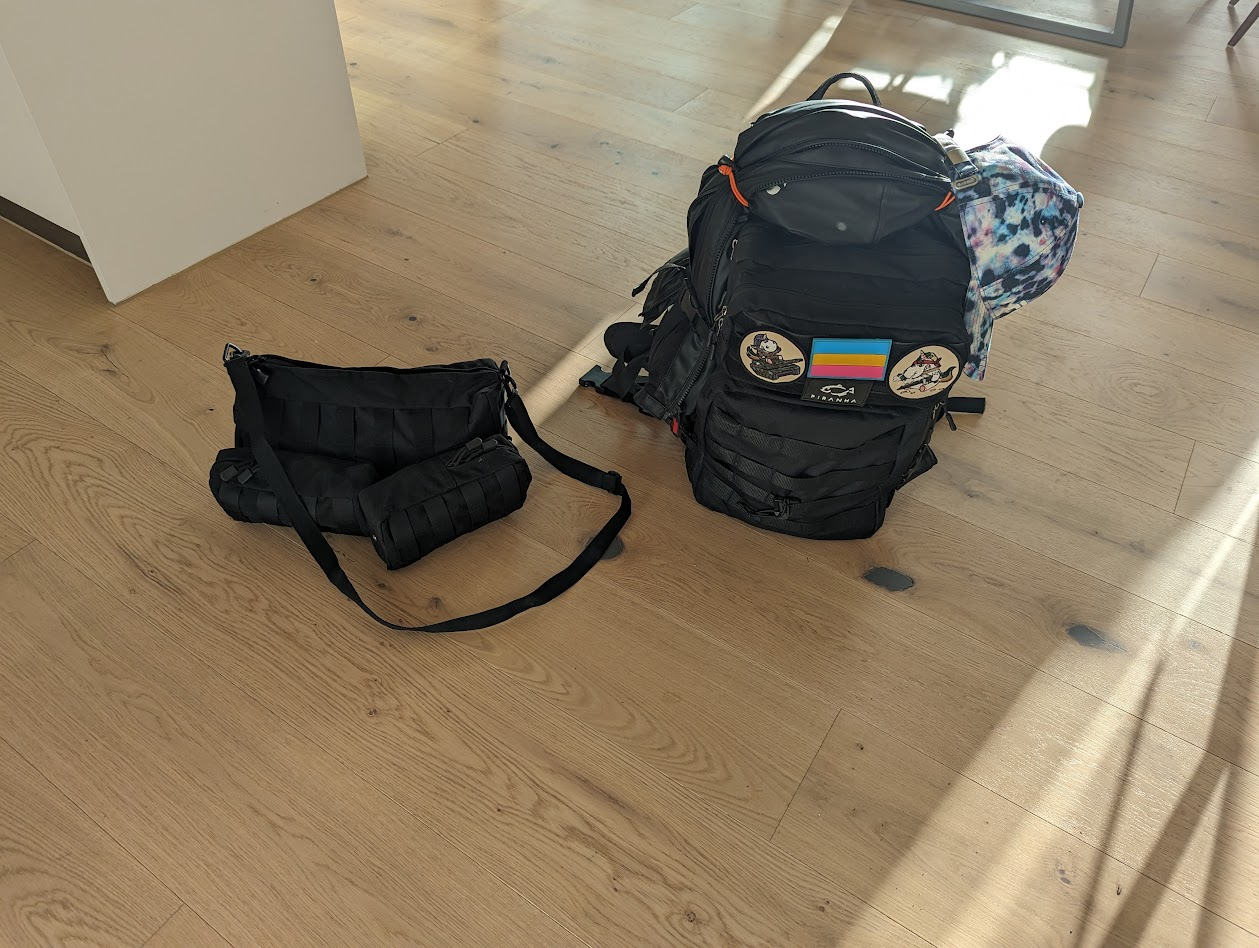 I was really uncertain if it would even show up. As I waited, had a chit-chat with a nice small travel group from Switzerland that also travelled to Lyon. Also chatted with my host in Paris and, to my surprise, it seemed like the local public transport was not affected at all and everything felt like normal for him.
The travel itself was "okish" it was super warm in the bus and climate control nor toilet were working, so it was really exhausting. The view was sometimes really stunning anyway. Especially the part towards the French border through the French part of Switzerland.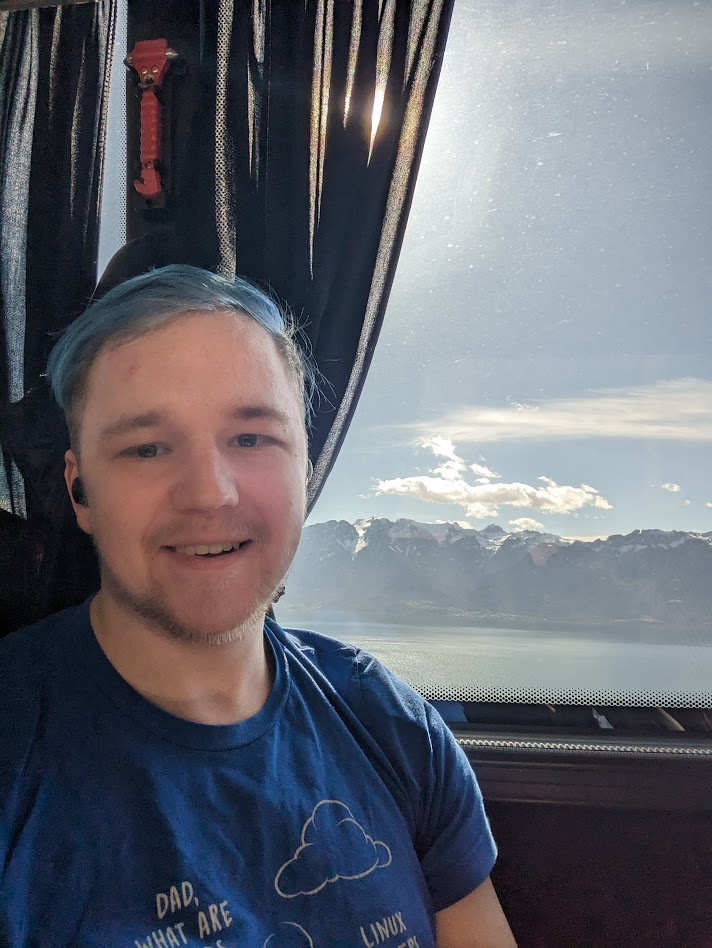 Arriving at the bus station in Lyon felt really awkward. It was super dark and chaotic. Since I had to reassemble my backpack to have the dedicated backpack with all the important stuff next to me, reassembled everything for walk and train mode.
Arriving at the hostel was effortless using public transport. And really there was nothing feelable of any kind of strike … just the trains for travelers seem to be impacted, which doesn't make any sense in my opinion, since its anger against the government. I was really pissed.
That's when the whole feeling got even worse. It felt like most people stared at me. Somebody asked me something in French, which I was unable to understand since I only know a few words of the language. So, I tried in english, which resulted in a furious view from many people on the tram …
Not even 10 minutes in France and already felt the atmosphere of hating english speaking people – what the hell?
Since it was only three stops, I arrived pretty quickly at the hostel, where I was greeted by a friendly lady at the counter in english. After taking a short rest in the room, took a good hour exploring the city. And the experience was really horrible. The flair of the city didn't feel safe at all. Especially, crosswalks mean nothing to most car drivers. I heard rumors and saw videos that French people are bad drivers. Thought it might be just a few cases, oh boy was I wrong …
After some time, I had enough and returned to the hostel, wrote this kind of rant part for the blog part. Tomorrow I will stay in an Airbnb, probably will take the day to view the roman ruins and afterward just stay there, order food and wash the rest of my stuff. So far, France is more than disappointing for me. If there's not a fundamentally good experience in the coming days, this will be my first and last visit to the country.
As the TGV seems to be commuting on the 11.03 where I will go to Paris, already bought the reservation, which fortunately is also cancellable until departure for free. The only way to do this online sees to be with Travel-B, which is a nice service btw, with a fee of 4 euros, quite pricey. But it gives you peace of mind, you can reserve the stuff that doesn't work with the interrail seat reservation service.
10.03 – A day in Lyon
As I couldn't really sleep in the hostel last night, felt pretty tired in the morning, so I used the time until 10 to sleep a bit longer. Afterward, packing my stuff, checked out and took the tram towards Vieux, the old city part of Lyon. The view and general atmosphere felt a lot better there than in the heart of the city.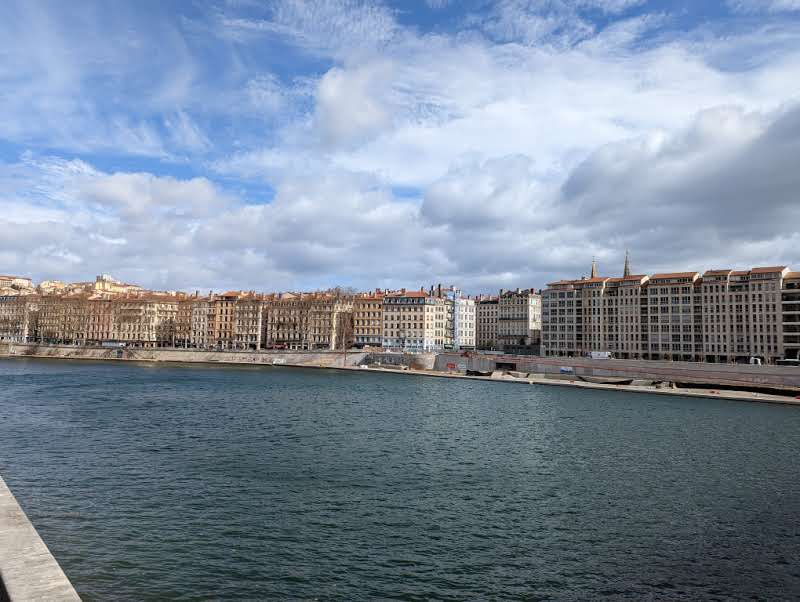 The view was also really impressive, as the streets around it felt, smelled and looked not as enjoyable, but was still a lot better. Took some photos there, I think there are some good ones on my SD card.
Since I really wanted to see the roman ruins, there went to the "Amphitheater of the Three Gauls". It was a really nice experience, quite empty as I arrived. Later, I took a short break and enjoyed the view over the city.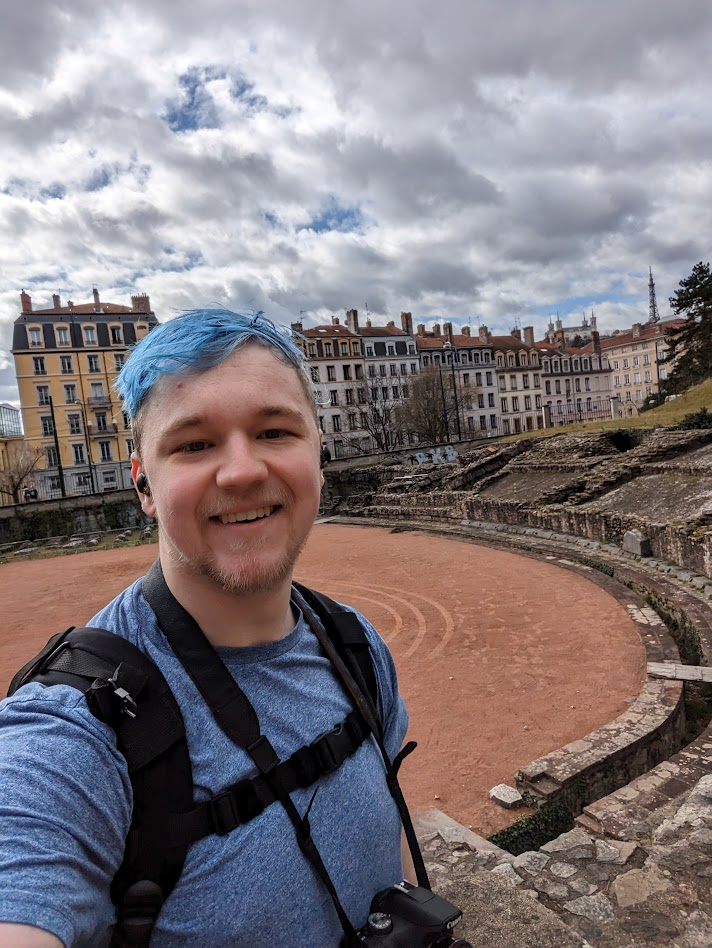 Continuing my trip to the "Insula basilicale". There it was a bit crowded, though the museum next to it was closed. Thus was really pleasant there, and the sun came out again for a few minutes. An impressive building and the ruins indicate the glory it had back in the days. I really loved the atmosphere there and spent a few hours exploring every corner of it.
As I really started to feel tired, and since it was 15:00 could check in to my Airbnb. Took a nap, ordered some French food via Uber Eats and wrote this part of the blog post here. As tomorrow is my travel day towards Paris, already booked the seat reservation for the Rhone Express and checked if the trains will actually commute. So far, everything looks good to go.
11.03 – Travel to Paris & Visiting most important tourist attractions
As I checked the timetable today, realized that the train will be delayed for about one hour. Since I didn't want to miss this one, as only two are driving today, was there already two hours earlier. To my surprise, the Airport in Lyon looked spotless and quite empty. After buying some food for the train travel and waiting for a good 1 and a half hours, the track was announced. So, already headed to there. Right on time, a train arrived. Everyone thought it would be the TGV train to Paris. But apparently it seemed to be just on the wrong rail. That left both the passengers inside and outside the train confused.
After that train has passed by, a good 10 minutes later the right train arrived, and seems to have no ventilation. So, the air was quite thick in there and smelling a bit. A few minutes had to go by until I got used to it. And the trains in France are really a different thing, I will never complain about german regional trains.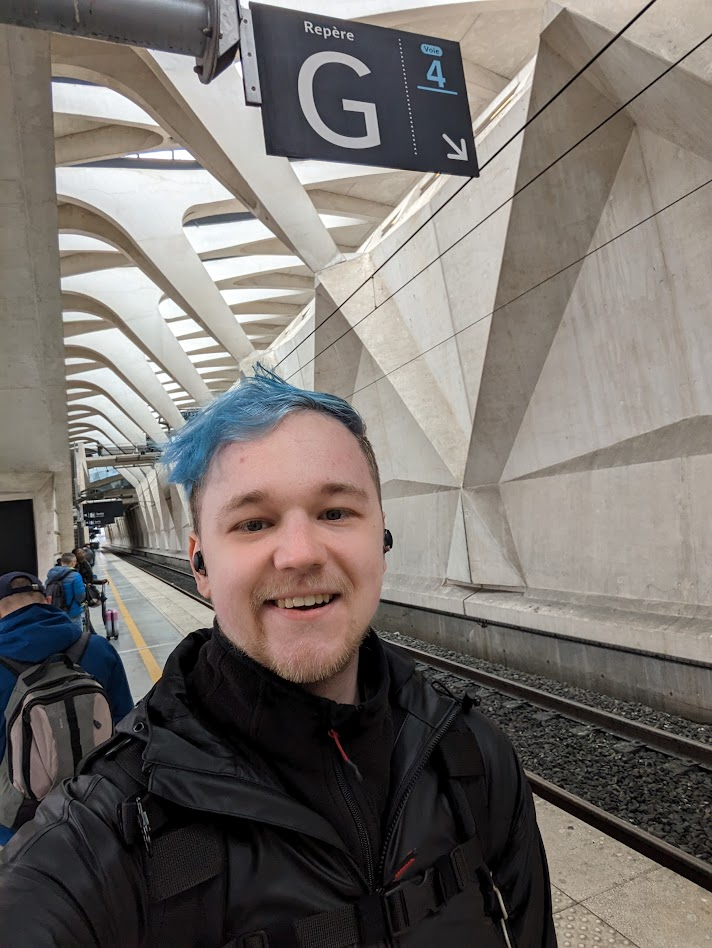 Arriving in Paris, the first thing I did was getting a ticket for public transport and heading to the Eiffel Tower.
On the way Google Maps sent me, there was also the Arc de Triomphe. So, I also stopped by there, and it was crowded but not really impressive. Maybe because I have seen some triumph arches before.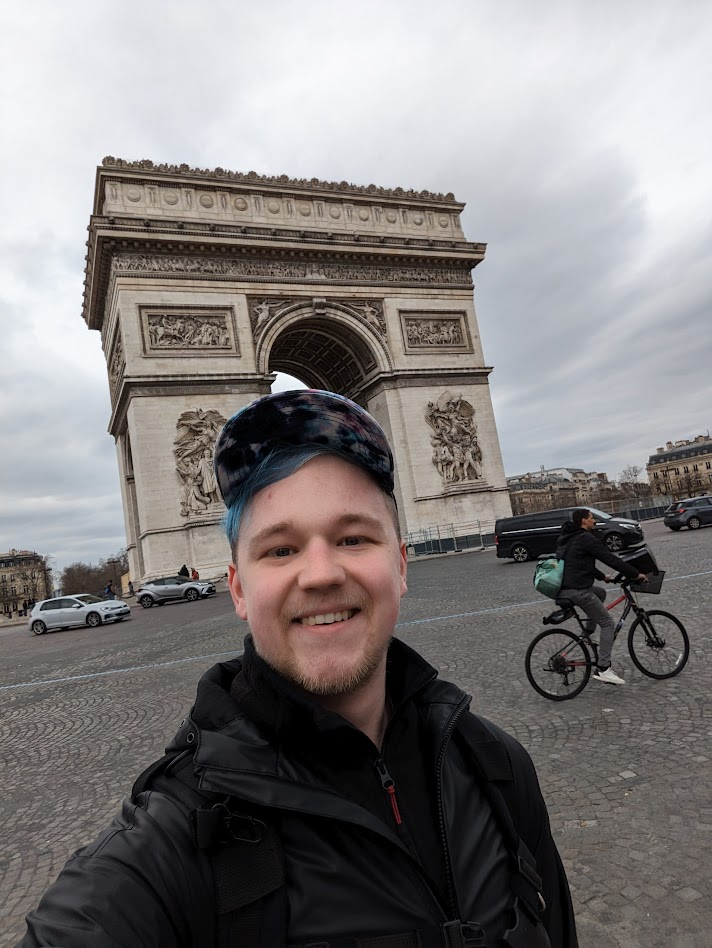 The first point on the list was checked, so it was time for the Louvre Pyramid, which I also really wanted to see in real life.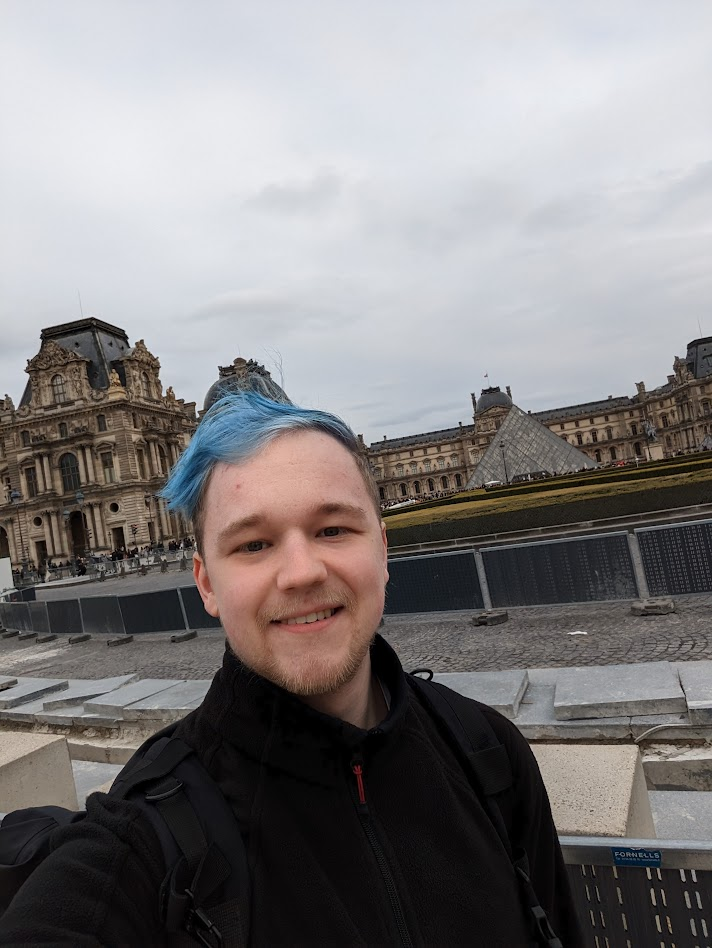 I will definitely also go inside the museum as well as one of the following days. But for today, time was just not sufficient.
Since I had plenty of time left, due to the fact, I misread the message from my host Victor. Went back towards the Eiffel Tower because I was really curious.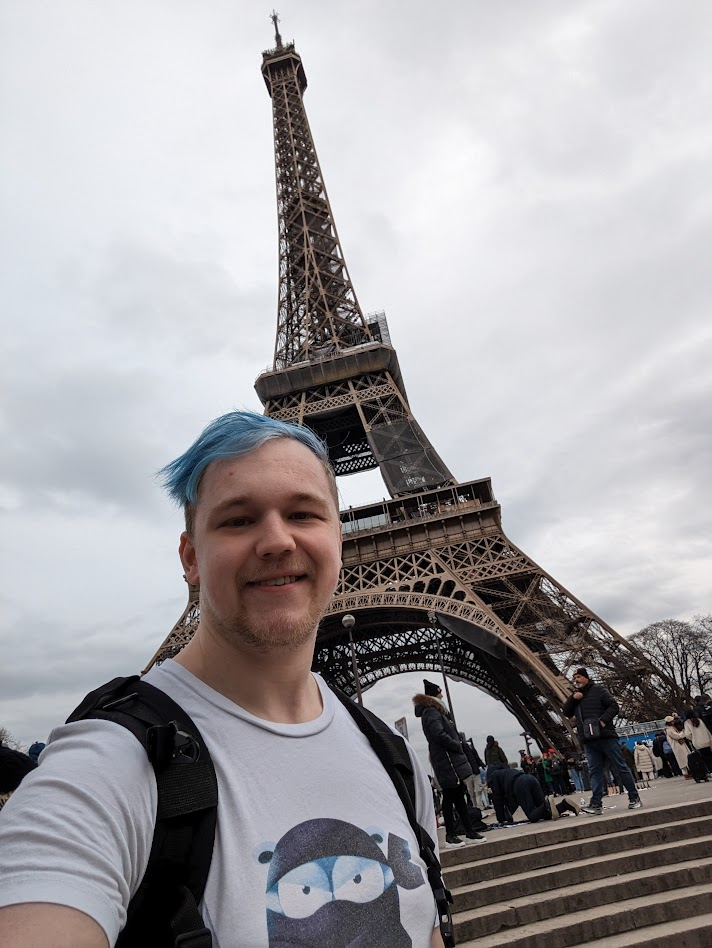 All in all, I was really disappointed by these three attractions. There were plenty of people, but it was all a lot smaller and less impressive than expected. A bit disappointed, went towards my home for the next 2 nights. Victor welcomed me in his small but cozy apartment, and we had a beer'n'chat. After a few hours, he told me he had to leave for a meet up with his friends.
Since it was already in the evening, and it started to get dark, he gave me a list of places to visit and recommended going to the Eiffel Tower and the streets again at night. What I found was a different Paris. The boring streets and tourist masses have been replaced with nice scenic places and plenty of locals.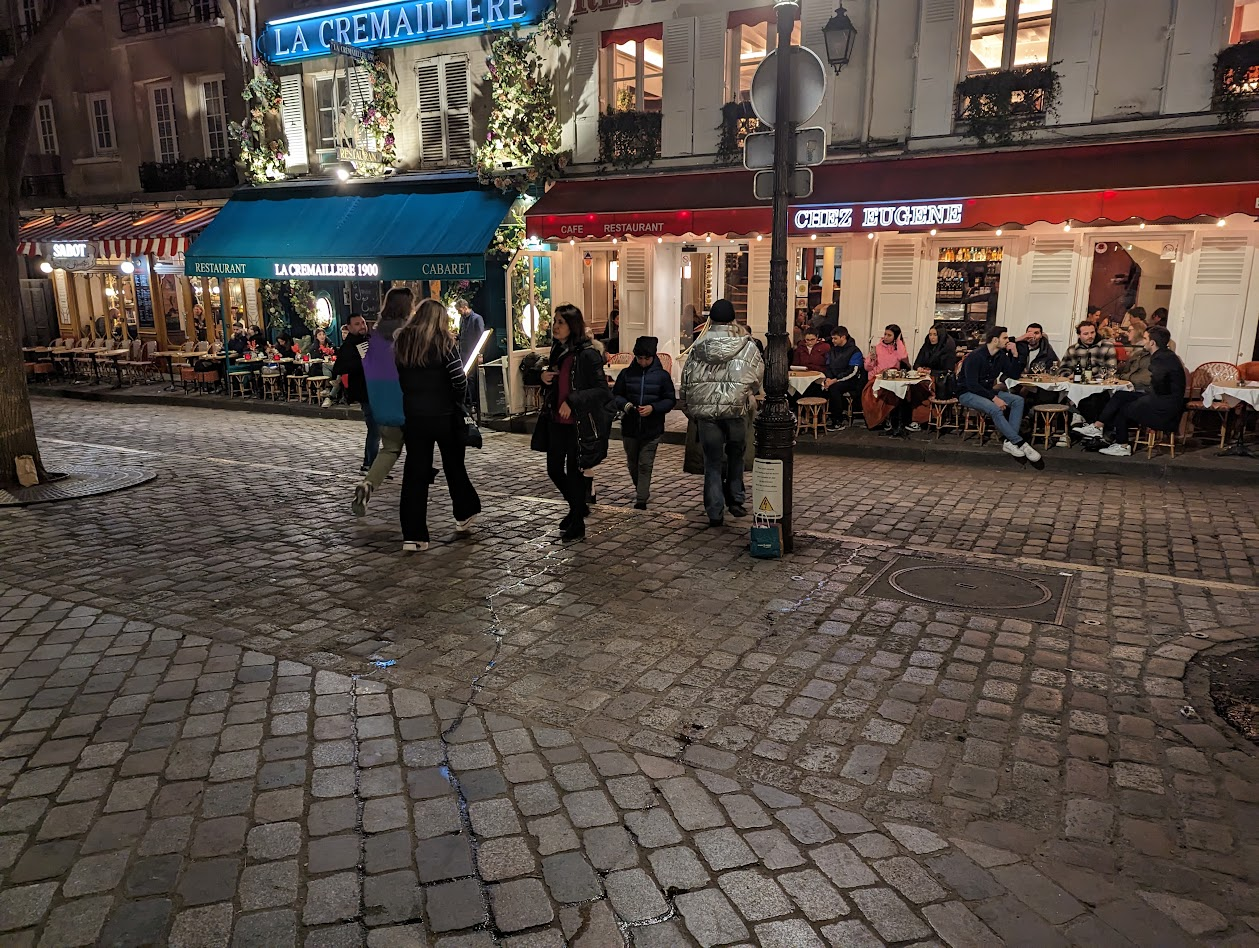 I must admit, I really hated the atmosphere in Paris on that day. At night, it's a hell of a different story. It looked really impressive and lovely, also the Eiffel Tower lit up in a literally different light.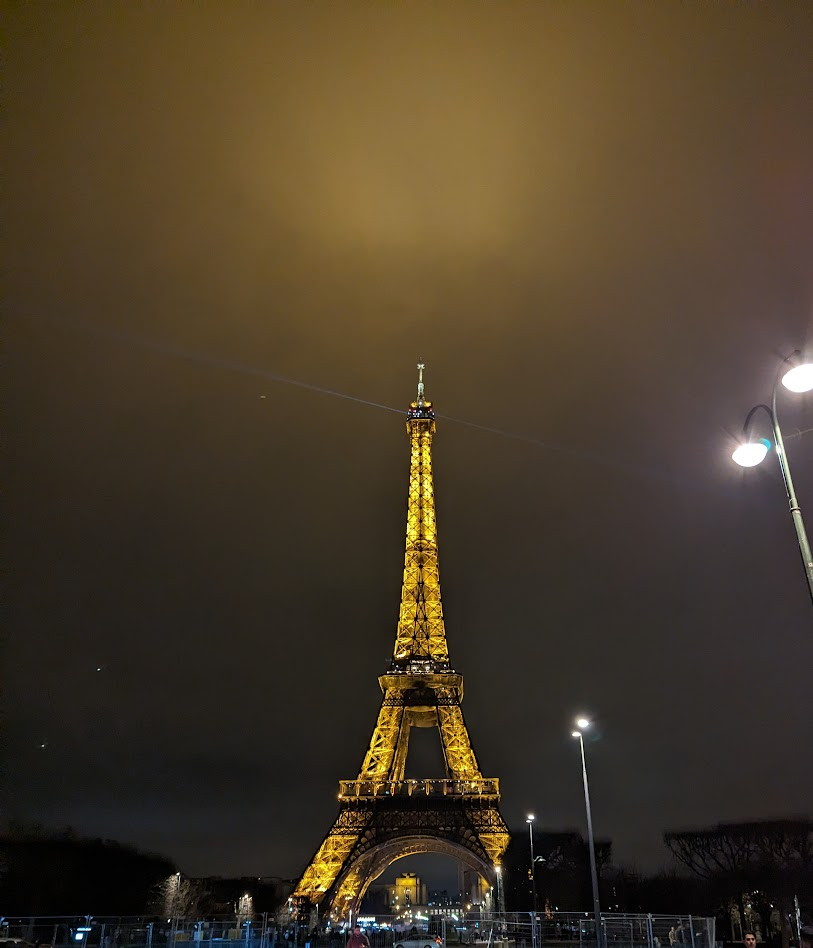 The last days in France not only showed me I don't like the French culture as well as much I hate the French language. I was never a big fan of it, but gave it a try anyway. But my gut feeling was right about it, I don't like it, especially after experiencing it myself. While that may sound a bit harsh, just don't agree with the values of french culture. The language is nothing for me, and most people are very nationalistic and selfish. Moreover, the current strike going on once again shows me that the way French people see work and the whole system in general is questionable to me.
Since it was already almost midnight, searched for a place to eat, since I hadn't eaten that day except for a small sandwich for lunch. In the end, the French place I wanted to go to was already full, not accepting any new guests for that evening. Thus, I went with the next good result on Google Maps, which was "Boca Mexa", as the name indicates Mexican food. Ate some nice burrito with the local Luna IPA. Gladly, the owners spook Mexican, French as well as english. Which helped me a lot and removed the stress from ordering in French.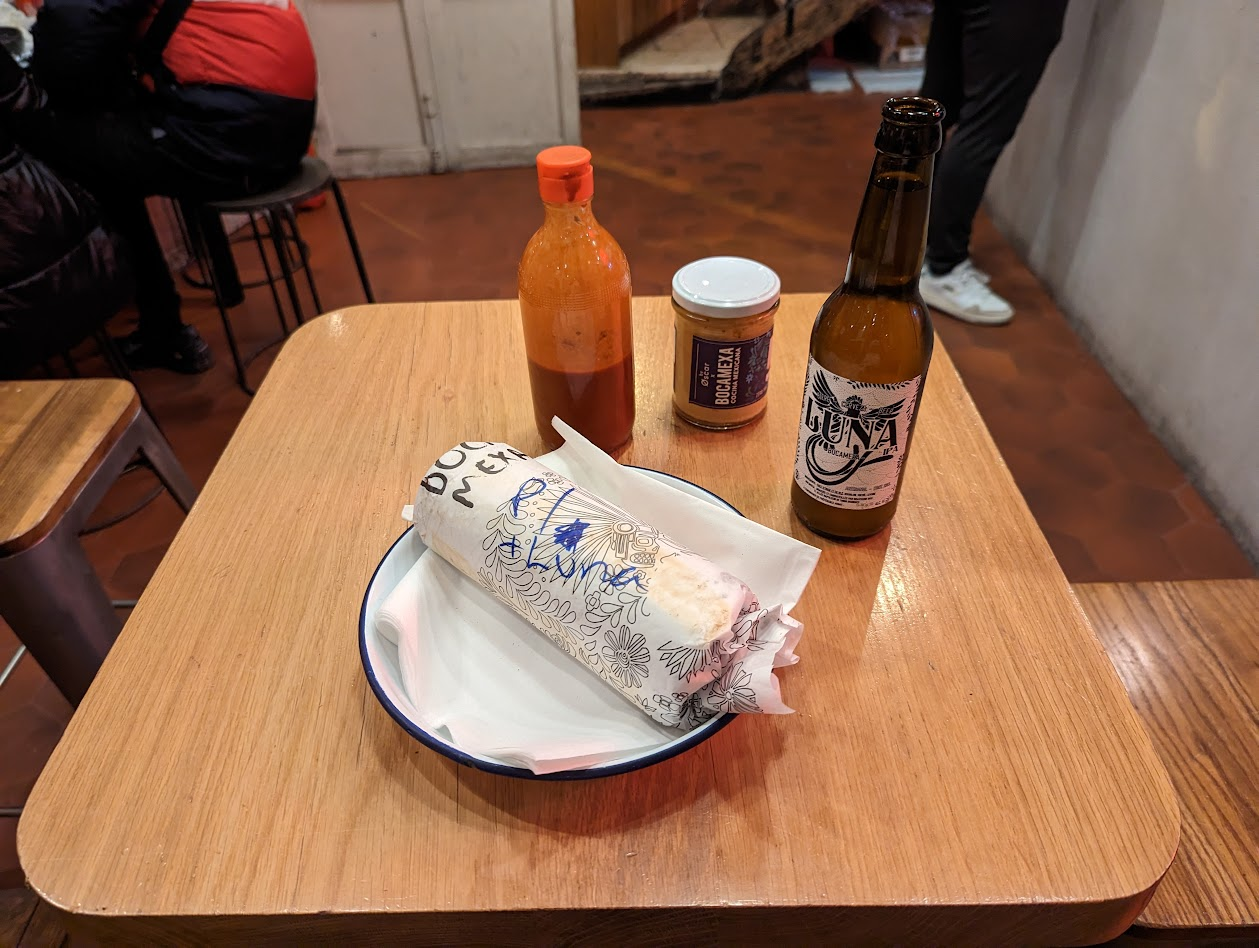 As I got back to my host's place, to which he thankfully gave me a key, checked and my Euro-Star to London will most likely take place, so that's some good news in itself. As I figured out, today will also check if I take the bus back from London to Antwerp/Bruges or go with the Euro Star again. But I guess that will depend on my experience with the journey towards London.
12.03 – A day in Paris
Woke up pretty late, around noon, my host was still sleepy, so said bye and spent the day in the city. Travelling to "La Défense" first, which as the name might suggest has nothing to do with the military (at least it had in my head). But instead it's the business district of Paris, with numerous skyscrapers. It was impressive and spent some great time there exploring the district. Since Sunday is a public holiday, it was quite empty. Also took the chance to take some shoots with my camera.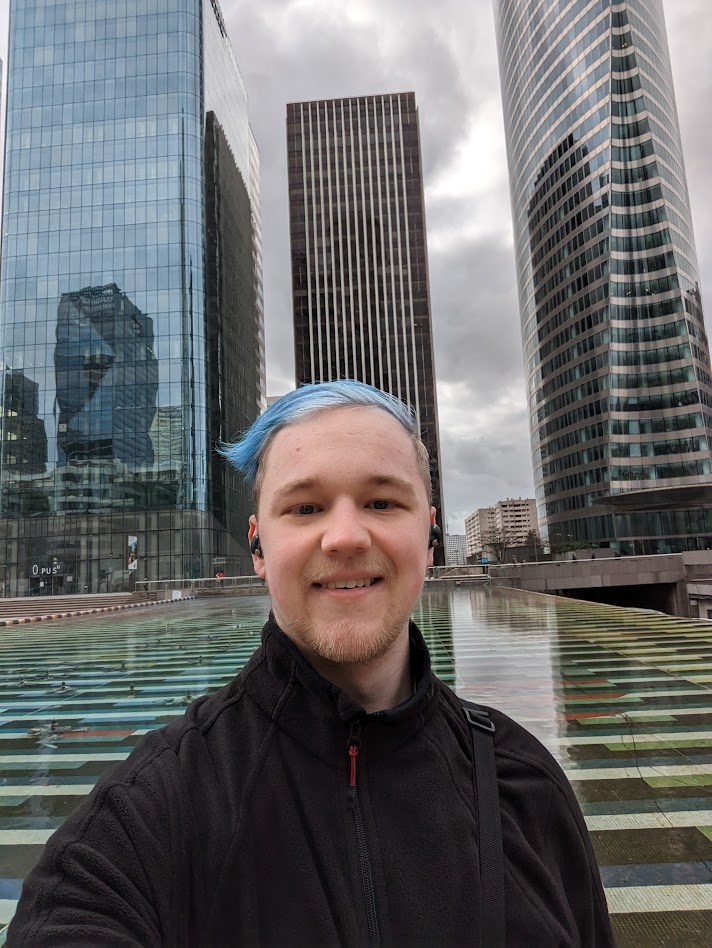 Somehow, these buildings that go up so high in the sky are really fascinating to me every time.
After some trouble with the tram ticket, my validated ticket seems to be corrupted somehow? An employee there told me to just jump over the barrier, felt a bit illegal, but did it anyway. Checked if time slots for the Louvre Museum are still free for young EU citizens, and there were still some within the next two hours. So, I took the tram towards the Louvre Pyramid, got off at the Arc de Triomphe station and walked the rest. Meanwhile, took some nice photos. Also took the chance to take a photo of one of the guards in front of a fancy store. He was quite surprised that I wanted to photograph him and not something from the store. He just knew a few words of english, so I tried my best to make it work. Initially wanted to take a photo with a cigarette and lighter in his hand, but he took it behind his back and wouldn't pose with it. I think the shot was still good (or at least looked at the camera), so it will be a surprise when I come home and develop all the photos. Maybe it will get a special place on my photography page, let's see!
Right in time at the Louvre, got through "security control", which just ignored everything, also red lights … quite wondering went in. And holy crap, on the inside it looks way more beautiful than on the outside. Spent almost 4 hours there, exploring all the areas. It was really a giant chunk of information, and it some point just enjoyed the atmosphere and stuff there. Of course, I also had to take a look at the Mona Lisa. Which was quite a mess. A soup of people limited by a barrier 2 m from the actual thing. Take a look, the obligatory selfie and went out, since I have already been everywhere (if I checked the plan correctly). Especially the Christian paintings were something I skipped, so it saved a lot of time and mental wellbeing.
Also found this masterpiece (that is a lion, obviously) and took the chance to make an absolutely cringy photo. And yes, I am wearing earbuds, listening to jazz because it was so freaking loud in the museum. Helped me focus and keep the noise out.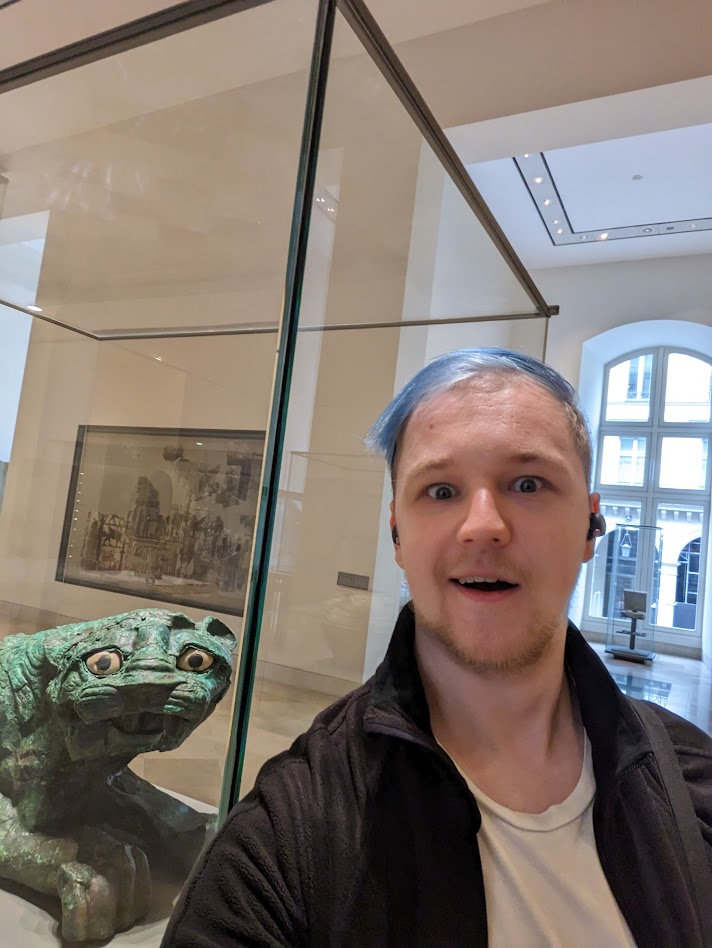 And once again I almost forgot to eat something … so I took my courage and said to myself. This time I will go to a French restaurant, lets hope for the best. Thanks to Google Maps and my intuition, found a nice restaurant (which only took 45 minutes). Going in, kindly asking if they speak english, the first waitress was like, wait a second. A second waiter came and thank god he helped me out. The menu was entirely in French, so I hoped he could help me with that, but nope. As it seemed, there were plenty of people like me, and he was the only one really speaking english. So tried thanks to Google Lens, which worked pretty well. Meanwhile, another older waiter came, and the moment he realized I spook no french, he got really rough. It made me feel a bit uncomfortable, but tried my best to ignore it. Ordered (trying to reproduce the output from DeepL). When he heard that, he was getting friendly again, which really came as a surprise. And as it turned out, he spoke a bit of english and not too bad! So at least it worked, I got food and was happy. But holy crap, French people, please stop brewing beer. It tastes terrible. Of course, that's not what France is known for, but I wanted to try anyway. The food itself was quite pricey, but okay. The order was a grilled salmon with mustard sauce and potatoes, which was quite nice.
As it was already 18:00 and sunset was about 18:45 used my last chance to see the Louvre in the evening/night with the light. And it was really wonderful, same as for the Eiffel Tower, on the day it was super boring, but at night it became spectacular.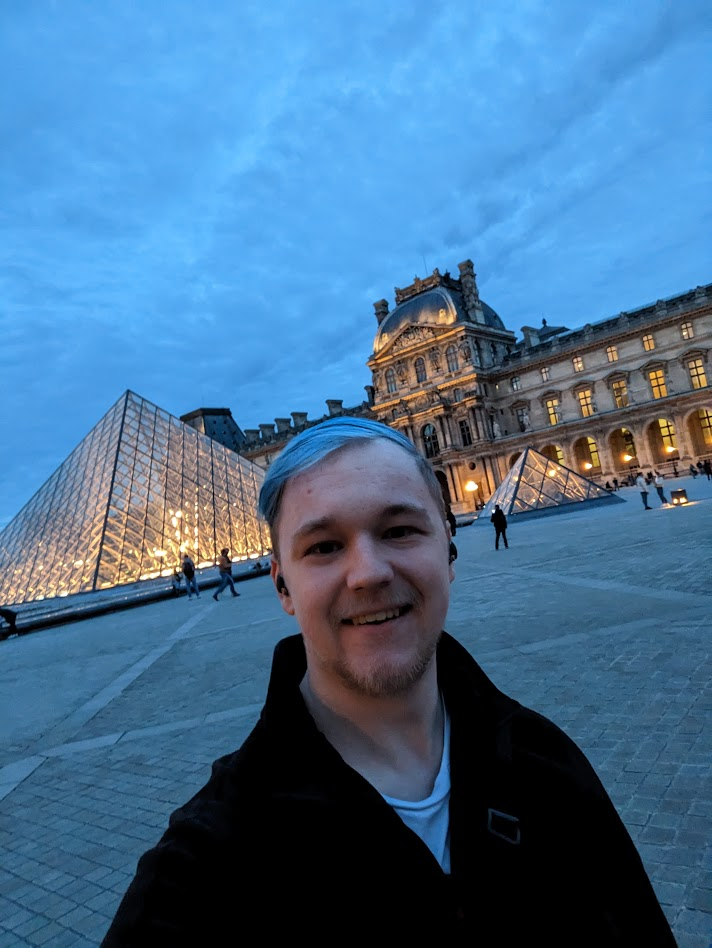 Also tried a few photos of my camera, with which I had quite some problems with low light, so let's see if there are any usable. Then it was time to go to my Paris home, felt quite like a local already with public transport and everyone treated me like such, which was really pleasant. Back at Victors place, finished this blog post and called it a day. Unfortunately, he has a night shift, so we will not have too much time before I take the Euro Star to London tomorrow. Quite exciting, and my train seems not to be affected by the General Strike in France.
Takeaways for the second travel week
I loved my time in Zürich and really loved Swiss-German. Listening to it is really lovely and calming. Everyone in the Switzerland was so peaceful and chill. The way I see chocolate has changed, after visiting the Home of Chocolate.
Still not a big fan of France as a country and the culture. While it definitely has its good sides, will probably only keep the negative things in mind. For me, it will be the last time I will visit France. Will never be a fan of this nationalistic behavior or identification, of course, that doesn't apply to all individuals in France, but far more than I had expected. In addition, really learned to hate the French language. Initially thought it will get better, got worse instead.
💡
Looking for other posts around the trip? - Check out the tag
EU-Trip 2023