Here we go, week one! As promised in the post, "It's finally time for an adventure" the first week of my kind of travel blog / diary.
While writing this, realized that 7 days are too much for a blog post, so will keep it short and reducing to 5 days in a row.
28.02 – Preparations
I prepared everything already on 28.02, so basically almost a week in advance.
That's a lot of stuff to pack, but just the essentials and clothing for 10 days. Then I will need access to a washing machine and drier (mostly will be Airbnb).
Making sure I didn't forget anything, just laid everything from my pack list on the guest bed: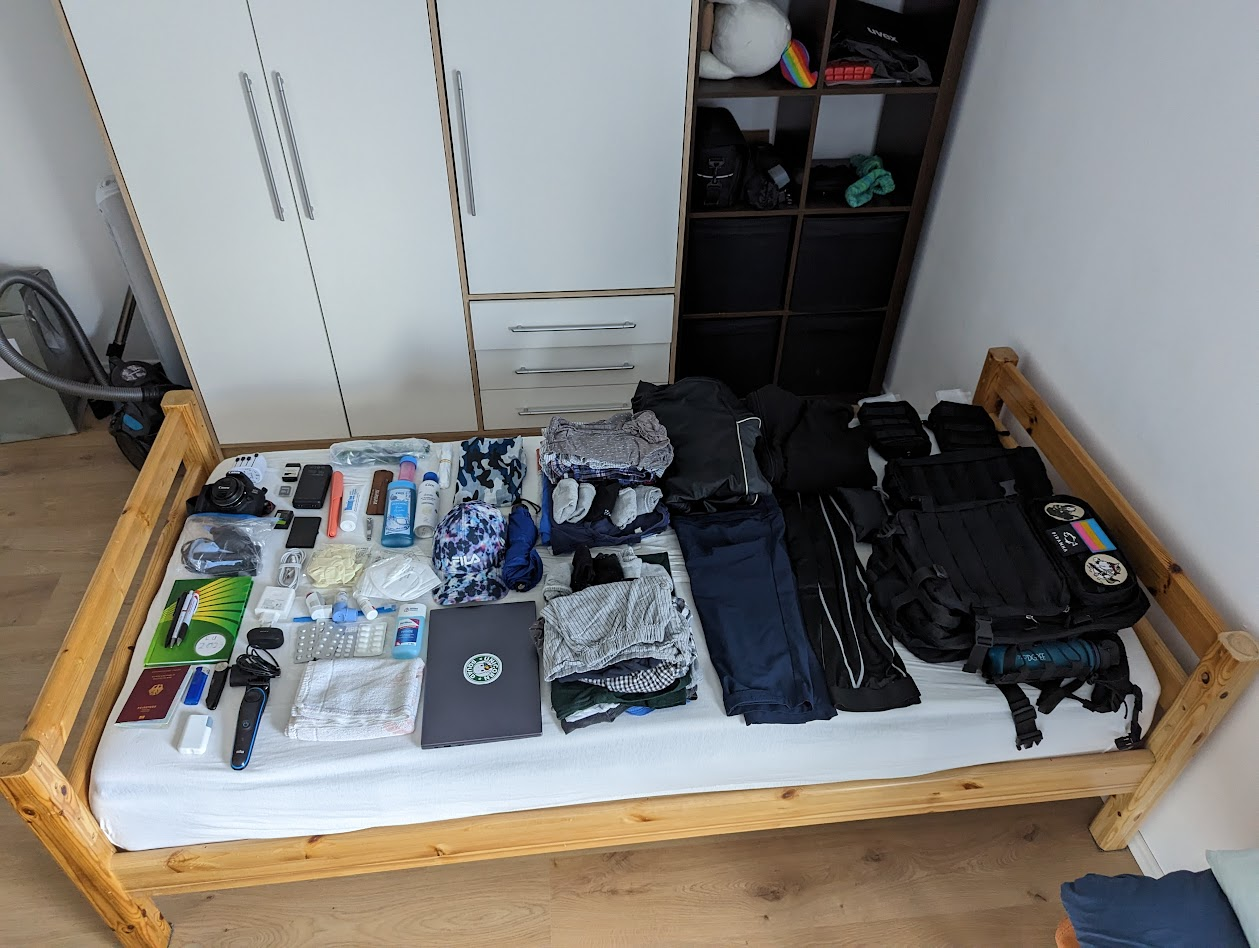 And it fitted all inside the main backpack with the two admin pouches attached to the front. That's why I really love the MOLLE system (the straps and things to attach stuff, developed by the US Army)
‌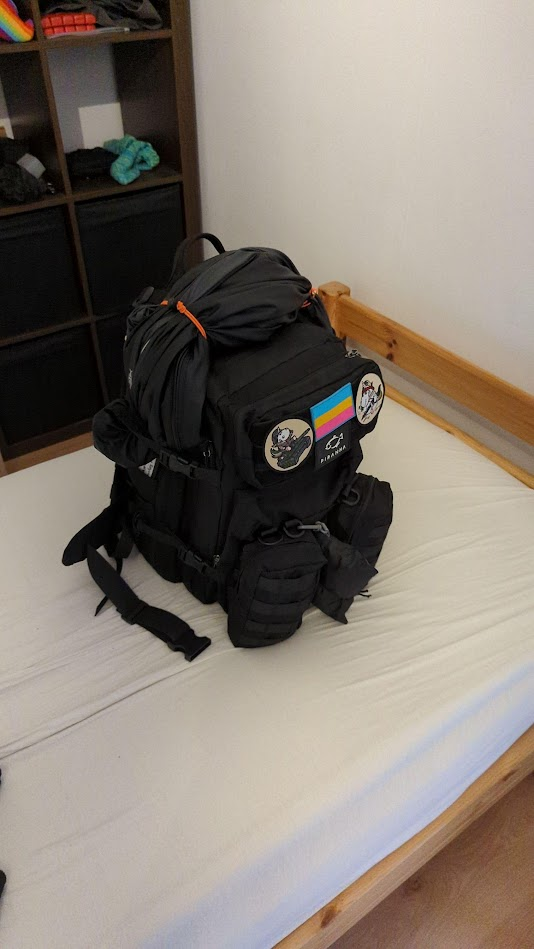 Moreover, the additional bag that could be attached to the side fit inside. The plan is to use that as a day bag to put camera etc. in when I can leave my bag at a place where I stay or a locker.
So, everything is good to go. Furthermore, already have either couch-surfing host or staying at an Airbnb, unfortunately was unable to find something in Lyon. Maybe will meet someone there, so that's already a plus.
02.03 – one more day to go
Everything packed, double-checked and prepared the flat for my leave. Had my last coffee break for a while with my team. Still crazy thinking it will start tomorrow.
Bought the last train reservations required for the first weeks and the ferries with the option to change if the need comes up! Actually, the first time I ever booked a ferry in my entire life. It was a really smooth experience, not really different from booking a flight. Pretty convenient.
03.03 – Let's go to Brussels!
So, I woke up at 7, got ready and was on the S-Bahn a good 45 minutes later. I got my ICE that was on time and arrived on time in Brussels Midi. The first thing I realized many people speak french but no english, but the closer you get to attractions etc. the more german you will hear, which was, at least for me, surprising.
Number one on my bucket list was the Manneken Pis. I was really lucky when I got there, there were only a couple of people. So I used my chance, took a quick selfie and spectated how people were reacting when visiting the spot. Really different emotions from pure shame, because of young children shouting "look mom, he is pissing!" to people finding it funny (which I would align with).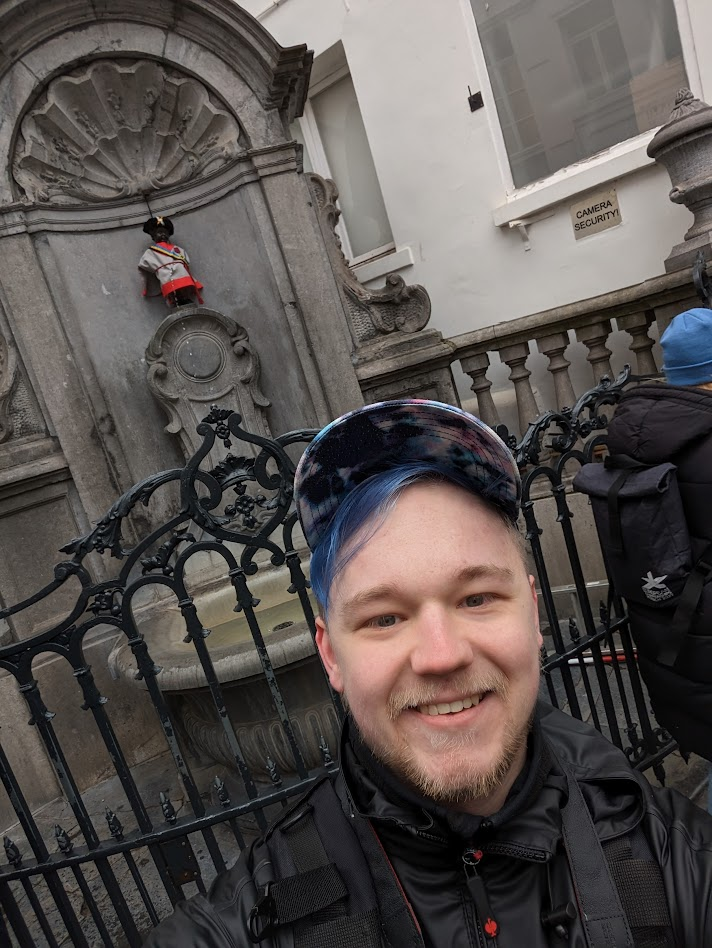 What I found even better was the surrounding streets. Such lovely buildings and everyone who knows me also knows —I LOVE brick buildings. And there are so many of them in Belgium and these streets. I fell in love with that, not going to lie.
I also found some nice letters written by "a kind stranger", as he titles himself. He's talking about this and that, so my heart started melting for a second.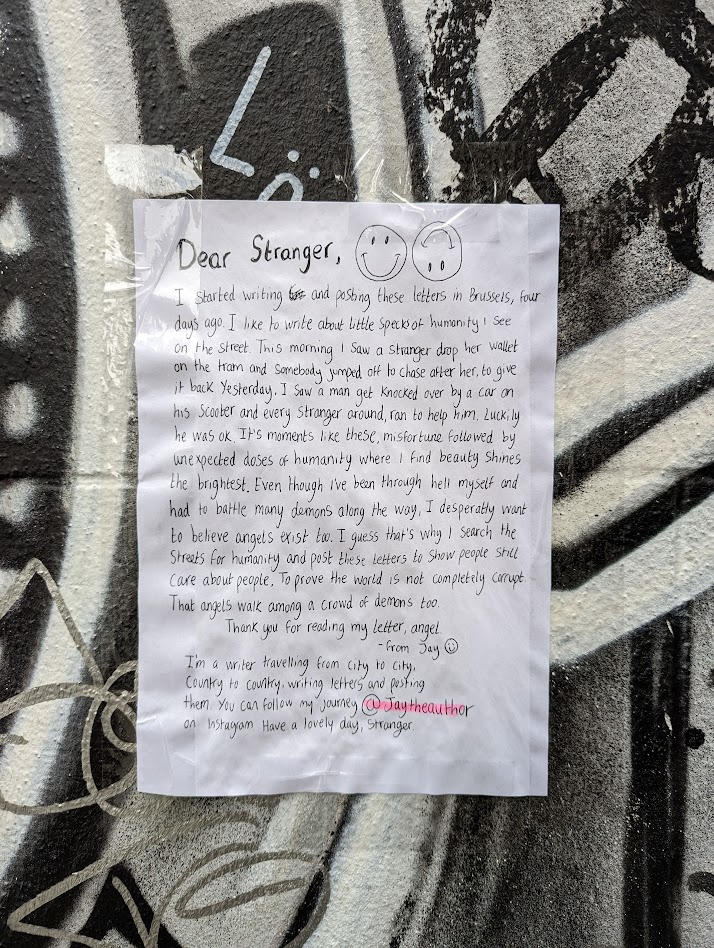 Moreover, will share the graffiti of the statue it was placed on, which I loved more than the real thing :D. Always find it fascinating that just a few meters from attractions, I felt like the only person on earth.
Then spent a good couple of hours exploring Brussels street life and of course also visited the Grand Palace, Arcades du Cinquantenair, the famous parks and much more.
For lunch, I tried belgian fries and some meatballs in a neat little restaurant called Ballekes. After the break I felt really full and went for a short break just next to a street. :) Must admit the fries were good, not worth the hype they had in my mind, but the beer (Del Ipa) I tried from a local brewery was freaking astonishing.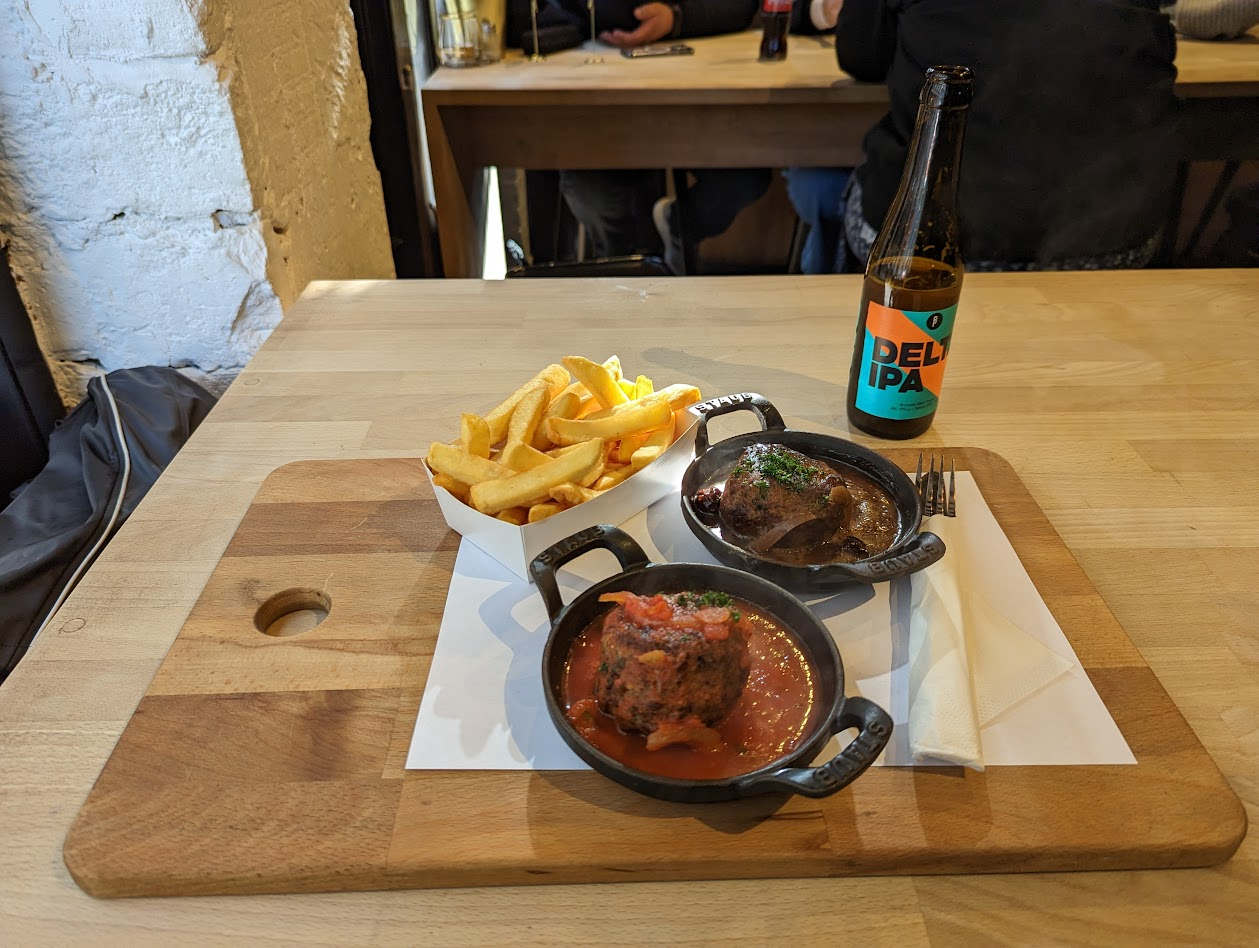 Then, after walking around for hours, realized I was far away from my starting point and wanted to take the tram back. It was super confusing since I could enter without paying or anything, since the thing was just open. At the target station, had to check out twice and now just have too transaction with zero euros in my activity. Weird enough, but reached my destination in time at the end.
In the afternoon, I had a few hours left, so WAFFLE TIME! Stopped by Waffle Factory and got diabetes, or if I didn't have it before: I definitely have it now!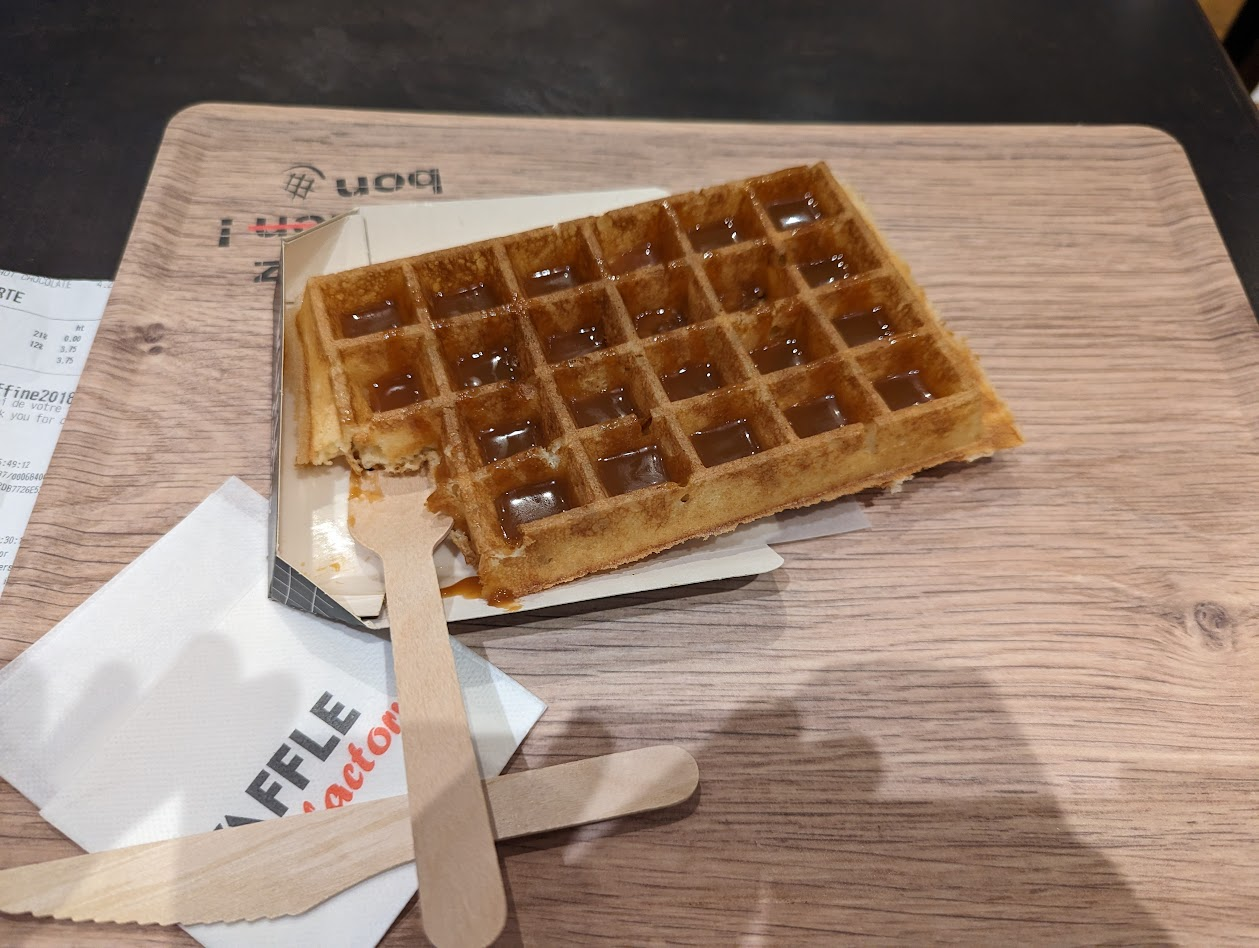 Then I left by taking the train to Brussels Midi again to catch my IC to Torhout to my first couchsurfing host. It was super annoying to find the right rail, because of the outdated displays and confusing layout, but figured it out on the good old printed lists hanging out there.
The train arrived when it should have already been at the target destination, but since I had enough buffer, that was fine. Was a bit shocked since it really looked a bit like out of a horror movie. Since it was just one stop, again, no real problem.
All in all, I really liked the city, but the public transport was somewhat buggy and some corners were filthy. And I cannot empathize with this enough: The brick building style is something I fell in love with on first sight.
From Brussels Midi things were working out smoothly, the train arrived around 10 minutes earlier, so I could check and keep a peaceful mind.
At night arrived in Torhout, after a short walk of a few minutes, I was at Wim's place, my first couchsurfing host. He offered me a beer, and we talked for a few hours before we both felt too tired to continue. :D
What really stayed in my mind is that he said, "I always say that I am 29, […] after you are 30 people expect you to be an adult".
04.03 – Bruges
Bruges is just 15 minutes with the IC from Torhout, and Wim promised me it will be much better than Brussels. When I was at the train station it was nothing special, but when I got closer to the city center it was so wonderful. A lot of old brick buildings, cobblestone roads, such a lovely city. All the attractions he said would be nice were basically in reach of a few minutes walking.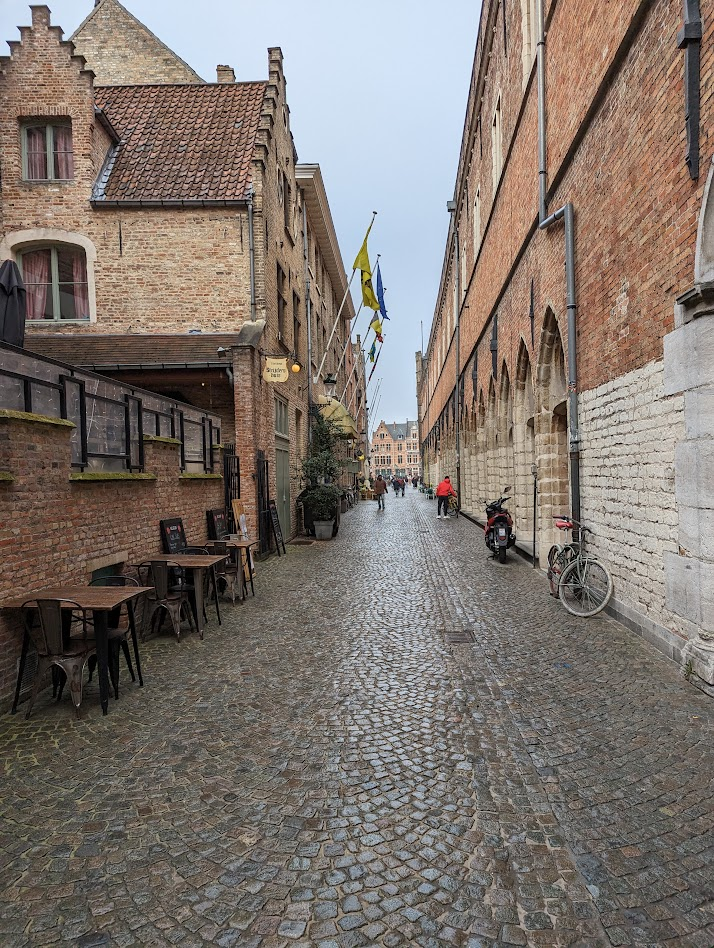 The first thing I visited was the "Gruuthusemuseum Onze-Lieve-Vrouwekerk", just a church with a museum style. It was quite interesting to see and have everything explained. After a church visit, the next logical step was going to a beer shop. Just kidding, it was on the side of a really charming street, the "Bottle Shop". There I was in heaven (kind of), so many regional beers it was breathtaking. Moreover, couldn't resist and bought a few to try out. And yes, the belgian beer is indeed one of the Best in the world. I drank the best beers of my life that day.
Back to business and searching for something to eat explored the stunning market square, surrounded by really nice old buildings, restaurants shops etc. After looking for a bit and googling the restaurants, it seemed like they were either tourist traps or completely over my budget. So I went a bit more off center, explored a few other old churches, visited the Boniface Bridge and saw the Rozenhodekai. After being a bit more off center, checked again, nope, nothing I could afford. Burger King it was! Not the best choice, but cheap food, so that was it.
Having a few hours left and raining outside, decided to go to the museum and take the story and VR tour. It exceeded my expectations by far. The VR tour for the beginning was a really pleasant experiencing, sitting on a boat, exploring the old Bruges.
After the short VR part, took the story, a kind of interactive experience with recordings going from room to room following the story. At the end also visited the exhibition, which was really well-made.
Felt exhausted after that, so went looking for a nice café – ended in at the "Bar Centrale" had a beer and took a rest. Freshly refilled mentally and with a bit of alcohol, explored the city, wherever it looked beautiful. Took some great photos and enjoyed the delightful atmosphere.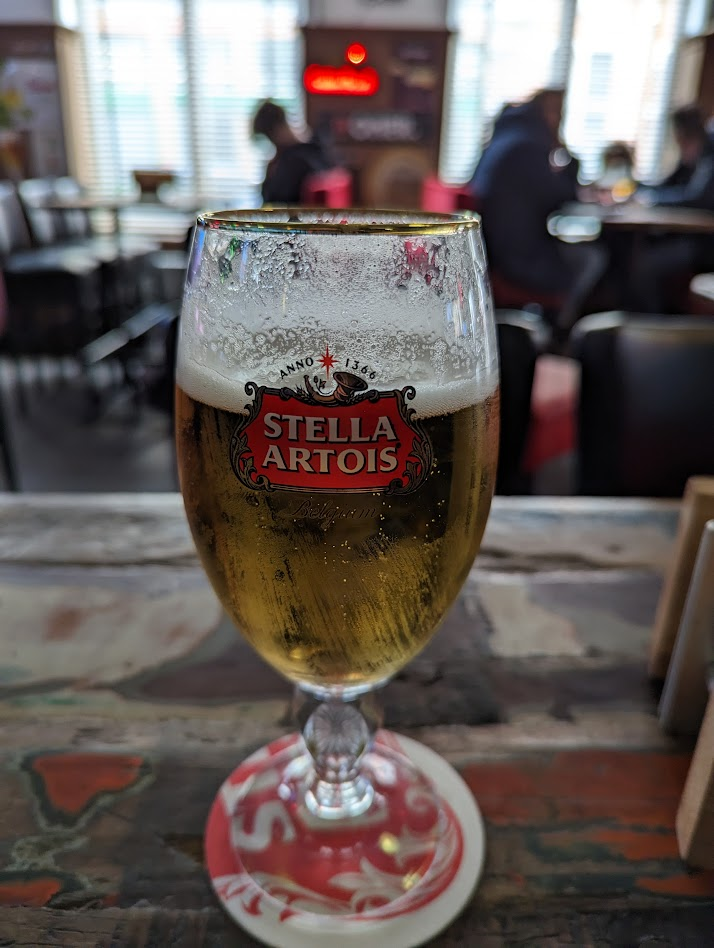 In the evening I felt like I saw everything interesting for me and went back to Torhout. Wim was a bit busy and gave me a handwritten map of things to do in the city. Checked half of them and then felt exhausted again, so time to go back to accommodation and rest a bit. Had a bit of time just relaxing since my host was busy.
Went for belgian fries at his favorite restaurant he has been to since a child, it was a really pleasant and fascinating experience. Different kind of frying culture compared to Germany.
Afterward talked for a few hours and then he showed me his favorite Show 'Ola 'Ola. I laughed a lot and I really loved it. Added it to my watch list right away, so there is some new material to watch once back home.
Since the thing is about the second world war also talked a bit about the dark side of german and belgian history. Really fascinating conversation and since he is a teacher very much in the topic, it was a really enlightening one as well.
05.03 – Luxembourg City
Unfortunately, couldn't find a host for the day in Luxembourg City, so had to book a hostel. Took the train in the morning and got there in the afternoon. Saw already a lot of the landscape from the train, so it was worth the time.
The first thing that was really enjoyable was public transport. Not only is it free (which I already knew thanks to Google), but it's really brilliant. All the trams look spotless and are modern. It was a really enjoyable experience.
Checked in into my hostel, asked for a few good restaurants nearby, prepared the room and got on a discovery tour! :) Also got to know Jakob from Australia, who sat in the same IC as me, to Luxembourg and has the same room! :D
Since I was hungry, decided to grab some food, spent more time on the way exploring the city but in the end landed in Scott's Pub eating some great rump steak.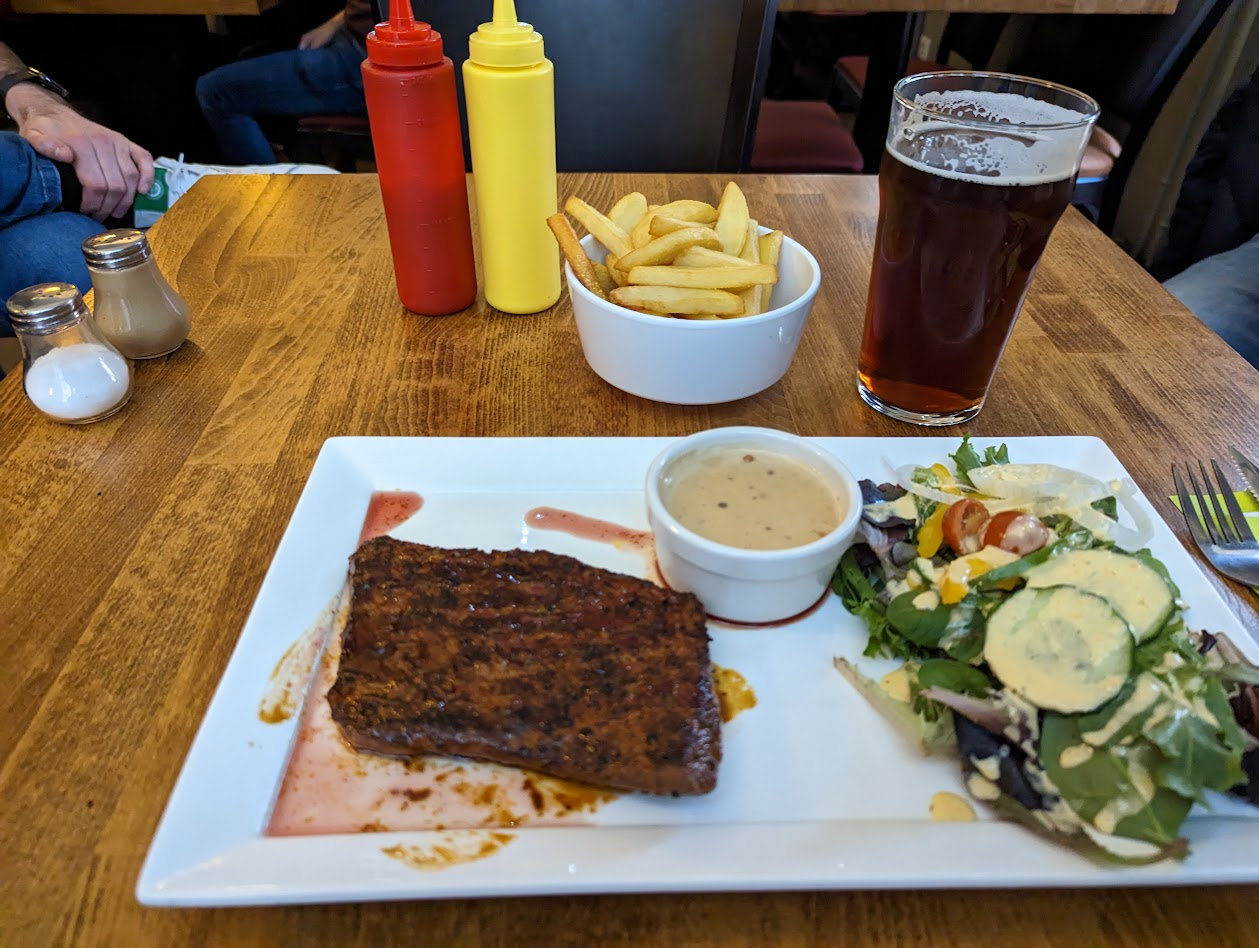 Spent the whole afternoon exploring the city, checking out the famous tourist attractions as well as the smaller streets. I don't remember all the names but saw so much cool stuff, it was wonderful. Thanks to public transport, it was a hop-on off adventure.
Was not too motivated to photograph though, and just took a few photos, also a few with the phone: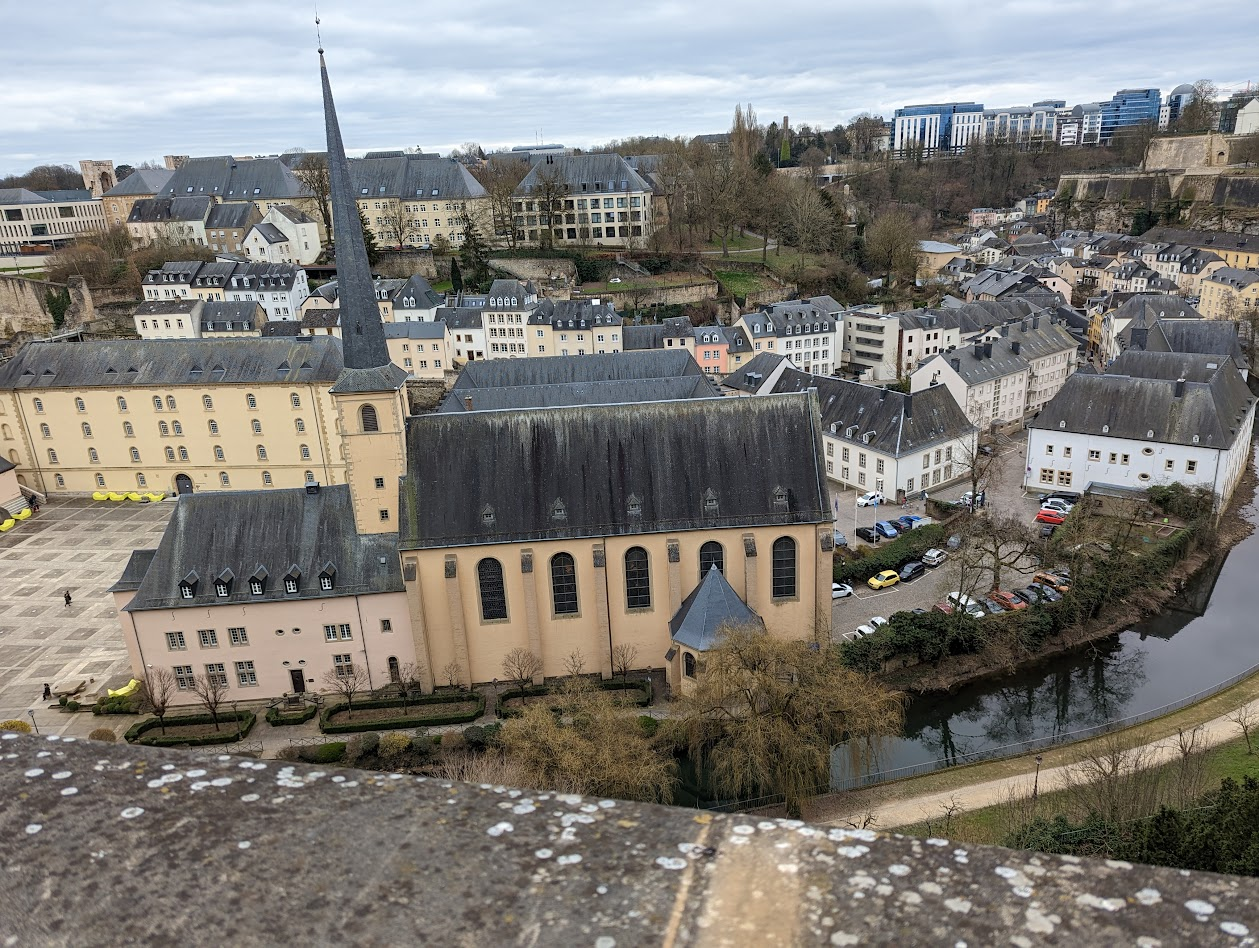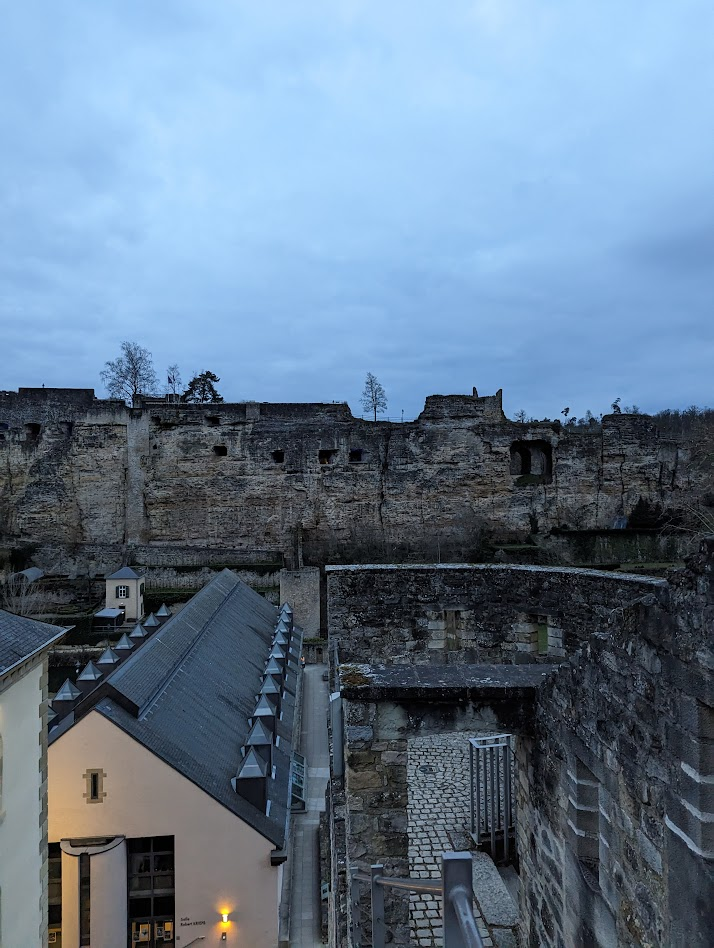 It was really spectacular that all these old buildings mixed with the new world and business and buildings form such a great city. It was really nice to walk in these streets.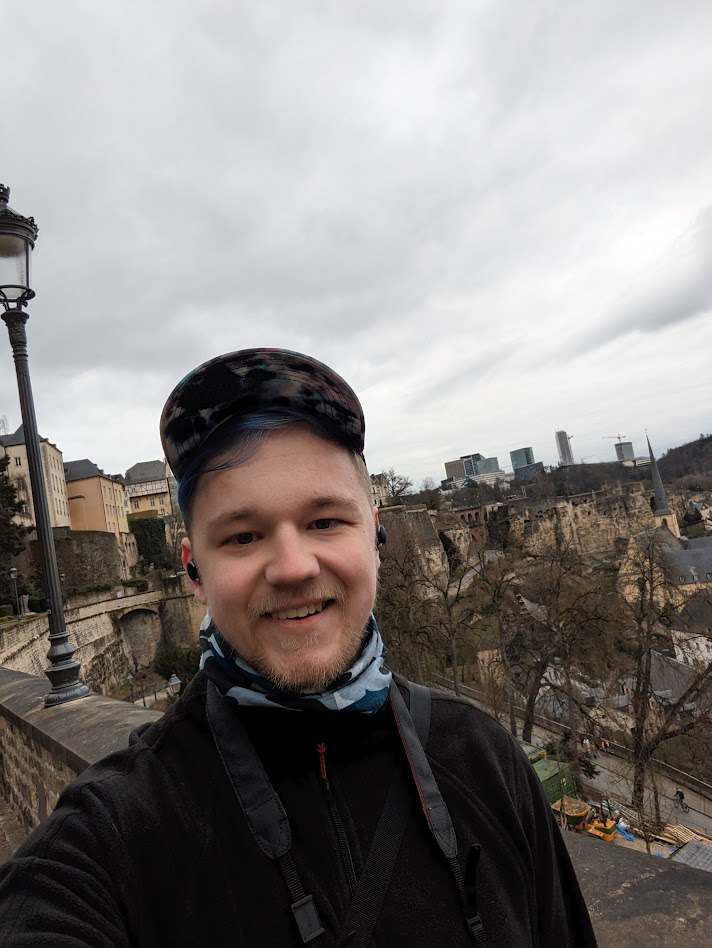 06.03 – Exploring Luxembourg
After breakfast it was icy outside, so I thought why not use free public transport to explore most of the country in the comfort of the bus. So I went from Luxembourg City to Beaufort, where i also find these really nice bus stop sign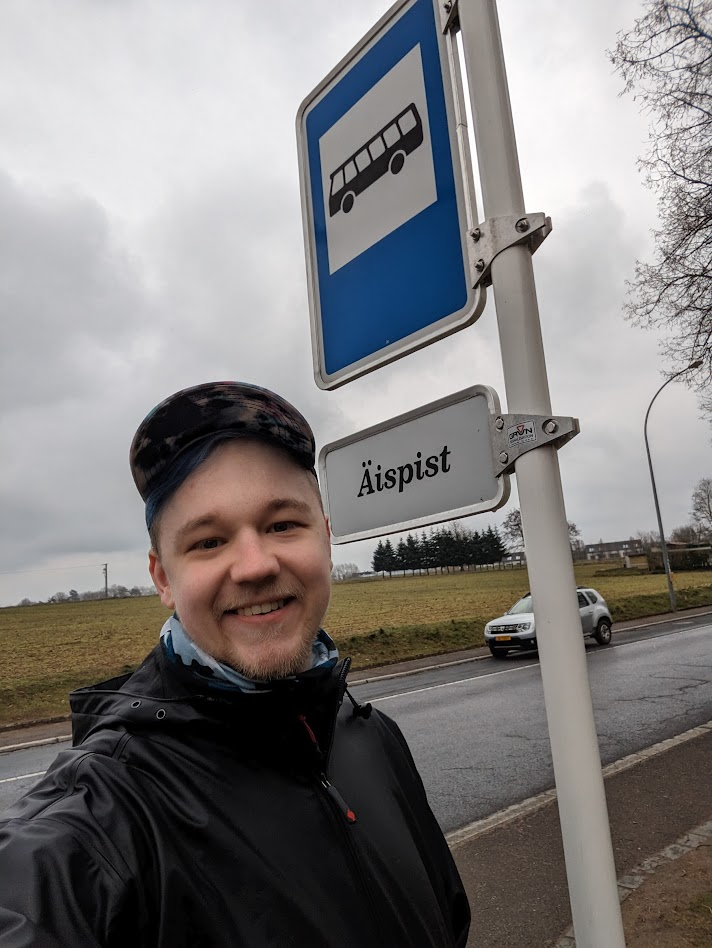 For lunch, I took a stop in Mersch and got some nice pasta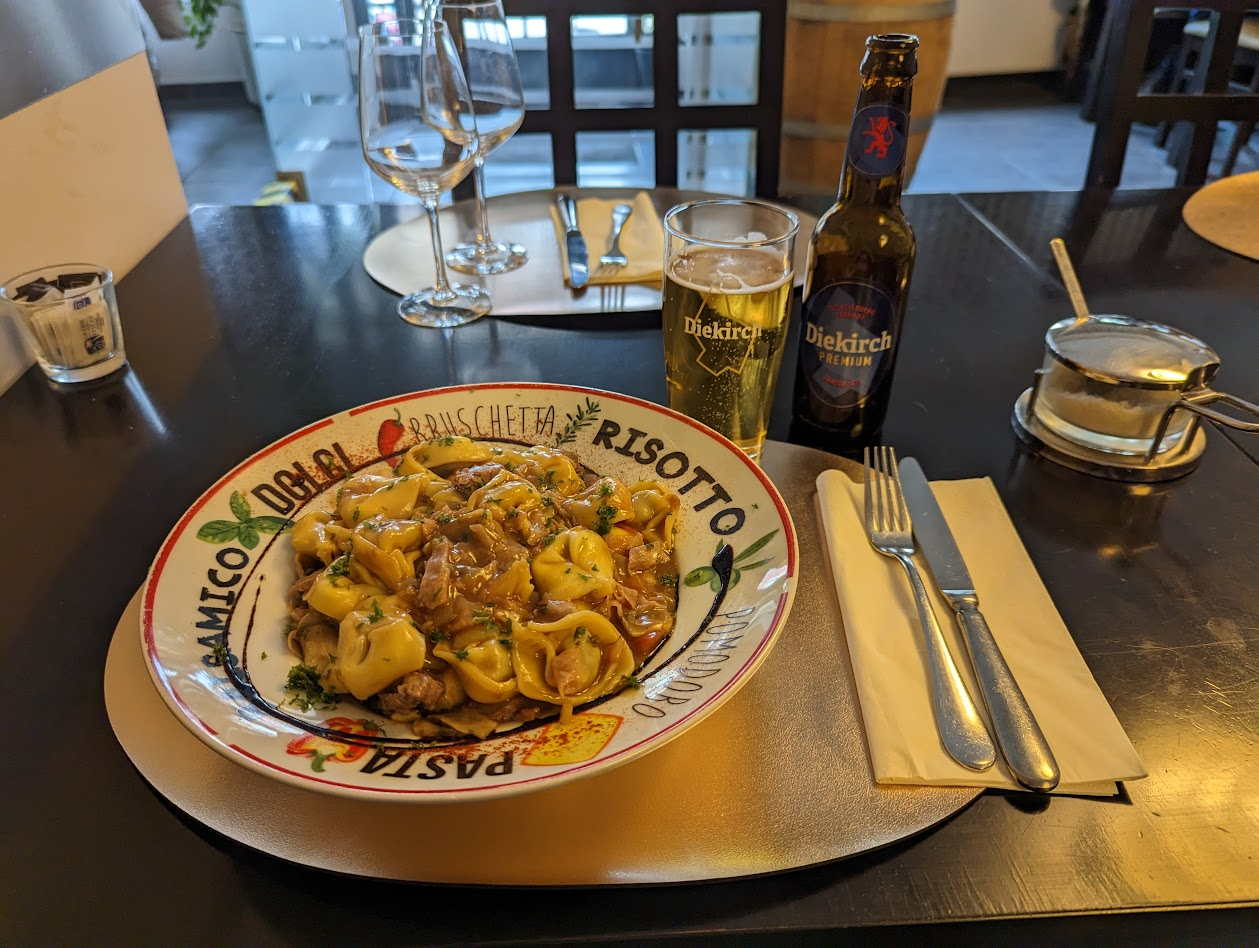 Afther that went to Boulaide and from there to Viladen to view the castle and, more important, the surrounding buildings. Since it was already past 17:00 the castle itself had closed, so just enjoyed the view and explored the empty city.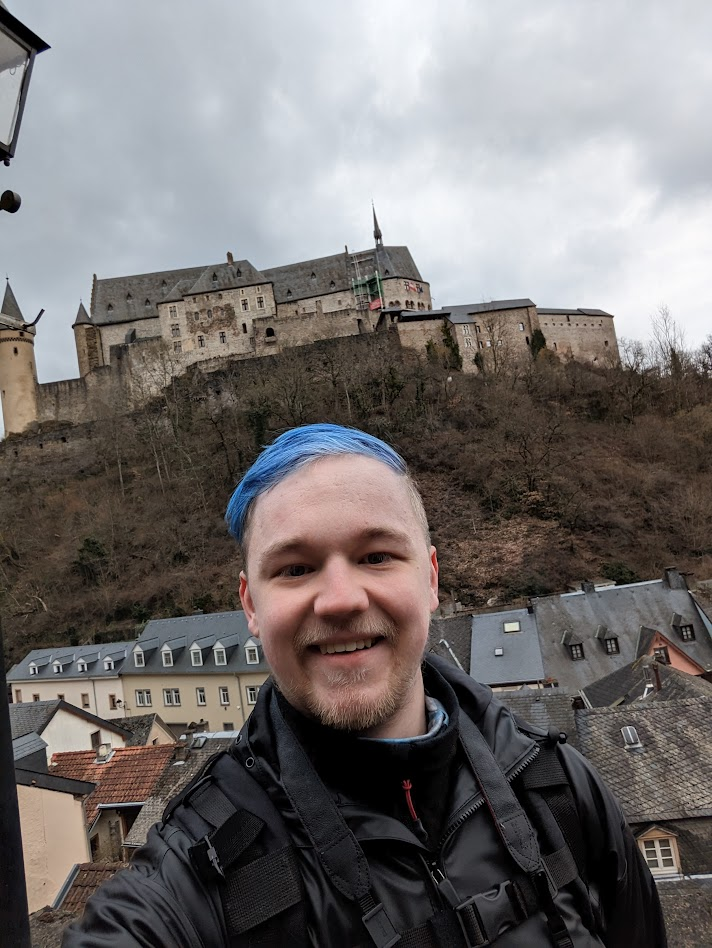 It's a really impressive view, seeing the houses and castle from the mountain side.
Afterward took the bus to Gralingen where Paul, my host for the night, was living. Fortunately, he lived only 200 m from the bus station, which made it way easier for me, since it was already pretty dark when I arrived.
He made some nice spagehtti for us, we talked a lot about his motorcycle trips and how much we both like asian and indian food. It was really pleasant and calming.
07.03 – Switzerland it is
I got up pretty early today since Paul had to go to work in the morning. Took the bus to Luxembourg again. And discovered – there are strikes in France today, so all the trains I wanted to take were cancelled. The one I could also take required seat reservations, which were not bookable via Interrail. Tried to call and book, only to find there were no seats for pass holders left. Since the regular ticket was far too expensive, figured out an alternative route across Germany. So took an RB from Luxembourg to Trier. From there with the RE towards Mannheim, where I took the ICE towards Basel, of course, delayed as usual with DB :D.
Taking the travel through Germany messed up my plans a bit, since I only have 2 days when I can travel inside Germany with the pass. So, Amsterdam – Copenhagen will be an interesting take and need to be creative to save some money there and make it work. As of now, It's not sure when the strike will actually end, so that will be interesting. Until that information is clear will have to wait and be flexible about a potential solution to getting to Lyon, Paris and, most important: London.
Basel itself was quite nice, a bit too clean and polished in my opinion. There was not much I felt like was something I wanted to photograph.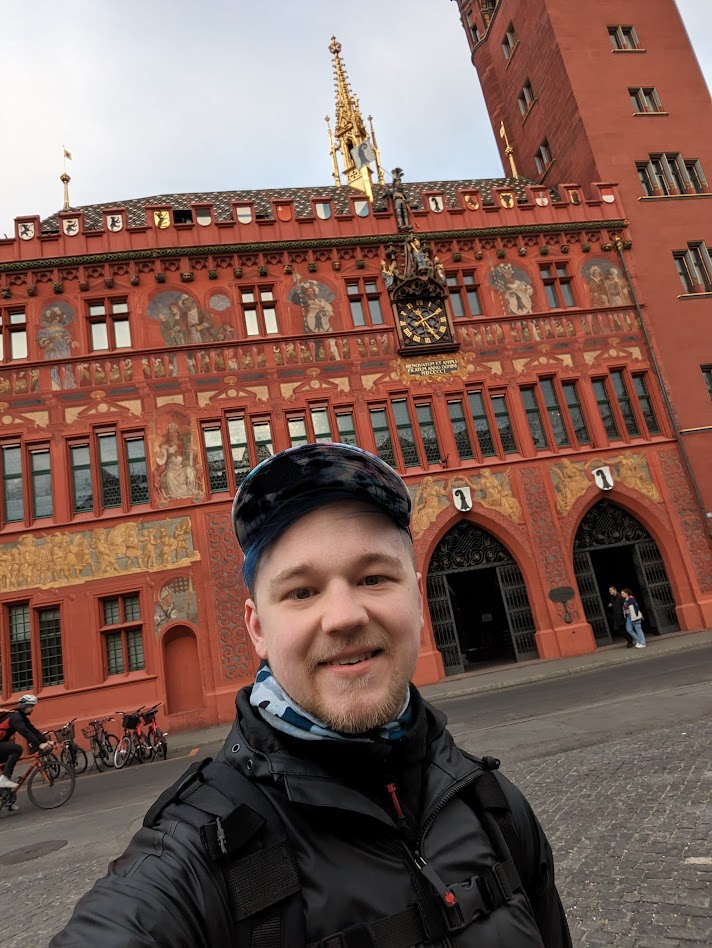 While going for a meal at "Hasenburg" noticed that I forgot my powerbank in the ICE and my phone was almost dying. Fortunately, the staff allowed me to charge my phone there, so that worked out at least. The food itself was wonderful but pretty pricey, was already aware that switzerland is a lot pricier than other countries, but was still a bit of a shock at the first moment.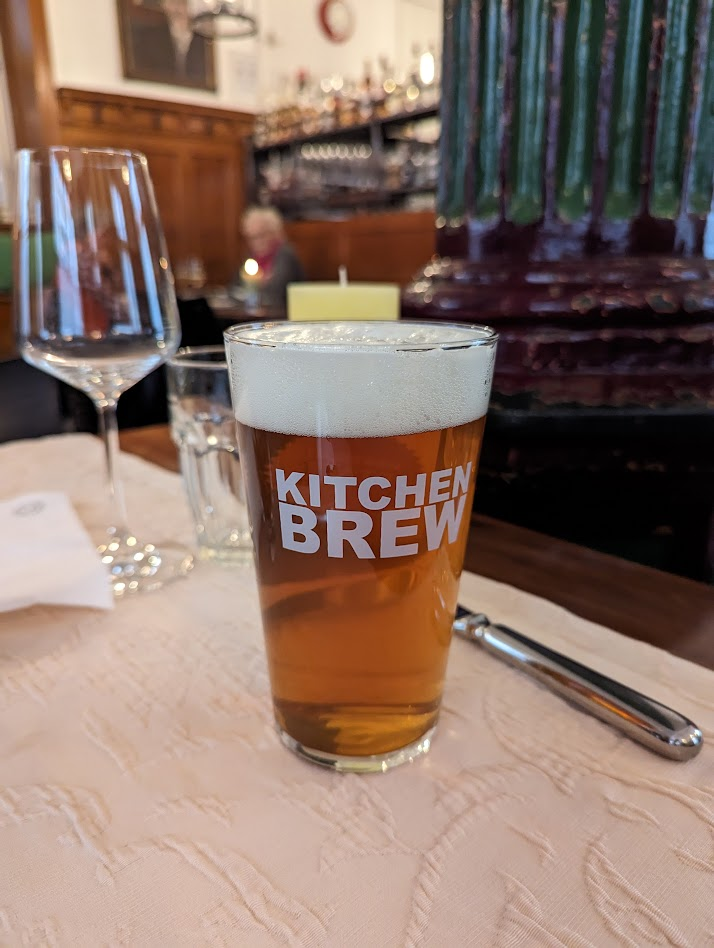 After buying a powerbank at an electronics store, took the IC towards Zürich, where my host for the next 2 nights, Marco, resides. He welcomed me with a warm hug, which was a really enjoyable start. Since we have already written for a while, it felt really familiar. Had a few beers and some delightful talks about this and that.
So, I would say it was a really eventful day that worked out somehow at the end.
Takeaways for the first travel week
For me, the favorite part was Bruges. The cities in Switzerland or everything, in general, is really polished, something I don't like that much. Belgian beer became one of my favorites too. Luxembourg was impressive because of is public transport, but besides that, there is not much.
💡
Looking for other posts around the trip? - Check out the tag
EU-Trip 2023