It's already week 9 of my trip, following the post about week 8. Have no clue/context, then the original post, It's finally time for an adventure, is for you.
13.04 – A day in Bialystok
I hadn't planned much for Bialystok, just washing clothes and exploring the old town. As washing wasn't working out here, since the Airbnb didn't have a dryer as advertised. No show-stopper since I still have enough clothes until the next Airbnb, but still annoying.
Before getting out, planned the next few days for my journey, getting train reservations for Poland and booking Airbnb places. For Warsaw, tomorrow found a host on Couchsurfing, so really look forward to that.
My first stop was the market square, which was not crowded at all. In general, the entire city was hushed and empty. Double-checking that it was really a regular working day, since I was not certain. Strolling through the old town was a nice experience, but despite the language, it felt like in Germany.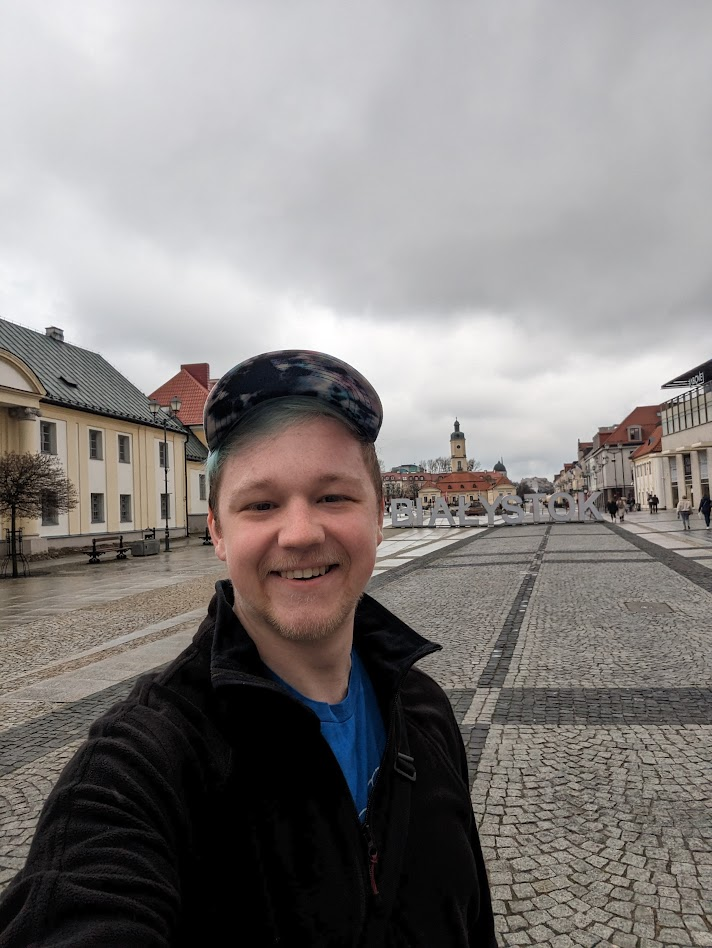 After strolling around for a bit, was also curious about the Branicki Palace. So went there as next stop. They were starting to plant new flowers for the spring, but the palace was gorgeous without it anyway.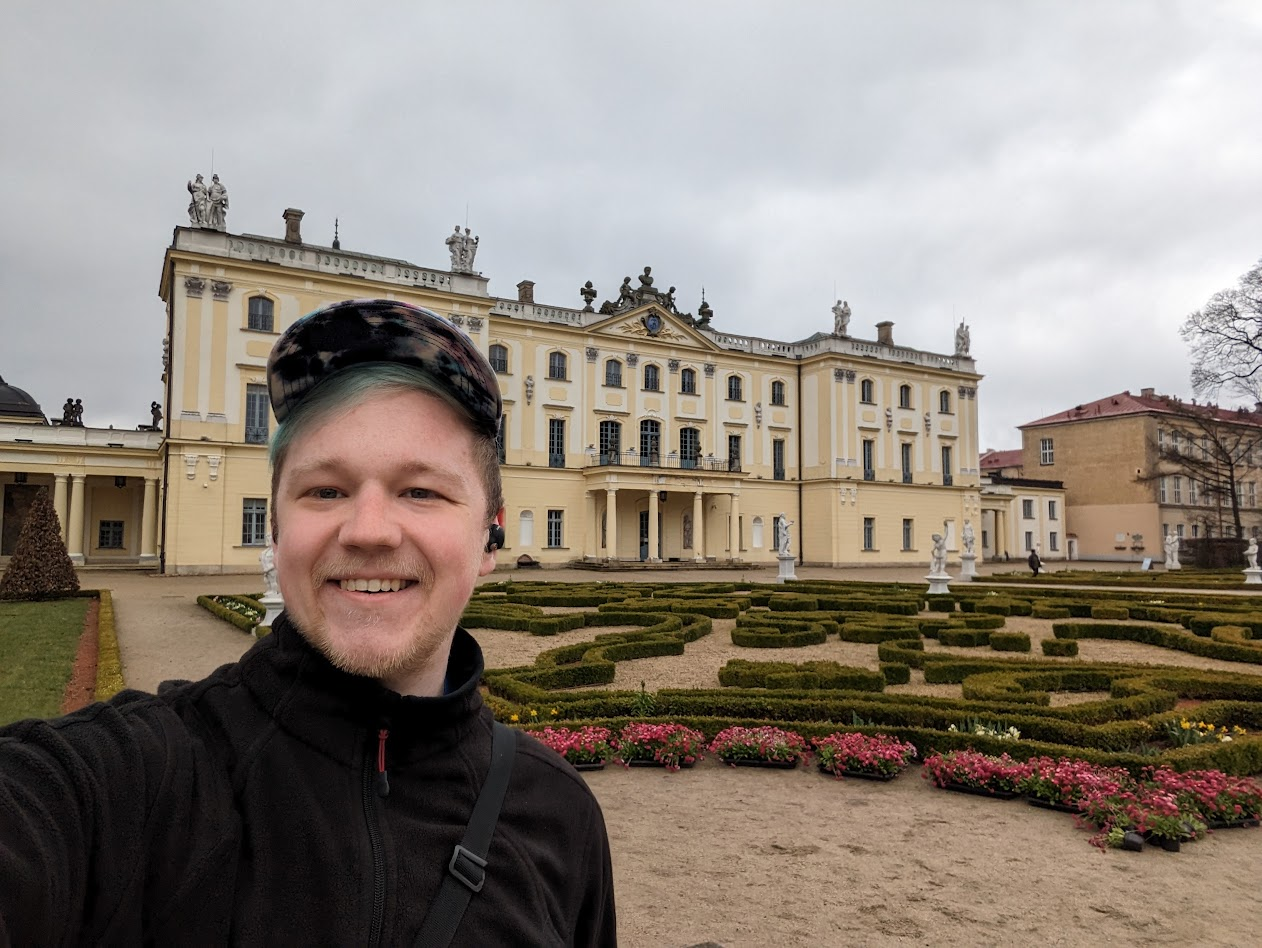 Famished, wanted to go for some Polish food. Checking Google Maps, tried multiple places that in theory should be open. Arriving there, every single of them was closed down. After my fifth attempt, was too annoyed, going to the Airbnb. In the end, I ordered via Lieferando at one of the places. Pirogi in different variations, a local variance as well as fried and sweet ones. Really delicious, but a bit much, maybe.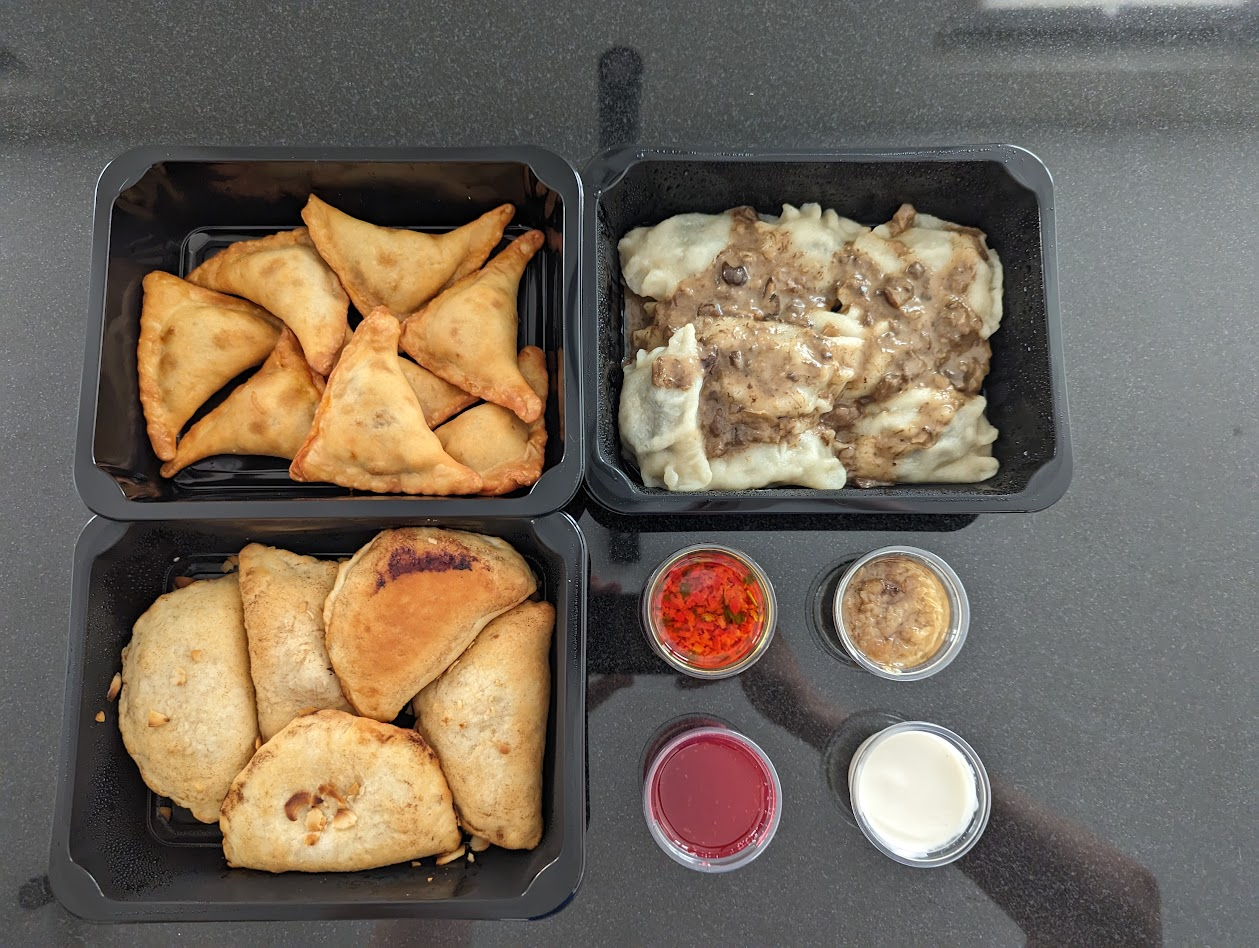 There was nothing left to do for me in the city, also searching for something, I was unable to find anything for me. Decided to take it easy for the rest of the day, taking a recovery day instead.
14.04 Travelling and an afternoon in Warsaw
Getting up way earlier than expected, packed my stuff and left the Airbnb. As I had plenty of time, walked to the train station, which was quite a mess due to current construction works. Walking the entire way over the rails, to the hall, finding the rail. Getting there, the train was already there a good 30 minutes earlier than departure. Confused, searched for my coach, which was not there. So just took a free seat and hoped it would be fine. 30 minutes later than actually planned, we left the train station. The journey itself was quite nice, a bit shaky but comfortable at least.
Arriving in Warsaw, bought a public transport ticket for the next day, heading to my host's place. Arriving there, had no clue how to get in, since there was a fence with electric lock around the entire thing. As I wrote him, he walked straight up to me. Excellent timing, as he was about to get to his Uber, picking up his car from the auto repair shop. Had no time pressure, so went to his car with him, talking already on the way. Picking up the car and driving back to his place. Quite energetic arrived there, just dropped off the backpack and going on tour again. Pretty convenient, he had plenty of work to do, so I had time to spend.
The first stop was the Jewish cemetery in Warsaw. Just wanted to go there, also as a reminder. Spent some time there, just letting it sink in.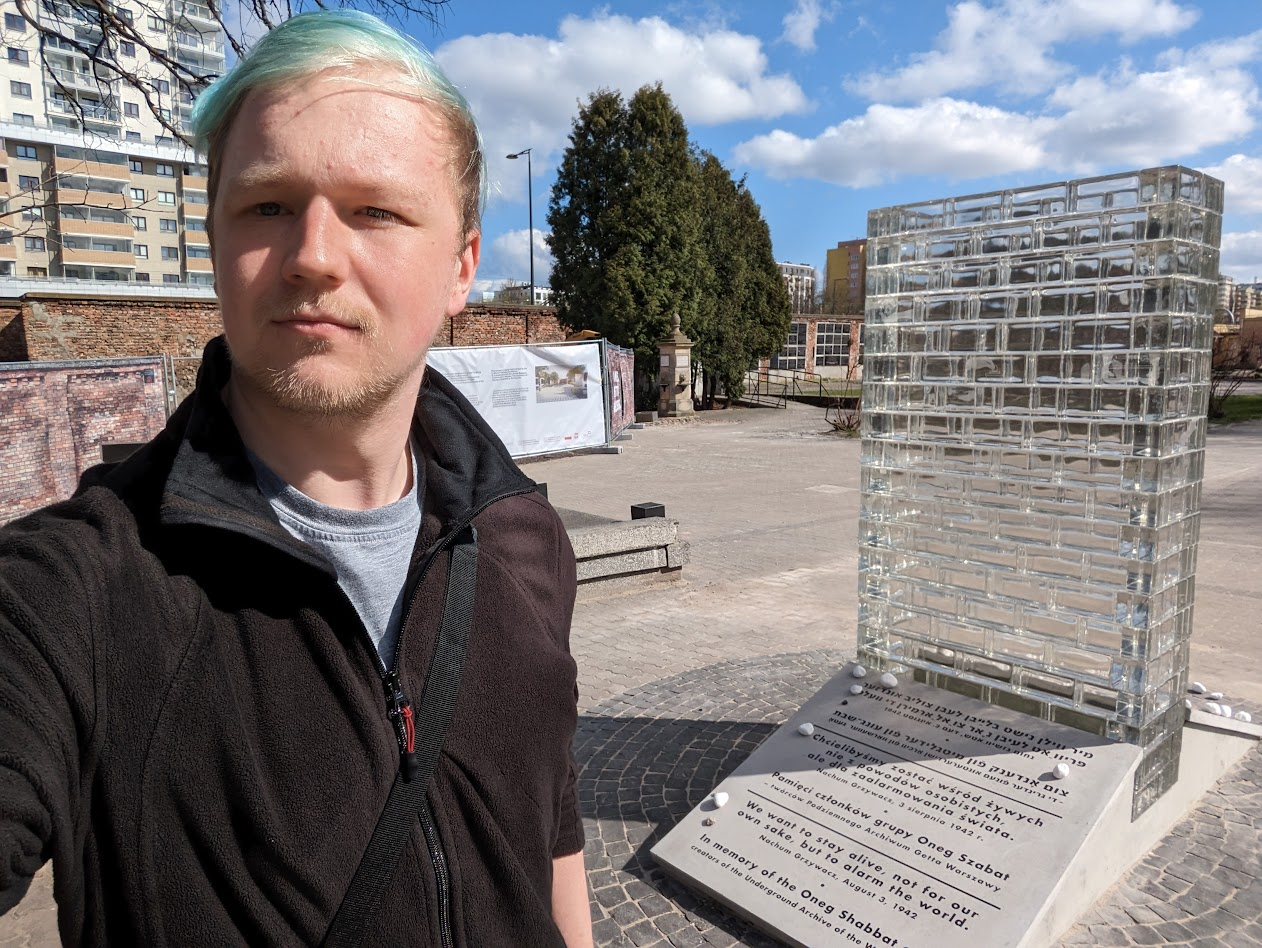 Wanted to get a bit of distance, so strolled towards the old town already, just listening to classical music. A quite relaxing combination.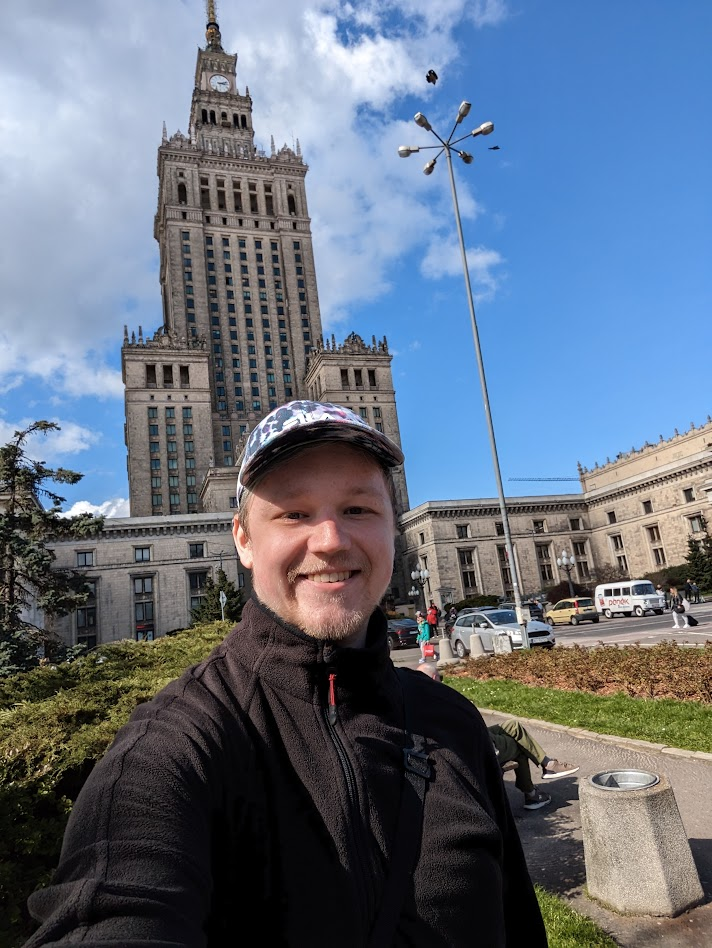 Getting more calm, went to the palace of culture, to get up to the viewing platform. The view was simply wonderful, really enjoyed the atmosphere and overview of the city.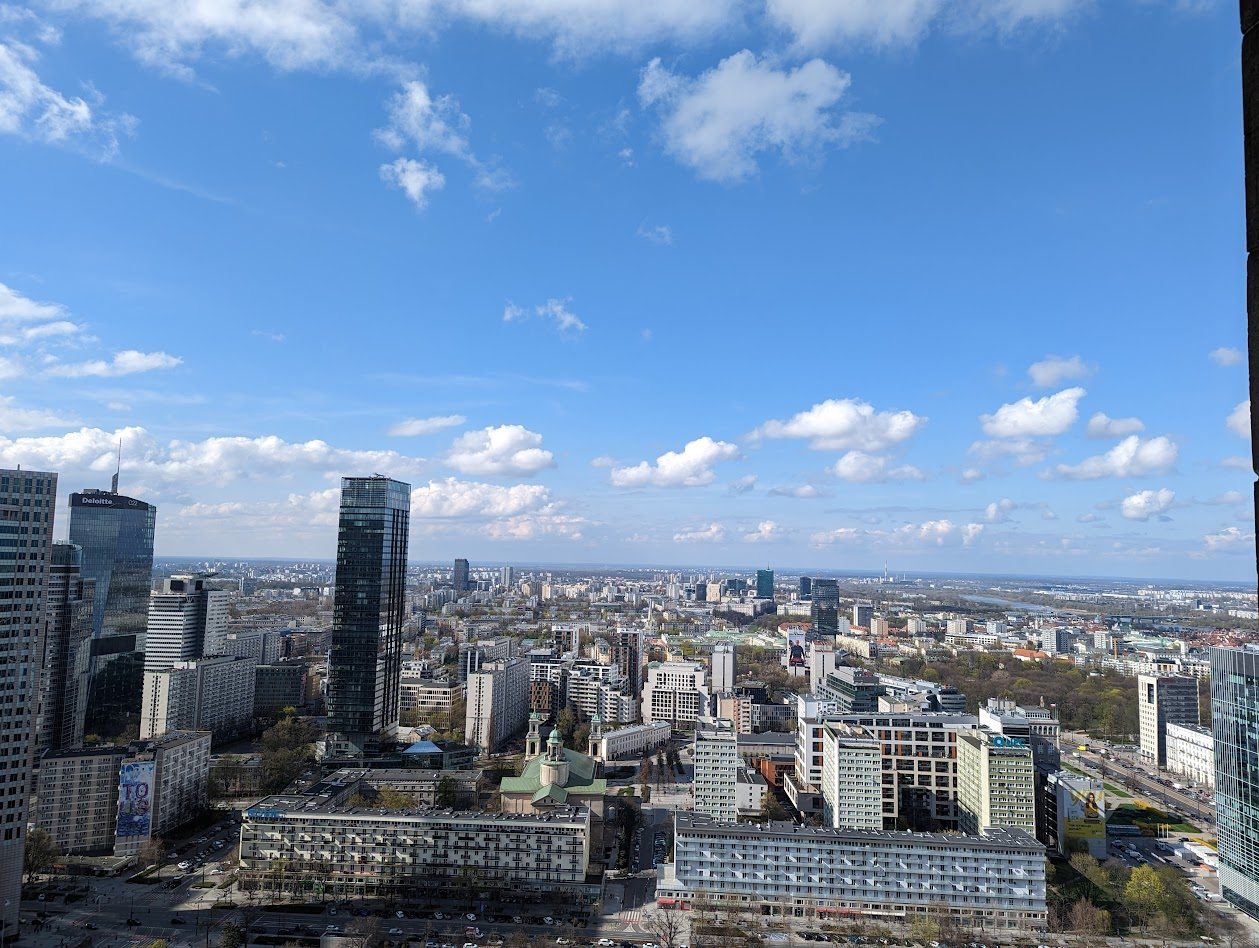 My tummy also had something to say, which led me to Kamanda Lwowska, a nice Polish restaurant. The place was one of the many recommendations from Sebastian Henrich, so shout out for the great tips. Ordered a Porter Lager, roasted pork with honey-mustard crust and meat dumplings as a starter. It was super delicious, and again acknowledged for me that I love Eastern European cuisine as well.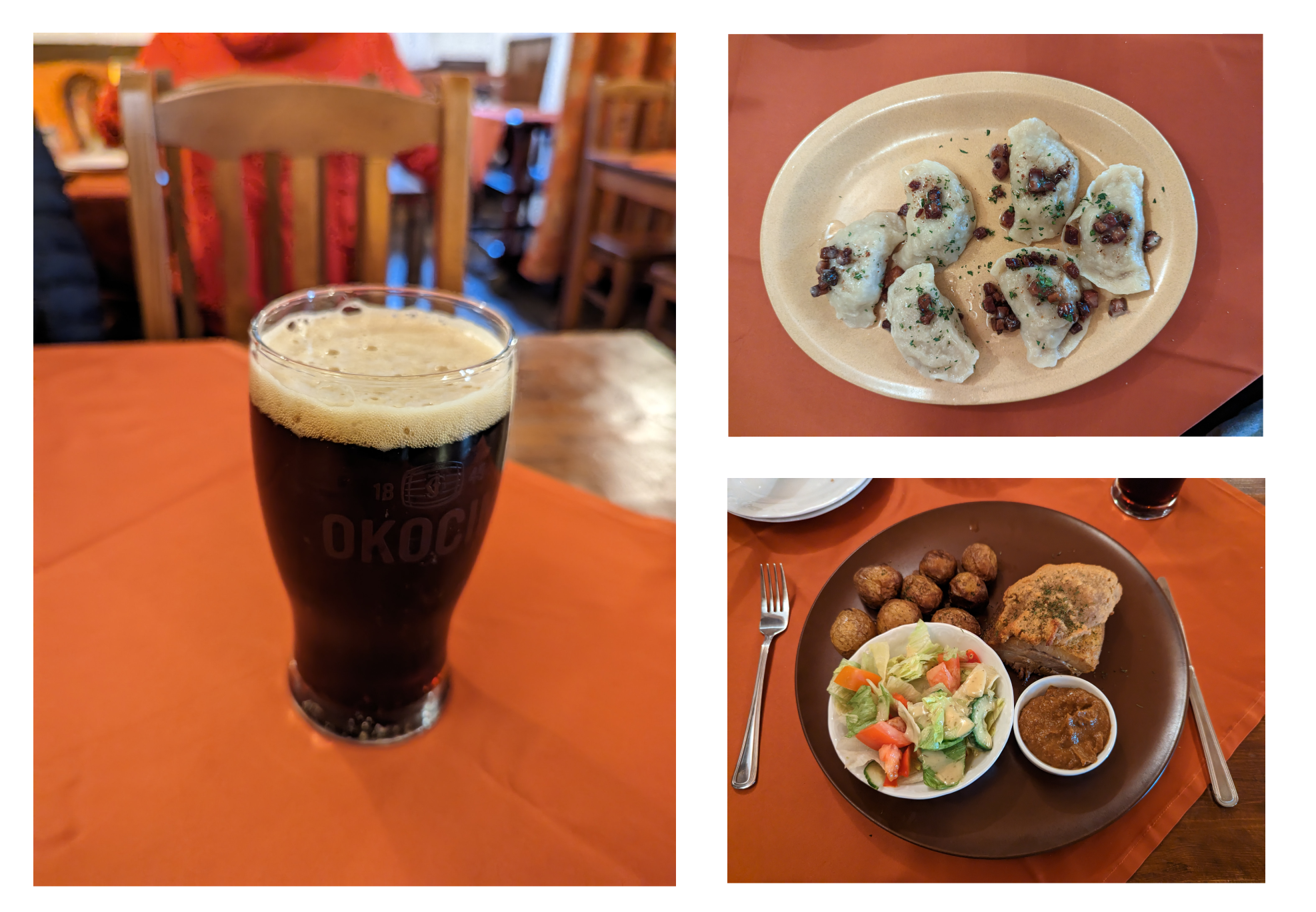 Well-fed, went on to the old town again, really enjoying the atmosphere of the city. It's safe to say I am in love with Warsaw. The mixture of old and new, calm atmosphere and great places really made it for me. Strolling through the old town also ended up in the market square, which was full of restaurants, lovely people and a great atmosphere. Stayed there for a while, absorbing the atmosphere.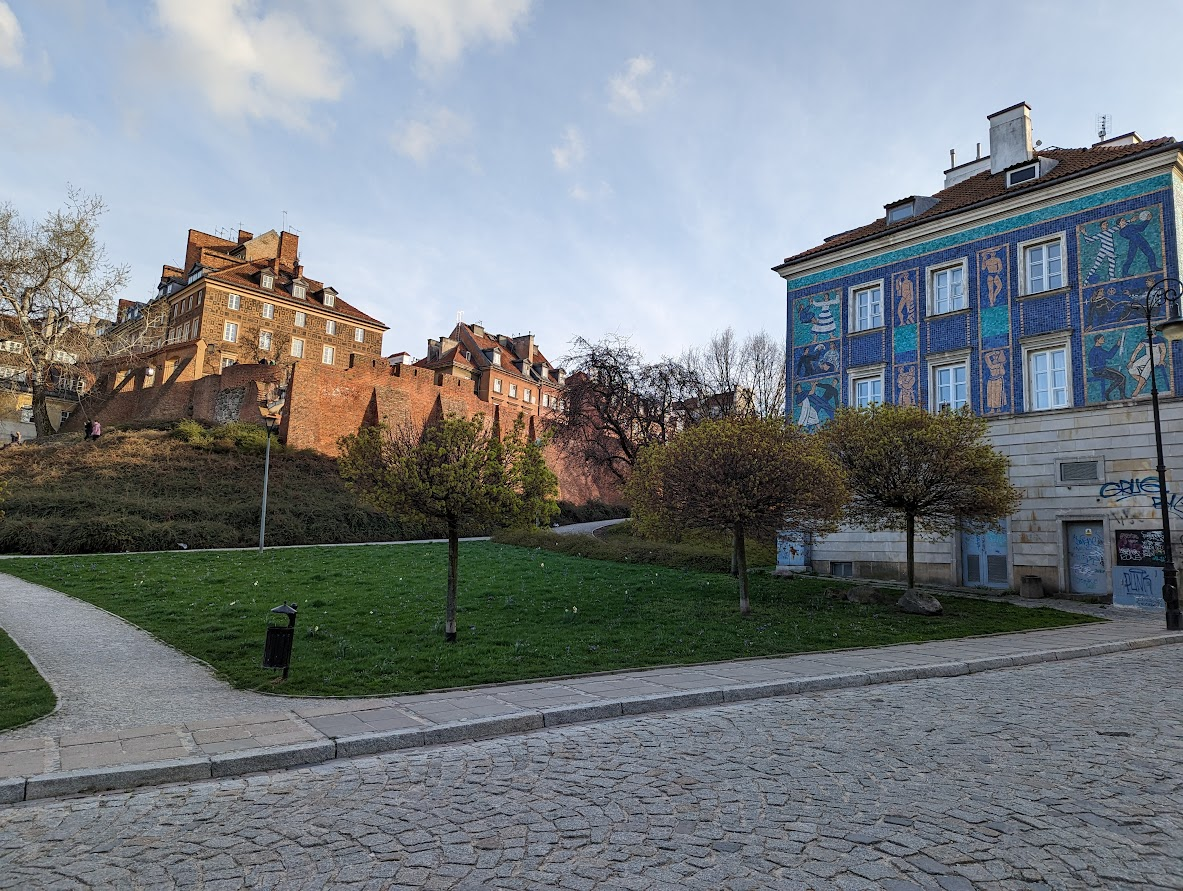 From there, just strolled around for a few hours through the old town. At 19:00 it was time and I felt a bit exhausted and got back to Marcel's place. Again swapping places as he just wanted to go out and ride his bike.
Marcel recommended me to go to some parks and for tomorrow, will also check by in Praga as advised by Sebastian. As I will have plenty of time and a full day tomorrow, already look forward to exploring the city more.
15.04 – A day in Warsaw
Waking up, the first thing I realized was the fact it was raining. Not ideal for my plans. So decided to sleep for a bit again. Waking up at 09:00 again, still raining. So checked the weather forecast for today, and yes, it would rain until almost noon, but it would get less during the day. My host was not awake yet, so used the time planning for today. Since tomorrow would be a public holiday, already went grocery shopping for the train ride tomorrow. Coming back, Marcel was awake. We talked for a while, he told me that he will be visiting his dog and family. All time today would be free for exploring.
As it was still pouring, went to Elektrownia Powisle, a cozy shopping mall, with multiple floors and interesting stores. I got a mojito flavored energy, which was really remarkable, despite it had no alcohol. Enjoying there the atmosphere for a while, the train got less, so time to go outside again.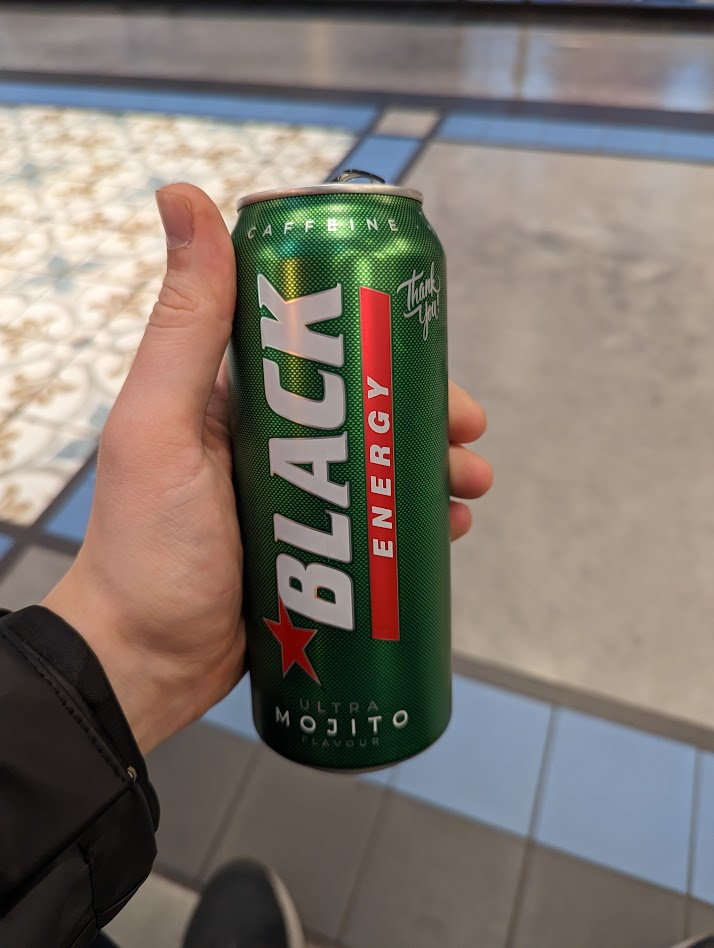 Went to the old town again, strolling around the relatively empty streets, thanks to the bad weather. After a while, my urge for coffee and something sweet raised. Went to Chocolate Café E.Wedel nearby. Really, a cozy atmosphere and a great menu. Took me a while to figure out what to eat. In the end, settled for chocolate cake and crêpes with apple, cinnamon, and caramel sauce. Accompanied by my all-time favorite: a black Americano. The coffee and the sweet dishes were delicious.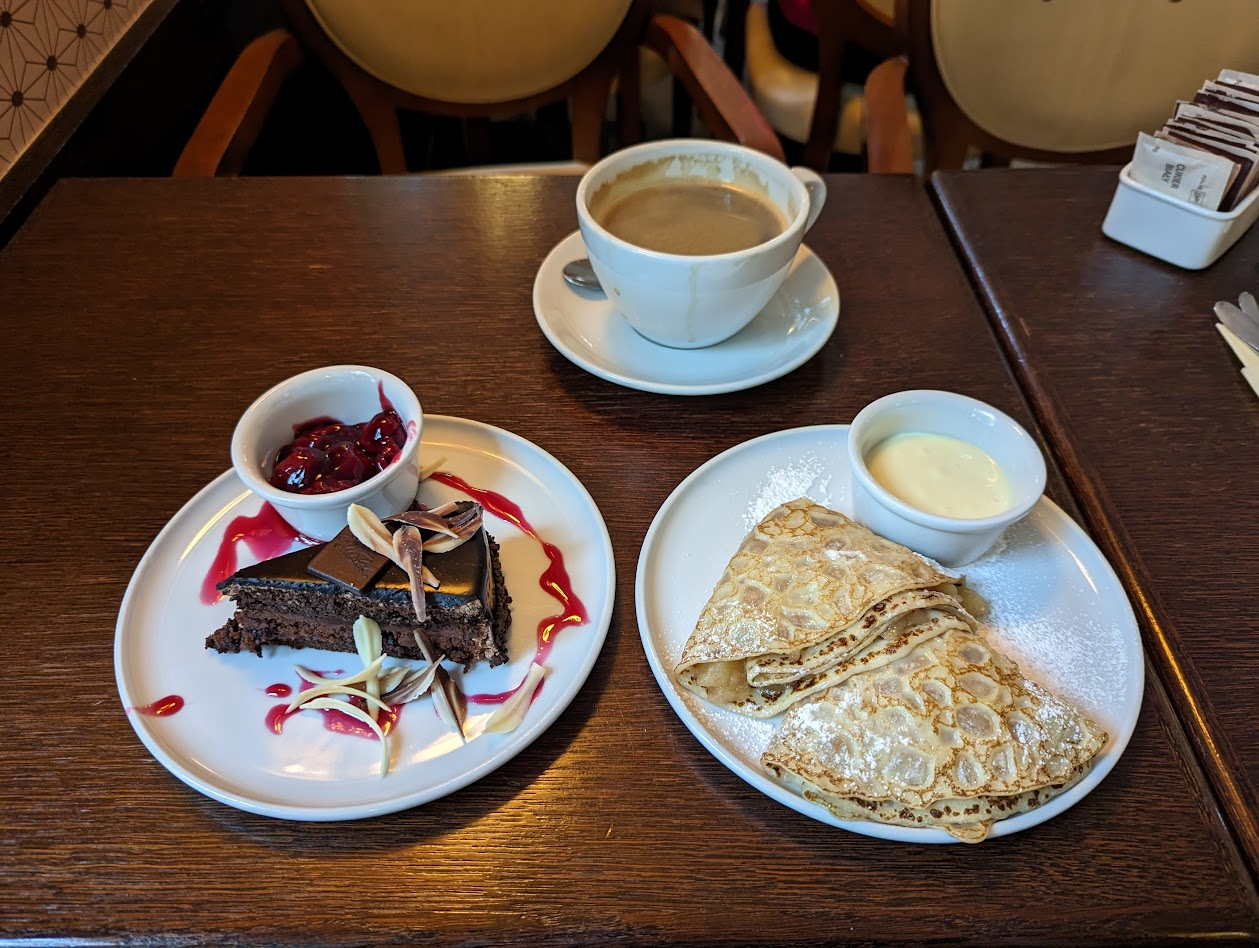 Full of energy (and sugar) went towards Praga, a district of Warsaw which also got warmly recommended to me by Sebastian. Can only share his opinion on it, it is really a nice place to go. Although gentrification really changes areas there, you can really feel the transition from one street to another. Strolling around there was really cool, many old buildings, combined with new architecture. A lot of them were empty, assuming they are prepared to be torn down.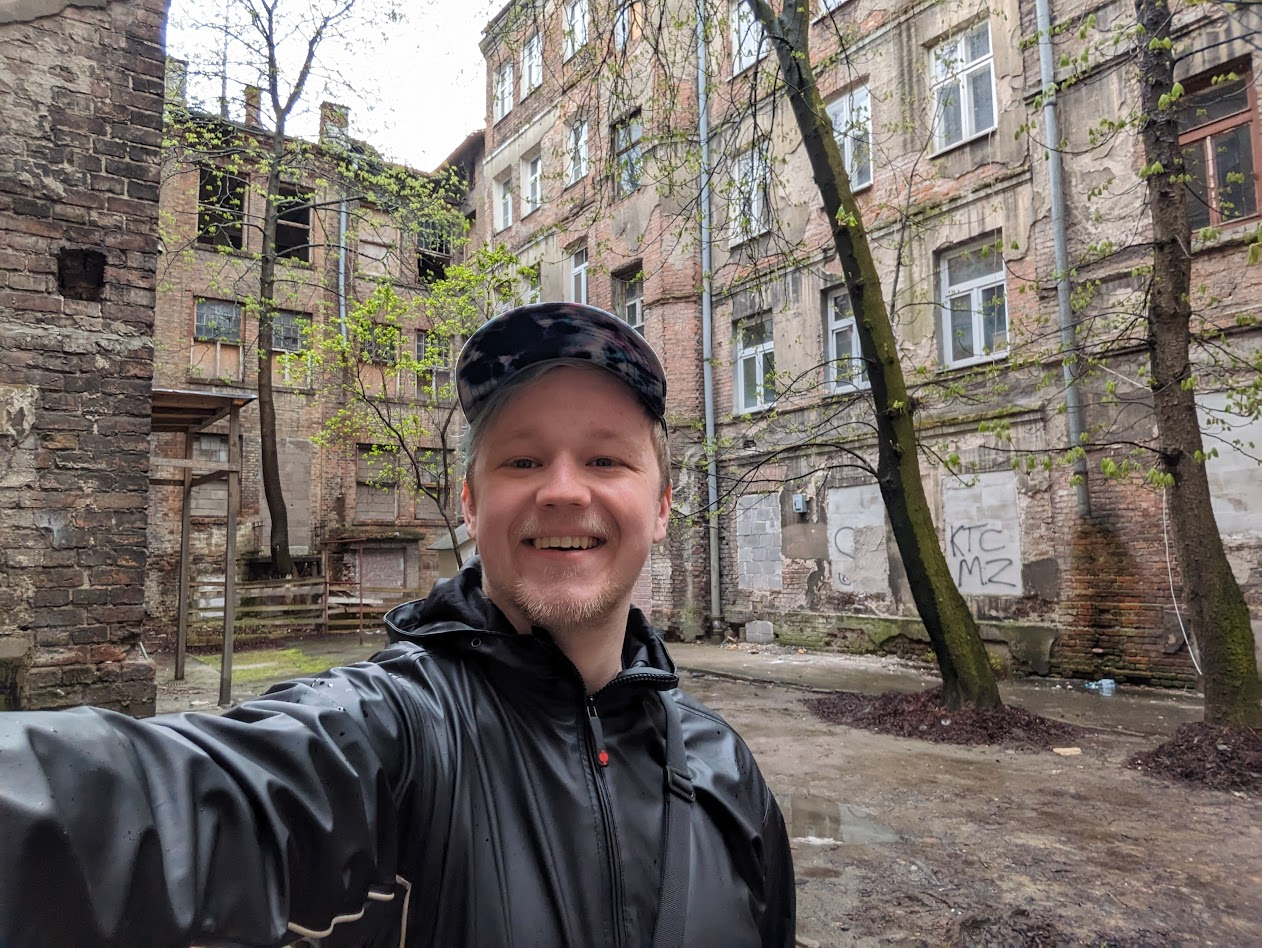 Between panel buildings, high brick-stone buildings and new architecture residential areas, there was also some really pleasant street art. A unique experience, I fear will not be the same in a few years or maybe even decades.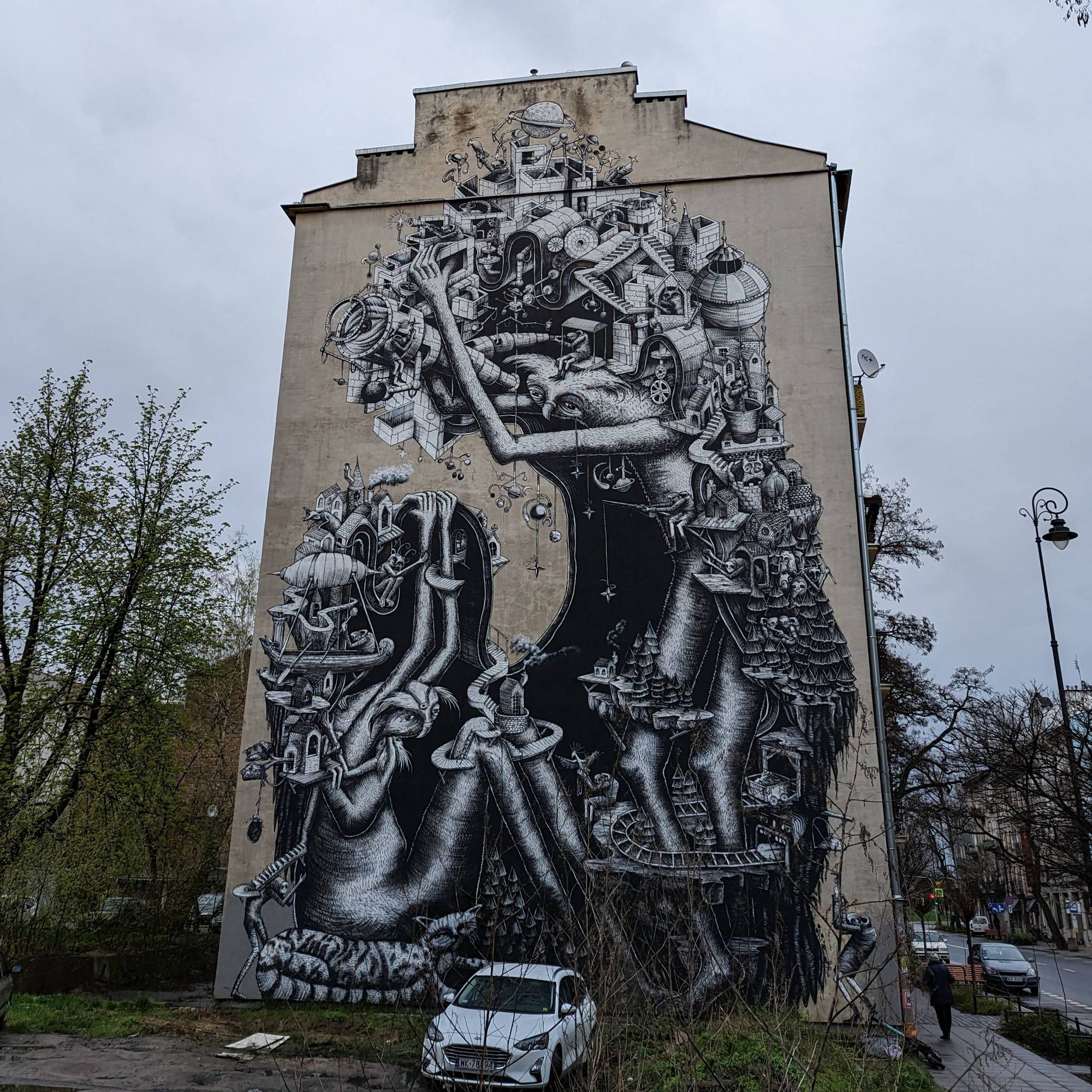 Calming down a bit from seeing a lot of great architecture, went to Park Łazienki Królewskie. Which was not so impressive for me, but delightful to come down. Although finding the entrance was a bit of a struggle, since they were doing some construction work, making it a bit hard to enter, at least from the side I arrived.
Going back to my host's place in the evening, he was still not back. Had still plenty of time but no more motivation left to do something. Since I won't have a washing machine at the following stops or enough time to wash in between, used the time to get to a laundromat to wash my stuff. Quite funny because I was the only one there, and people even stopped when walking by to watch me fold my clothes and put them in my backpack already. Even double-checked if I had something in my face because of so many interested people who really just stopped, looking straight at me.
16.04 – Short stop in Kraków and travelling to Vienna
Getting up pretty early to be at the train station in advance. After cleaning up my room, getting off the sheets, left the key on the desk. Taking the tram was already there a good hour in advance. Checking my trip realized I was at the wrong train station. Panicked for a moment, only to realize a few minutes later the train will be here, as it's the station right before.
90 minutes later, the train arrived in Kraków with just a few minutes delay. My first stop was the Barbakan, the biggest still preserved one in the entire Europe. And most important, It's made of brick stone! Quite impressed, walked along there, it even looked better than in the photos online.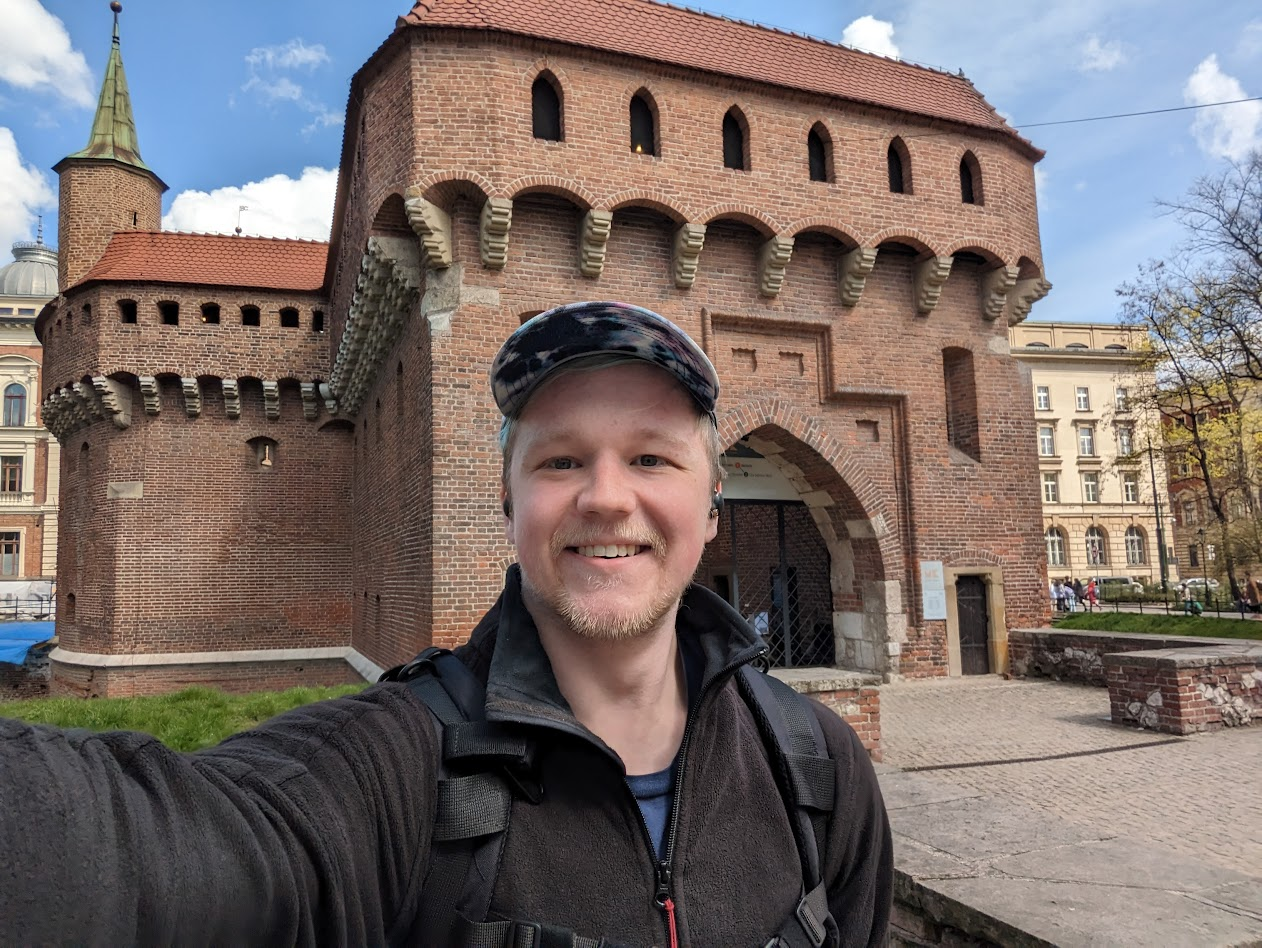 The old town was calling me, so went there. Really charming, but there were really plenty of people. Just assume because it's a sunny Sunday, luring the people out of their houses and apartments.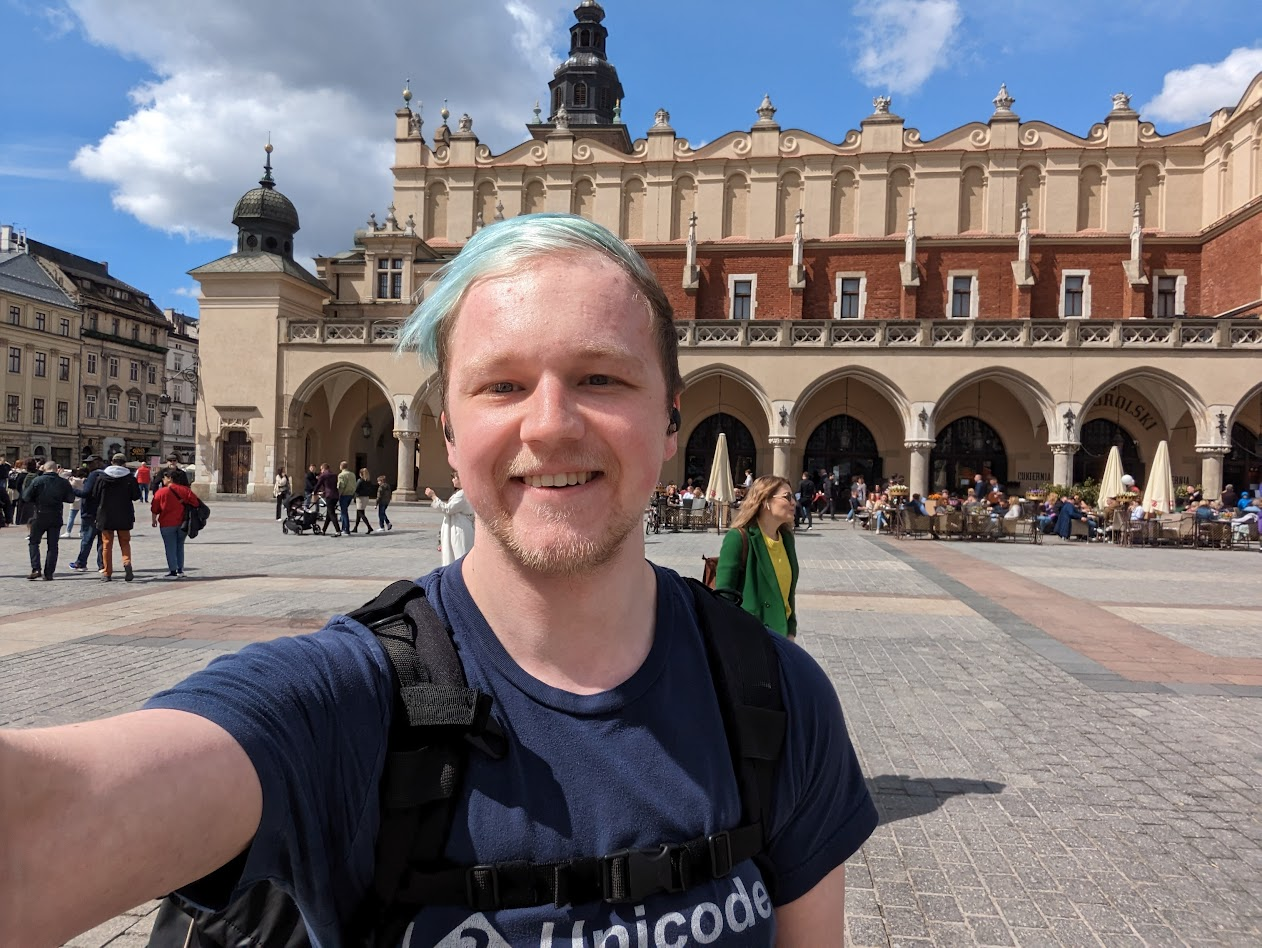 Initially, already wanted to head back to the train station, but seeing a Pirogi restaurant at the side of the street couldn't resist but eating some before going back.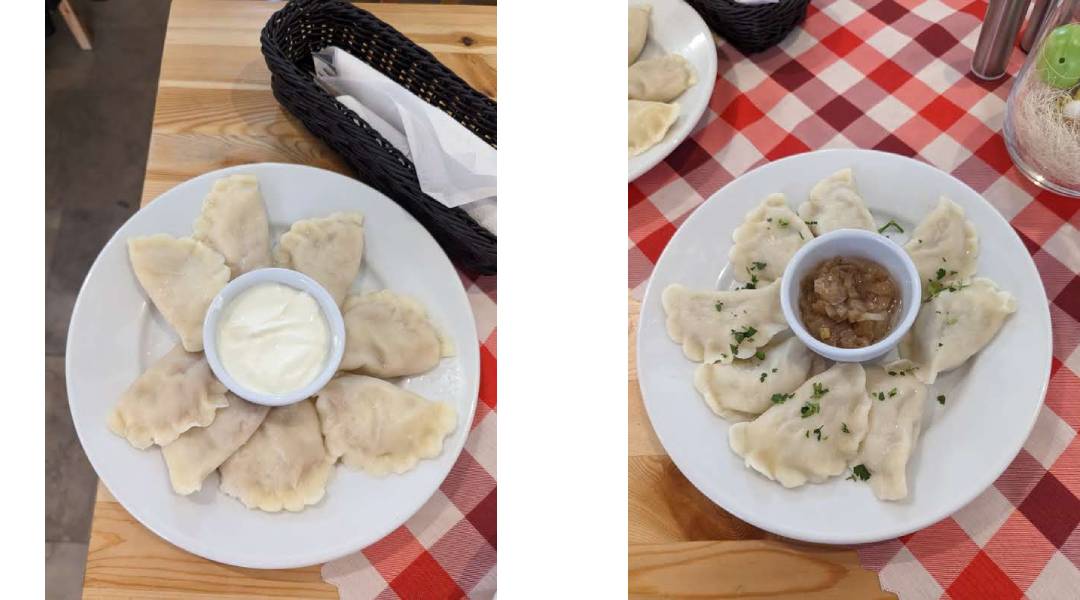 With a full stomach, went back to the central station, taking the train to Katowice. Waited for a good hour there, not enough time to do something useful. Instead, had the idea of making a "wrap up" post after the travel is finished. Thinking about fancy stats, total money spent, kilometers and time for each activity. Since I have everything in my Google Maps timeline, it should be pretty straightforward. As the analytics are not as detailed and customizable as I would like them, it will be a fun scripting mini-project. Had to keep myself back from starting it right away as I wanted to avoid doing any coding etc. throughout the trip.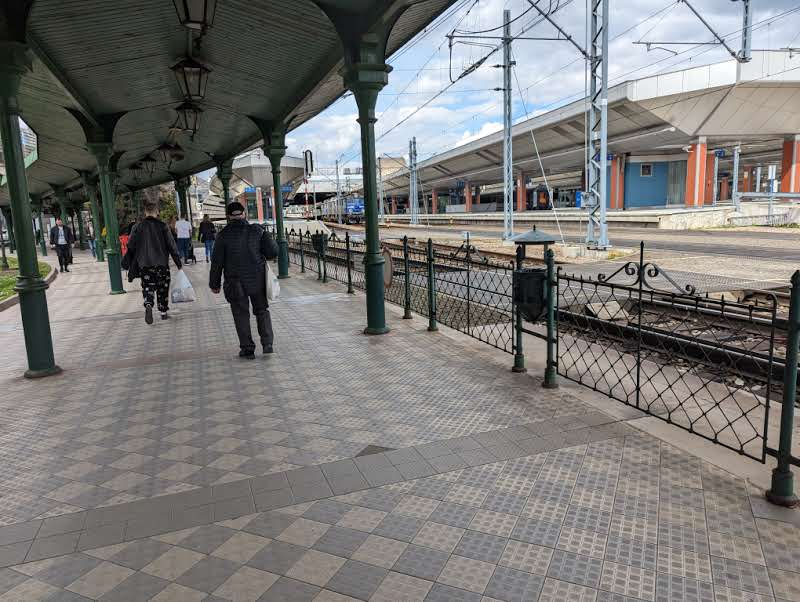 The really comfy train to Vienna arrived, that will also cross the Czech Republic on its way to Austria. A long five-hour train ride, so that will be the activity for the rest of the day.
17.04 – A forenoon in Vienna & Travel to Bratislava
The first stop after checking out in the Airbnb was the central station to drop my luggage off to be more agile. From there, went with the subway to Café Sacher, a destination with a very private connection for me. Arriving there, I did what I wanted to do for longer, ordering two pieces of Sacher Torte and a "Verlängerter". The cake is originating from Franz Sacher, a confectioner and inventor of the so-called dish. The other one roughly translates to an Americano. The waitresses were really very polite, the atmosphere simply astonishing. Being there felt really like meditating, a really great start in the morning.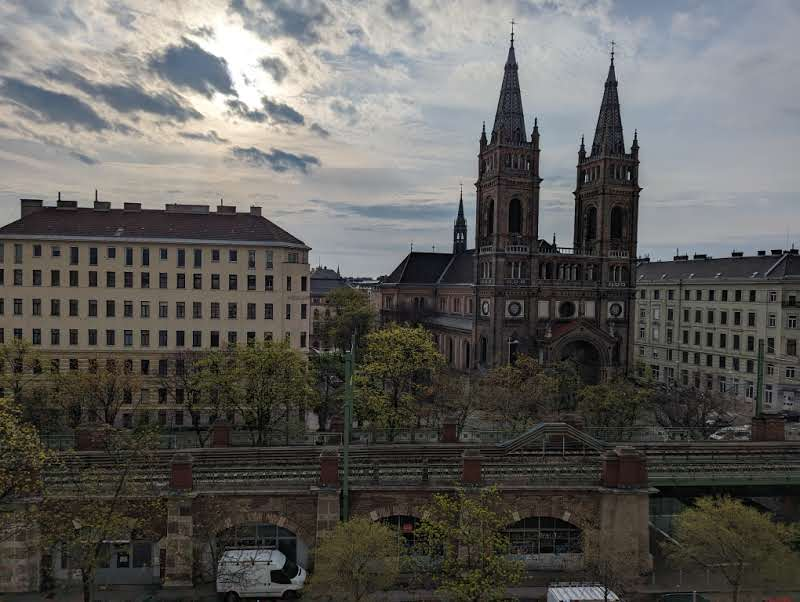 With an uplifted mood, went towards the Naschmarkt. As the name misleadingly implies, it is about sweets, but in reality it is more of a street market. Really cozy atmosphere, also with the combination of the Austrian accent I love so much. Fun fact about Austria here: That's the only place outside of Bavaria where I can speak with dialect and people will actually understand almost every word.
Strolling through the old town and streets of Vienna, really felt like coming back home. After a while, decided to continue my trip to the Hundertwasserhaus, which disappointed me, again. I simply don't get what people like about it. I thought it might be because I was a child back then, but it's still the same.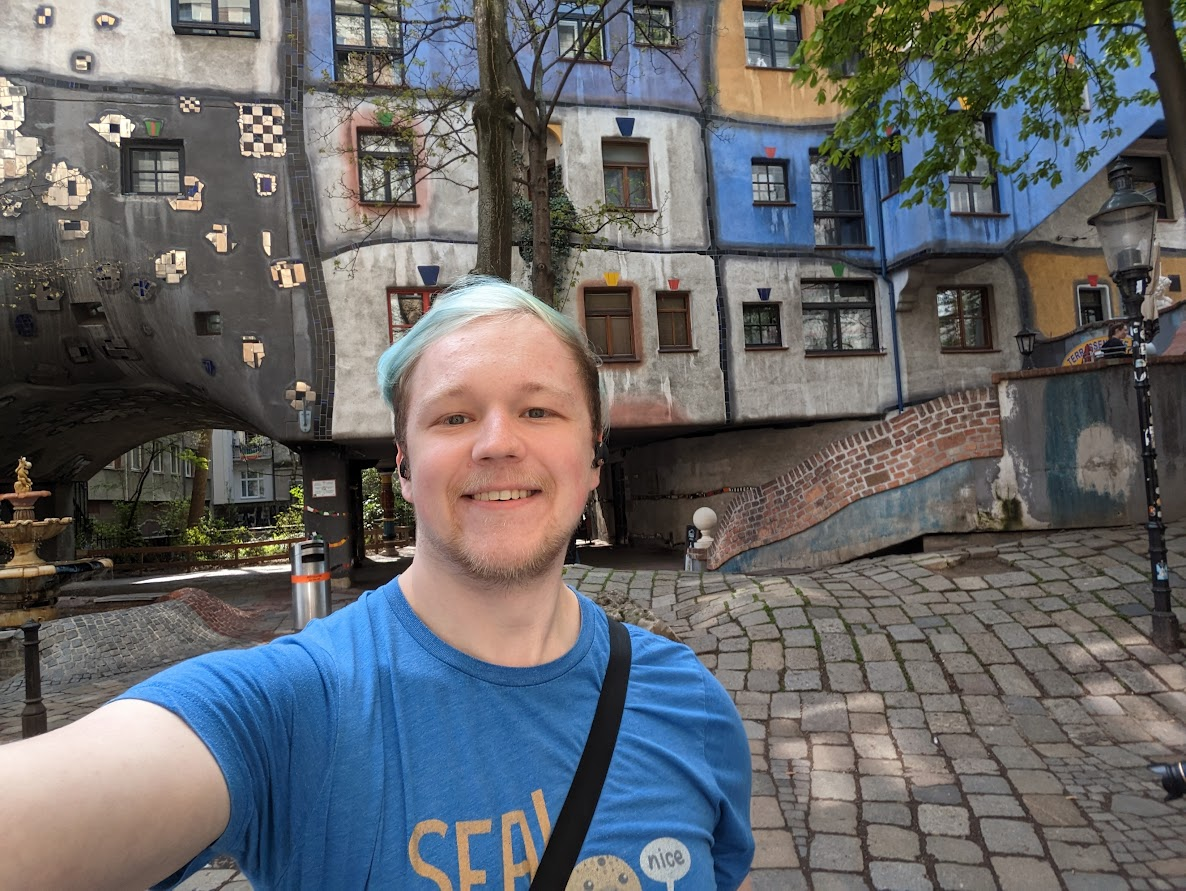 Felt like it was time to move on to Bratislava. So went to the central station, collected my backpack and hopped onto the next regional train.
Arriving in Bratislava, I made an unpleasant discovery. My phone didn't charge from the powerbank on the train ride, since it was empty. It wouldn't survive the day, after awkwardly looking in the nearest mall, next to the train station for a place to put my charger found nothing. Remembering most McDonald's restaurants having charging, went to the next, which was a success. After stealing some energy from there to pump by phone with new life, the trip could continue. Waiting there also had a nice side effect, as I could "stalk" the locals sitting quietly in my corner, with nothing else to do. It really felt strangely like the Czech Republic to me. A short google search later, it all made sense since it has been part of the now Czech Republic. The fact it is also a Slavic country probably played its role. At that point also realized how I know nothing about Slovakia at all. So while my phone was charging, couldn't resist but deep diving a bit more in the history.
With both my phone battery and mental capacity fully recharged, the first obvious stop in Bratislava was the old town. Really enjoyable experience again, loved the quiet, leaned back atmosphere. It's fascinating to see and feel how quiet it is, but they are not quiet people. If there is something to laugh or discuss, the volume raises pretty quickly.
Already afternoon, decided to continue to Slavín, which is a memorial for the fallen heroes as well as a graveyard. It remembers, of the victims, it cost to free the land from the Nazis.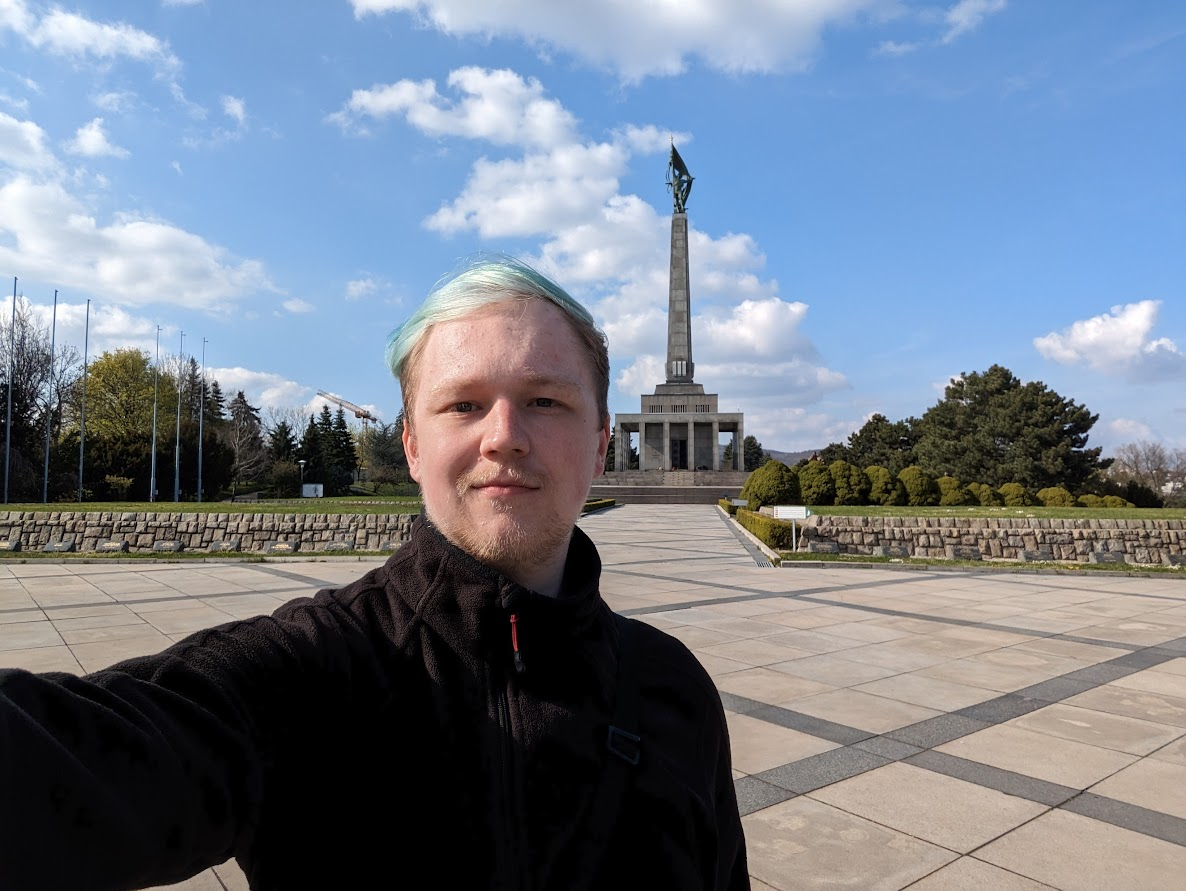 As a german, I am pretty familiar with this part of the history of my country. In school, it was almost annoying talking about the almost 13 years for the majority of history class. Furthermore, my old hometown was close to Floßenbürg, which was one of the concentration camps. One of the awful utilities to simply put kill people horribly. The stop in Warsaw, but also here, really made me even aware of it. Emotions reaching from sadness to rage how a single person can lead to such an amount of wasted lives. I have always seen my side on the left wing, that's something I make no secret of. Can't help but also see the movement to the right in entire Europe, especially being there. That fact made me a bit scared, but also anger. History at the end repeats itself, and that's the terrific truth. For me, it's just left to hope and advocate against nationalist thinking, hoping to avoid such terrible things in the future.
Lost in my thoughts, I sat there for quite some time, until I heard some Spanish voices from far, a bit curious got towards it. What I found left me speechless. There were some Spanish girls posing for Instagram, from the few words I understood from the conversations. Be assured, it was not to remember or anything, but just having a "cool background", doing silly poses and so on. That got me really mad, especially since there were signs in almost six languages at the entrances and throughout the thing to be respectful. As it's also a graveyard, it's such a disrespect. Unfortunately, don't know much Spanish to make them aware of it. Really hope they just didn't see it for some reason. In moments like this, it's really dumbfounding to me how blind or even ignorant some people must be. Even if I don't believe in god or some religion. When I visit a church etc. I obey the rules set up by them. Is it really that hard trying to be adequate and respectful?
Sorry for that short interruption in the diary, but it is something that belongs here and was part of the experience. You are welcome to share your opinion on this in the comments.
From there, took the bus to the castle, which was one of the really few times enjoyed visiting a castle. It was really well maintained, and you could get a glance at how it looked like back in the days.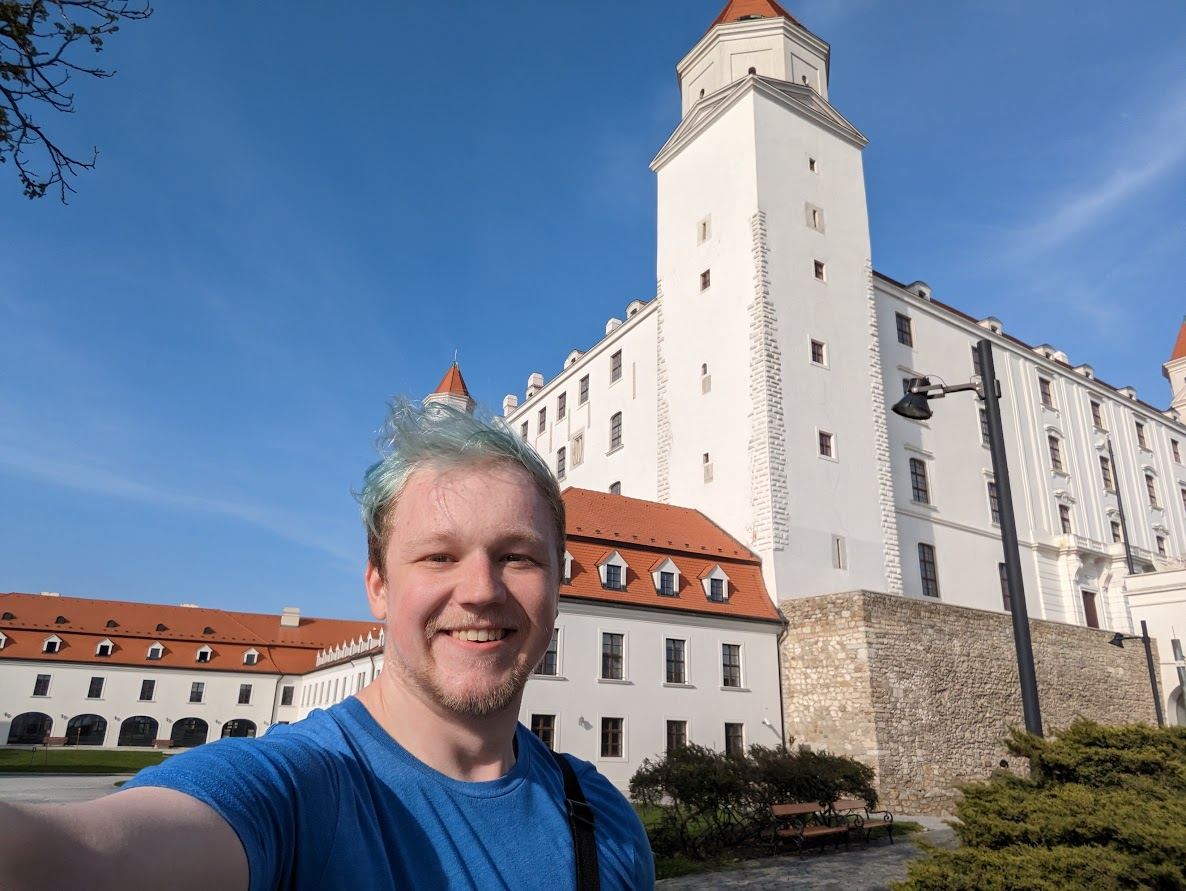 After walking around the walls which are surrounded by a small trail for some parts, went inside. The view awaiting me was really stunning.

The day reached towards its end, so went back to the train station, collected my stuff and took the bus to the Airbnb for the night.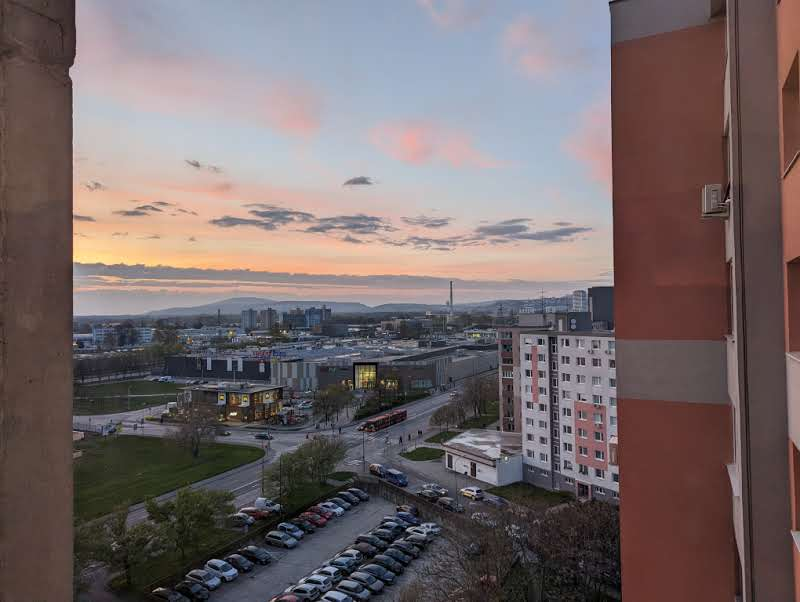 Being able to rest for a bit longer, realized that I hadn't eaten today, so ordered Pizza & Pasta, finished this blog post and called it a day.
Recap of the ninth travel week
Poland, by far, exceeded my expectations. Really loved it here, and it's pleasant to see and feel how the country developed and still does at a rapid speed. Really surprised how much I loved Pierogi, also the polish cuisine has some really charming meals in the repertoire.
Slovakia was not on my radar, but was really charming. For me, it's a bit comparable to the Czech Republic, but a bit further developed and with nicer people. Visiting the memorial for the fallen soldiers got me thinking again about the dark part of german history. Even though I can't change it retrospectively, it keeps the memory awake of what can happen when nationalism takes over.
💡
Looking for other posts around the trip? - Check out the tag
EU-Trip 2023