It's already week 8 of my trip, following the post about week 7. Have no clue/context, then the original post, It's finally time for an adventure, is for you.
08.04 – A day in Tallinn & Travel to Riga
The last day in Tallinn. Since I already saw the things I wanted to, had no clear plan or a To-Do list for today. Used that to get some sleep at night, thanks again to earplugs. Because the people next to me were watching Russian series at full volume. Since the Baltic States are a nightmare when it comes to trains, booked a shitload of bus tickets.
After checking out around a noon, strolled around the old town again, which was again a lovely experience. Simultaneously got a message on Couchsurfing from someone in Warsaw, that could host me, which I am really looking forward to.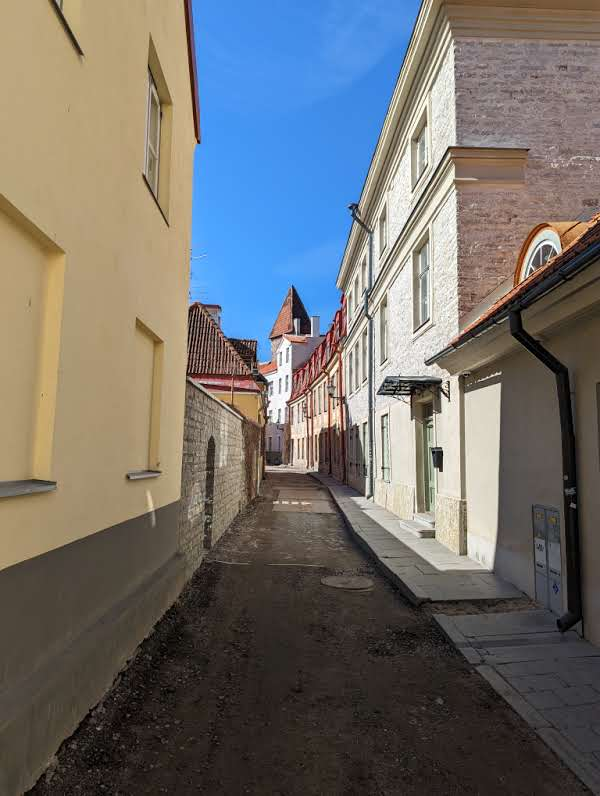 Somehow ended up at the freedom square, which was way more interesting than thought, initially didn't plan to go there at all. To be honest, I had no idea about the wars for independence from the country, but that's quite impressive. Next to it there was a nice small viewing platform. From there you had a really impressive view over parts of the city.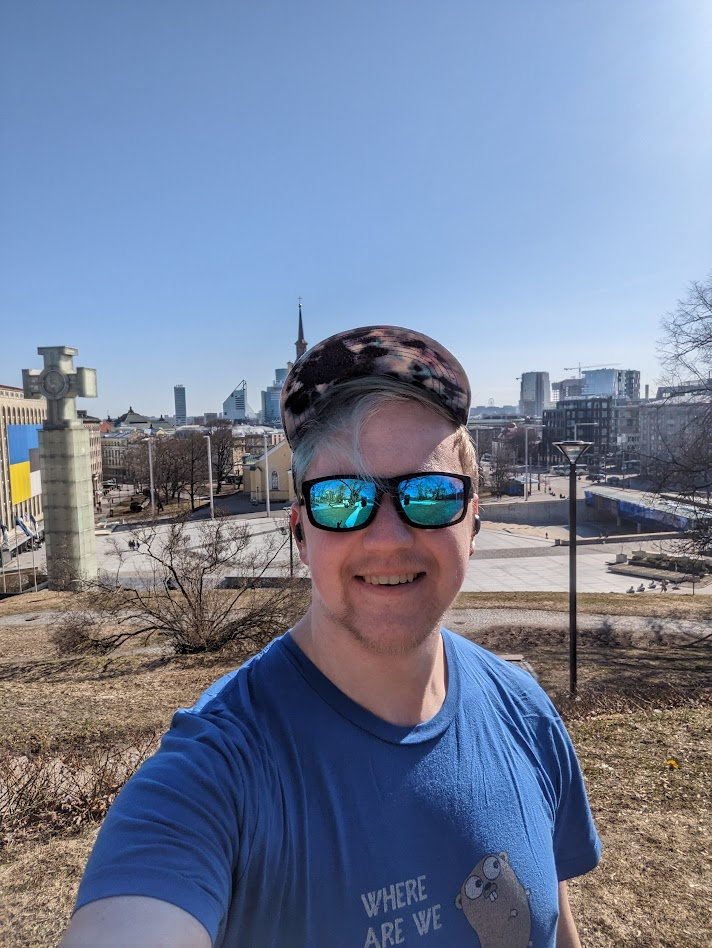 From there went towards the town wall again, this time was able to get inside, which was a pleasant experience again. Resting a bit enjoying the atmosphere, was quite curious, since everything was really digital here. Especially when you compare it to the sometimes really f*cked up buildings. Doing a bit of research, found out that they made the internet a basic right for every citizen. That's neat! Estonia also offers special digital nomad visas for up to one year. E-Residency is also possible, allowing you to virtually let your company be based here, while operating globally.
On the way towards the bus station, found a fascinating combination of architecture, a brick stone building not even 10 centimeters away from a skyscraper.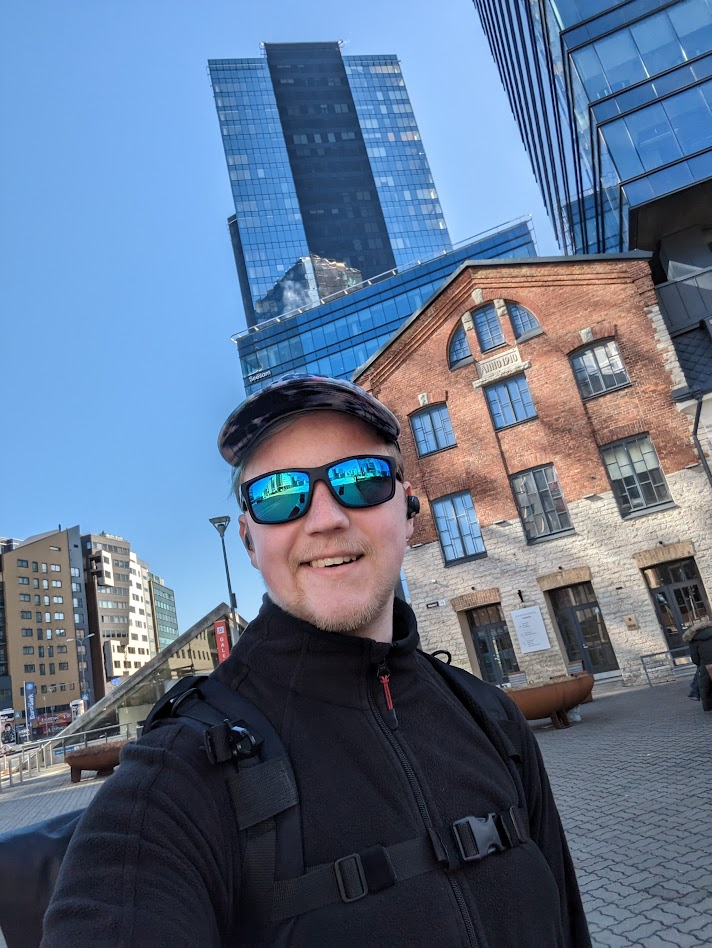 As it was the only bus going to Valga today, went there already an hour before, to not miss the bus in any case. But jokes on me, it didn't even arrive at the end. I was standing there, really pissed off. Calling the customer support, after hearing english, the first one just hung up. A few attempts later, someone was able to "help" me. They basically couldn't contact the driver because they had no phone number etc. The person on the phone was not even sure if the bus even drives at all. What a freaking bummer. Since it is not actually FlixBus doing the bus trip, searching for partners can't find it in the list, which basically means will never see my money ever again. As it was already 15:00 had to hurry up a bit if I wanted to arrive today still.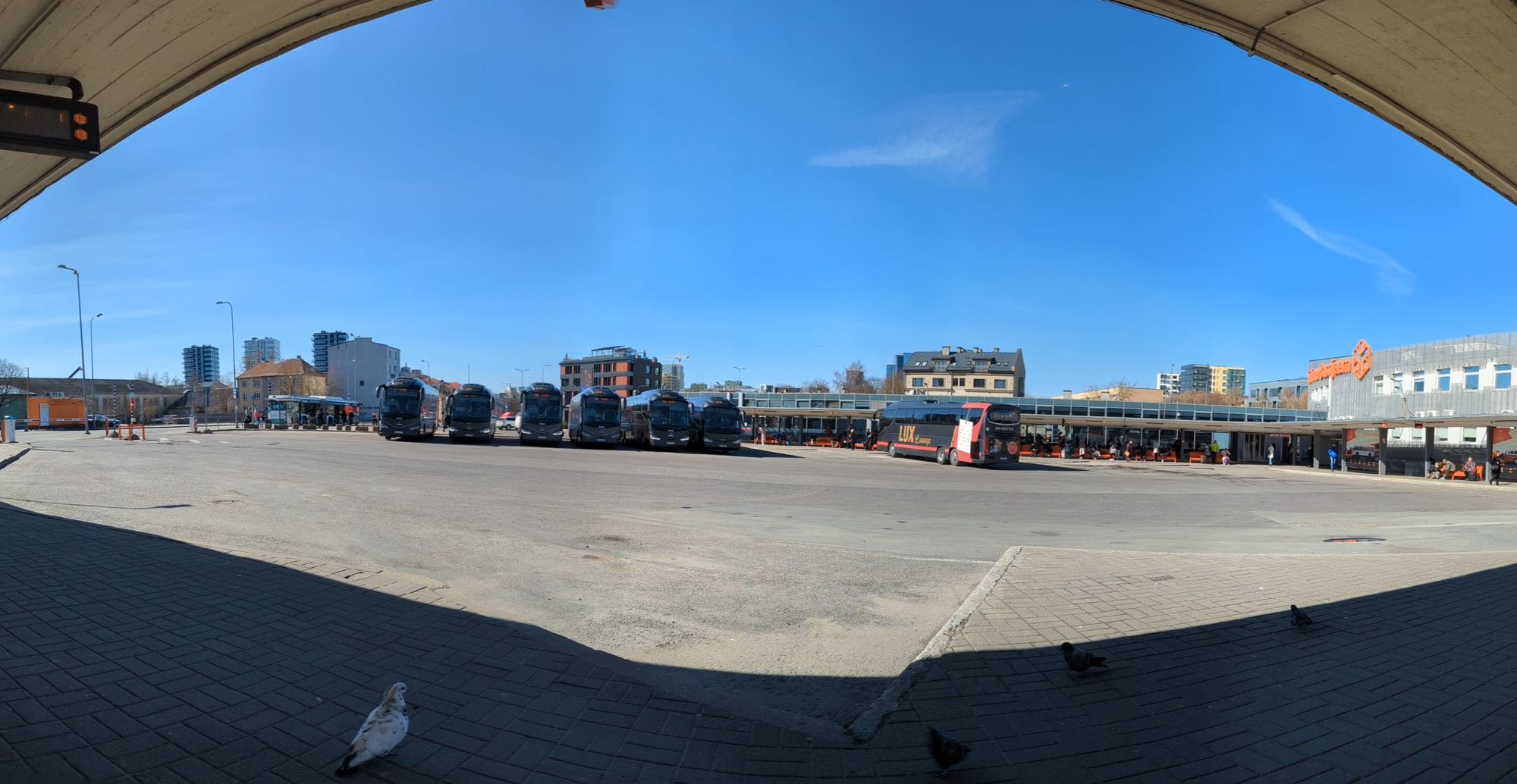 Searching for a rental car, nothing shorthand that would be worth it at all. So decided to skip Valga entirely and go to Riga instead. I got a bus ticket via omio app just 20 minutes before departure at 16:00. Cancelling my apartment for the day, which I won't get refunded as well. Also cancelled the bus to Riga from Valga, that I just booked in the morning. At least got a 50% refund here. The only good thing is that the Baltic States are pretty inexpensive, so it doesn't hurt too much. So, after a good 30 minutes, everything was back on track.
From here, things went smoothly again. The bus was there right on time, a hassle-free boarding experience. Furthermore, the extra day in Riga allows me to travel at night to Kaunas, having more time there.
After almost five hours on the bus, which by the way, was really comfortable, saw a lot of Estonia and Latvia as well. So at least the struggle with rebooking had something positive. Already on the way, noticed that many people here drive really impulsive, almost restless. Which is the opposite to what I encountered in Estonia. It was hard to tell a difference from the landscape, though.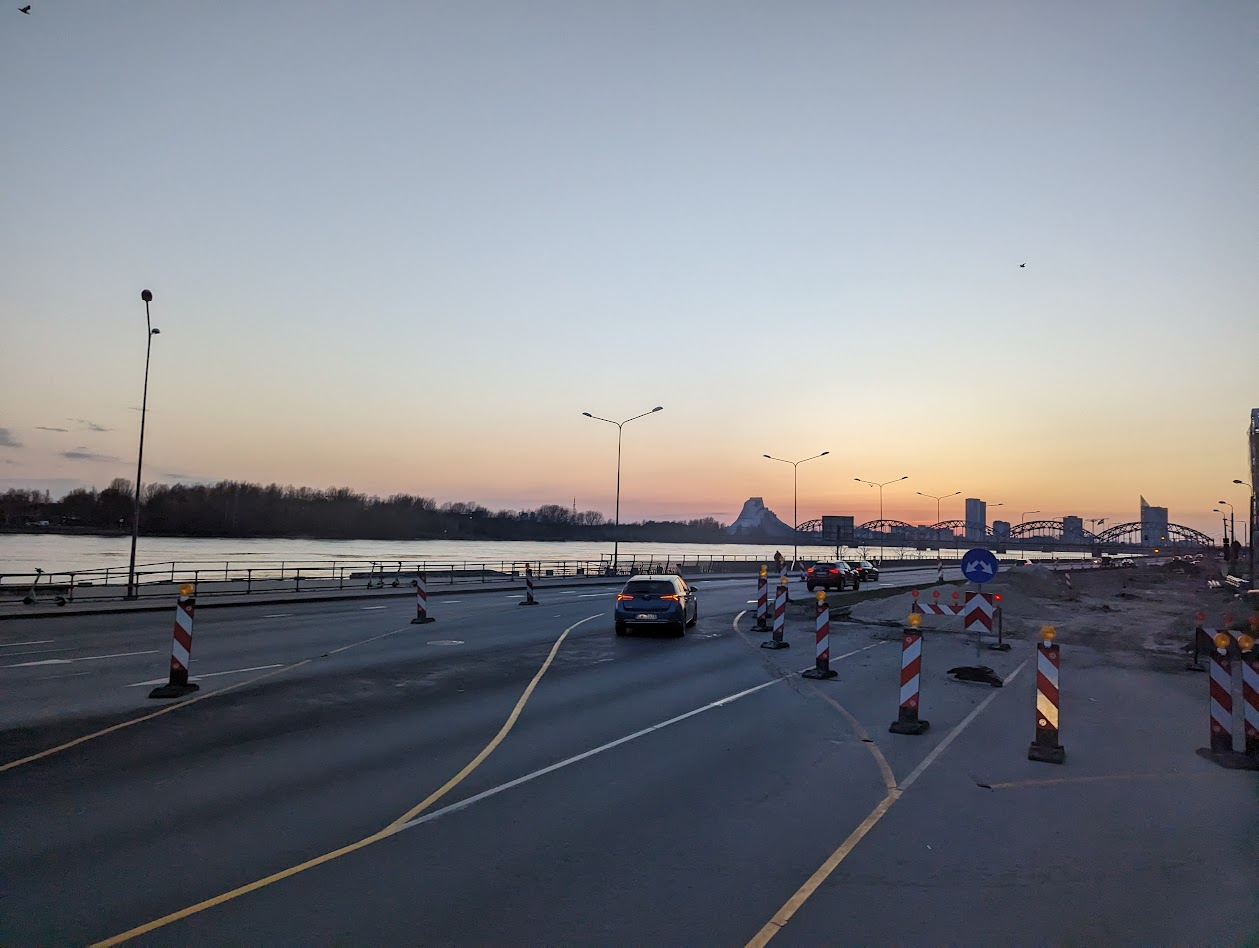 Coming out of the bus immediately felt like Riga is more what you would expect from a city, especially the capital. A lot more crowded, everything was simply bigger. Language-wise, a lot more people here spoke Russian, not a big surprise but still had me curious at first.
Since it was already dark and didn't have too much motivation to explore the city today, decided to head straight to the hotel.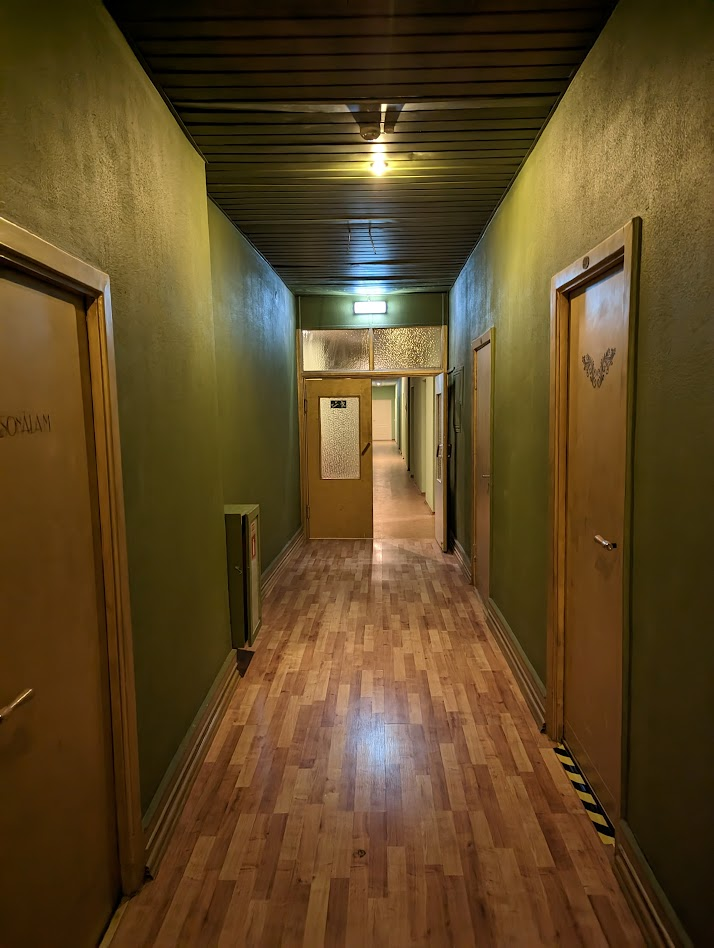 At the beginning of the night, it was quiet. Around midnight, some hotel guests decided it would be time to speak loud Russian on the floors. Waking up pretty annoyed, got my earplugs, going to bed again.
09.04 – First day in Riga
Slept until 10:00, but was not really relaxed because of the annoying disruption at night. Earplugs were a superb investment, will just use them precautionary in the future, so lesson learned.
Check-out was really fast, mostly because the woman at the counter was truly annoyed by her pure existence as it seemed.
From there went to the town hall square. It was quite nice, but unexpectedly small in real life. What fascinated me, already on the way, was the pure silence in the city. Even though it was a bit more crowded sometimes, it was that quiet, you heard even the birds from far.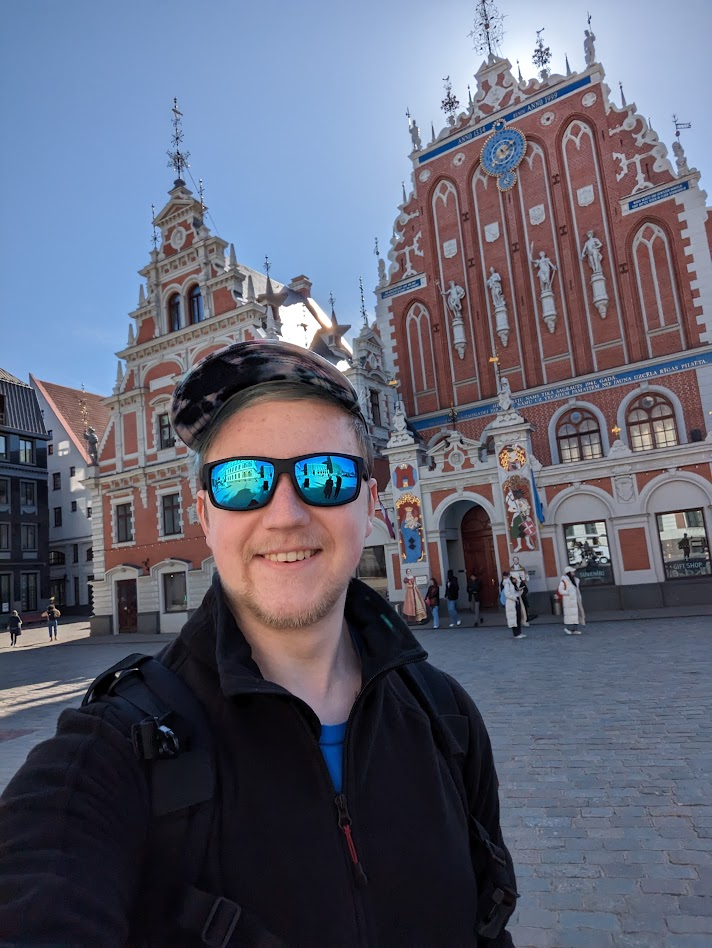 In contrary to my usual route, started at a souvenir shop, to not forget to bring some small thing to my host in Warsaw.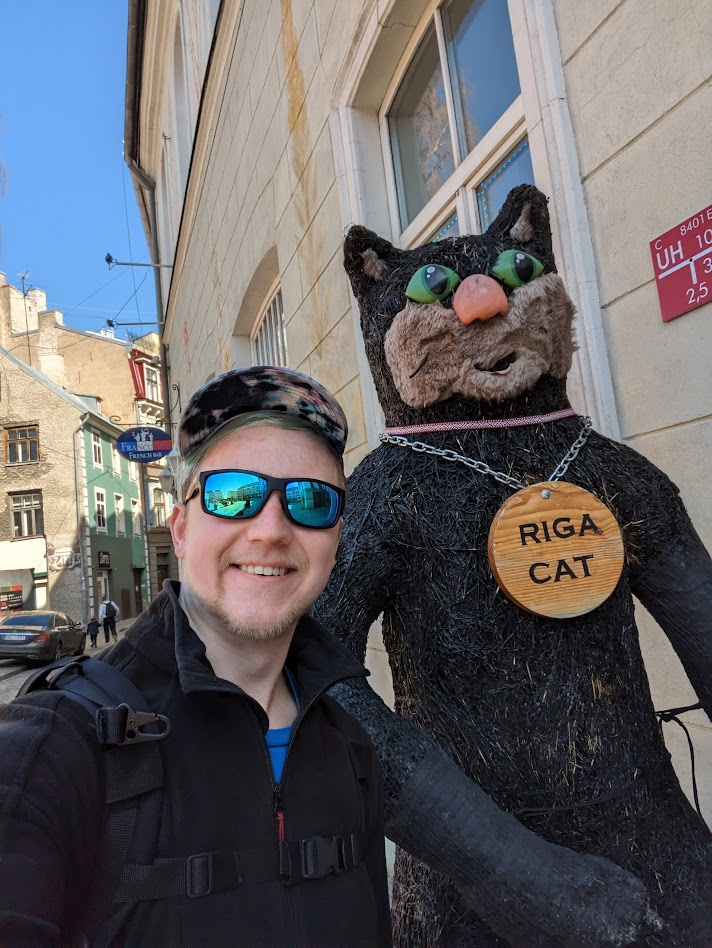 Capital and the black cat are closely intertwined. So, there was a lot of merch around it. Found a quite charming fridge magnet that sealed the deal for me. Didn't mention this, but each place I really liked (and found an enjoyable motive for) also buy a post card. There were so many good hand-drawn ones, so picked one from the city as well.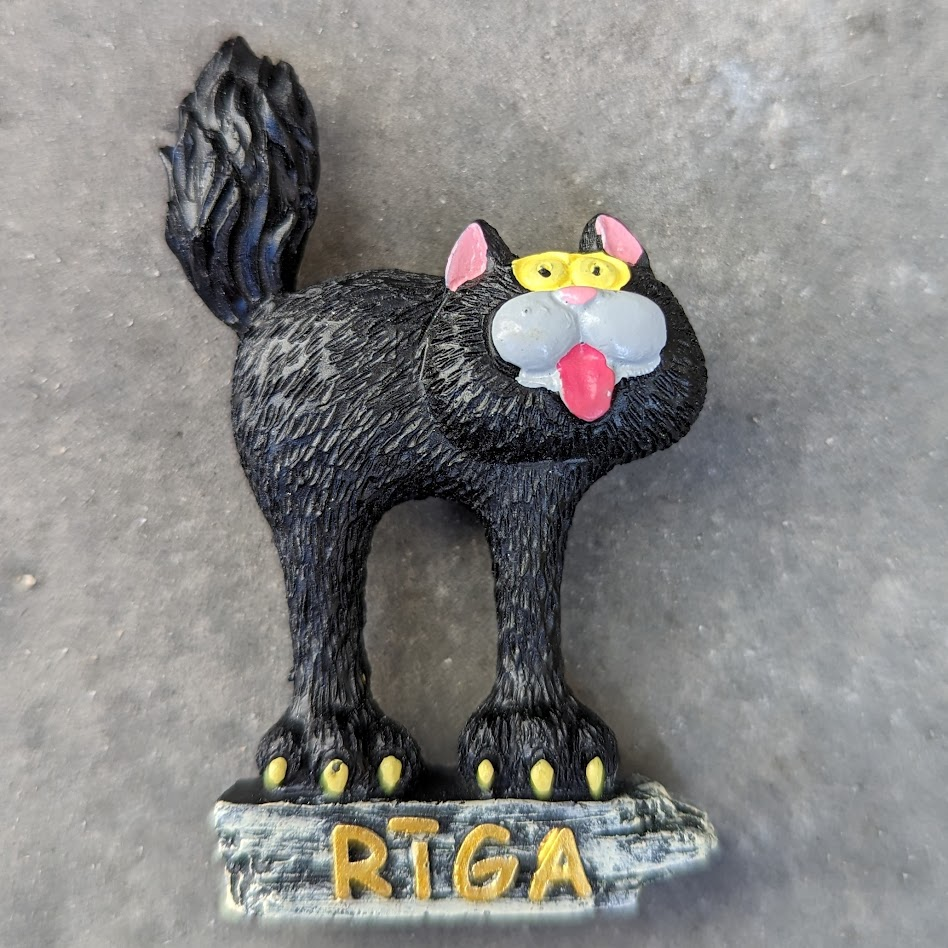 Happy with my choice and buy, went to the Swedish Gate. Almost missed it, since it was really very basic. My attention got more caught by an older man, standing a bit on the side of the street, drawing pictures. Coming closer, he smiled, seemingly enjoying that someone noticed him and his art. Talked to him with the obligatory question if he spoke english? His face brightened up, starting to talk in polish, leaving me a bit confused. Telling him I am not polish, he was a bit confused as well. Pointing on the logo on my jacket, he thought I was Polish because of the logo from Engelbert Strauss. Told him that is actually from Germany, again leading to his eyes lighting up. Switching to german, he told me he speaks a little and how much he loves Germany and the cultural stuff that was left from Germany in the country. Rafael, as he told me later, a 73-year-old man, he comes here every day for almost 23 years now. When he stopped working, needed something different, so he came here, drawing, hoping that some of his artwork gets sold as well.
We talked for quite a while, about culture, the occupation of Riga from so many countries over the years, his views on Russia and the Russian culture. It was really a refreshing experience. Despite his age, he still seemed to be open to new ideas, constantly trying to decide and reevaluate based on new knowledge. That was astounding for me. Then the typical question came up, "What do you study?". After telling him, I have been working full time for a good five years now and never studied. Rafael was very surprised, after asking for my age, he was visibly impressed. I couldn't resist but ask him about it. And his answer was surprising, "It's wonderful you can make it this far at such a young age […] I only made it once to Germany". That really got me thinking, which privileges our generation has when it comes to travel.
As we talked, my view always went to a specific artwork behind him, couldn't resist but ask him, he was firstly a bit irritated, but then told me the price, which I found okay, so we had a deal. Didn't have more than five euros with me in cash, so went to the ATM first, coming back as he started carefully packaging it, as I unpacked it later, would see he also signed the backside of it.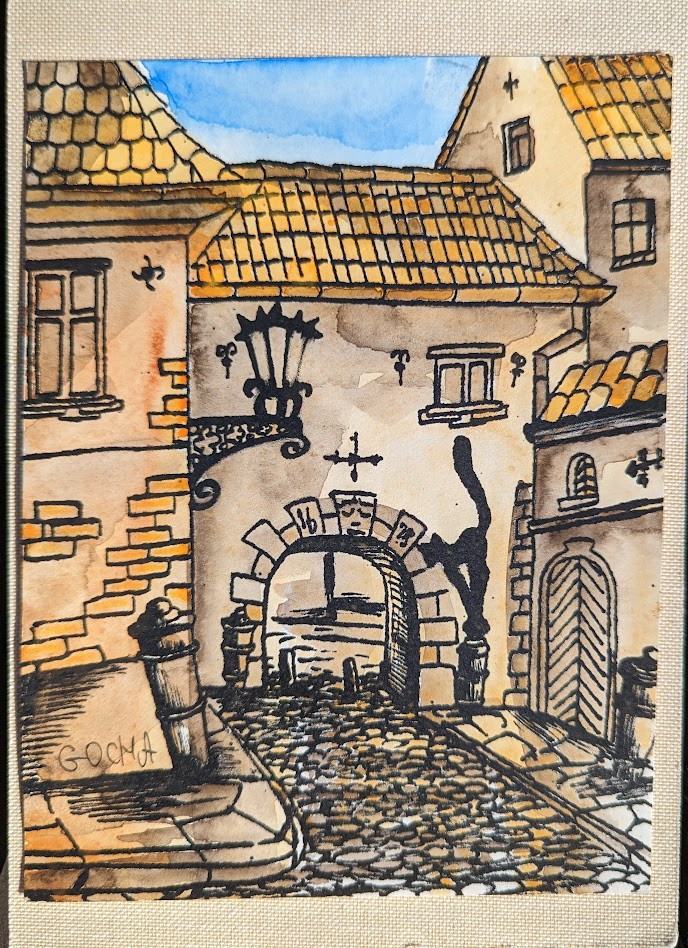 Pleased that he sold something, he really smiled brightly. Told him that I needed to go on, so we had a warm farewell. That artwork will definitely find a special place in my apartment, also the conversation we had will stick in my mind for sure. Sadly, he didn't let me take a picture of or with him, so I only have my memory for that.
Strolling further towards the Brīvības piemineklis, also in english "Freedom Monument". Quite impressive, a two-man honor guard from the National Armed Forces stood at the base of the monument.
Thinking about the conversation with Rafael in the Bastejkalns Park, also the Freedom Monument in sight, realized how little I actually know about the Baltic States history. Researching it quickly, really made me realize how important that monument is for the state. Occupied over centuries by other countries, including Germany, Russia, and Sweden. As a generation that grew up without a directly affecting war, that really feels odd. It's hard for me to imagine, what the state has gone through. Little surprising with that in mind that the monument was built, completely funded by material from the citizens.
As time flies, it was already afternoon, so went to the Airbnb to check in. The outside and the hallway really looks like the typical Eastern European buildings you would imagine.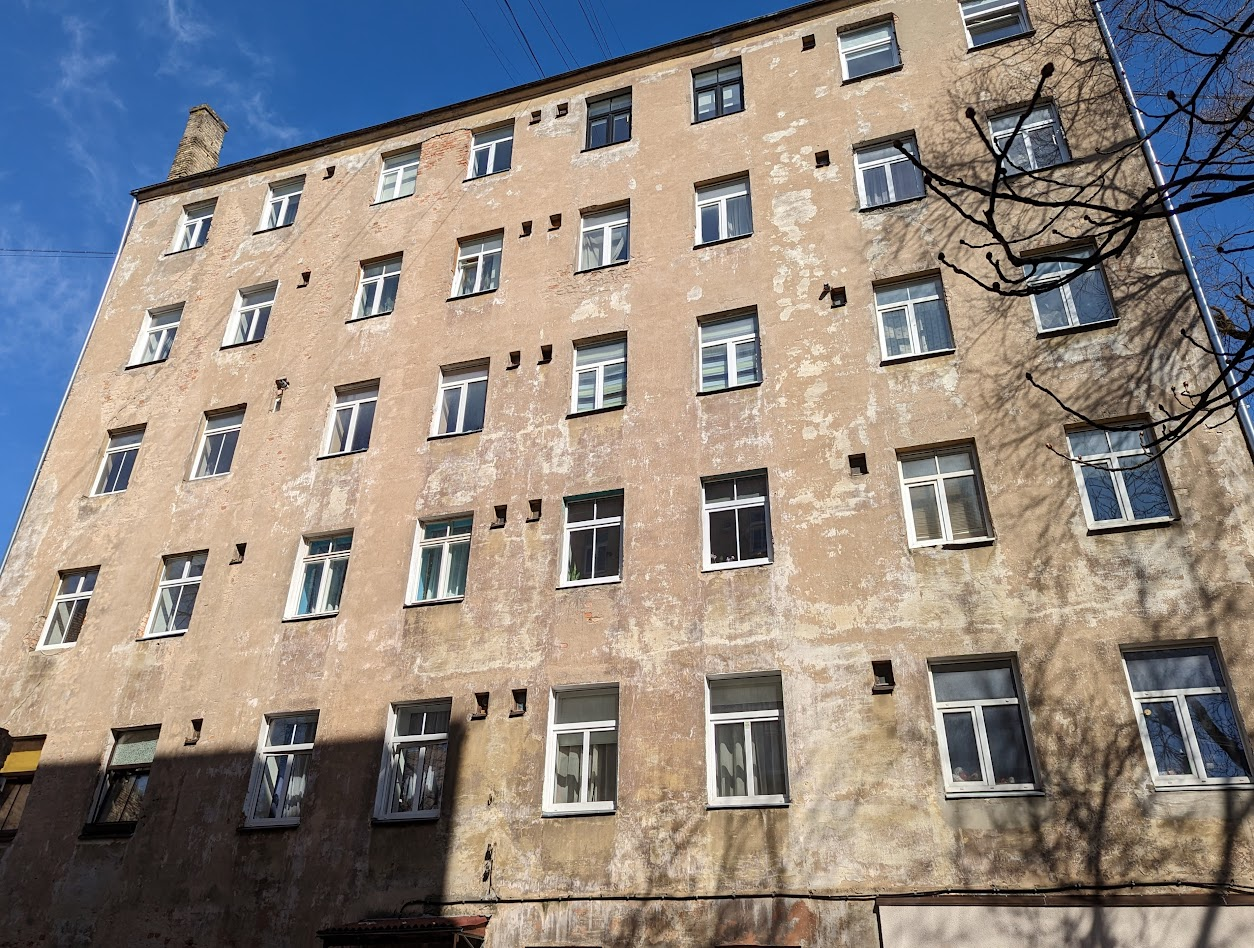 Inside it's pretty cozy and modern, quite a contrast coming in. Ordered some food, rested and called it a day, since already all the things I wanted to check out and see were already done anyway. Except the Riga Central Market and Jurmala, but that's something that's better done tomorrow with a bit more time.
10.04 – Second day in Riga
Started the day pretty early since I had to take the bus at midnight, hoping that I would be tired enough in the afternoon to go to sleep. As always, started with the destination that had the greatest distance, so Dubulti was the first stop. Since the train to the city commutes every 30 to 60 minutes, decided to go there by train. Right on arriving at the rail, accessories, and comfort were really non-existent, but it did the job. The driver of the train was really impulsive, always had the feeling that every stop was an emergency-stop followed by an abrupt start only a few seconds after the time had come for departure. It was a bit funny to see the upset faces every time someone always fell thanks to that driving-style.
A bumpy ride later, arrived there and already from the train I saw the beautiful landscape and the typical East European buildings, a bit f*cked up, but still charming for me. As I walked by residential areas, found a little lost place surrounded by panel buildings. Just had to stop by there, although not going in since I am not superb with either the language neither the law here.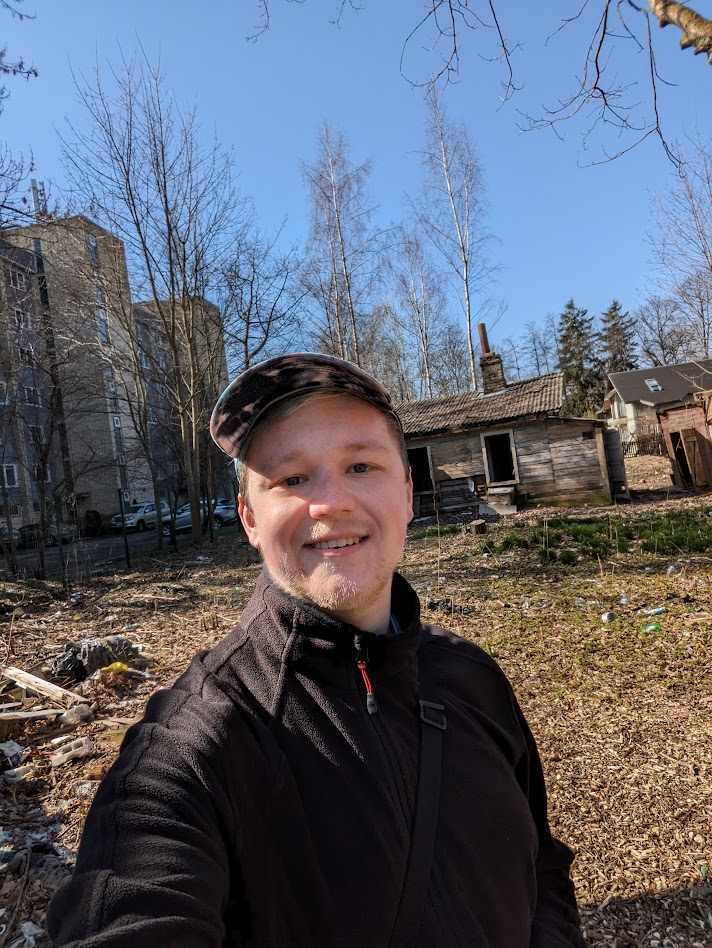 Strolling around the residential areas, also talked to some people who were really curious after seeing me here. First approaching me in Russian, even though many just spoke a bit of english, they tried to communicate, which was really a big surprise for me.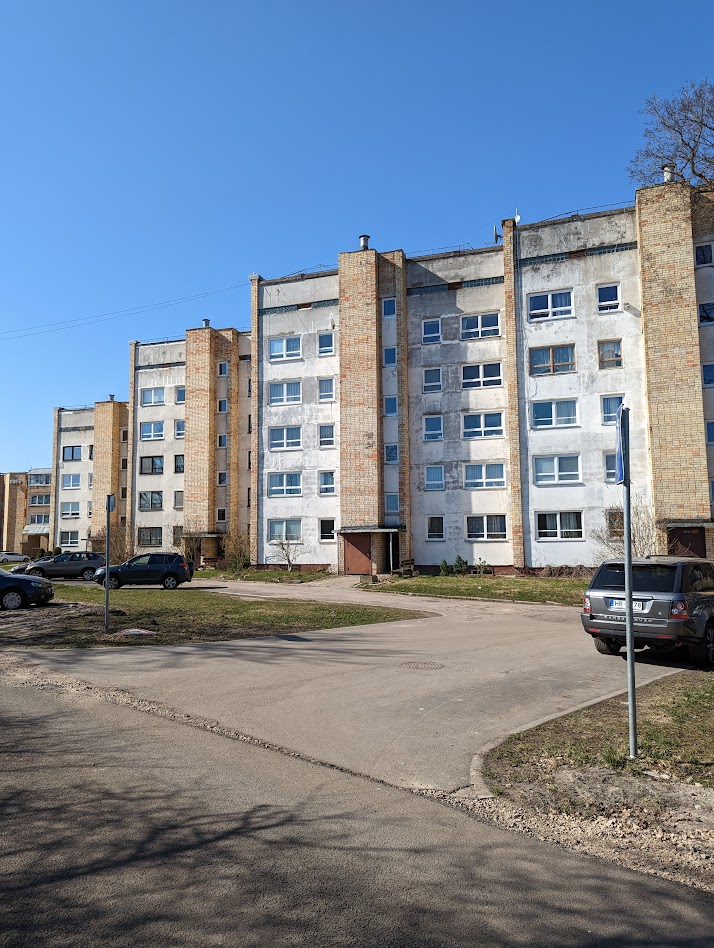 Really curious about the beach here, so also checked it out, and it was perfect. A bit colder weather, combined with a beach that has really fine sand. There were also really much people, especially considering it's not season yet.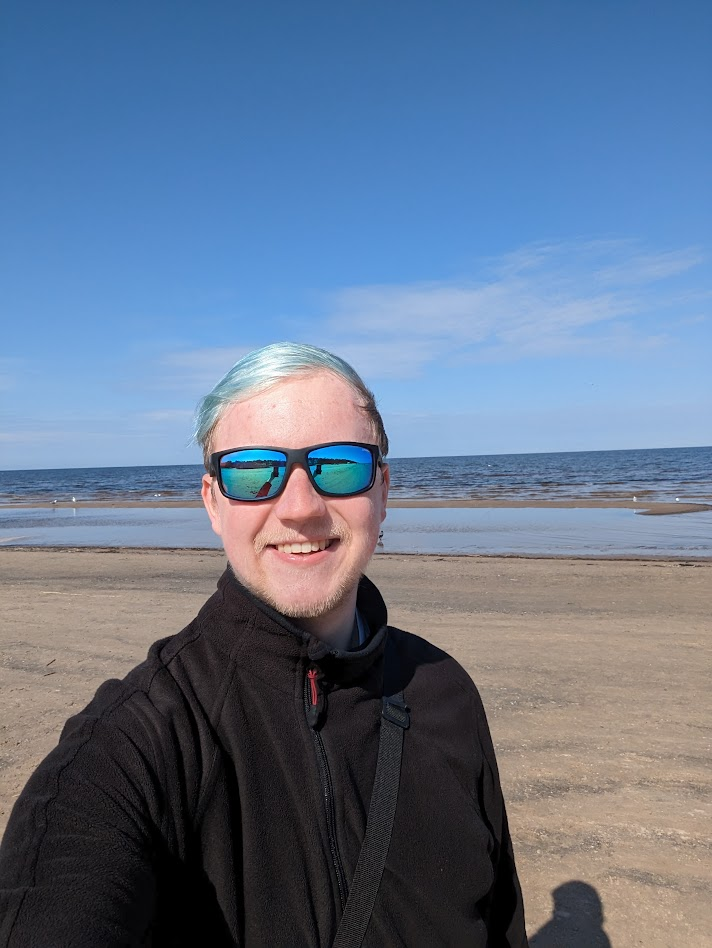 Directly from the beach, went to the forest, which was also a nice different experience in contrast to what I had before. The huge pine trees and the mossy ground was really a charming atmosphere and especially nice to walk on.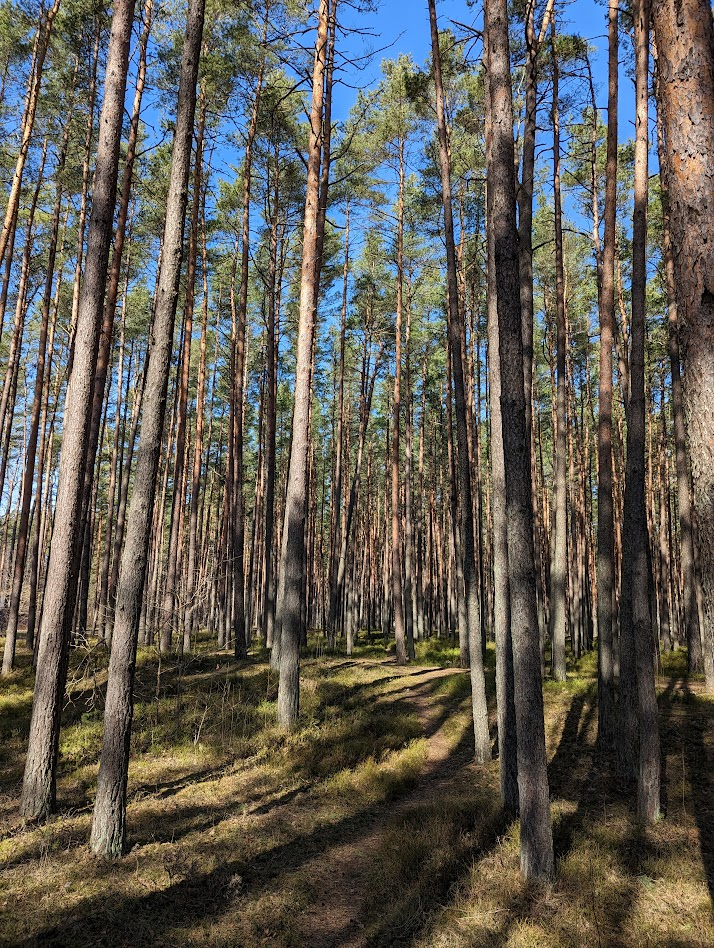 Time flew by, checking my phone realized that my train will leave in 15 minutes, by foot it would take 30. Already saw some Bolt scooters on the way, so on the way downloaded the app again, adding credit card on the walk. Scanning and taking the first scooter which brought me there, just as the train arrived. Really smoothly went into the train, as I took a seat, the doors closed and the bumpy way back has started. A bit nervous, as the conductor came in, since already had some stories online about conductors having problems with interrail passes. And the bad experiences continue. Already warned her that I have an interrail pass, didn't help too much as she spoke Estonian, Swedish, Russian but not English. Seemingly annoyed, she talked in Russian to herself, gesturing me to just stay there and wait. Time flew by, she looked at me nervously from time to time, at the end just left and never returned. It got me a bit confused, but just let it be.
As many people left the train and the sign said that we were in Riga, got out of the train, realizing that's not Riga. Checking Maps, realizing I got off one stop too early in Tornakalns. Not too bad, since the next train would come in 30 minutes. So waited there, also exploring the area near the train station a bit, as I had time.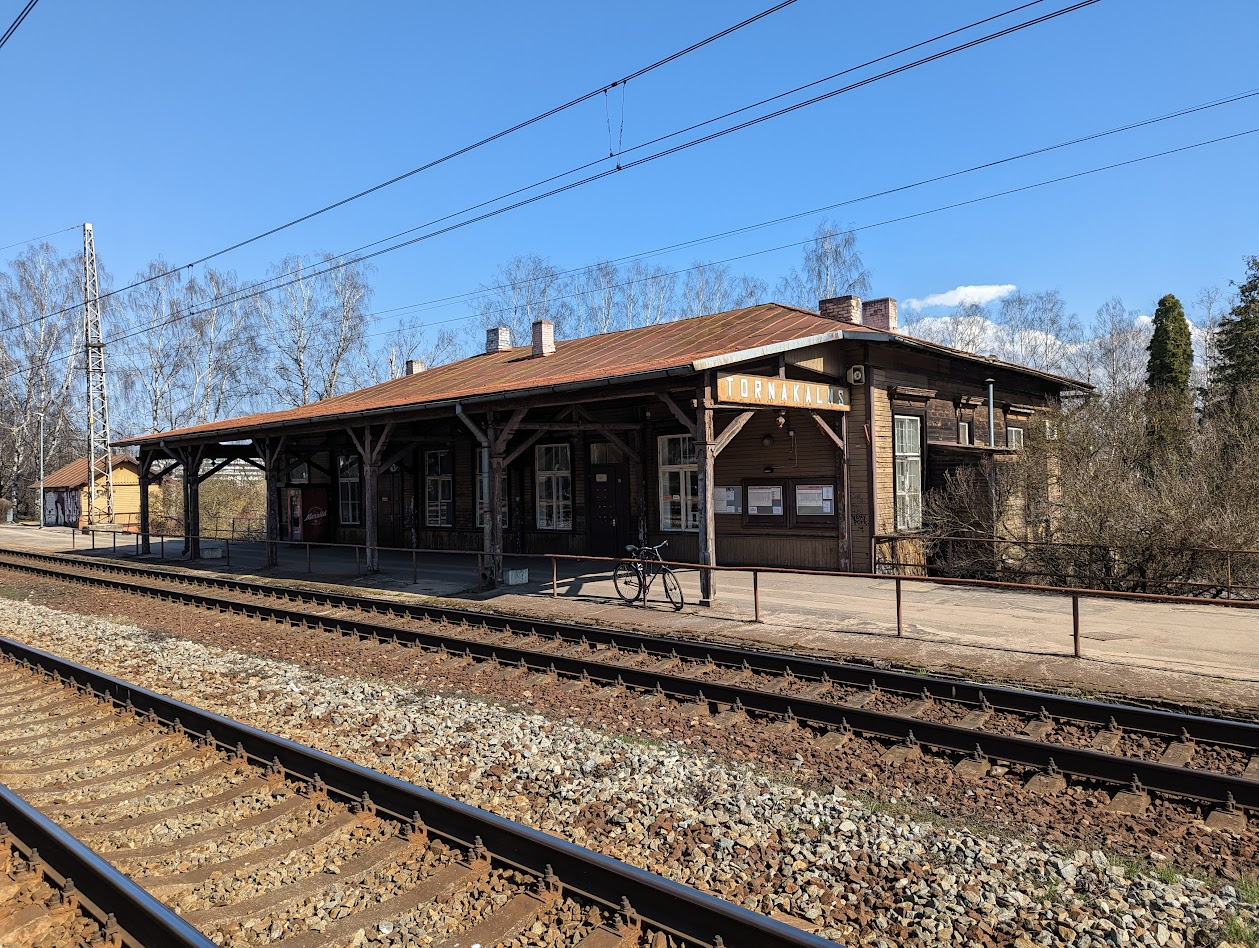 Right in time, squeaking announced the train, which I took to my final destination. Also in this train, a conductor was there, fortunately she spoke a bit of english. To my astonishment, she realized I had an interrail pass, smiled, switched to a different app, manually typing the details in. She gave me a ticket with a 100% discount, the original ticket price would have been 90 cent. I am pretty sure typing the stuff in was costing the train company more than the actual thing. Also checked the entire journey would have cost me €1,30, that's incredible cheap, especially considering it's a journey of 40 km, in cologne I already pay for 4 stops a good €1,90, inside the city.
Back in the capital had still an hour until the Central Market closed down, had not too much hope, since most stores would be already closed. But many, especially fish, meat and vegetable stands were still pretty full and open. A bit odd for me, that you could directly see (and potentially touch) the stuff. Even in Spain, there was some kind of glass / separator between the stuff and the buyers, but here everything was pretty open. That triggered the german inside me a bit, but also found it quite cool. Everything was considerable cheap, even setting it into relation to the prices I am used to. All the things that were to buy looked really fresh. Since the market was so huge, and I still wanted to see the entire thing, didn't take any photos, as I originally planned. Even though it was not too photographic, it was really a different experience.
From there, initially planned to take the bus, tried different bus stops and lines, but all seemed not to arrive or have a tremendous delay. So decided to just walk back, since it was faster. Grabbed some burgers on the way back, that I ate in a local park. Arriving at the Airbnb to pack my stuff together already for the bus trip at night.
Trying to fall asleep in the late afternoon didn't really work out, so just slept for a few hours, the rest of the time continuing to write this blog post here.
As it happened to be also someone in Kaunas, who has not sure if he could host me, found the time and made it possible. So cancelled my room for the night in Kaunas.
11.04 – Travelling & A day in Kaunas
Taking the FlixBus at 00:05, which allows me to compensate for the messed up schedule, as well as giving me more time in Kaunas. The journey itself was quite pleasant, although couldn't really sleep a bit as I was upbeat. Arriving at the bus station, which was tiny, but also charming. On the way towards it, already saw some attractions and places I want to visit here.
As it was quite early, nothing had really open or there was much you could do. Still used the time and got out a bit in the city. To my rescue, the bus station is open 24/7 so waited there for the sunrise.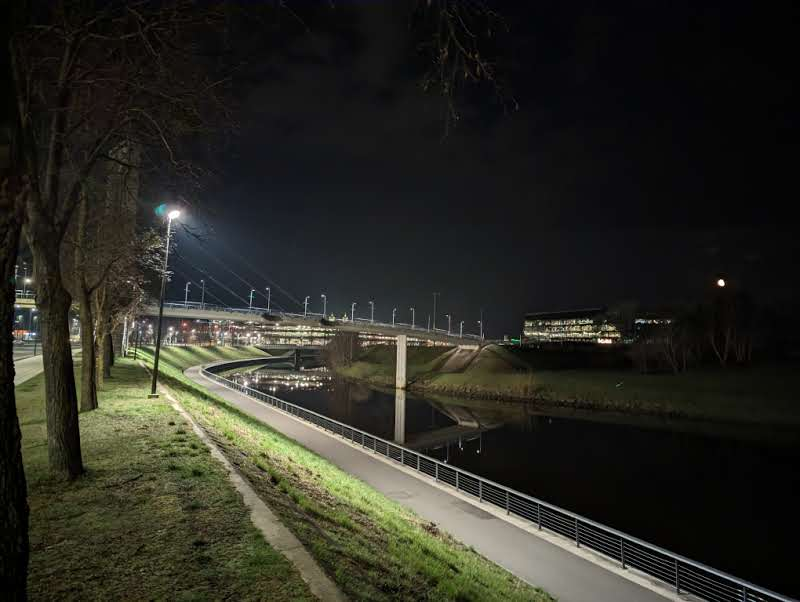 First stop was McDonald's, which was the nearest place that was open and had my elixir for life: caffeine. The first cup was just enough to get me to the Aleksotas bridge. Quite a nice motive, with clear blue sky.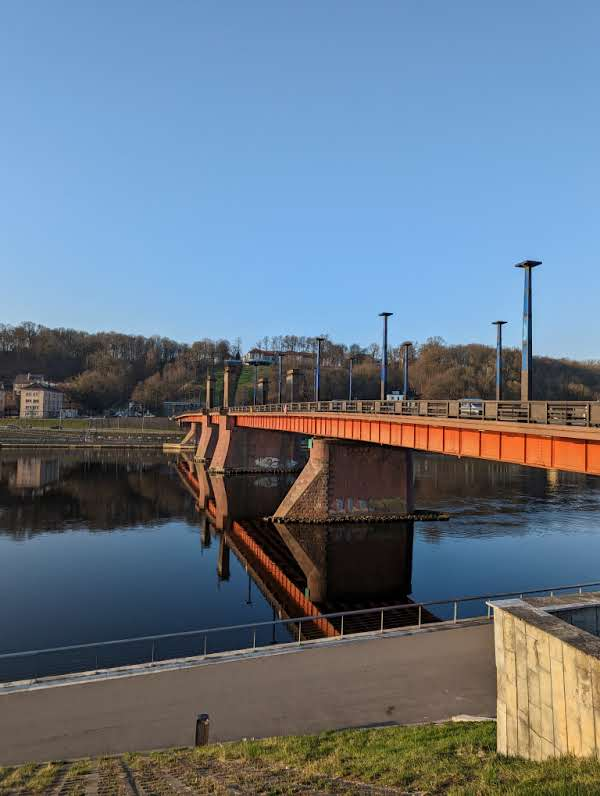 After stopping by at a coffee shop, refilling my batteries with tow more large coffee, went to Perkūno namas, which is one of the most original and Gothic secular buildings in the town. Not too impressive, as it was just 07:00 in the morning, it was not open. No problem, since I would rather not visit the museum anyway.
Already in the old town, strolled around the streets. The atmosphere was pleasant, but definitely not even near to what I had in Estonia and Latvia.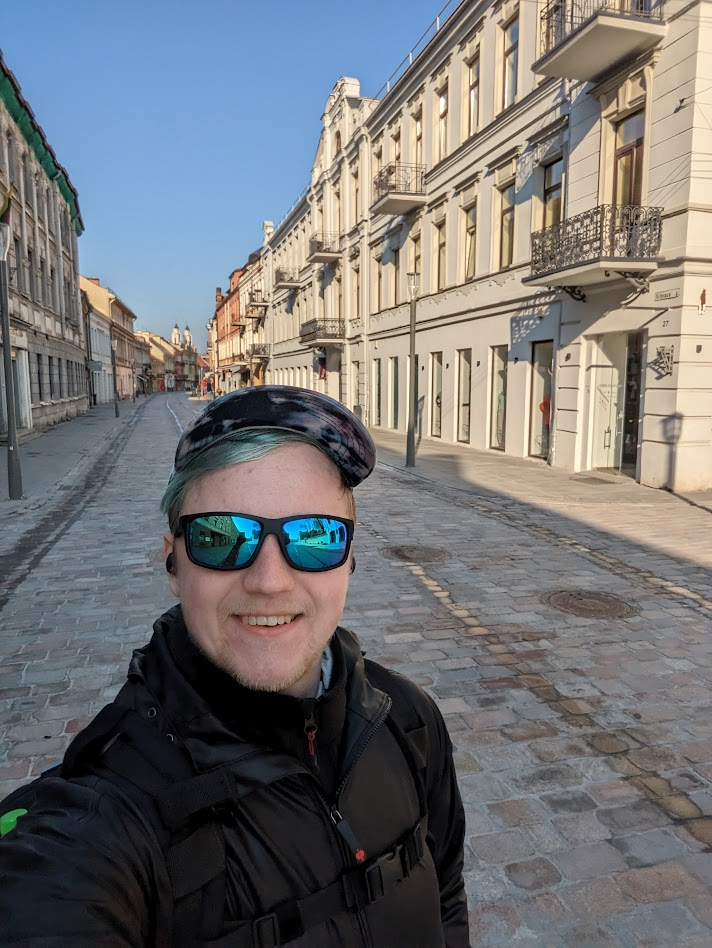 Also crossed by the town hall, which is relatively small even compared to Riga, which surprised me a bit. It might also be because no one was on the streets as it was really early in the morning and all the stores open around 10:00, as usually places seem bigger when more people are present.
Through the empty streets also went to the castle of Kaunas, which was really surprisingly neat. As I was the only person there, again, had a brilliant view and a super quiet atmosphere.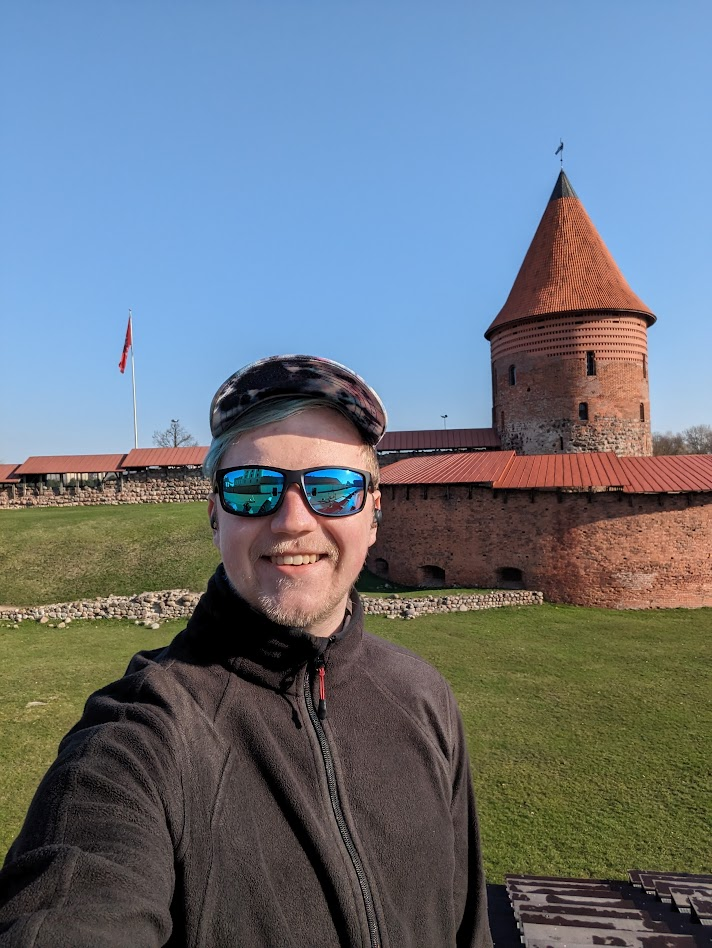 Again going to a coffee shop, this time getting something to go to keep me awake. At this point, realized that was all I wanted to do in the city. As it was not even noon, but spent six hours in the city already.
Decided to take the train to the capital, Vilnius, the first train somehow didn't arrive. The second one had changed departure rail a few minutes before arriving, so everyone was running there. Just followed the masses, got a window seat and enjoyed the view. Moreover, napping a bit on the way, which helped.
The first stop was the old quarter. A bit disappointing, it is unclear to me why exactly, but didn't really feel it. It was also a bit like time travel in maybe let's just randomly drop 2012. Not my best year(s) so that might already be the reason, since no one wants to live through bad times again.
Also got on the viewing platform over the city, which was quite nice. Although the city has numerous churches, religious stuff etc. which I am not a fan of at all.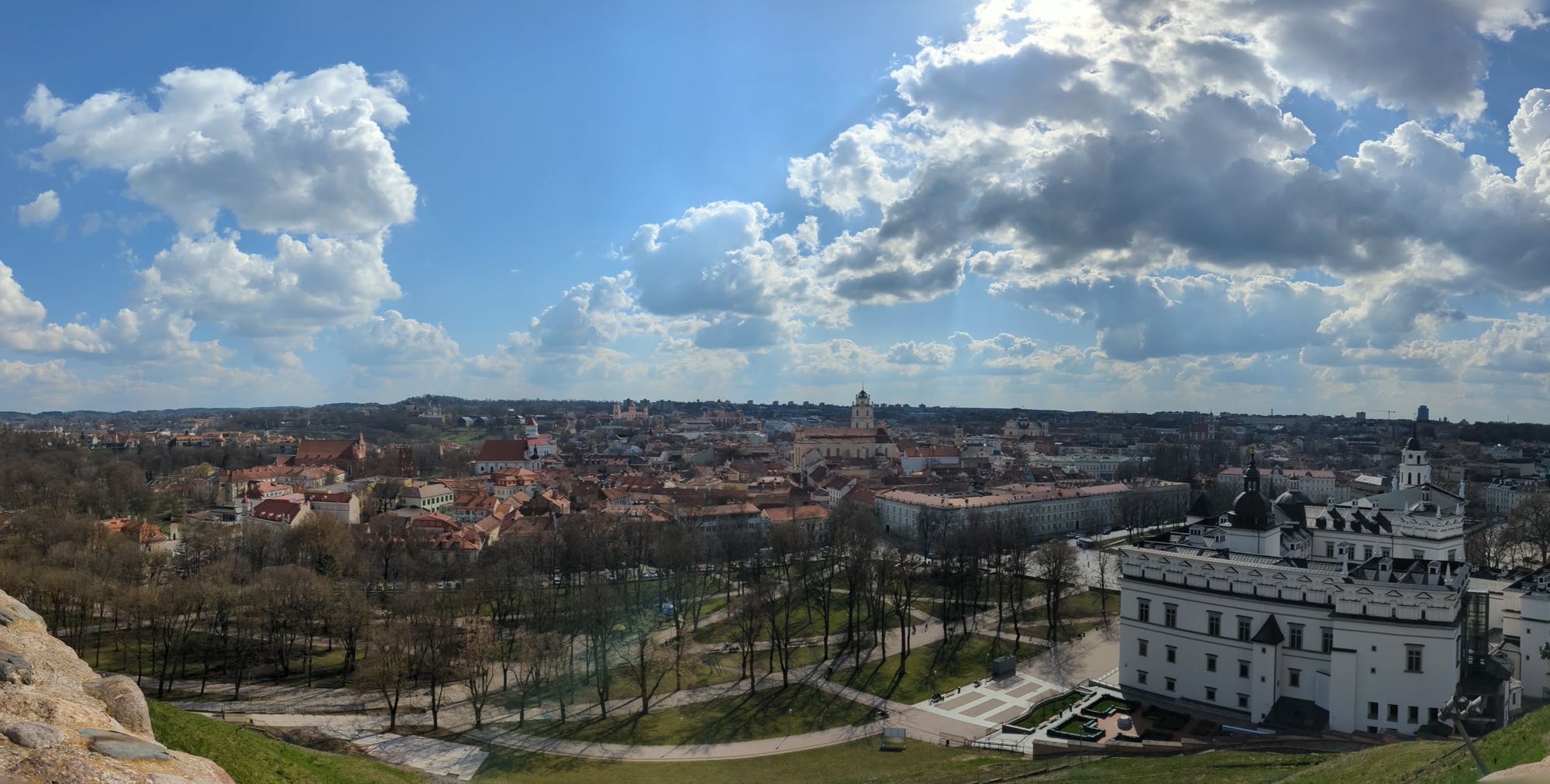 I was really exhausted, took a scooter back to the train station, waited for the train and got back to Kaunas where I met with my couchsurfing host Emilija and walked together to her place. There I also met her partner, Simas.
Walking there, really loved the combination of the rather old house in the middle, surrounded by the new buildings that are in contrary all differently.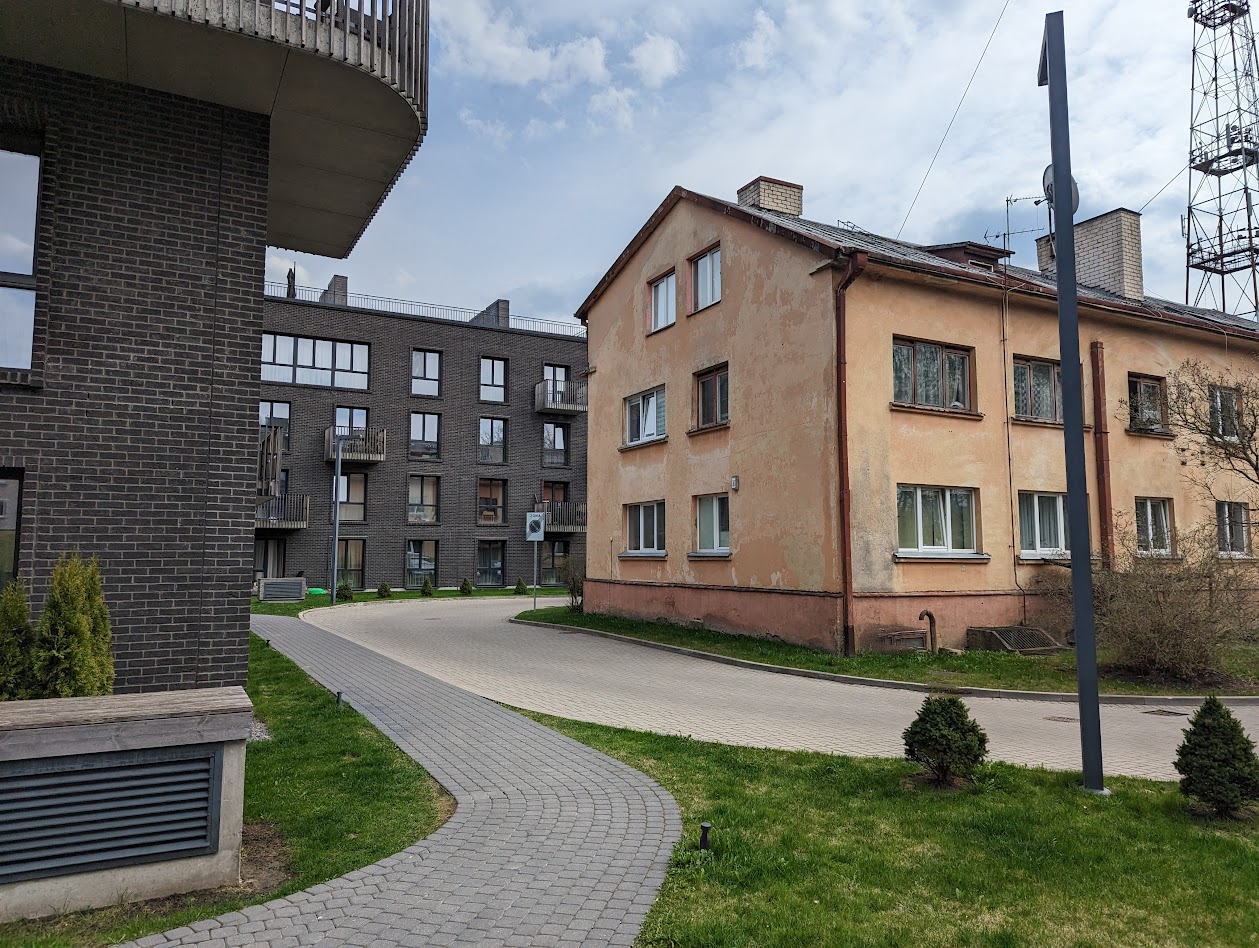 Talking about the travel, some chit-chat, showing her photos from lost places I took and so much more. Emilija showed me a map of great street art in Kaunas, which was great inspiration and definitely places I wanted to go the day after.
Meanwhile, she made some kepta duona as well, which is essentially fried beer with salt and garlic. Pretty simple considering the ingredients, but something that will certainly make it to my recipes list. Really loved the taste and garlic is always great!
Going out with the dogs as a trio together, had the pleasure of playing fetch with the dog, which was really delightful. Coming back and really feeling tired, took a shower, got to bed and called it a day.
12.04 – Second day in Kaunas & Travelling to Bialystok
Sleeping pretty well, also trying to compensate for my flaky sleep on the bus and not being able to sleep in the afternoon the day before. Waking up, made up my trip for the day, including the street kind I wanted to see as well as the restaurant that got recommended to me by my hosts. Leaving my backpack in the guest room, it was really comfortable following my route.
The first stop was the artwork Towards the goal. Already went by yesterday, but as it was already dark outside wanted to visit again.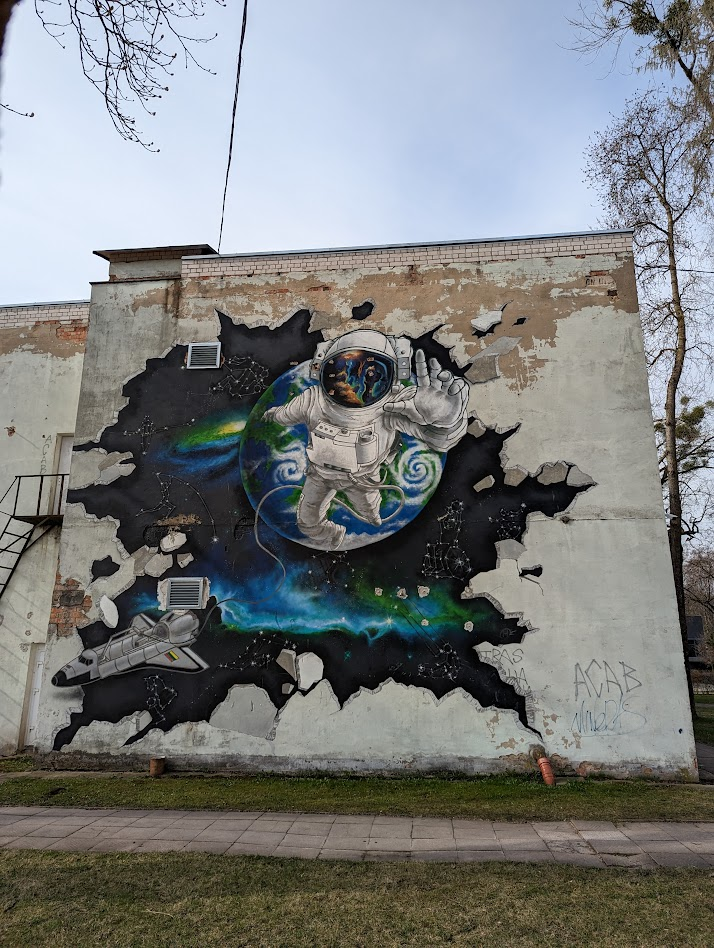 From there to The Pink Elephant. Really well integrated, almost walked by.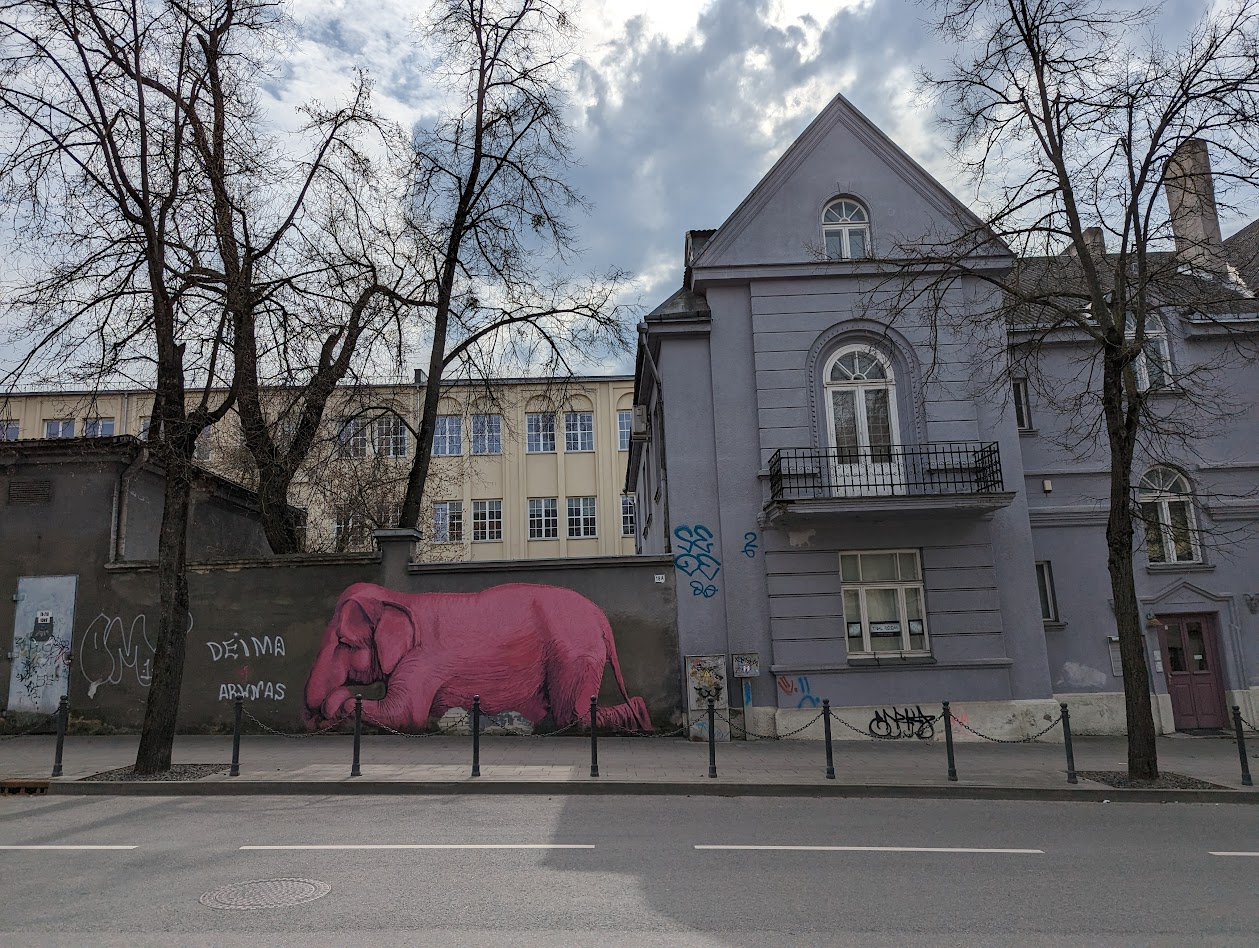 From there to The Wise men, which I already saw on my first day when visiting the castle. Giving it my full attention, also noticed how well it is integrated, and has so many great details in it.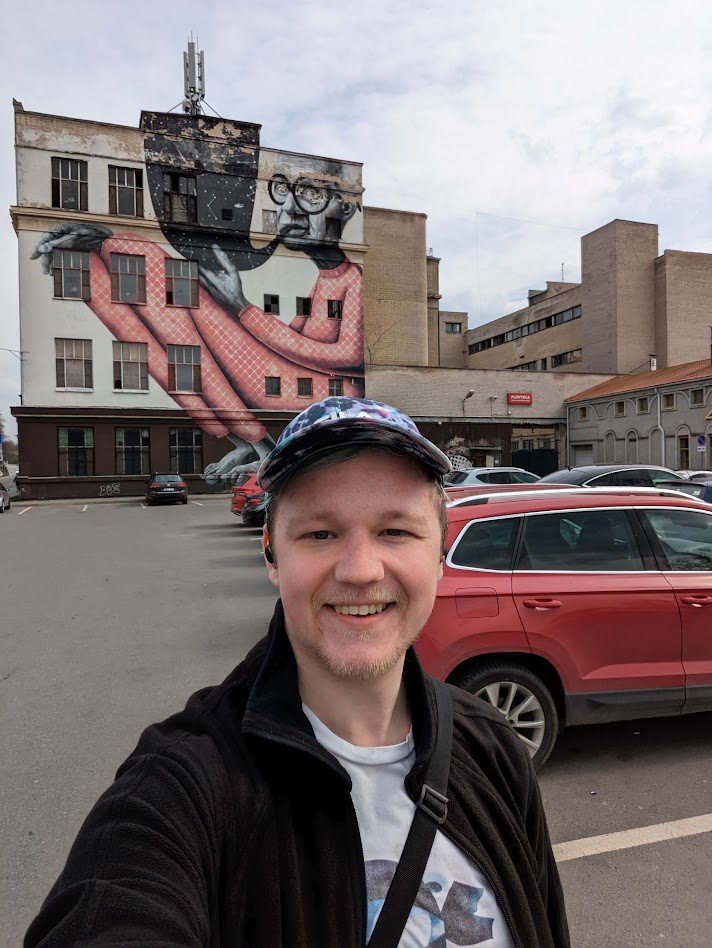 Going back towards my host's place, the next stop was the restaurant Bernelių užeiga Smuklė. Ordered "Kvass", "epta duo", local beer as well as "Pink Soup" and "Cepelinai". Everything looked delicious, so I am just going to put the text parts between the images of food.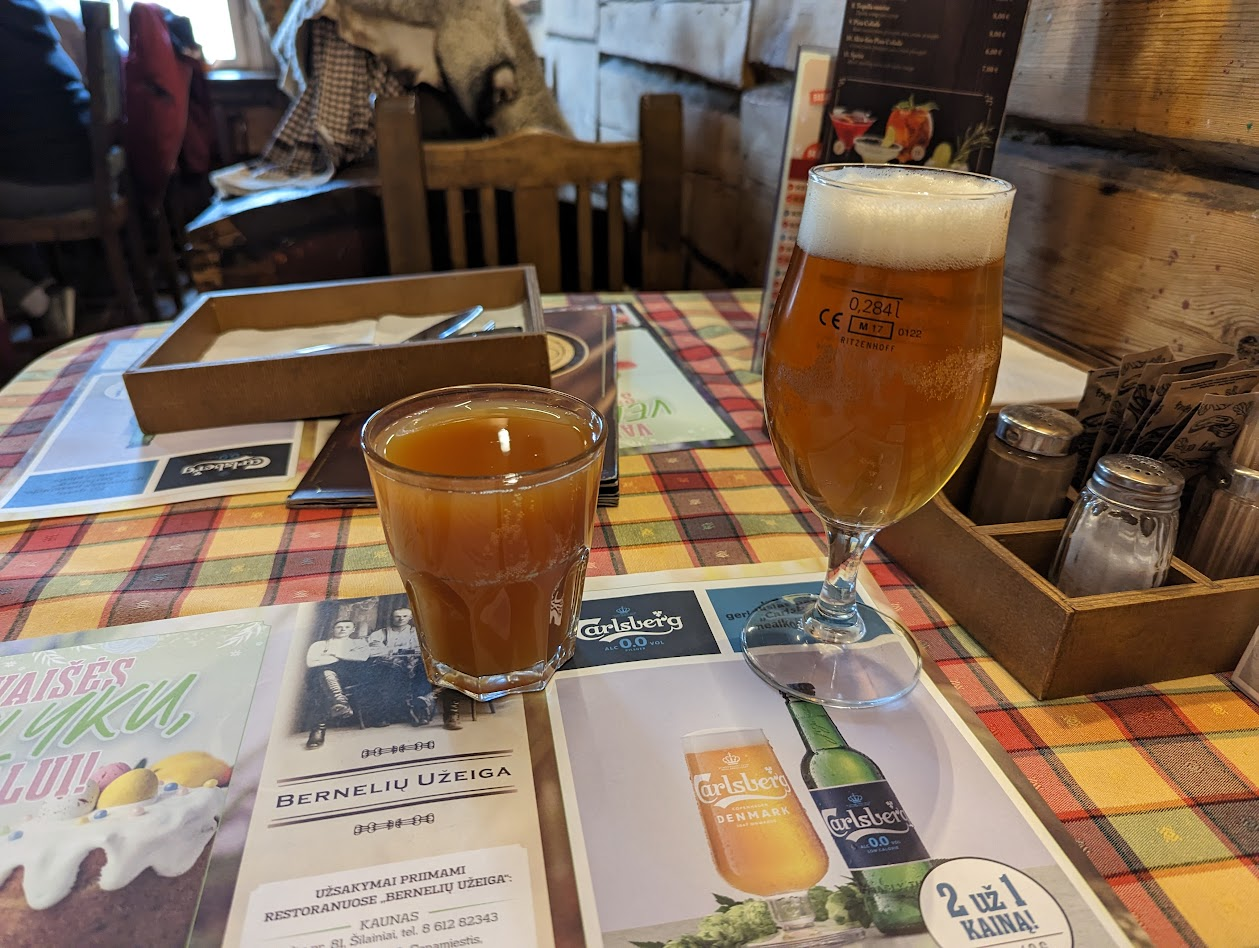 Quite a list, but I was pretty sure I would like all the food, especially since I already tried the first two.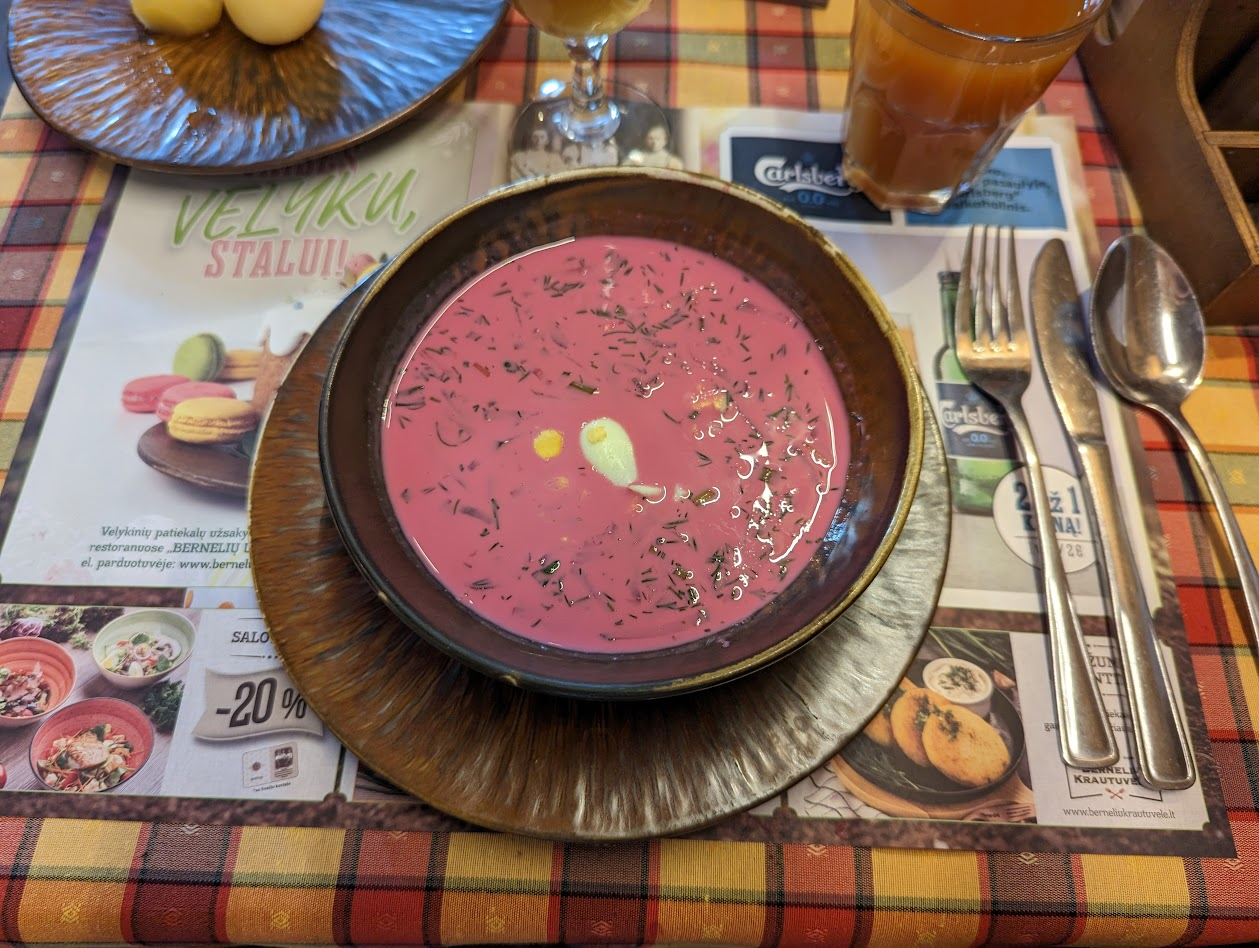 The waiter was really surprised about the big order, but pretty confident I would eat all of that.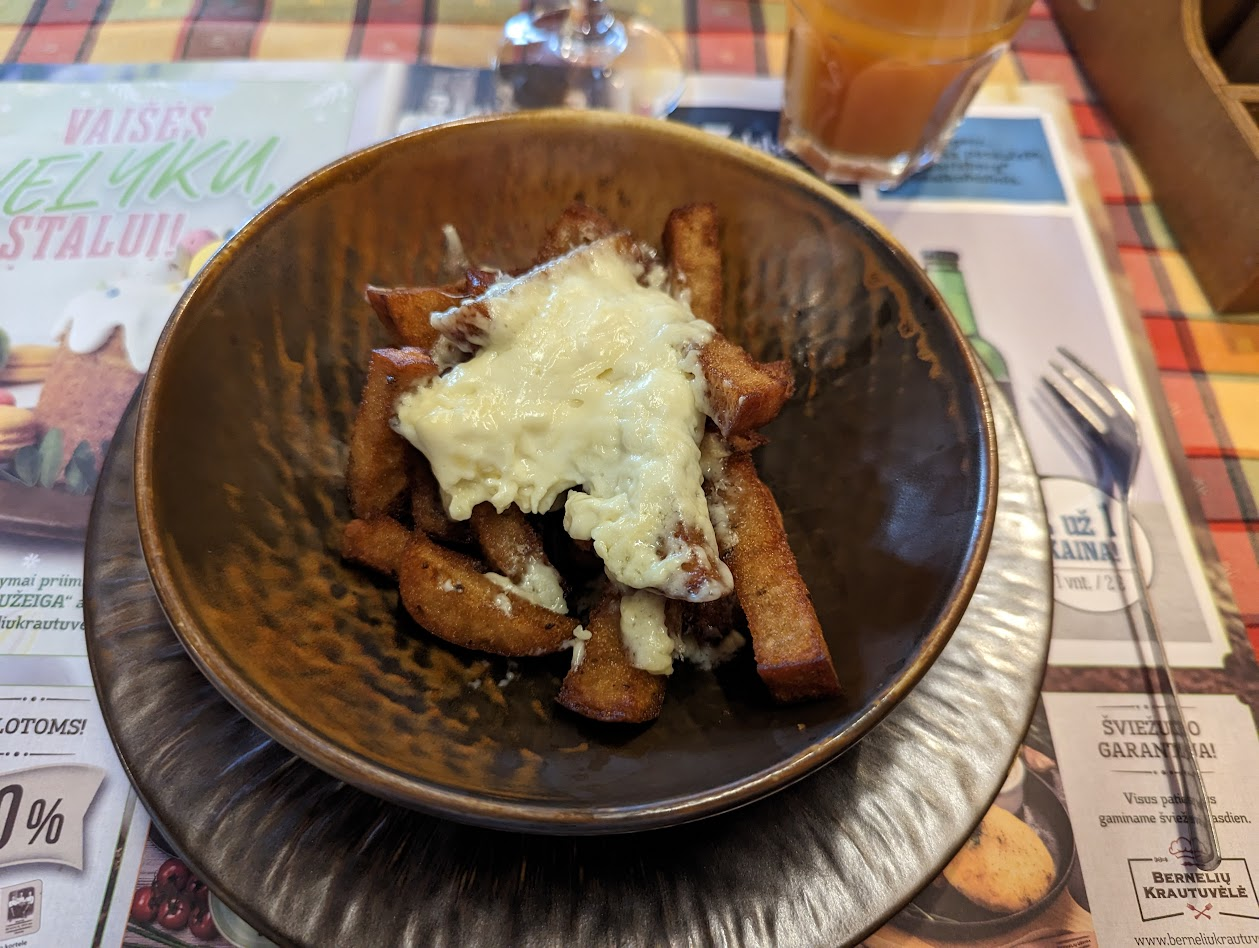 After it, I was really well-fed, but everything was so tasty, the waiter was also very pleased, telling me he didn't expect me to eat all of that completely :D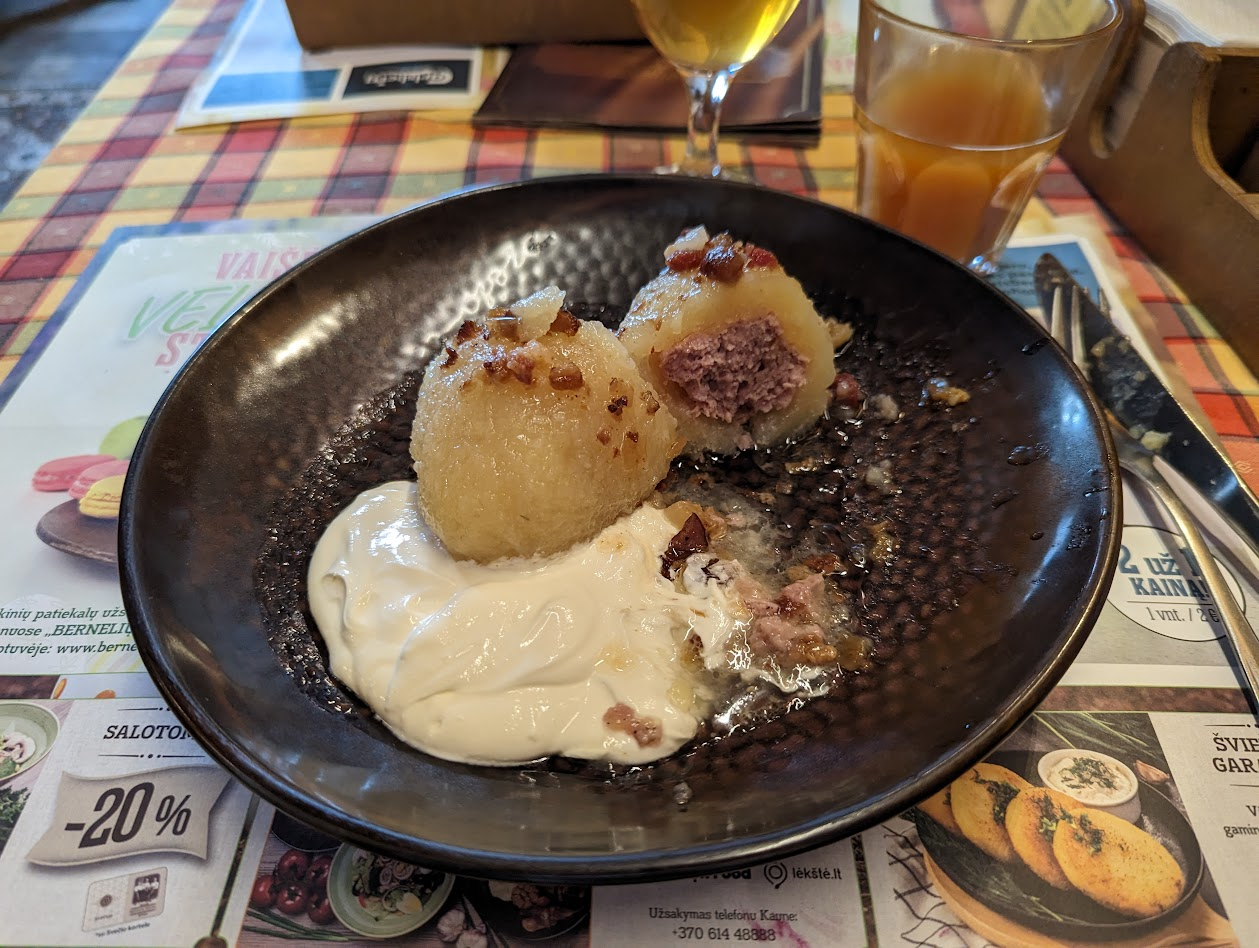 A bit later than initially agreed with my host, came back to their home, packaging everything up. They also had pink soup, asking me if I would love some, but since I already had a lot of food, had to decline. Waited until they finished, talking a bit besides. Left the house with them, saying goodbye outside, as we went into different directions.
Arriving and a bit confused at the bus station because couldn't spot my bus on the departure list. Thankfully, a friendly lady at the counter helped me out. Sitting there for a few minutes, the bus arrived, already pretty early. Finding a free seat, the journey started, again in a hotbox as every bus trip so far.
The good thing about the long bus ride was the opportunity to start with learning Russian. When there is not much to do, it is great to focus on such tasks. Want to go more in the eastern direction of Europe in the future, and learned to love the language from the hearings among the way. Since it is the only effective way for most countries to communicate, will have to learn it anyway. The Cyrillic alphabet, is already driving me crazy, so let's see how far I will make it, though.
An hour later, as initially scheduled, arrived in Kaunas following the five-hour bus ride. I was tired, exhausted and just called a Bolt Taxi to the Airbnb. Resting on the couch for a bit, a good hour subsequent, getting something from the grocery store around the corner.
Recap of the eighth travel week
The Baltic States were really positively surprising for me. Unfortunately, the rail network here is a mess, especially making travelling between countries hard, it is really horrible without an automobile. Will undoubtedly have to visit again, but next time by car, also going more into the rural areas. Vilnius will probably not be part of the trip, since I didn't really like it there.
I will certainly never ever take the bus at night again, as it messes up my entire day afterward. Driving at noon would have still given me more than enough time, as the cities are small anyway. So, lesson learned.
💡
Looking for other posts around the trip? - Check out the tag
EU-Trip 2023