It's already week 6 of my trip, following the post about week 5. Have no clue/context, then the original post, It's finally time for an adventure, is for you.
29.03 – Travelling to Bergen & Exploring the city center
Getting up too late, having to rush for the train. In the hurry,  Since it snowed like crazy at night, everything was white in the city, the way was icy.  Arriving just a few minutes before departure, claimed my seat ready to go. Realizing I forgot my water bottle at the Airbnb, not too big a deal, but still annoying.
Leaving the train station and getting out of the urban area the landscape already was so magnificent again.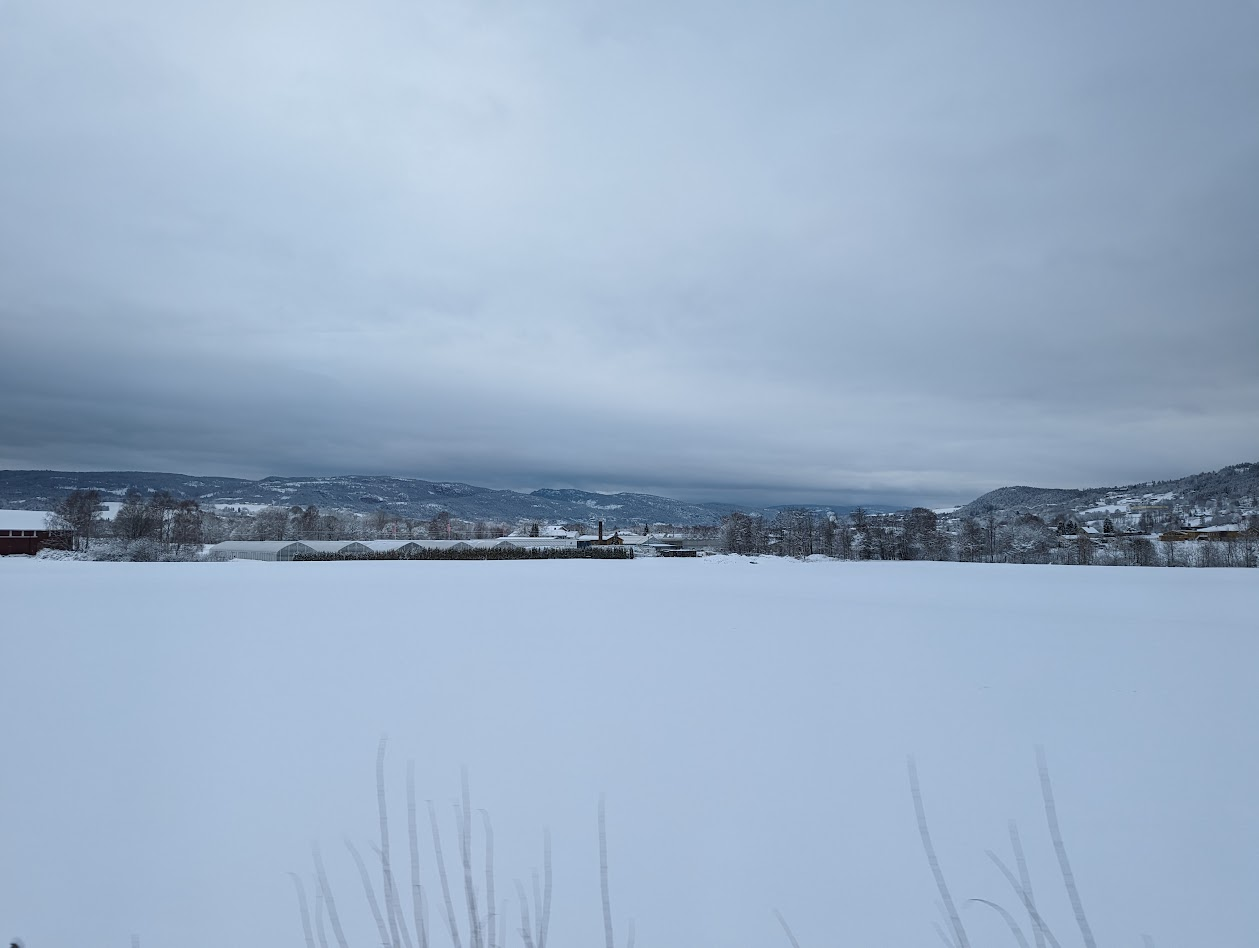 The train literally was driving by and through the mountains, which was just surreal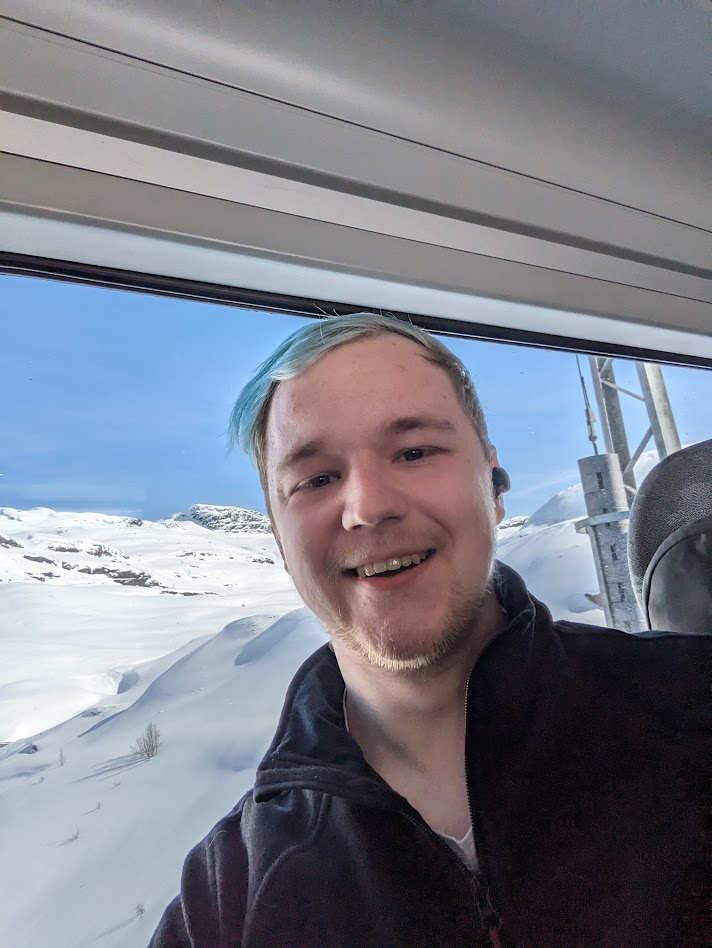 First it got colder, thus resulting in more iced landscape, rivers, and lakes.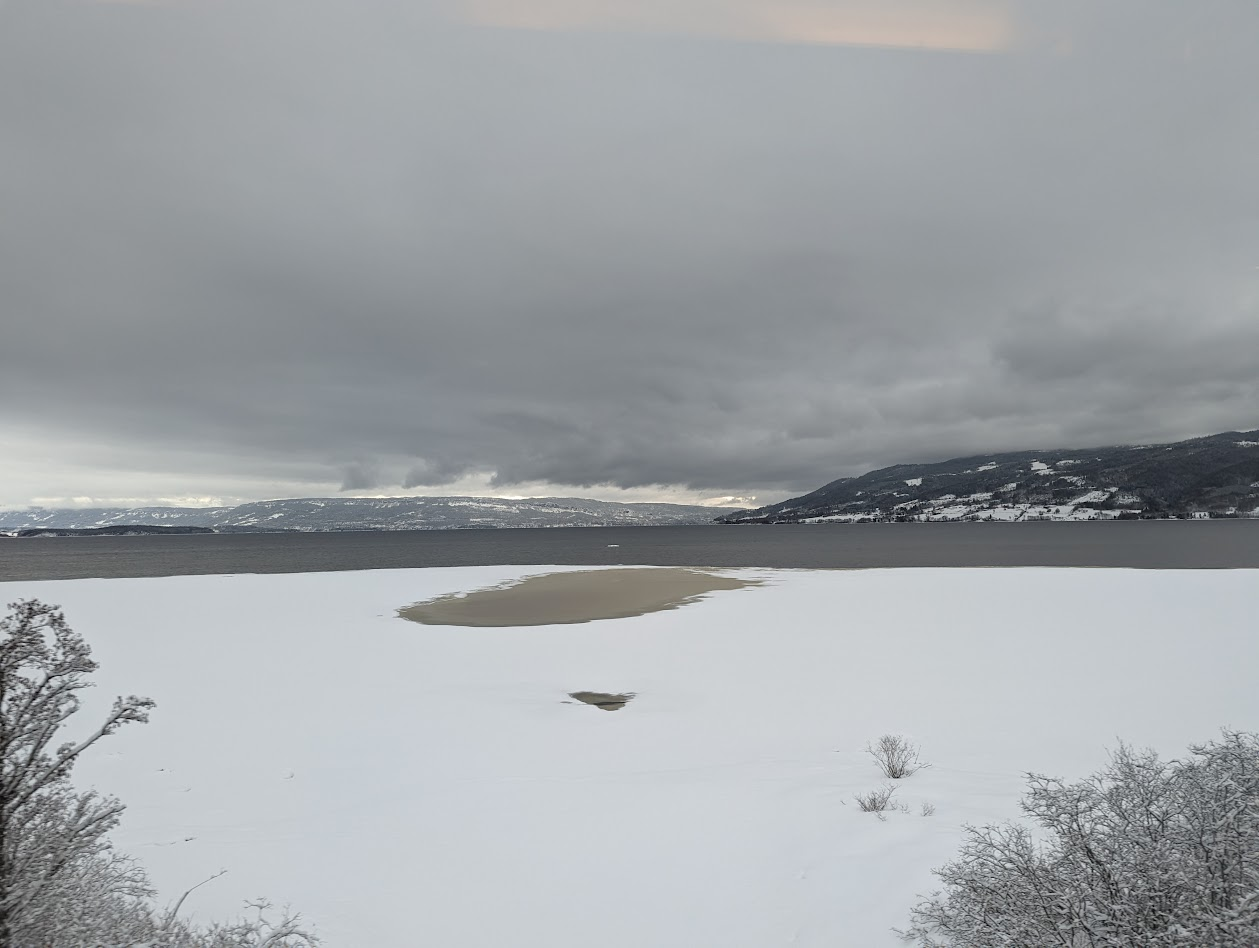 After a good 3 hours on the train, the landscape changed again and got a bit warmer (around 4–5 degrees). Crystal clear waters in the lakes and rivers, partially covered mountains with snow.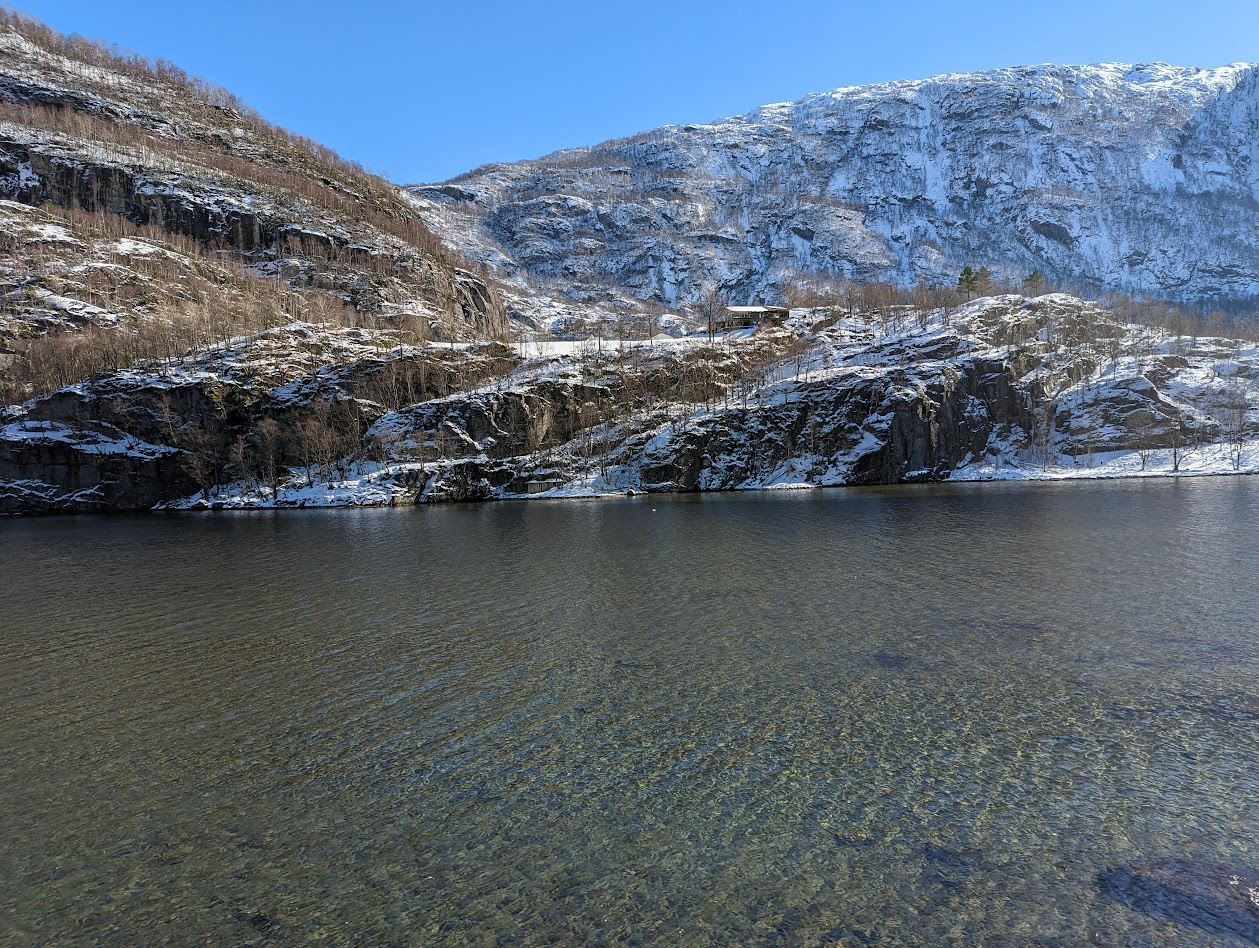 Driving by beautiful landscape non-stop for almost 7 hours really was impressive. Saw so much great landscape, giant mountains that really made me think about how small we are as humans. Even the highest skyscraper is not as stunning & mighty as nature can be.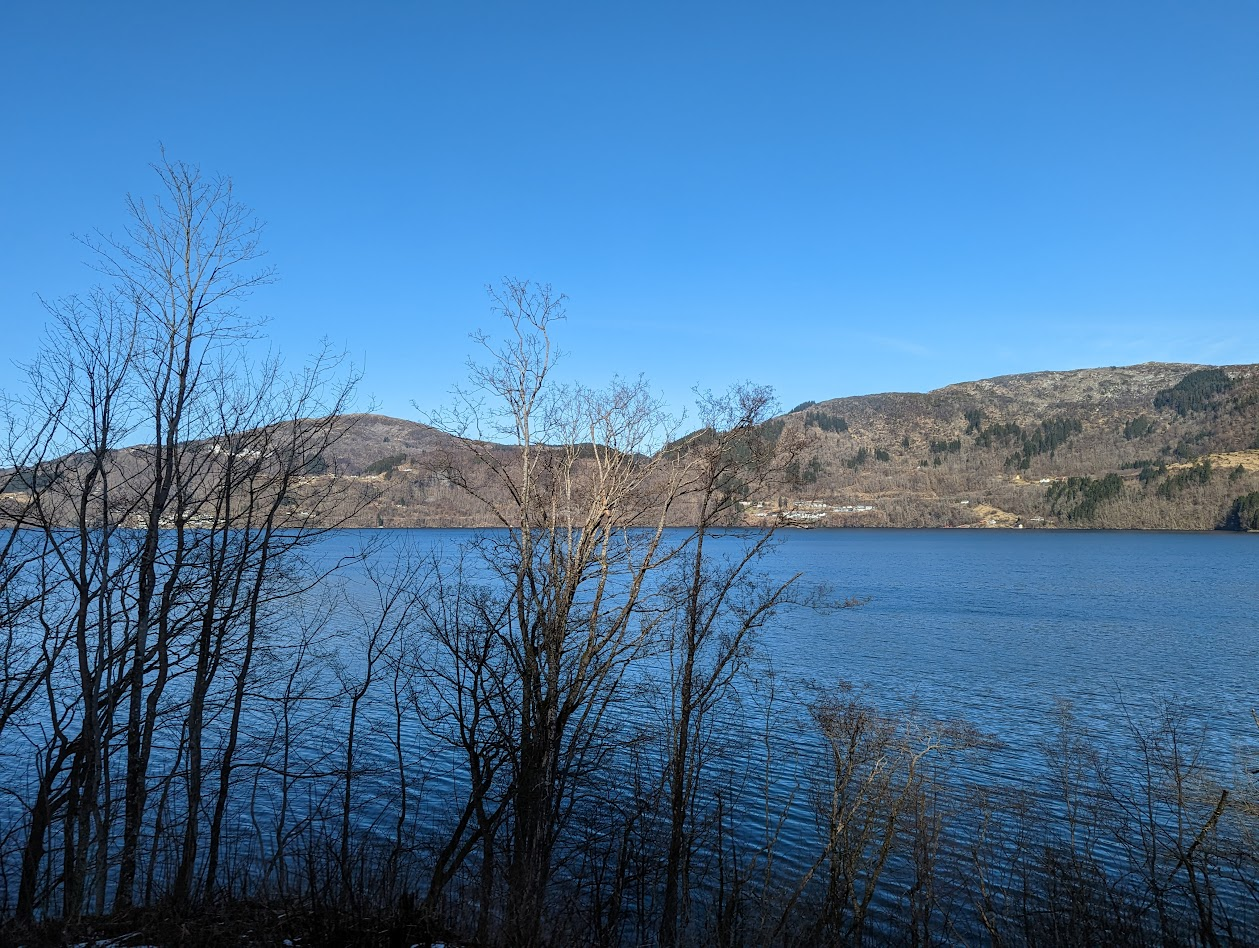 One hour before arrival in Bergen, everything had a more springy touch. Really delightful, as well as stunning to see such a change in only a few hours.
Leaving the train, being greeted by the lovely main station of Bergen. Going out, first was not really impressed. Had the hype been too much? Getting a bit out of the central station towards the city center immediately changed that. What a beautiful city, surrounded by water, mountains, houses in between.
My check-in at the Airbnb was already possible immediately after arrival. So took the chance to drop off my backpack. Antonio greeted me warmly, showing me around the accommodation and my room. Resting for a few minutes and up for city exploring.
My first stop was the fish market since it is really central. A bit disappointing, I must admit. Currently, it is being renovated, so from the outside looks more like a construction site. Since it's not the main season, there were not many shops busy or even open. Not caring too much, I went on strolling around.
To speed up the exploration a bit, checked for the Bergen Bike Rental, but in the end went for a voi eScooter Pass since it was cheaper as well as faster for me. Mainly intended for going over longer distances when I got a bit off-track.
My next stop was Strangeplassen, which immediately caught my attention after seeing it. A beautiful surrounding, nice buildings. Took some charming photos with my camera and also some with my phone.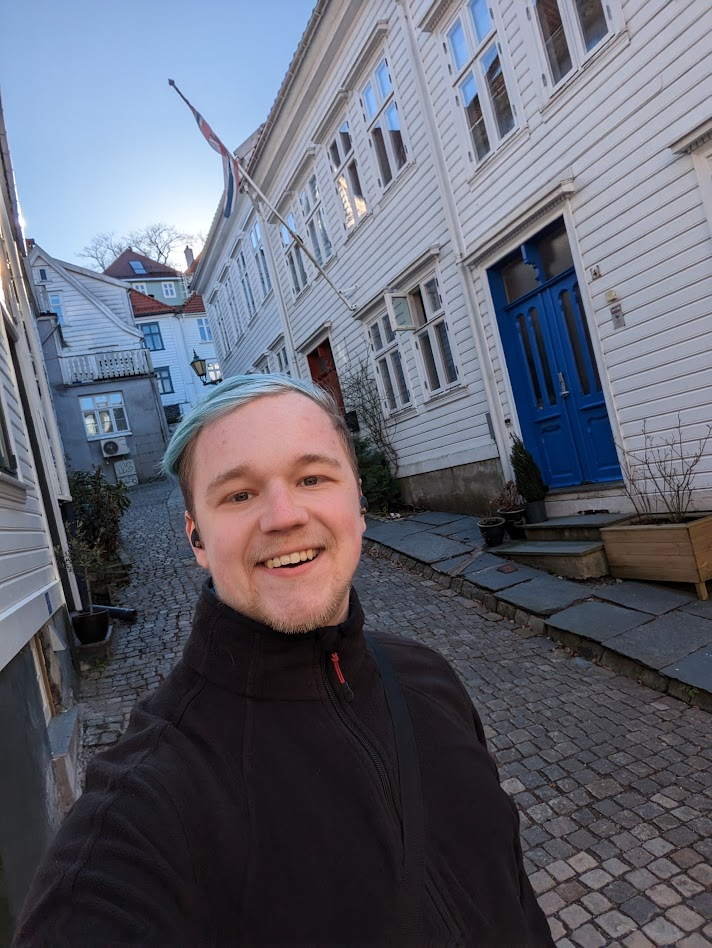 From there strolled to Bryggen, which was quite enjoyable. Since this is the most photographed thing in Bergen, didn't take any photos, instead just strolling around.
After a long day, decided to grab something Norwegian for dinner. It was freaking expensive, but just had to try it. And was not disappointed, worth every euro.
The most traditional thing on the menu was Persetorsk, so I went for that. Already saw on the Google Maps reviews the portions were rather small, so also went for a tapas as an entry.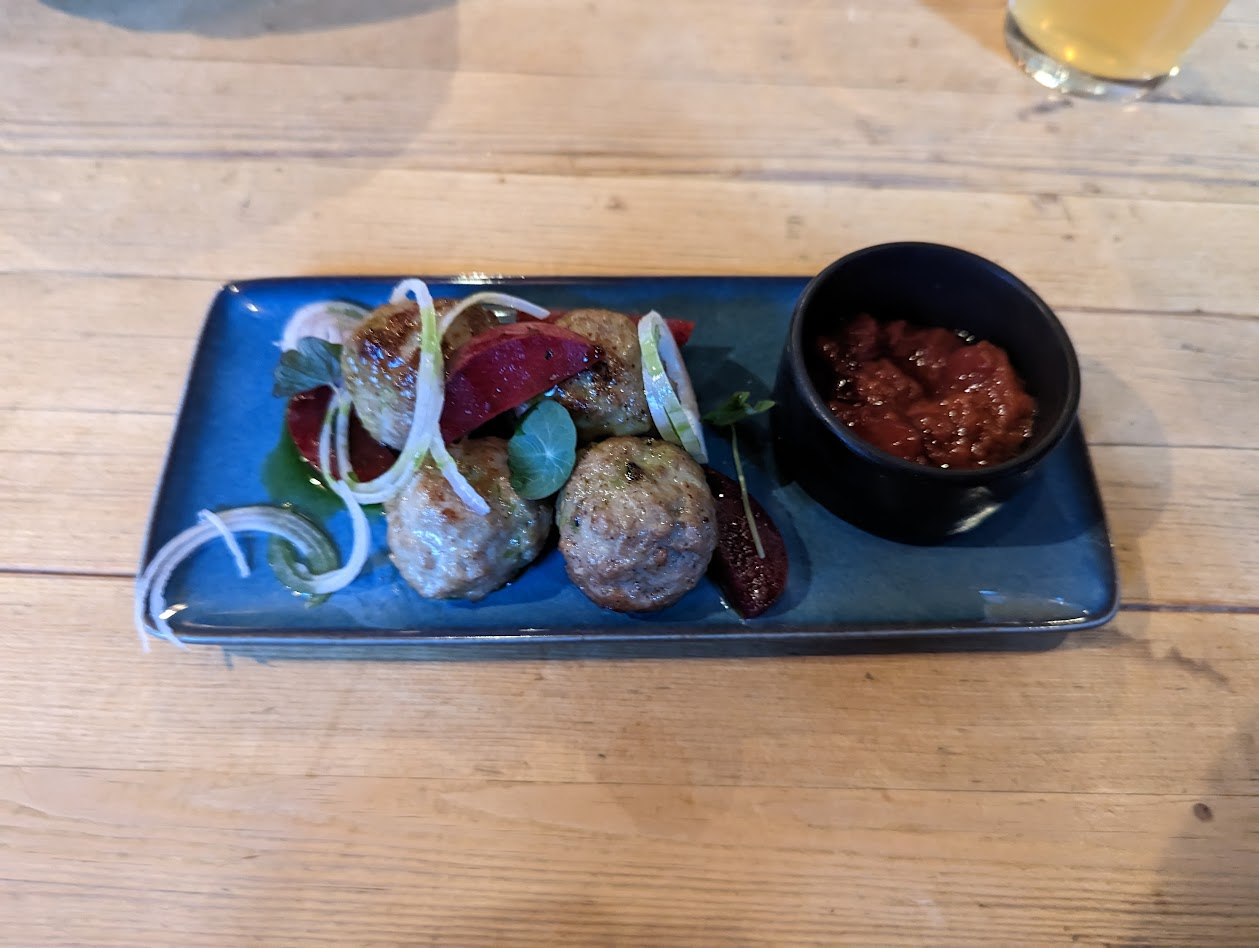 The waiter was super friendly, checked by when I was finished with the starter and then handed the main dish to the kitchen. He was super friendly and seemed to love his job, which he agreed to as I asked him after paying.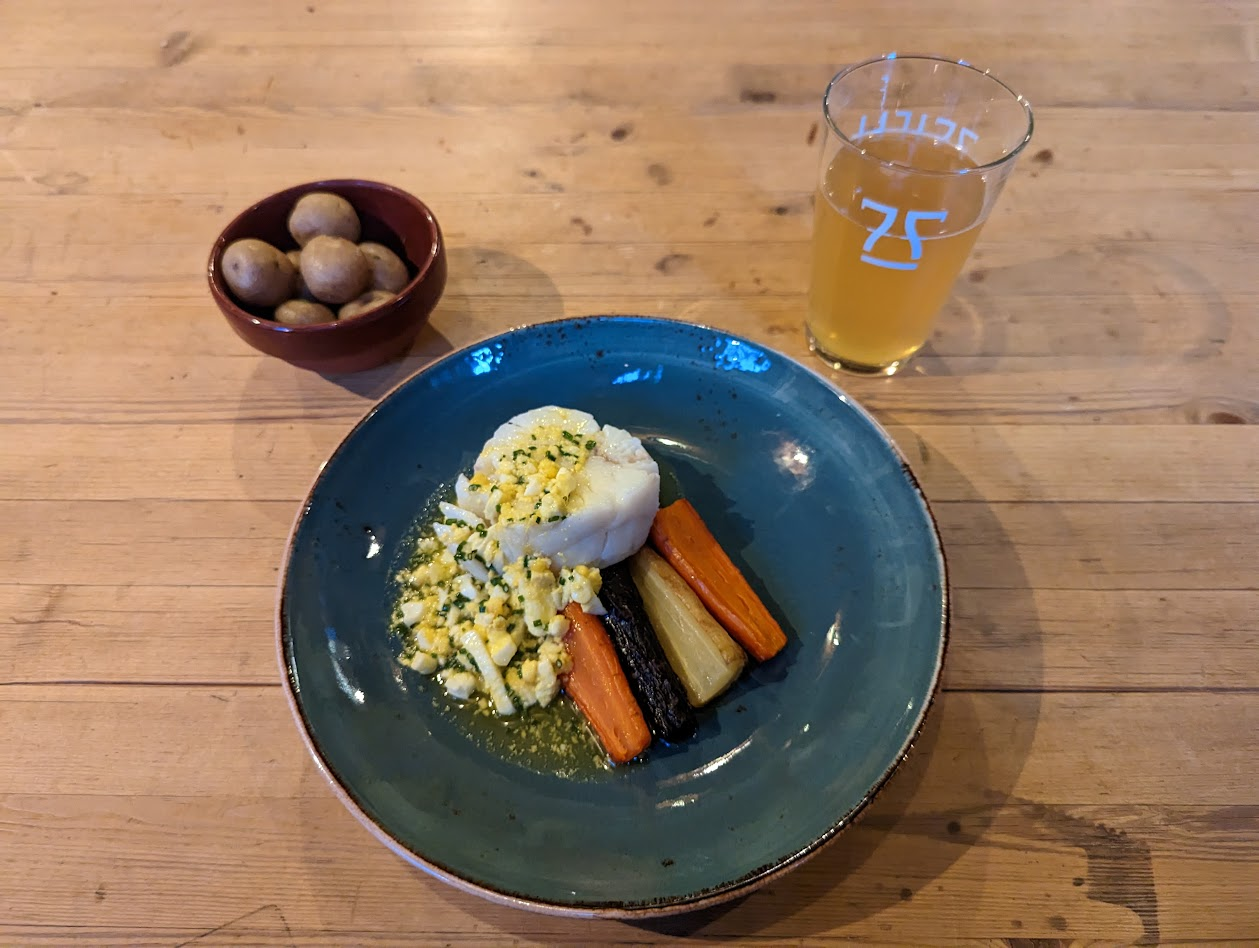 As beer, opted for the 1799 Blanc, which was perfect. Also tried some other regional beers from Norway. They all had a great flavor and were strong in taste.
Enjoying the sunset, strolling into the night Bergen was even more beautiful at night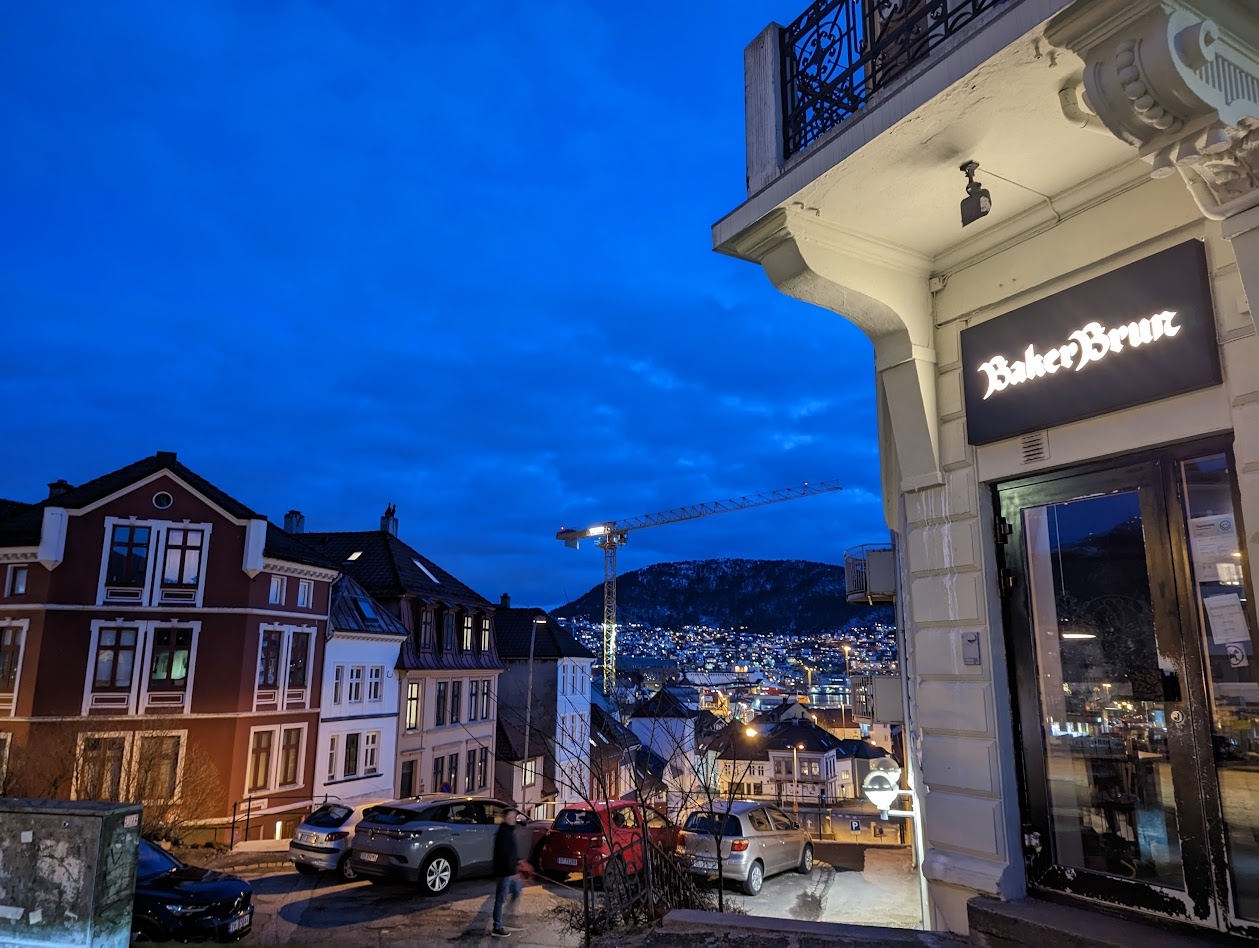 Couldn't resist strolling around in the fancy streets of Bergen, also stopping by at the Harbor again. The night also meant that it got freezing cold, so went back to the Airbnb where Antonio, as well as his man Omar, who got home meanwhile, waited for me. After a short talk in the kitchen, they invited me to join them on the couch, talking a bit. We talked for a good two hours about this and that, which was really wonderful. A fascinating mix of Spanish, Syrian and Norwegian culture. Really, a lovely couple and glad I chose them as Airbnb hosts.
Still impressed by the friendly people, great landscape and awesome city, it was time to take some rest and begin this blog post. So many great impressions and pictures, but that's too much to share for the blog. Most photos I took in the train also don't fulfill my personal standards for sharing publicly, so that will have to do it (for now).
At this place, want to give a shoutout to Győző, who brought me to the idea of even going to Bergen. Initially, I didn't know about it at all and probably thought it's too much detour. From stories, personal experience, as well as great pictures, convinced pretty fast to need to stop by there.
30.03 – A day in Bergen
Initially, I wanted to sleep a bit longer today, at the end I still woke up at 08:00, so that's better than nothing.
The plan for today was pretty simple, "climbing" the Ulriken, the highest mountain in Bergen. Good five kilometers from my accommodation. Since I would rather not walk the whole route to there since it would be already exhausting getting up the thing. It was pouring and windy, so was considering taking the bus to come closer. At the end, took an e-Scooter, as I still got plenty of free minutes on my pass took a scooter, only one and a half kilometers left by foot, already pretty steep.
I took the way by foot, as that was my only real goal for the day. Also having a great view already on the way towards the mountain. After a bit of struggle with Google Maps not tracking me correctly, tried to navigate without it at all, which worked way better than expected. Arriving at the start of the hiking trail, it was pretty easy, since there is only one path.
The first hundred meters it was really steep and icy, gliding back a few times, but not thinking about giving up.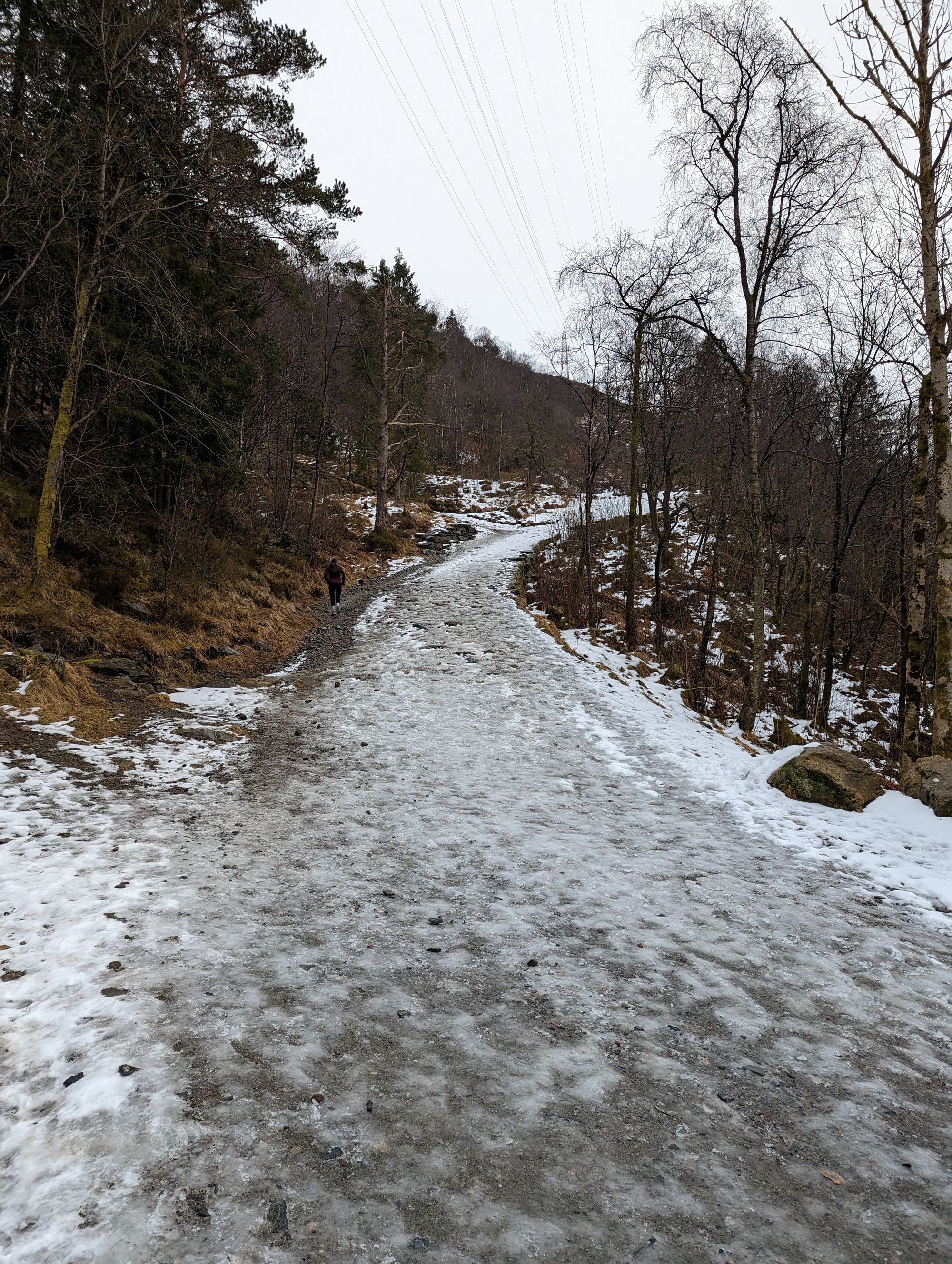 As I got further up and up, the view got better with every step. Perfect opportunity to rest a bit on the way up, enjoying a few minutes of the current view. On the path also realized that I haven't been in the mountains for a really long time, which also manifested in my condition.
About an hour later, was on the top of the mountain, stunned by the view, walking around also a bit in the snow until the rain wind made it too cold for me to stay longer.

Towards the sea and the city the snow was way less, two sides of the same mountain with an entirely different atmosphere.

Every challenge comes with a reward, which makes all the struggles long forgotten. The same was the case here with the majestic view. After standing up there, was really proud of having it made up there. It is not a colossal mountain compared to the "big boys", but still a reason for me to celebrate a bit.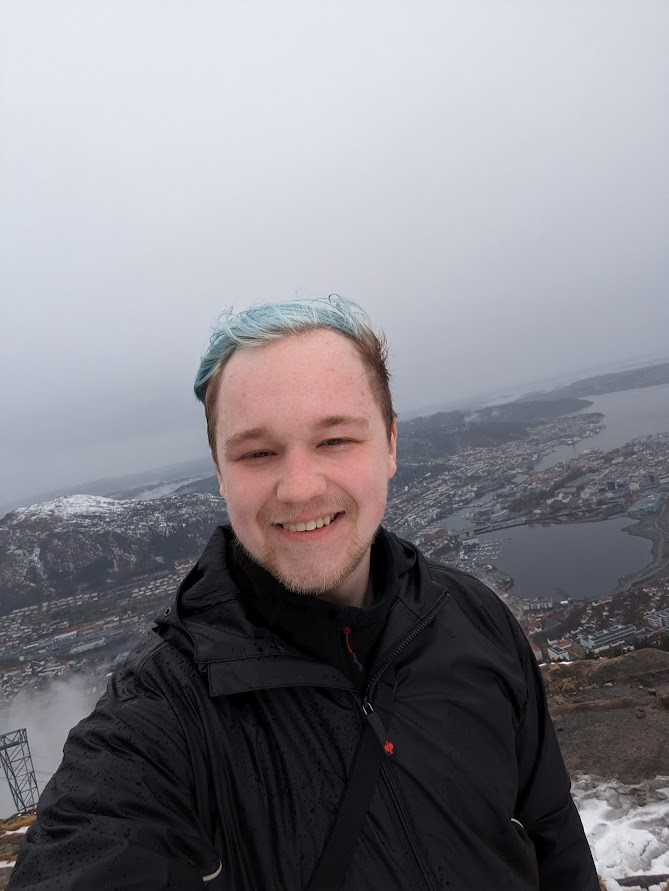 A bit of struggle later, was not sure whether I should take the cable car or walk back. But that would be a different kind of view over Bergen and the mountains, so in the end, with gritted teeth, accepted the horrendous price. Waiting for more passengers to come in, as it was not too crowded, that took a while. At the end, there were three of us in a giant cabin. Kind of personal tour experience. The view from the cabin was also really glorious. Cold and wet arrived down there, went to a burger restaurant that Maps suggested nearby, since I was hungry, just went somewhere near. Had some burgers, not too bad, but not worth taking a photo or anything.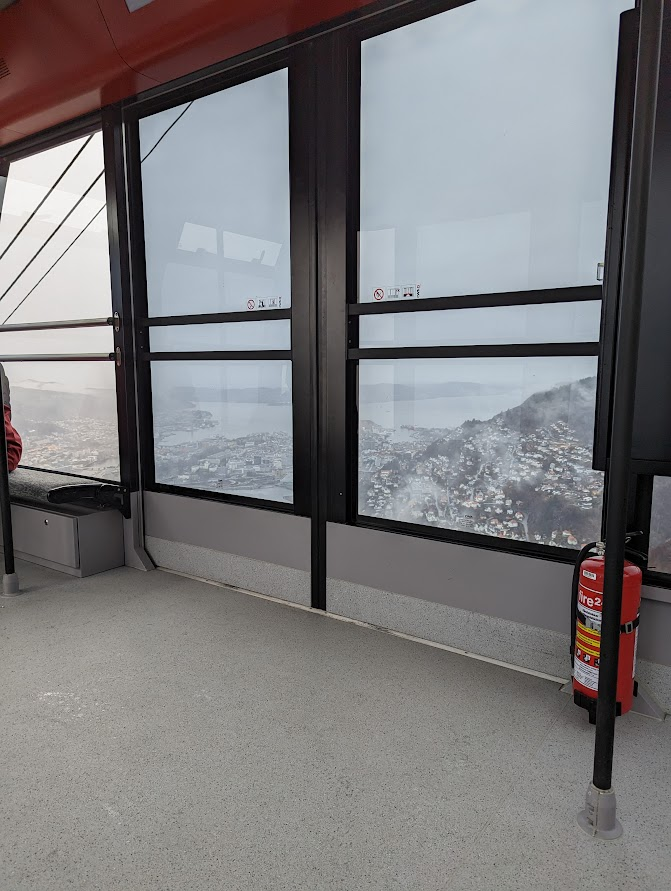 Getting out, really felt sleepy and exhausted, so decided to walk back to the Airbnb, which took me about 40 minutes. Hanging up my jackets, hat, and gloves to dry. Used the time to come down a bit also having a bit of a break between the non-stop action for weeks now.
After refilling my batteries, decided to go to the city center again, enjoy the last evening here. The atmosphere here is just so cozy and enjoyable. Although it was way colder than the day before, it was still a very pleasant experience.
31.03 – Back to Oslo
To get to Stockholm tomorrow have to travel to Oslo and from there over Gothenburg. Pretty tired, woke up today, grabbed my stuff and left.
This time the scenic train was not that wonderful anymore and the almost seven hours were like a torture. Fortunately, I found a host for the night in Jessheim, a good thirty minutes from the central station by train again. From the rail directly next to the one I arrived, waiting a few minutes and going to Jessheim.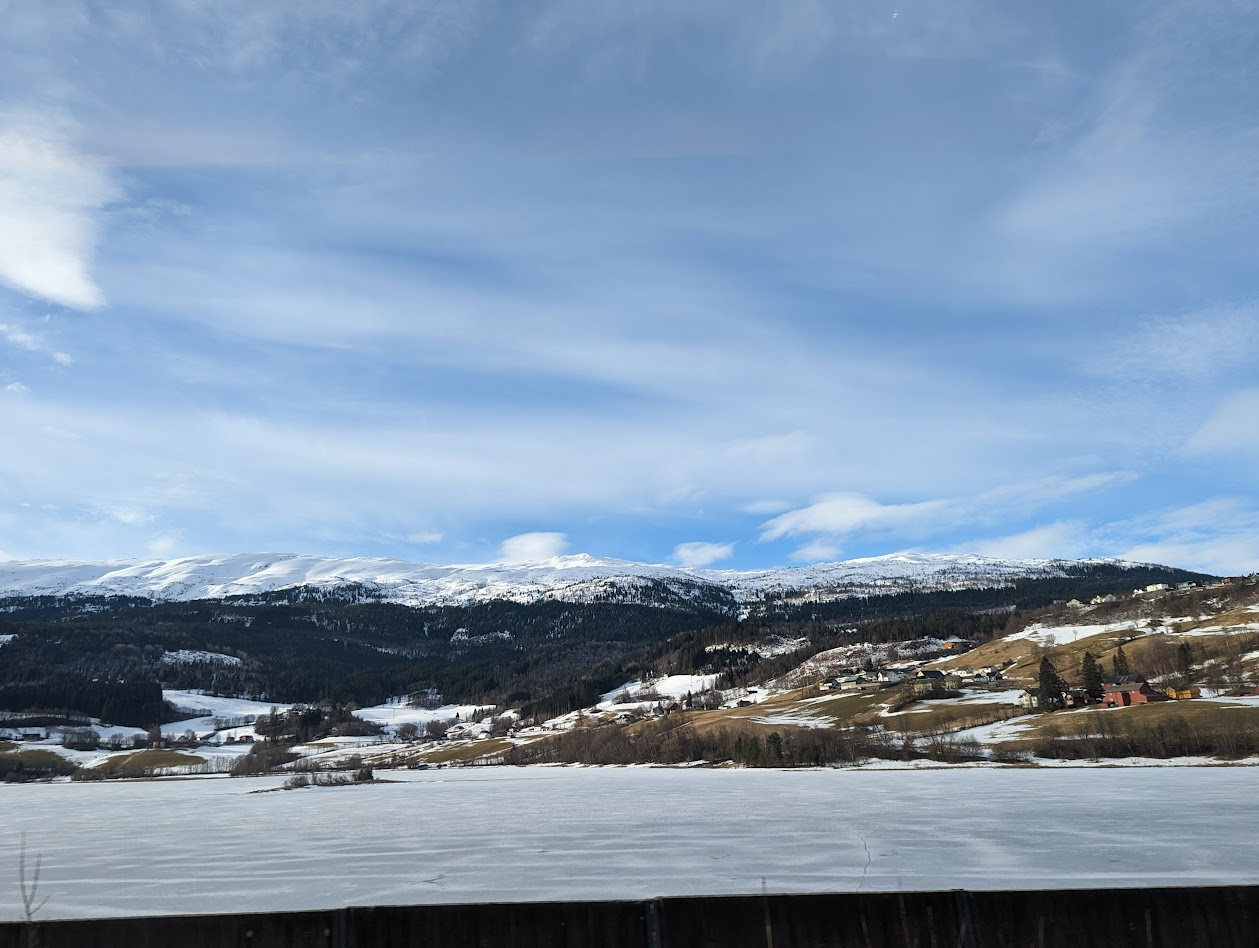 My host, Piotr, initially wanted to pick me up, but was a bit late from his massage. A few lost minutes later, wrote him on Telegram, greeted me already from far so all good.
Walked to his place, where we already talked a bit about the trip etc. He had to go to the gym, so left for approx. two hours. Meanwhile, took a shower and restocked for the long journey tomorrow. His dog, a sweet Chihuahua, also nervously inspected me at first, but then got really handsome.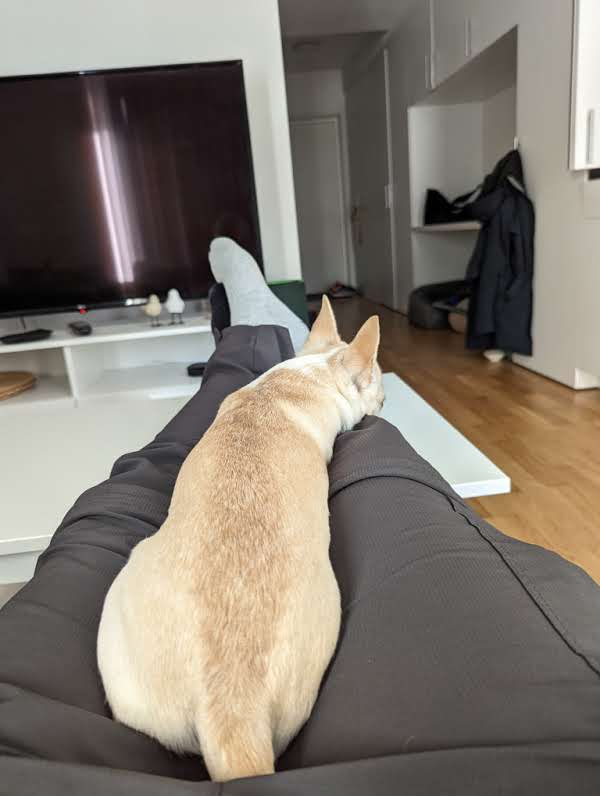 After his workout he returned, we were talking about life in Norway, Poland, travel, life and, most important, dogs. As he moved from Poland to Norway over a decade ago, he had a kind of different view on the whole thing, which was quite enlightening. He also lived in Bergen for a few years and said he really hated it there because it rained all the time, which is basically the same as the Airbnb hosts told me. For me, it was not a problem at all, found it quite nice.
01.04 – Travel to Stockholm
Since only three trains drive today for the route I need to take, got up pretty early at 06:00. It was freezing cold in the morning, with almost -10 degrees. Caught the first one to Stockholm at 08:08 at the central station in Oslo. All trains were smoothly on time, so that was perfectly fine.
On the way back to Sweden, it was a pleasant mixture of the traditional red painted wooden houses, more modern buildings as well as brick stone. The sun came out throughout the day, so it was quite a pleasant, clear view and weather.
At the station after Oslo, a charming Swedish lady with an english cocker spaniel was sitting next to me. My heart melted seeing him leaning on the window looking outside the train. As she needed to go to the restroom, offered I would keep her dog company. He was so adorable, putting his leg on my thighs, looking at me with such a cute look. When she was back, he always looked at me, like he wanted to check if I was still there. That made the ride even better, station for station more dogs came in to the train as well. It was really impressive, especially since all the fellers were hushed and harmonic.
Throughout the train journey we talked a lot about travelling, dogs, life in Sweden and so much more. She also gave me a few tips on where to go in the old town, which was really nice.
Arriving in Stockholm, first checked into the hostel, rested for a few minutes, repackaged for the day trip, on the go 15 minutes after arriving. As everything I want to see is super walkable, will go by foot to all the places.
Central station was the first stop again, to be explicit the bridge next to it which gives the "Stockholm skyline view". Really enjoyed it, the feeling of Stockholm was immediately there, felt at home again.
Next stop was the city hall, which was packed, so skipped going inside and got straight to the edge of the river. The architecture and building style itself was pretty neat also the good ol' brick stone feeling, though.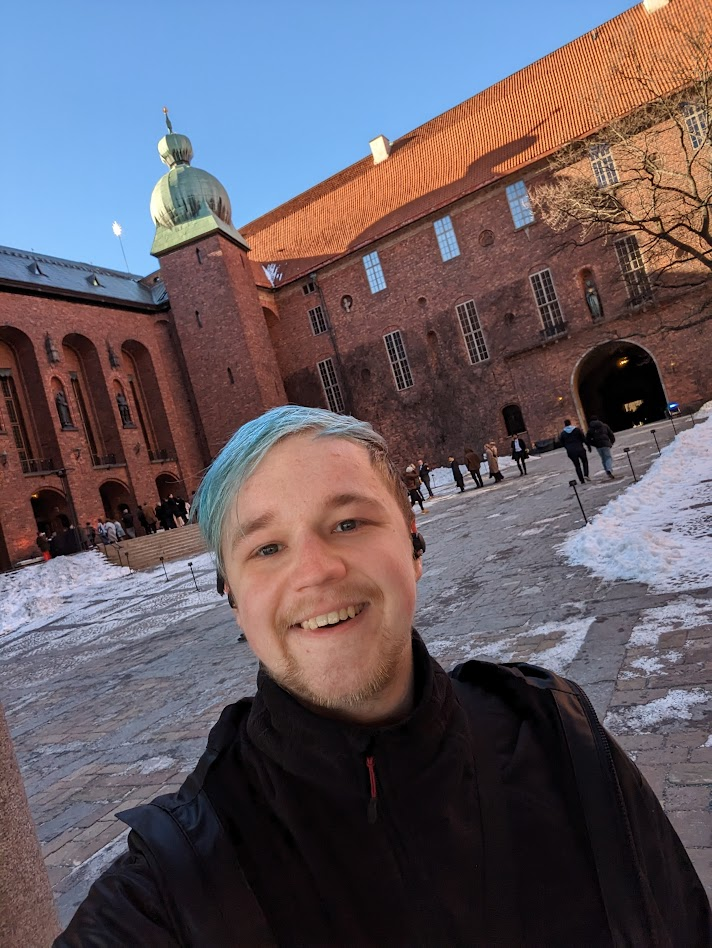 Standing there was so stunning and lovely, Stockholm is such a pretty city, and realized that pretty early. Already from the train it looked absolutely impressive and lovely. Standing there, seeing it without a pane of glass between, just made it more beautiful.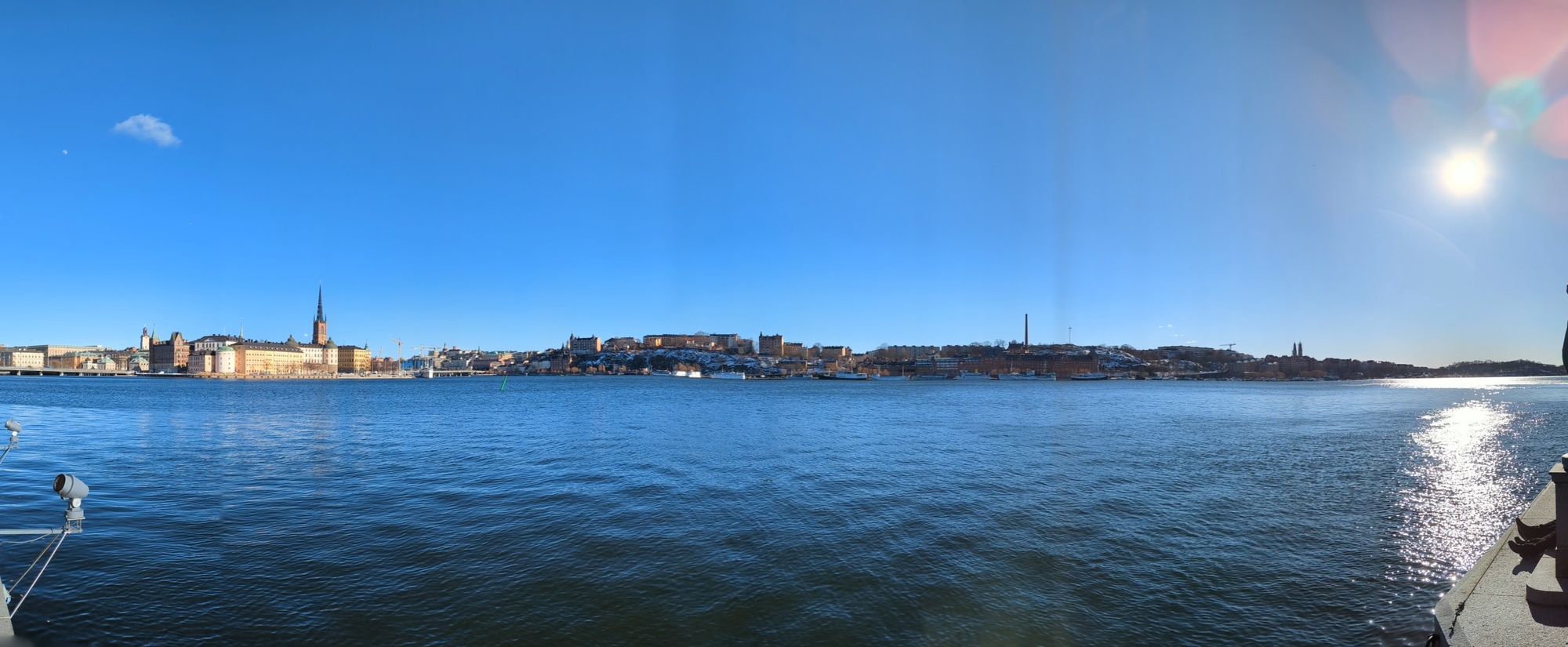 Sweden really feels like home to me, wherever I went here or saw on the way so far. Somehow really makes me happy being here, the people are so warm, friendly, and welcoming. The landscape, cities, as well as the food, are great. What more do you want?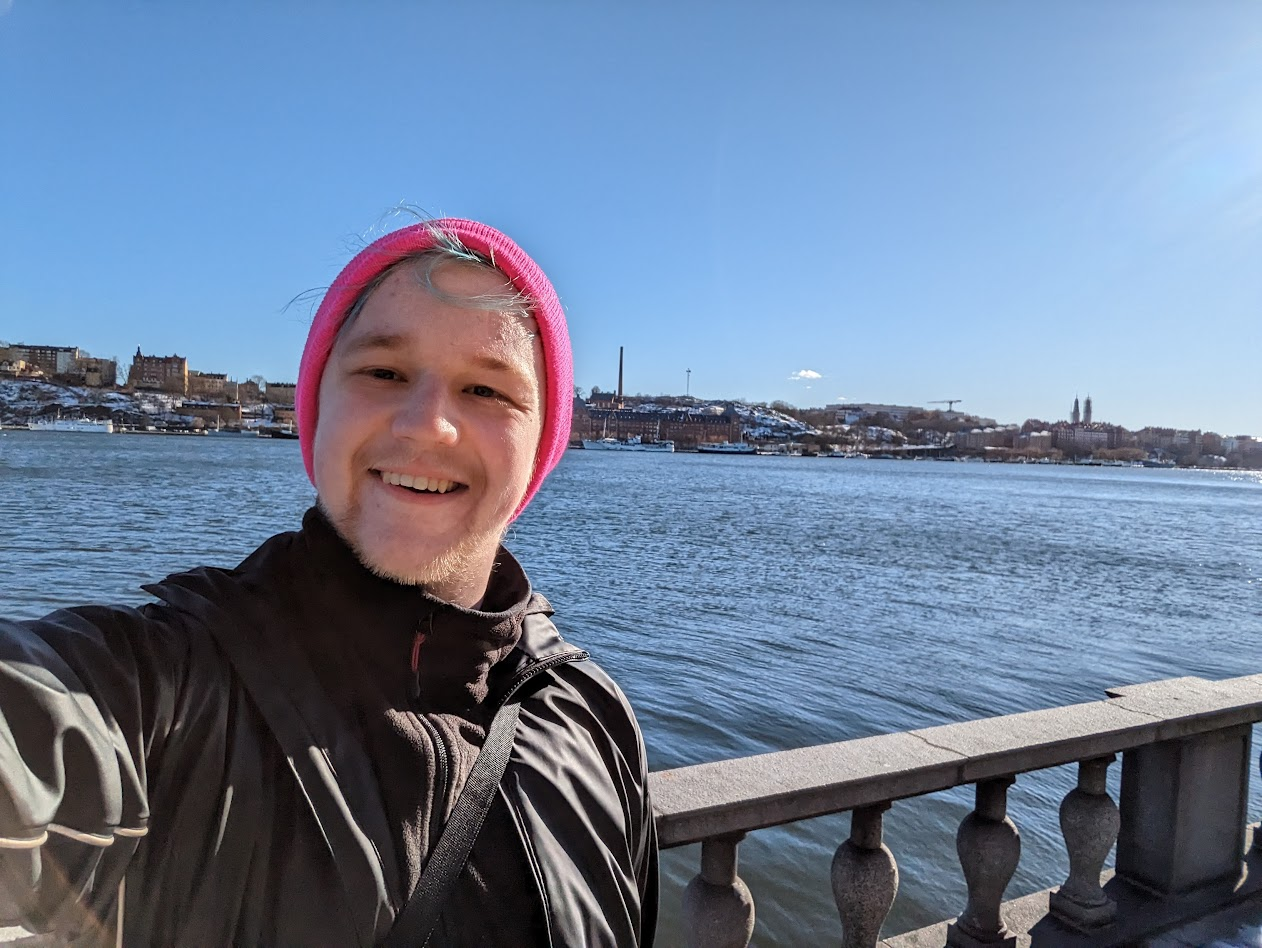 As it got pretty cold with the wind, got on the go again. The target was the city district Gamla stan. That's one of the oldest parts of the city, immediately giving this typical European city feeling. Just loved every minute there, strolling around.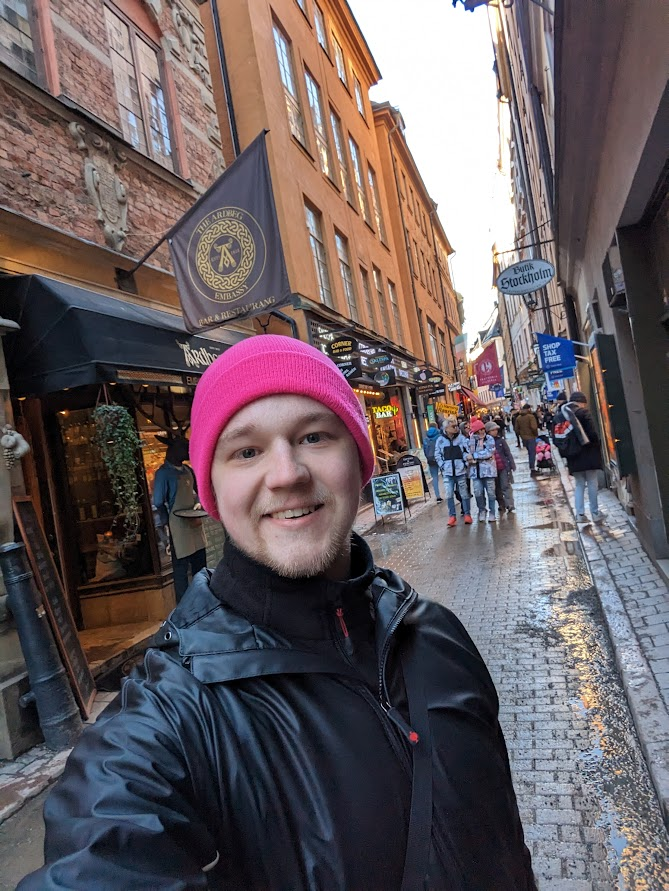 From there got to Strandvägen which is an avenue with a waterfront strip where some boats are waiting to be used when it gets warmer. Again, really nice atmosphere, took some pictures with my camera there too.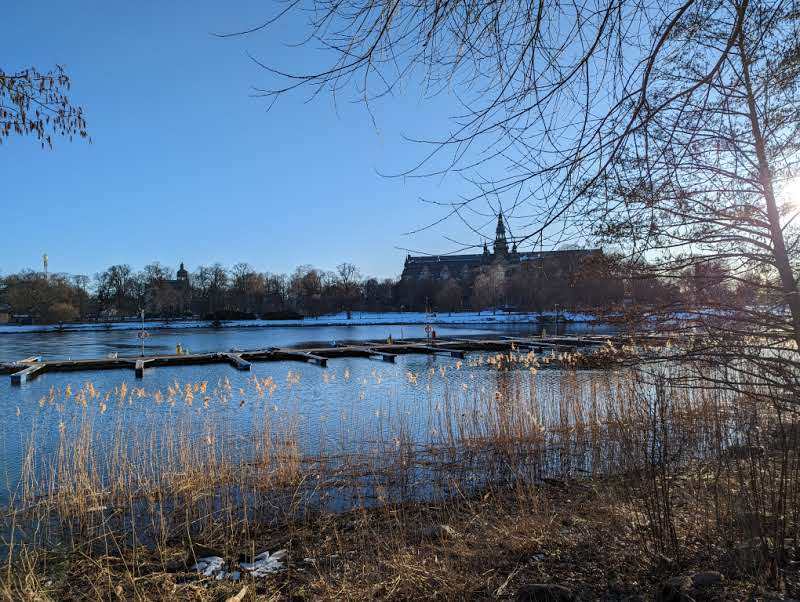 As it started to get below 1 degree again, called it a day, grabbed a burrito that I warmed up at the hostel and continued writing the blog post and backing up the images from my camera I took today. Tomorrow I will have a full day in Stockholm, so need to leave something to do for the rest of the time here.
02.04 – Last day in Stockholm
Sadly, my stay in Sweden ends today. I used the time strolling through the city, a bit off the center towards the private houses parts. The canals in Stockholm were really stunning. Partly frozen near the land, while closer to the middle it was flowing fast towards the sea.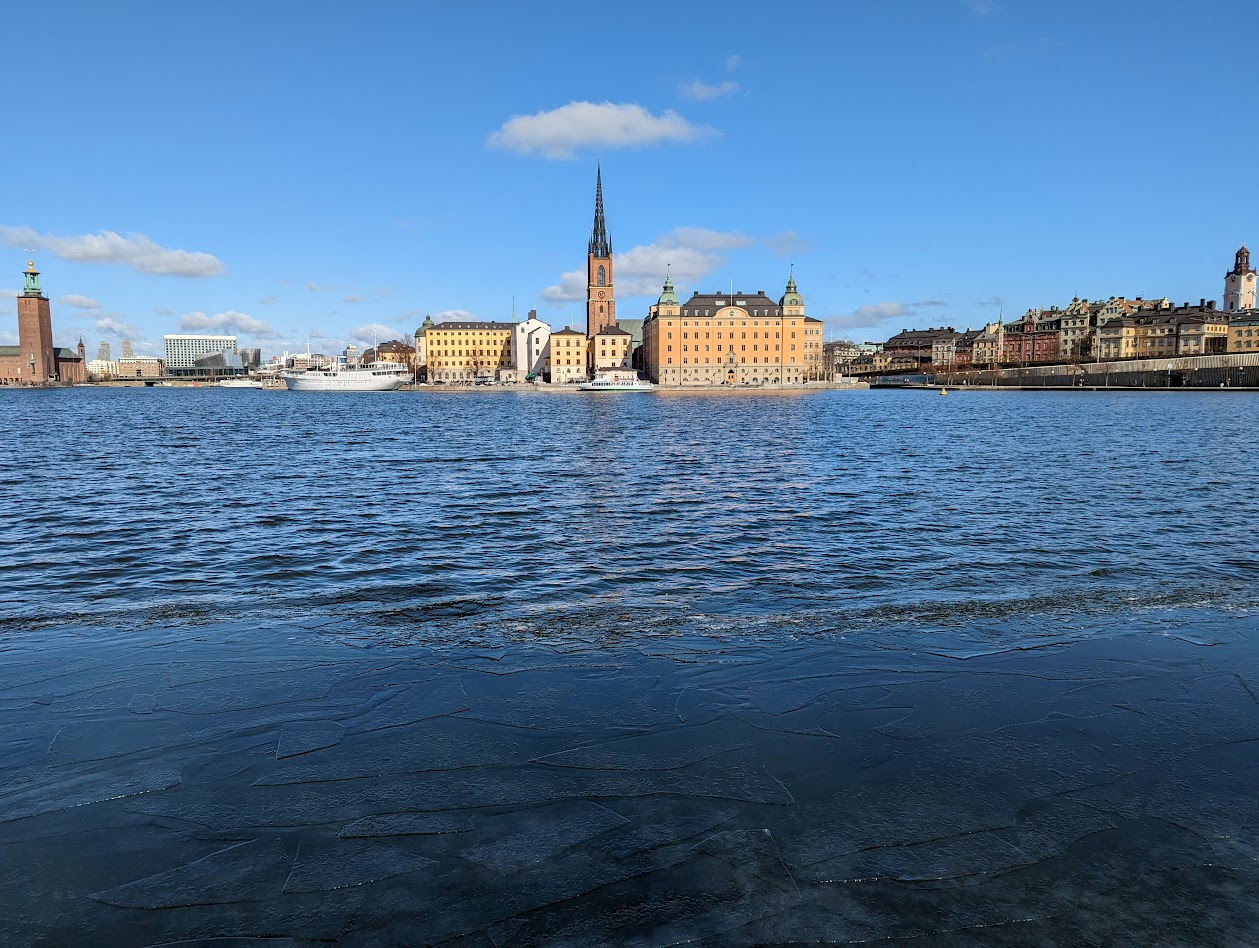 Giving it a proper goodbye also went to a viewpoint, Mariaberget. Enjoying the view there, mentally saying goodbye. Had quite a bit of time left until my ferry would depart, strolling around, coming closer towards the harbor.

Still plenty of time, but wanted to make sure it was the right terminal, checked by already, finding a luggage storage which I put my backpack in, strolling further along the water across Stockholm.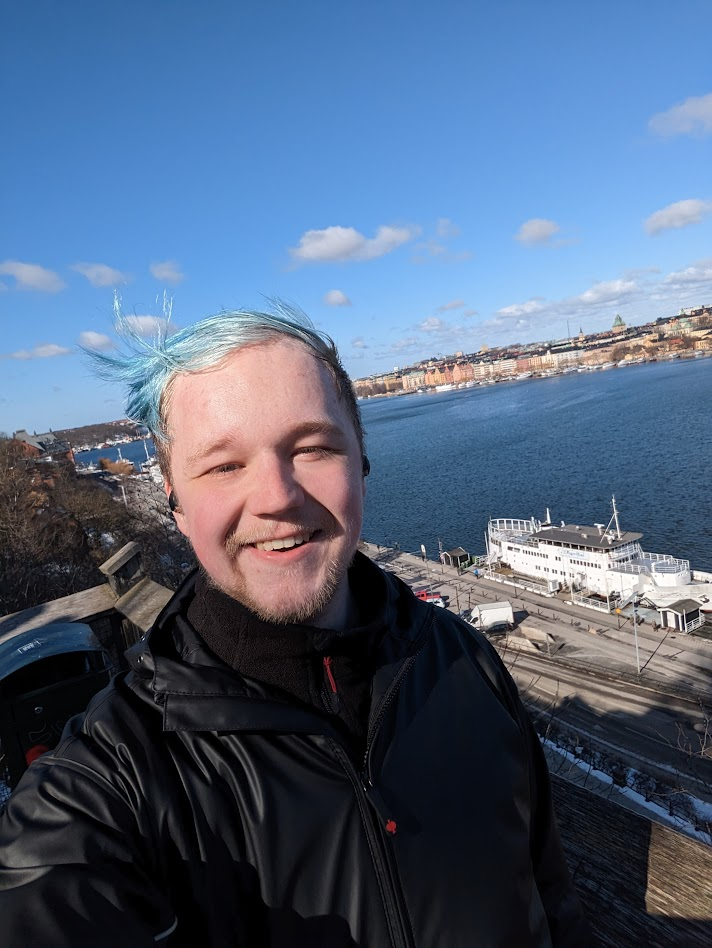 At 16:00 coming back to the cruise terminal, there was a lot of traffic already. So many seniors. The "senior-amagedon", as I call it. Waiting there also talked to a nice older couple, actually their first time to travel since the corona pandemic. To my surprise, she talked pretty good german AND english?! I was really amazed. It was a bit of a mixture, talking in english and german. She insisted on talking in german to practice. Talked a lot about travel, corona, how it is travelling when you are older etc.
At almost 17:00 it was time to board, everything went so smoothly and well coordinated. Coming into my 4-bed cabin on the Cinderella was so delightful. It's really luxurious, also considering that cabin size is the default, actually a 2-bed bunk costs extra!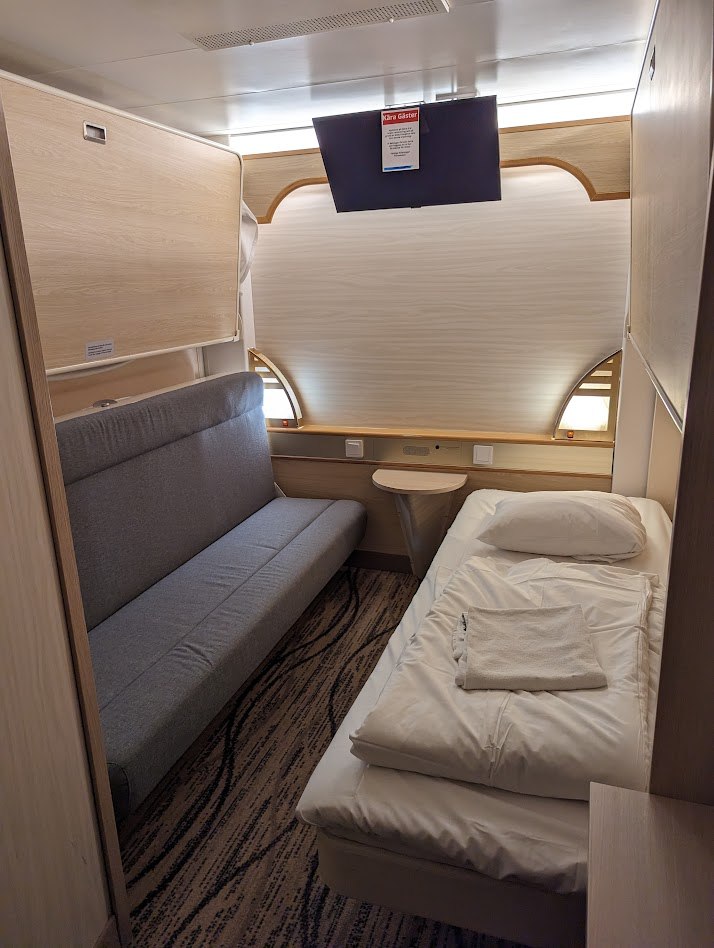 Planned arrival is 06:30 tomorrow in Mariehamn, so if all goes well will be there, well rested and ready to rock! Very neat as well that I will have access to a dedicated shower.
Recap of fifth travel week
Norway is more stunning when it comes to landscape. Sweden is better for food, people, culture, and cities for me. Although the difference is not that big.
Especially after this week, I realized how much a dog is missing in my life. After the trip, will definitely have to check how to make it possible to get one earlier.
💡
Looking for other posts around the trip? - Check out the tag
EU-Trip 2023