It's already week 4 of my trip, following the post about week 3. Have no clue/context, then the original post, It's finally time for an adventure, is for you.
For the UK part, Gabriel, a friend of mine, joined. So expect him to be part of the stories and photos.
18.03 – Last day in London
I slept pretty long and fixed my knee with some Ibuprofen in the evening. Just to make sure, rested the whole forenoon. Meanwhile, Gabriel used the time to do some sightseeing and check by the famous spots from the Harry Potter films.
After taking a shower, coming back to our room, noticed that the lamp had fallen down from the ceiling. Wrote the Airbnb guy, so they will fix it. As I felt better, took a few pictures in the Bricklane street. A lot of great street art and graffiti.
In the afternoon, we went to Chinatown together, which was a really delightful experience. A really great place with plenty of stores, tea and so on. Also tried the milk tea, which is not definitely my thing.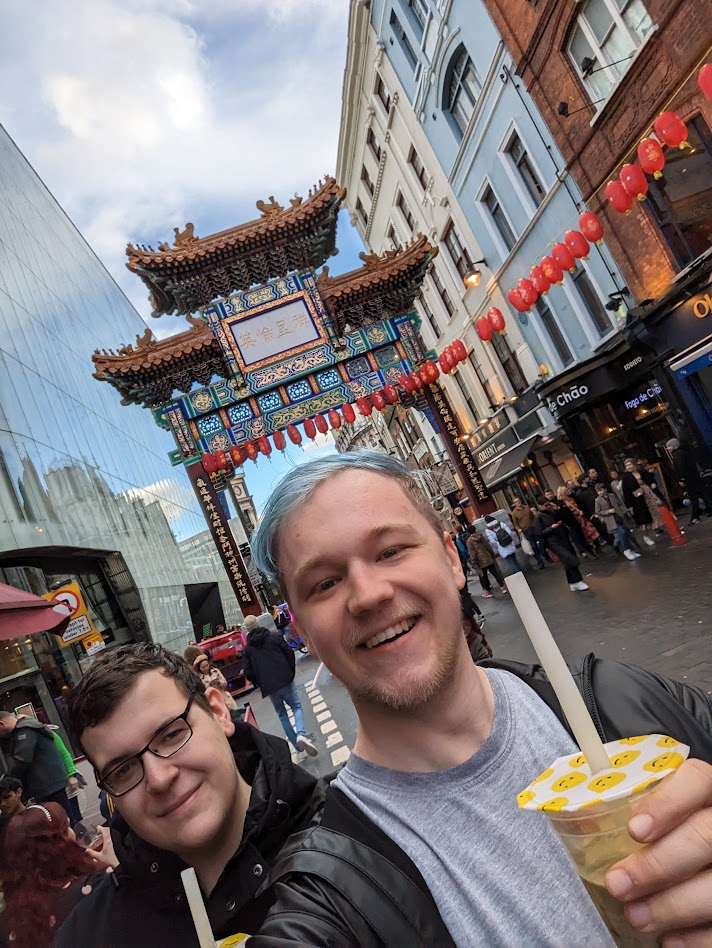 After exploring Chinatown for a while, Gabriel didn't feel too well, so we took the Bus and a bit of time to rest, slowly getting towards Camden Market. It was really lively and an exciting market with so many people and great stands.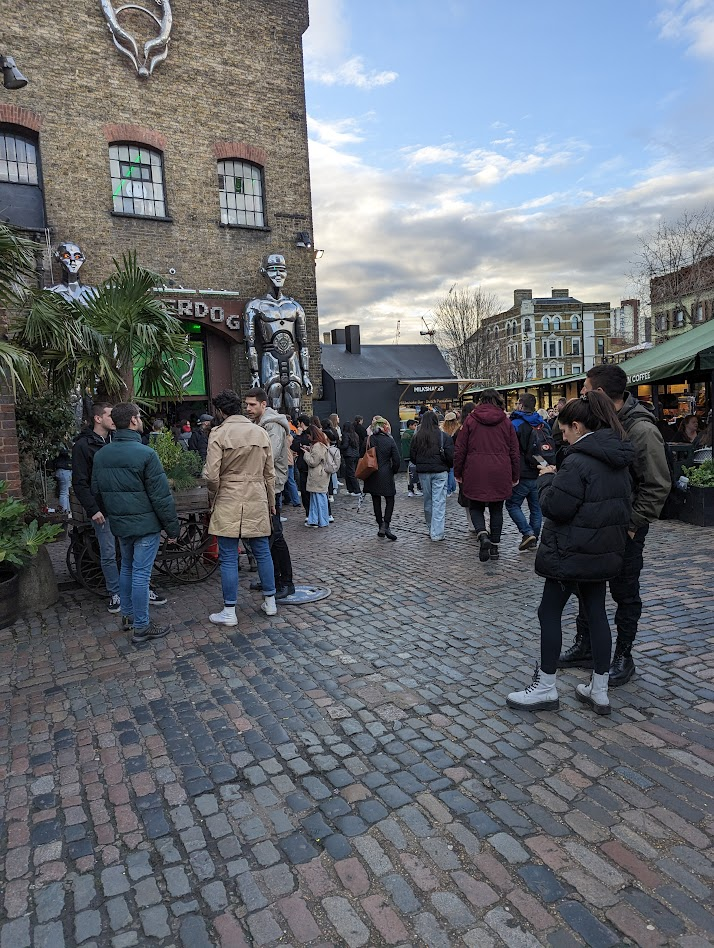 The day got towards its end, as I need to get up early tomorrow in the morning, to catch my Eurostar towards Brussels we went back to the Airbnb.
The electricians came a good two hours later than expected in the evening, fixing the lamp after having a good laugh about the "quality" mount of the lamp.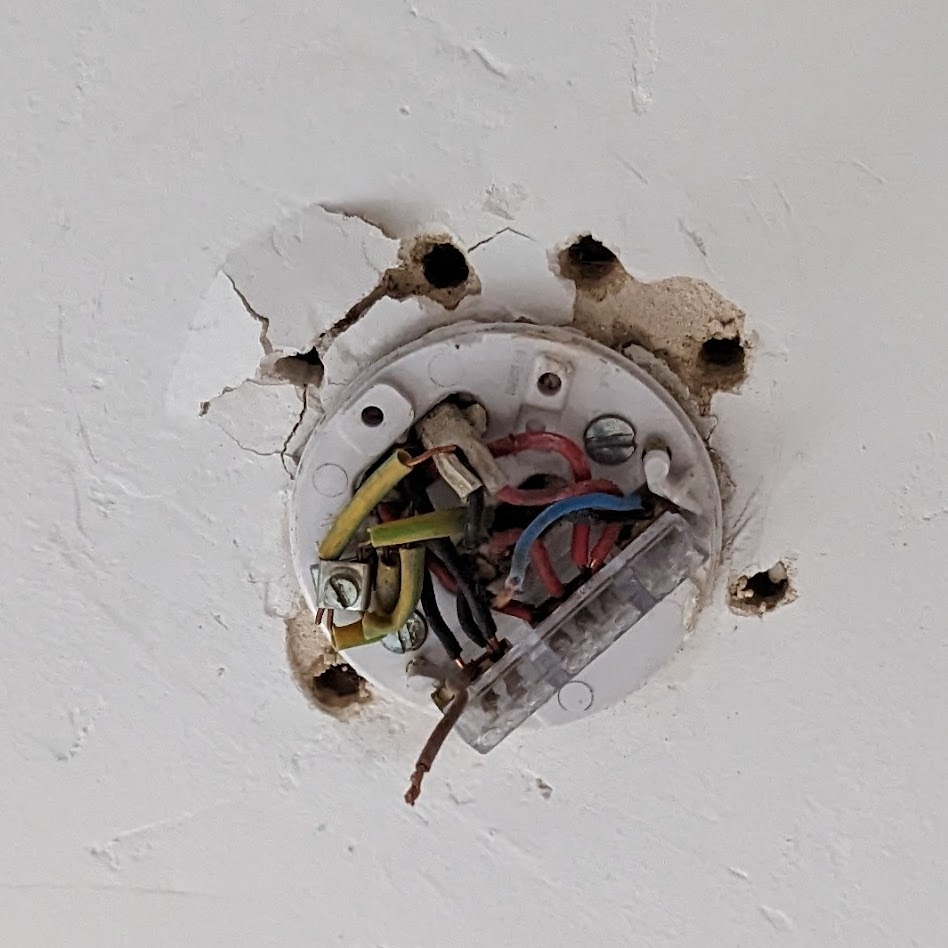 After a bit of time had passed, Gabriel felt pretty sick, so we decided not to do something in the evening. Moreover, since I wanted to make sure my knee will be better for the upcoming journey.
19.03 – Going to Belgium (again)
Took the Eurostar at 09:01 in London, since I woke up pretty early, I was done with the check in already at 08:00. After a pleasant journey to the Brussels Midi train station, caught my IC to Antwerp. The train station itself was already magnificent and made me feel like I made the right decision going to the Netherlands over Antwerp.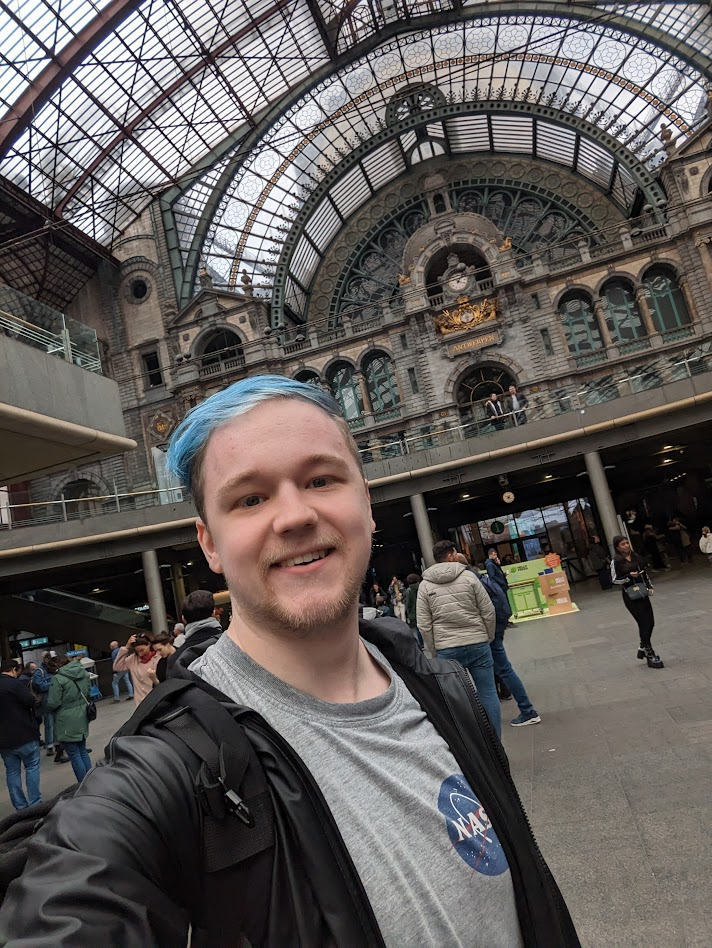 Spent the forenoon exploring the city and going to the classic tourist attractions. Starting at the "Grote Markt" which was really impressive. And again I fell in love with the brick stone buildings and the building style in Belgium in general. As I was already near took the Meir Shopping street, no big surprises here. After I noted I was already late for the metro to the Airbnb started to run to the next stop only to find out it was delayed anyway. Arrived just in time at the Airbnb, where my host greeted me with a warm smile.
Unfortunately, I was unable to find a CouchSurfing host here again, as all the people I wrote were either not at home or were too busy. A giant bummer for me, but it is what it is. Initially, also wanted to wash my stuff here, but that's not possible at the moment. The good thing is I find a different Airbnb tomorrow where I can wash + dry my stuff.
After the warm welcome, all of that worries and anger were gone, I felt exhausted and took a nap. Refreshed and full of energy (not the drink, this time) got back to the city, took some nice photos, explored the corners a bit and just absorbed the ambience.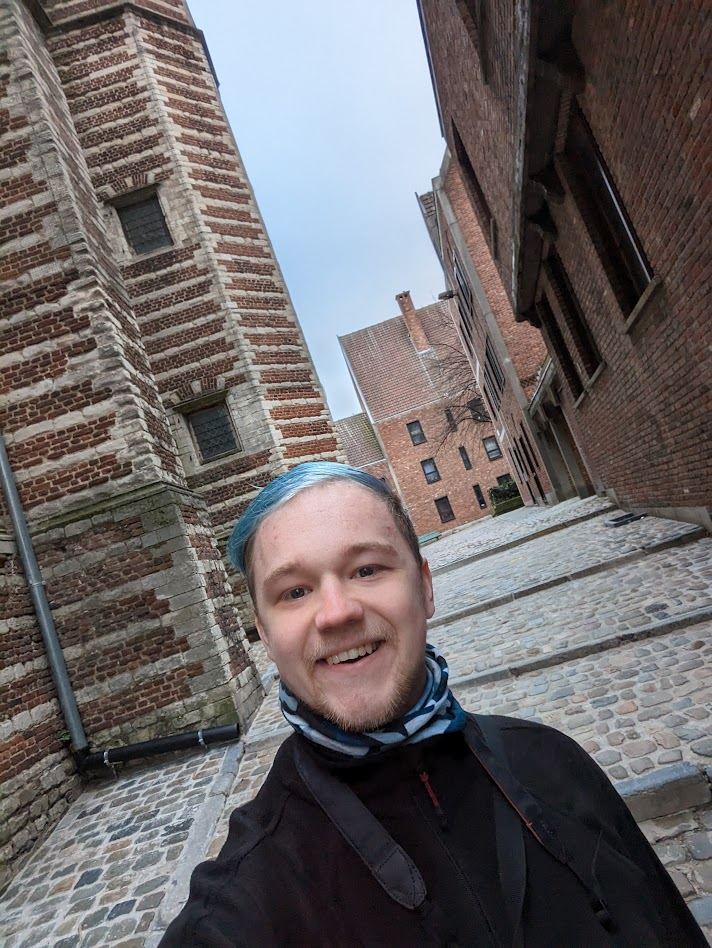 My tummy also wanted something great to see, so I went for loaded Belgian fries at the Frites Atelier. They were superb, can recommend that place.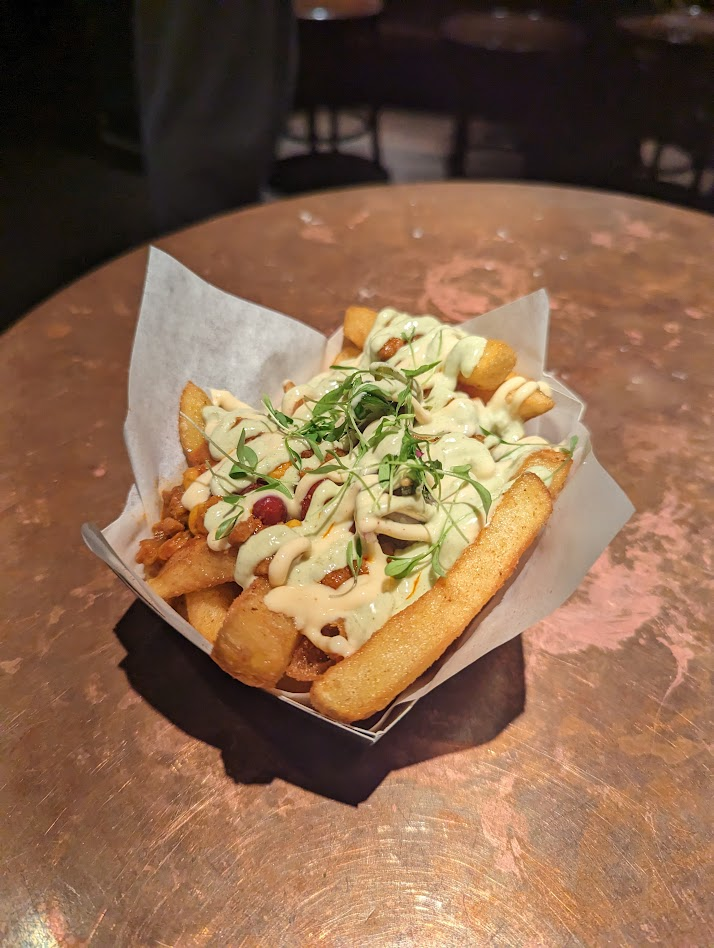 At that point, I realized all my to-dos were already checked for the city (except for laundry, obviously). Remembered that Paul from Luxembourg told me about Doel, the ghost town. Recognizing that the bus there drives only at 6 am and 4 pm made the direct travel a bit hard. But thanks to the near to the Netherlands, bike renting is a gigantic thing here. The plan is relatively simple: Take any trains (thanks to interrail pass) and public transport (which is pretty cheap here) continue from there with an eBike which I can rent for 10 euros for an entire day. If my plan works, that will be a real genius combination of Urbexing and the trip.
20.03 – Doel
Another day, another city. This time it was Doel – The infamous ghost town in Belgium next to the port and the power plant powering 38% of Belgium's energy. After I got up, packed my stuff, checked the bike app for the best pickup location and got to Antwerp Berchem. Dropped my stuff for the day in a luggage locker. As it turned out, Beveren was the last village where public transport got me and I could switch to bike. Took the IC to Beveren Market, the bus to the stop Kerk. Trying to reserve my bike, it won't work – calling support didn't do a thing. Since I really wanted to go there, checked for other providers. Finding out there is also Bluebike, at the stop before, so back to the train station. Taking the IC to Sinkt Niklaas. As they only got regular bikes, and it was freezing cold, tried again with the other provider, Donkey Republic. Chat with Stephan (shoutout at this place) helped me out, so got to the next pickup location and drove the 12 km with the eBike.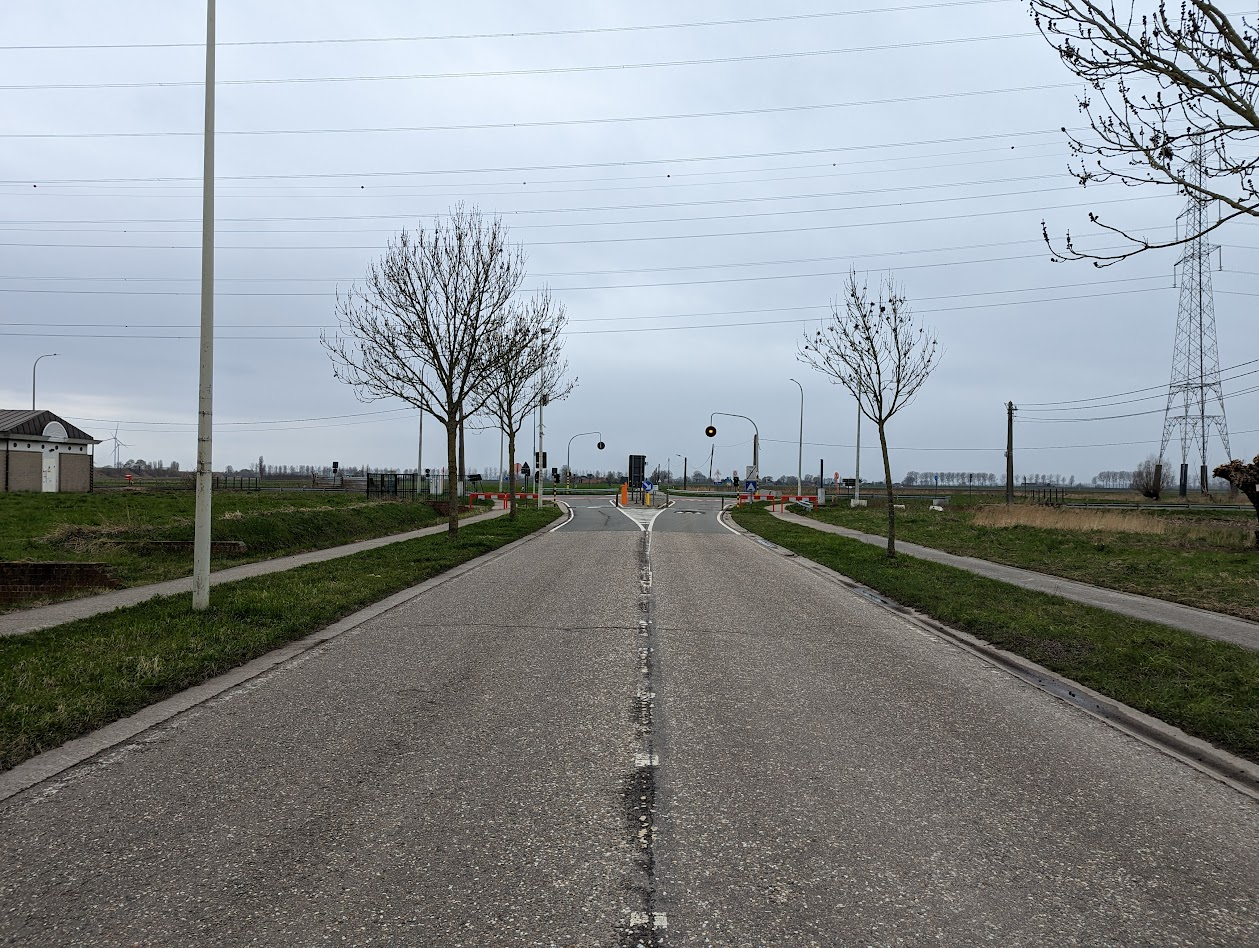 Already on the way to the heart of the city noticed empty brick buildings. As I arrived there it really caught me, there was a barrier for cars, that closes at night. It felt like going into a restricted area. A police patrol was driving towards me, looking curiously. When I was in the center of Doel, all the street art came and a really strange feeling. Something I never head in the countless lost places I visit.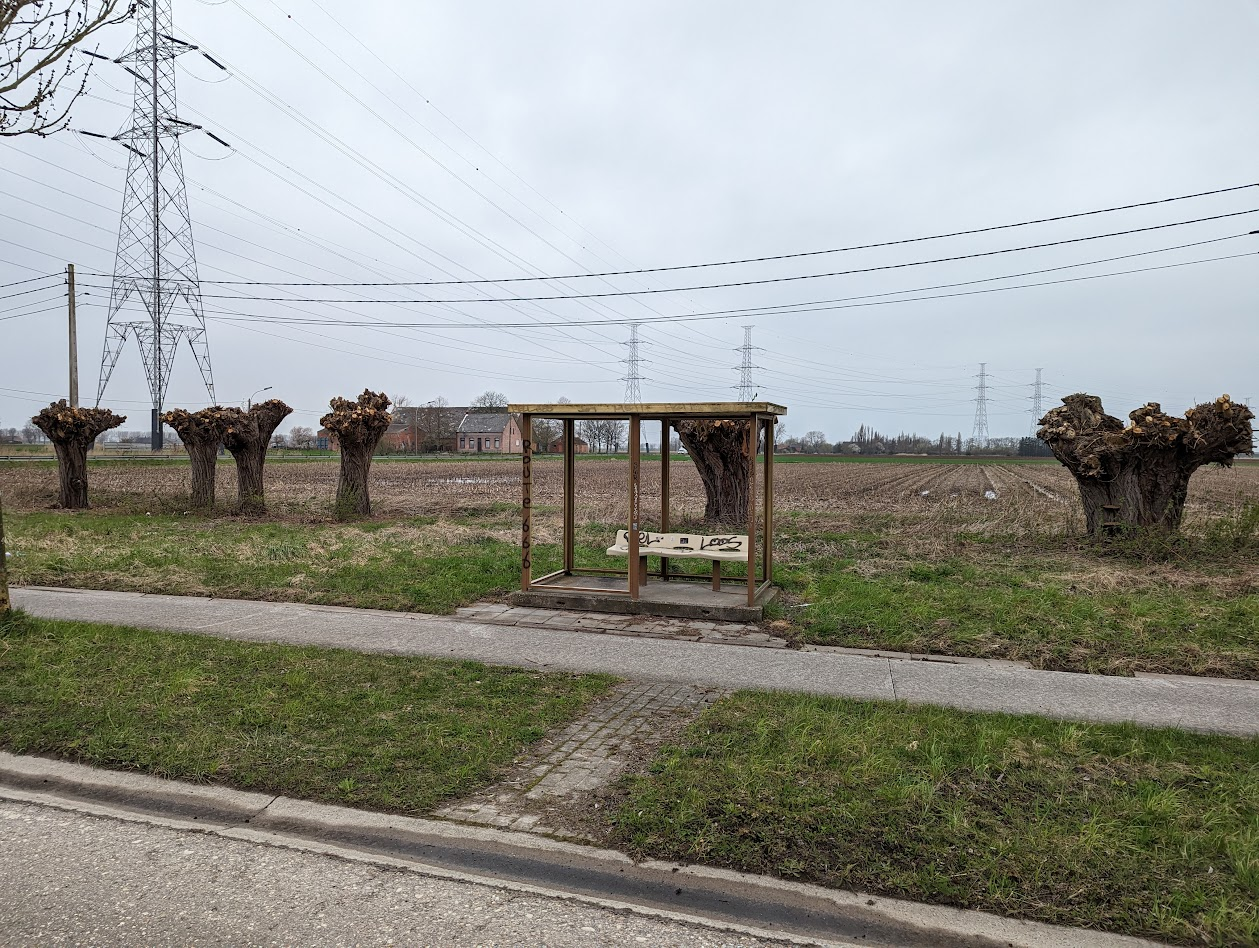 My heart was beating faster as my breath became slower and deeper. Slowly cycled through the city, it had me questioning. Such a strange mix of left buildings and people still living their daily life. Some residents had signs in the windows, "we still live here". It was mysterious, breathtaking, emotionally moving in its own way.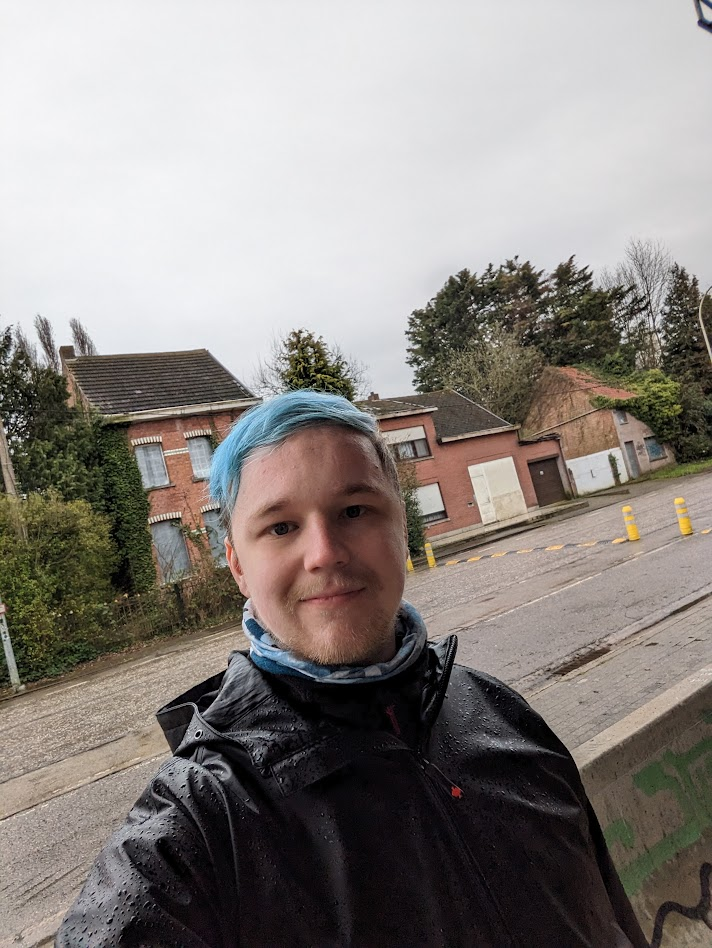 Arriving at the church, I noticed several white signs with information. Using Google Lens, figured out it was due to the renewal of the graves, another 50 years. The church and the graveyard felt like an island in the houses, barricaded with iron barriers on windows and doors.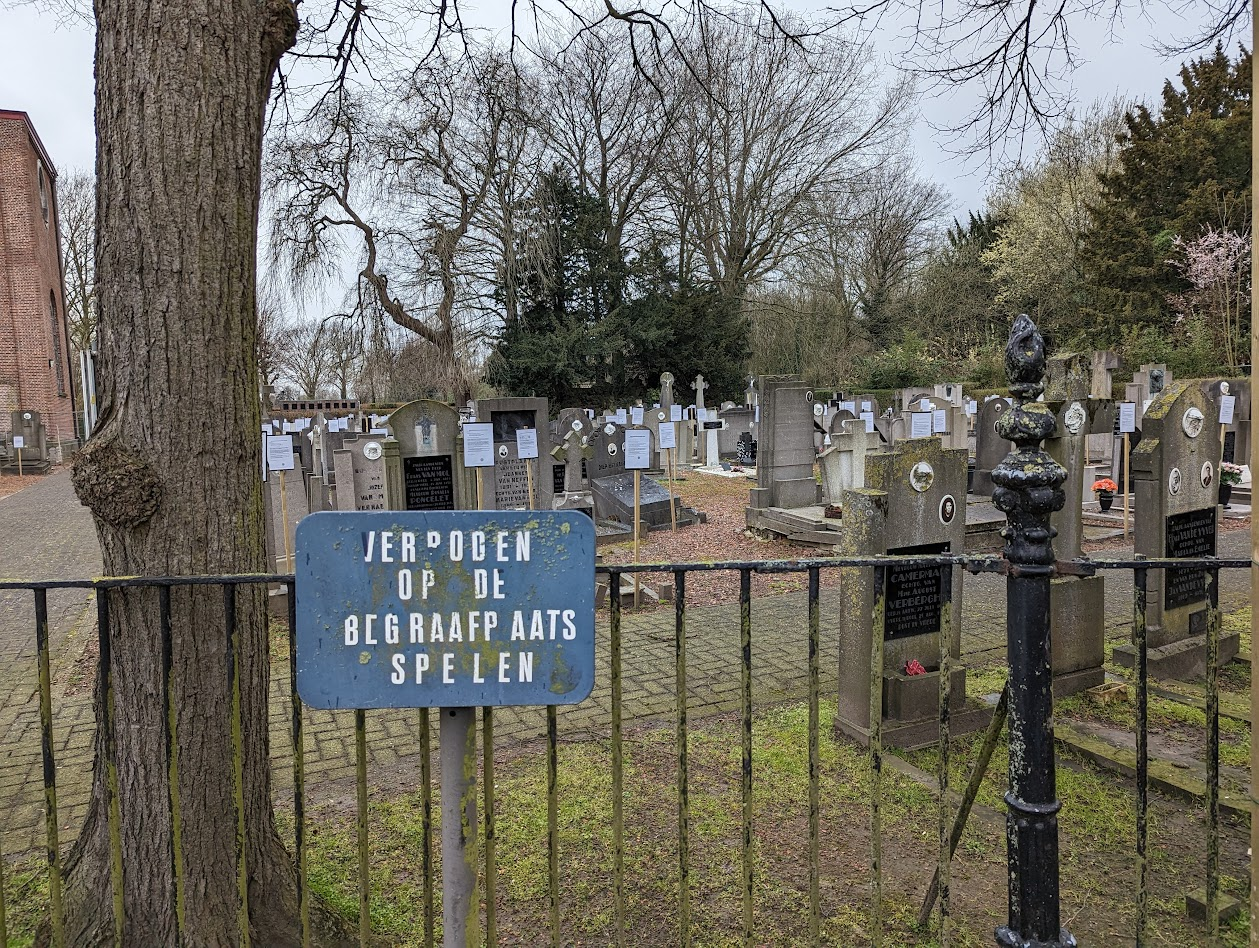 Barbed wire fence at some points gave it an even more intimidating look. Street art, mixed with scribbled graffiti. Even it if it was not a spectacular view, the atmosphere was different. All the way, goose bumps entirely over my skin.
Going to the Windmill, another motive, caught my eye. The windmill, power plant and harbor in one picture. Such a contrast with the almost abandoned city behind me.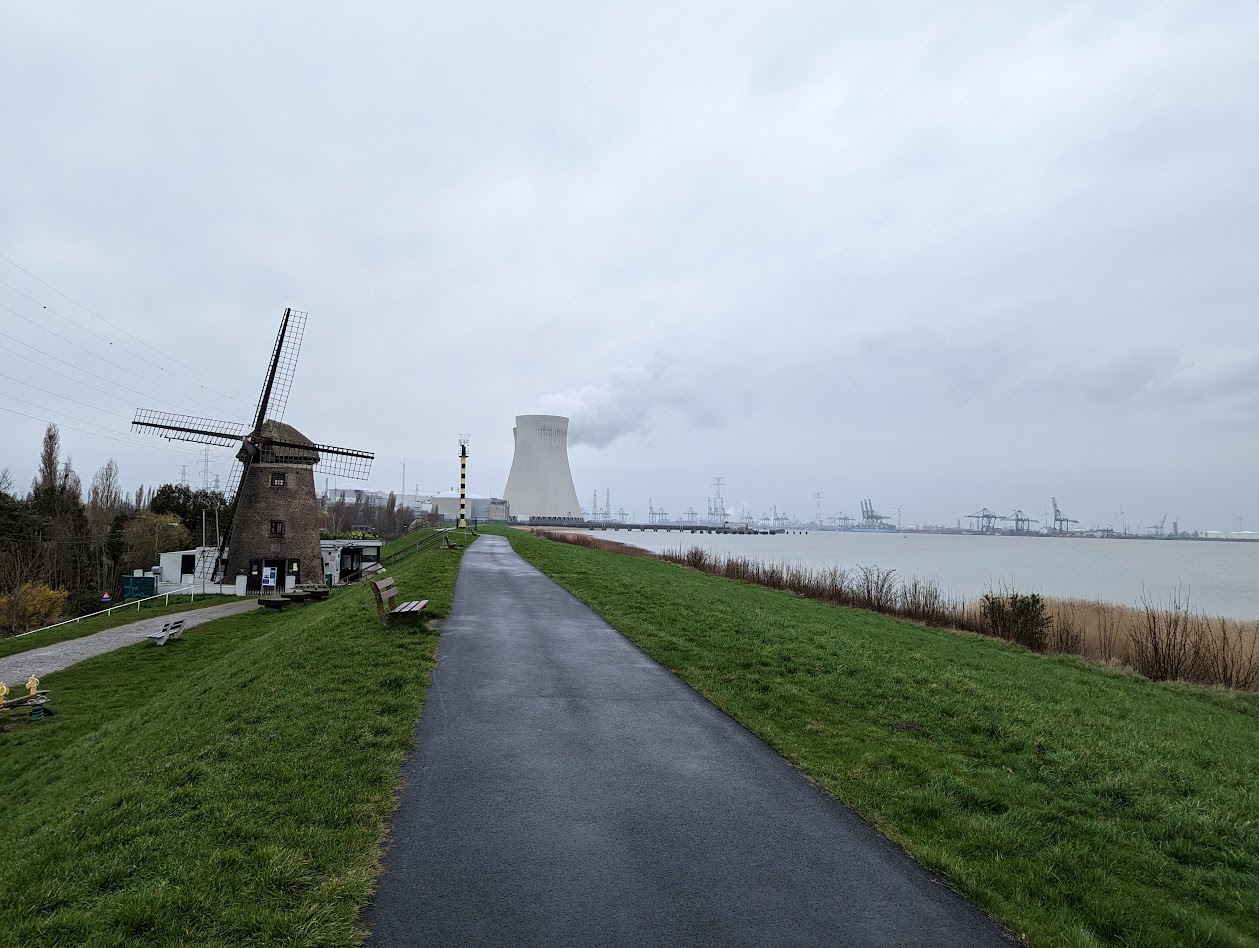 That special atmosphere is something I never had to that degree. Something was really moving inside me and still catches my attention now. Somehow didn't take many pictures, it just didn't feel right. An intimacy was there, which made it feel wrong to abuse it by taking pictures of many places.
When the rain began to pour heavily, I found shelter in an old gas station. Residents and workers from the power plant were driving by from time to time. Giving me a brief look, not really minding. Expected some kind of anger, but nothing, only pure acceptance.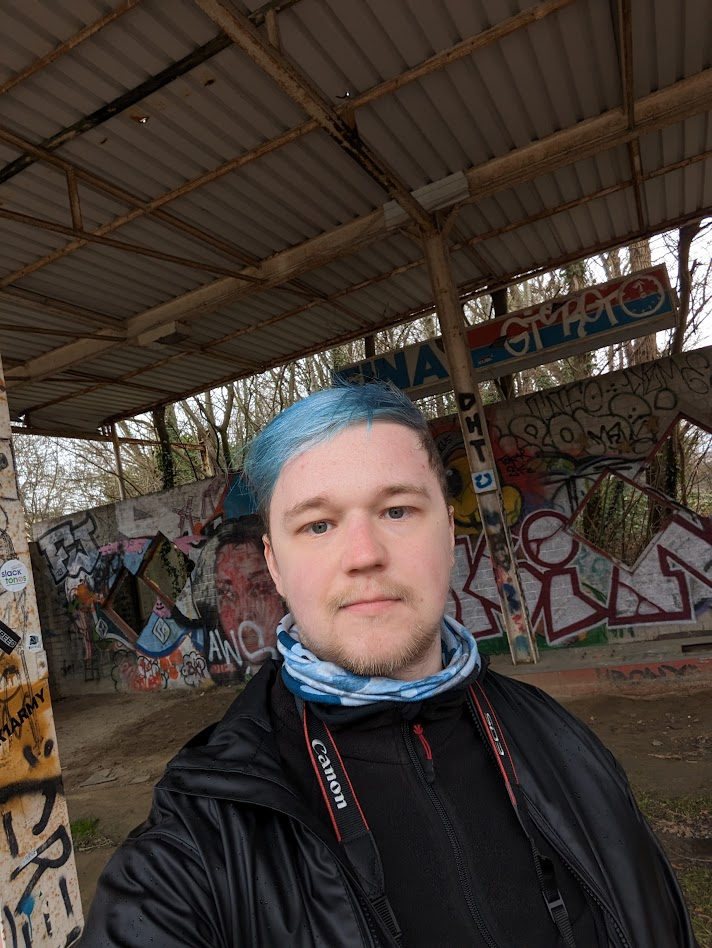 The rain got better, so took the way back to the next bus station where I can drop off my bike in Beveren. From there, driving back to Antwerp to my new home for the night at Tessa's place. First time for me that I had some nice conversations with Airbnb hosts. We talked a bit about how weird it is that Dutch and german sound so similar, but are so hard to combine or understand each other. Over Interrail pass and how valuable and cool it is and about Paris.
A really great day after all, with some minor barriers, but at the end it all worked out. Can only recommend visiting Doel, before it's eventually torn down.
21.03 – Rotterdam
Going to Rotterdam by train early today, caught my train just in time and arrived around 11:00. First went for the Erasmusbridge, which was quite pleasant. Stopping by at the Grote Market, which is also looking nicer in the photos. Generally, the architecture and clean city was not my cup of tea. It was really polished and clean, which in itself is cool, but got me to lose my attention very fast.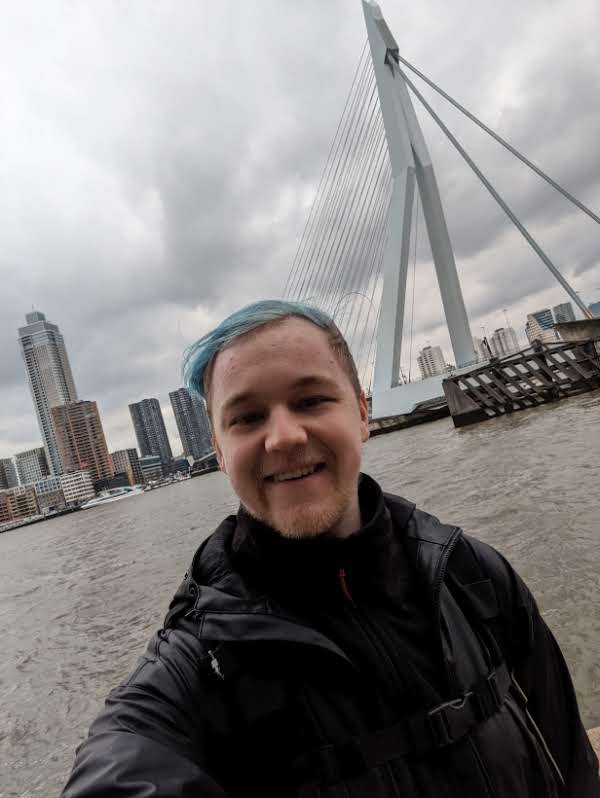 For lunch, went for the Happy Italian, since it was on the way, and I was hungry. A big mistake as it turns out. After waiting a good hour for the pasta, the sauce was more water than everything. The worst pasta I ever had in my life.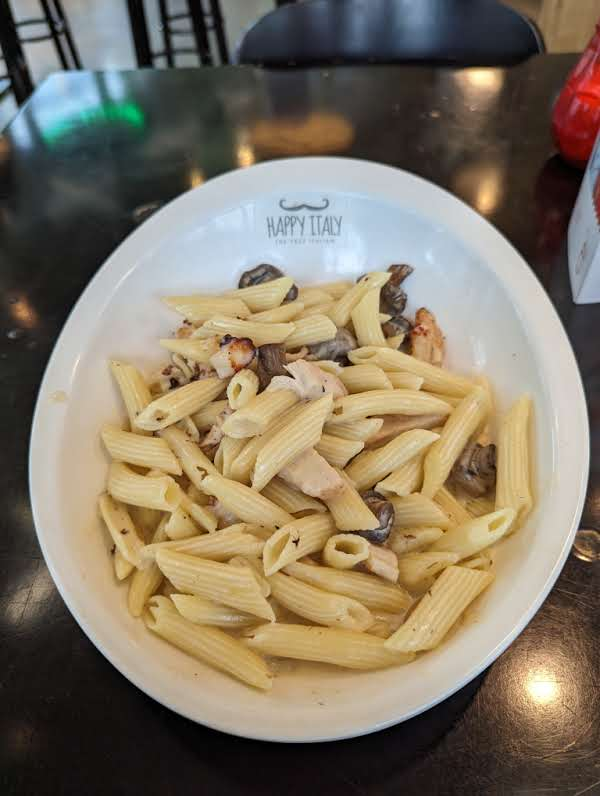 As I got quite bored in the city itself, switching plans, went to Kinderdijk where the windmills, who are also a UNESCO world heritage, are located. From the distance it really looked catchy and was hyped to go there. Arriving and walking there, was quite delightful but not as impressive as I thought it would be.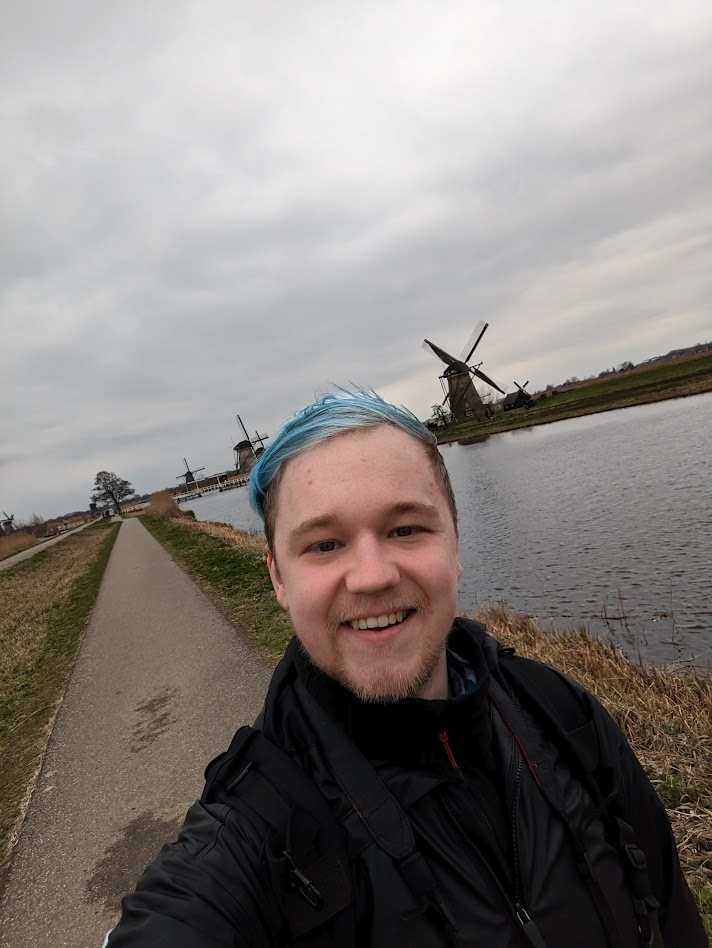 A quite disappointing day got towards its end. Went to the Couchsurfing Host for the night, Hans. I was a bit skeptical because he had room for 10 people. But since he got over 1000 positive references, thought I would give it a spin. Oh boy was I wrong. Arriving there, it felt like a shelter for homeless people. Mattress lying on the floor, 5 persons per room. After taking with him for a good 30 minutes, he left. The air was warm and thick, the people there not really talkative. I got some new sheets for my bed and will try to leave as early as possible in the morning. As it turned out, one of the guys was living there full time as well.
A nightmare came true for me, the worst couchsurfing experience I ever encountered so far. Will definitely leave a negative reference and report it to the Couchsurfing staff, as this is not the spirit. I don't want a free hotel … that's not what the platform is for.
At this point, I'm ashamed to admit that I should have gone immediately. Instead, because I was too exhausted and lazy, just stayed and hoped for the Best.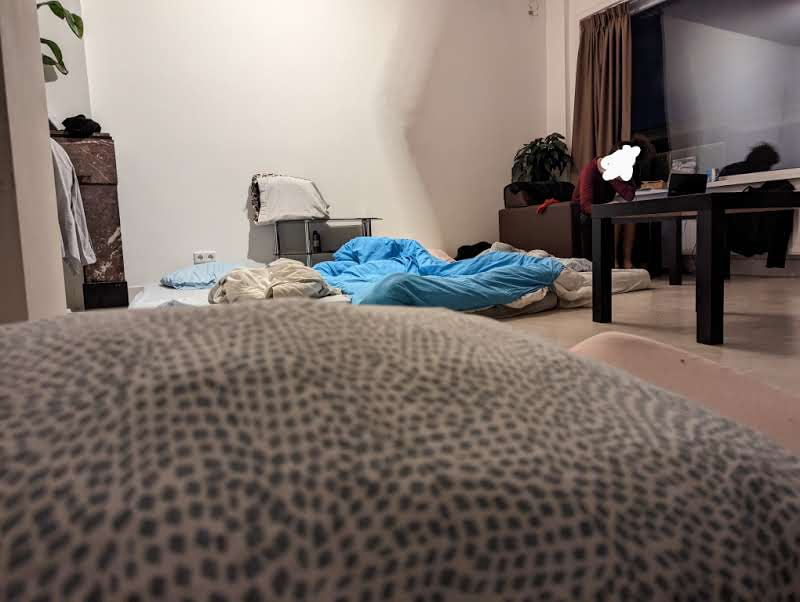 Around midnight, there was still rush hour at the place. No one thought about sleeping, instead everyone started to turn on their phones on loud, calling, texting etc. As it got too much, as well as a bit of power coming back to me, searched for a Hotel. The first match was the easy Hotel, a good 2 kilometers away. Took the metro, walked the rest. Arriving there got a bad surprise as they only accepted people over 30 for a few weeks. Yay! The person at the counter was expressing guilt and felt deeply sorry. Helped me find another hotel and promised me he will make an exception if I didn't find any place to stay. Quoting him, "you look like a sane person to me". So went to h3 Hotel, booked a double bedroom which was freaking expensive. Exhausted just paid, they even accepted just 40 euros as cash caution for the hotel room instead of 50. The gentleman at the counter also was like, "I guess you are a normal person". Really got me questioning what garbage young people are usually visiting Rotterdam. But if they are like the people from the couchsurfing place, I can imagine terrible things. Even had to sign an agreement that I don't take GAS TANKS into my room?! Curiously also asked the friendly guy at the reception – "Jep, that often happens". What the hell?!
I could at least sleep in there. The bathroom was messed up, the thingy between the bed was slowly falling apart, and the fan was super noisy. Simply was too tired to care or bother, slept pretty okay.
22.03 – Delft, Amsterdam & Haarlem
I got up pretty early, bought 2 energy drinks. With a bit of power, took the IC to Delft, walked around the city. I found it to be an enjoyable little town. Rained like crazy, but was still really cozy.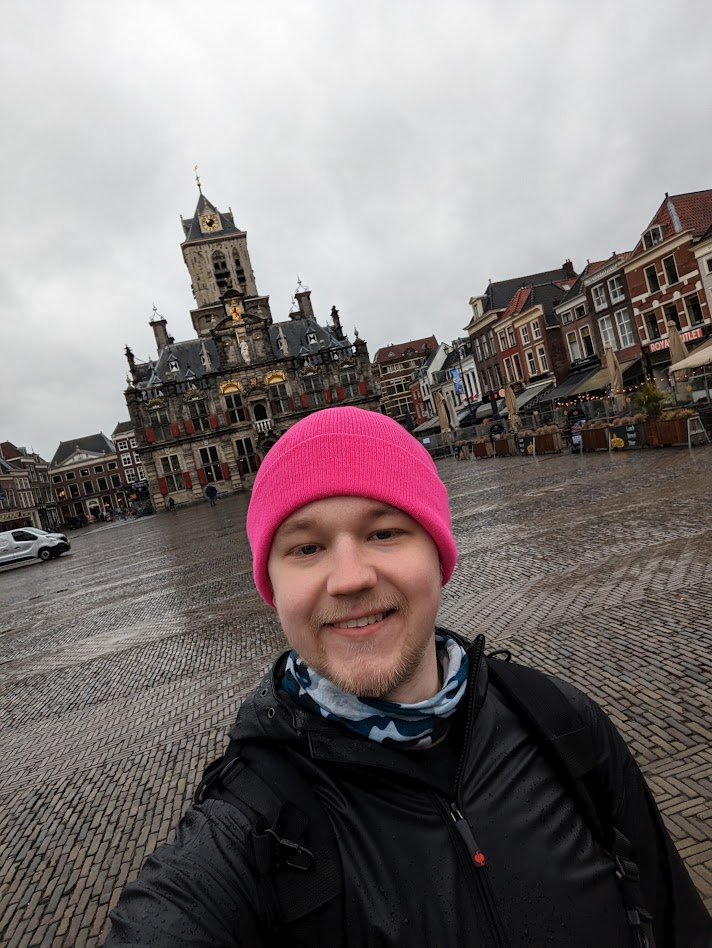 From Delft, continuing with the IC to Amsterdam Centraal. Perfectly arriving in time at the train station, so didn't even have to wait two minutes.
Stopped by a coffee shop after strolling around Amsterdam, taking some photos and enjoying the atmosphere. So, this point on the To-Do list is also done. It was an enjoyable experience.
Good seven hours in the city later, went to Haarlem with the IC Sprinter. My host was not yet home, so waited a bit outside. After he arrived, talked for a good hour about this and that. He reserved a table in a restaurant to which we drove by car, ate pretty nice and went back. There I showed him some fantastic bands like Jinjer and Electric Callboy. Patrick also really liked them and found the style interesting.
23.03 – Den Haag & Utrecht
Since I already saw and did all the things in Amsterdam, I did a day trip to Den Haag, again with the IC Sprinter just a few stops away. The city itself was not that impressive, so instead went for the beach. Taking the bus, got there only 40 minutes later. Through the forest and a steep little hill got to the beach and it was so impressive.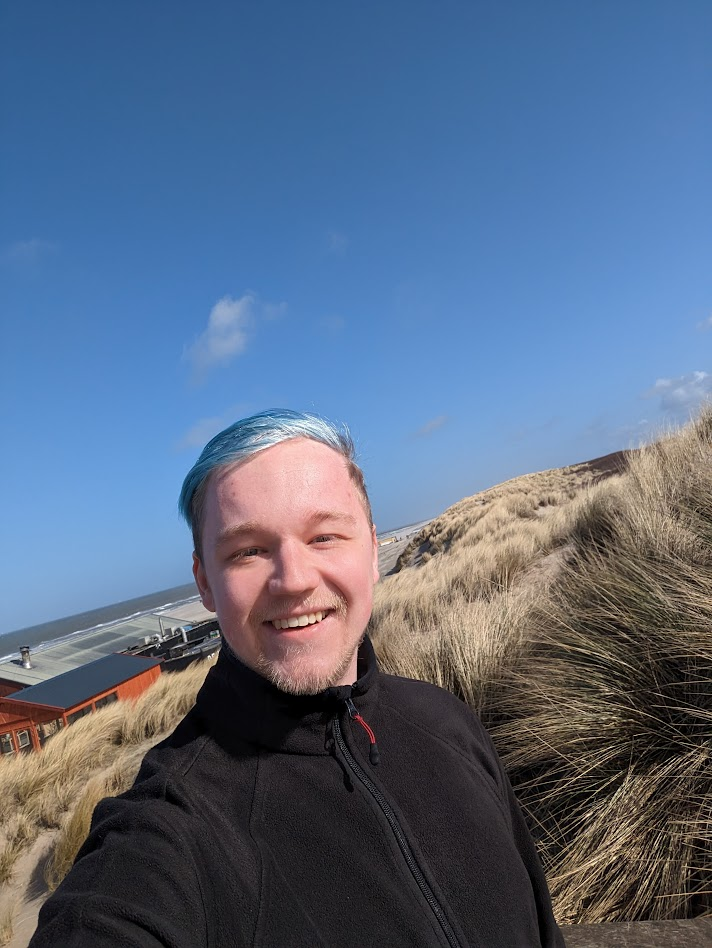 Walked a few kilometers just along the beach, which filled my shoes pretty good with sand, took me a while to get all of it out. I think my socks were also damaged, but that was worth it.
Considering that it was not even noon yet, also went to Utrecht, which has a nice medieval part in the city. Unfortunately, the Dom Tower is being renovated currently, so didn't see much of that. The city itself was pretty charming, but not too much, maybe have just seen enough of the same buildings stuff in the last few days as it was not too impressive for me.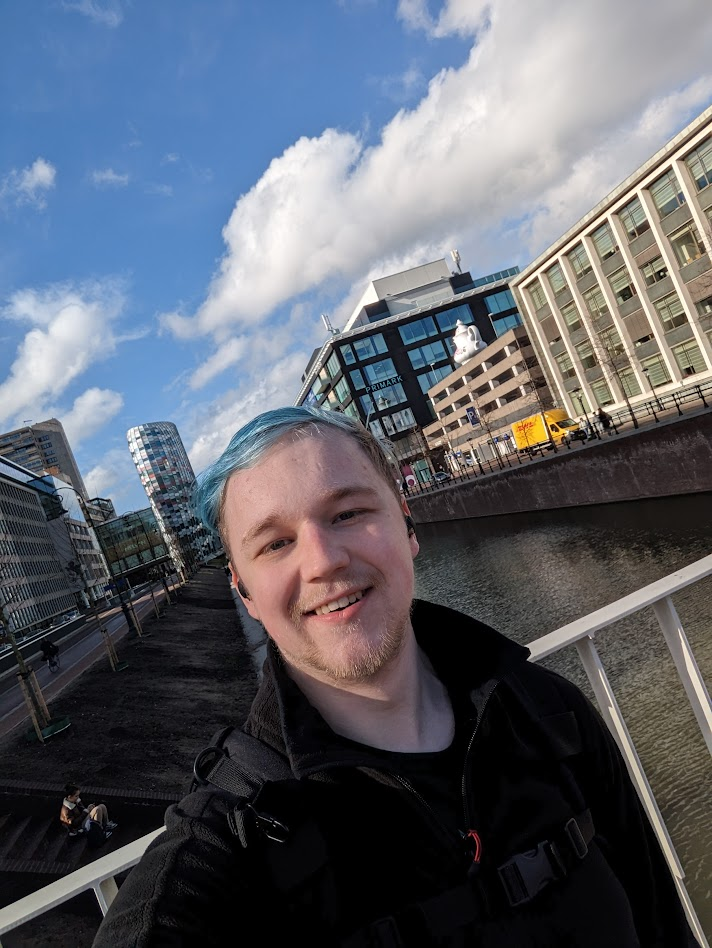 The day reached towards the evening and I took an IC to Amsterdam from there with IC Sprinter to Haarlem again to spend some time with my host after he had finished work, or it was planned this way. Arriving there, encountered he was not home yet. Writing him via SMS also no response … my PTSD kicked. Another night searching for a place to sleep? Had me questioning if Couch Surfing is really the right choice after all. Seems like there are more unreliable people out there than expected.
A short existential crisis (2 hours) later, Paul responded, and asked if we can meet at the music hall he is volunteering for. He wanted to show me the place today, so guess its easier for him since he got there immediately instead of driving home.
Bought a night ticket for the bus for only 10 cents. Arriving there, already saw numerous metal heads waiting outside, which made me feel right at home. Actually, there were 2 stages. One where you normally need to pay and see bigger bands (mostly metal, rock). The other stage is completely free and allows local artists to play for free. It's a bit of a surprise gig, and you have eight bands in a single evening. To my amazement, there were plenty of people, especially for a working day. Some time on the main stage, we got over to the other stage. Where a band called VEX was playing. An undescribable music, but it really got me. Also talked to them afterward, just needed to tell them how much I loved their energy, their music got me. Going back to the main stage where an incredible Black Metal band was playing. The drummer was freaking insane. Another metalhead immediately recognized me, greeted me and told me "Man, you will love this band, I am jealous that I can't see them the first time again like you". Damn, he was right. The drummer was insane and the music was so freaking awesome. As metal is not the cup of tea for Patrick, went back to the other stage. Here, techno was the music of the hour. I am truly amazed and jealous that such a thing does not exist near me. Will have to dig deeper, maybe there is some underground scene. There needs to be!
A few beers later and already in the middle of the night, we had to leave. My host had to work the next day. If you're in Amsterdam or even Haarlem, you should check the Patronaat out.
Realized when I came back had a big blister on my foot sole, but that's nothing that a blister plaster can't fix. All in all, the day was really wonderful, the insecurity with the late response from Patrick forgotten pretty quickly.
Conclusion & Recap for the fourth week
Missed England the day I left for Belgium. It's really such a nice country. All the people were lovely, we had such a great time there. To not only travel over but also stay in Antwerp was definitely worth it. Furthermore, the stay in Doel left a special feeling inside me. In my heart, it will always have a special place.
Unexpected for me, Belgium and England are now one of my favorite countries! Especially for England, realized this after leaving.
Despite the bad luck with CouchSurfing in Rotterdam, the Netherlands was still really pleasant. For me, a place that is more for living than tourism. Not too many of my building style in the cities I visited, more modern nature. Didn't like the bike-first-approach they do here anyway. While this might be an unpopular opinion, just find it weird, messing things up a bit for me. In general was really modern, everyone was friendly and the english level here is really incredible.
💡
Looking for other posts around the trip? - Check out the tag
EU-Trip 2023