It's already week 12 of my trip, following the post about week 11. This will also be the last diary entry as it's the last week. Have no clue/context, then the original post, It's finally time for an adventure, is for you.
What to expect from the last week
As there are only three days left, this will be rather a short one. Following this, there will also be a recap post, that might be delayed a bit after coming back home. The idea is to share my learnings, answer some questions for my future self and you, as well as collect some metrics.
28.04 – A day in Prague
Waking up today, had a hard time motivating myself to get up and do something in the city. After taking a shower, finally got enough motivation to go out.
The first stop was the Lennon Wall, which is a street art wall in the heart of Prague. Really, a nice mix, thus funny that the mirror in the middle, was almost completely covered with stickers. Mixture of left wing, like #FckNzs and #FckAfd, over vegan community stuff to meme stickers.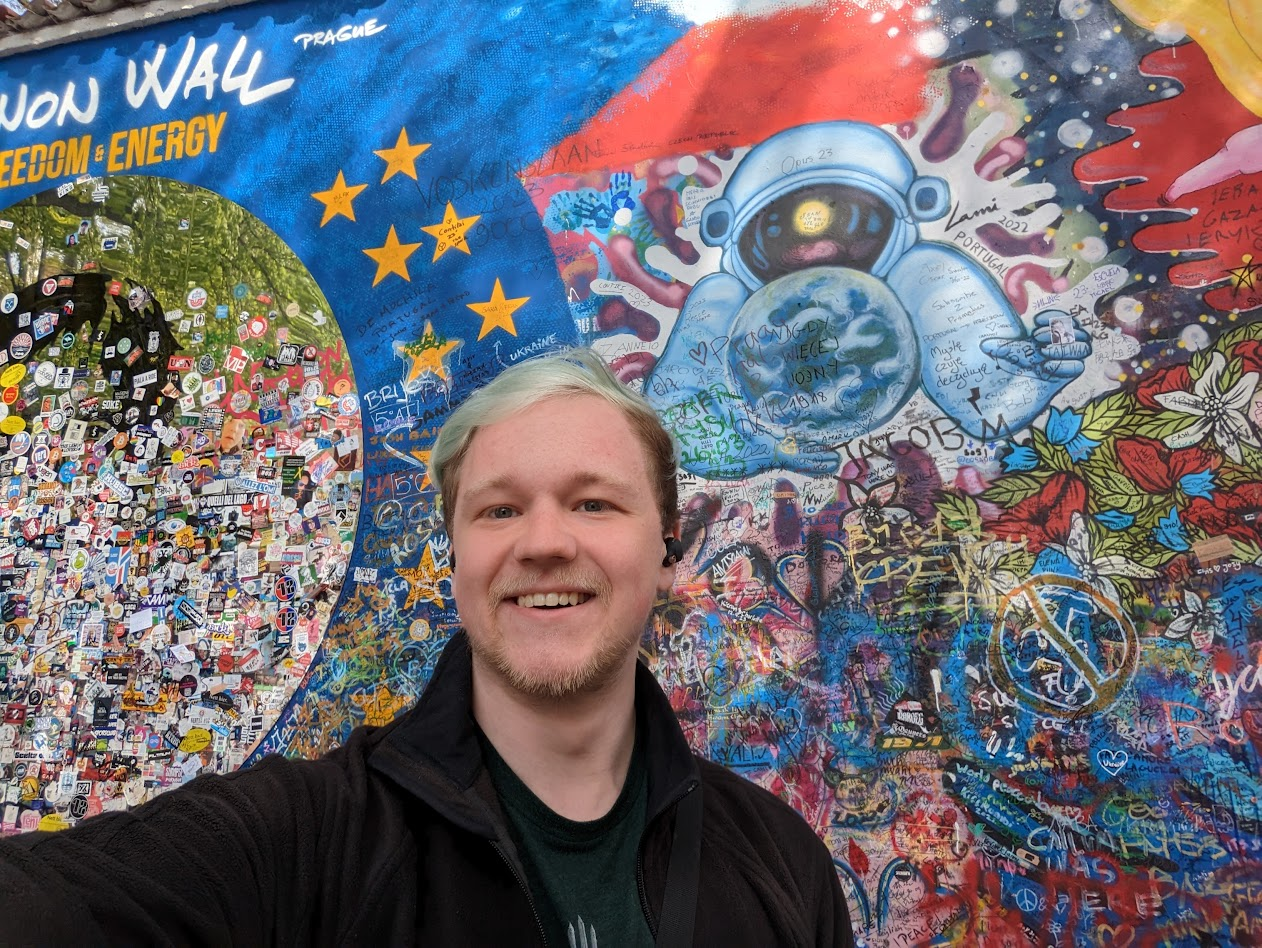 From there went to the Old Town Tower and Charles Bridge, which are easily reachable by foot. It was really a giant crowd of people there, taking photos, buying stuff from caricaturists and so on. It was quite a pleasant view, but the people masses made me feel a bit uncomfortable, so moved on.
Strolling through the small streets of the old town was a pleasant experience, peaceful and pleasant. Arriving at the main square, first was really curious why the hell there were so many people. Apparently it is because of the clock there, which I cannot really understand, since it sounded crappy to me.
Finding my way through the masses, found a promising restaurant. After checking the review on Maps, went there for a Budvar Redix, even though I ordered black beer, but whatever. As a main dish, gone with the Bohemian sour roast. Tasted quite delicious, but the beer was no comparison to the Pilsner Urquell.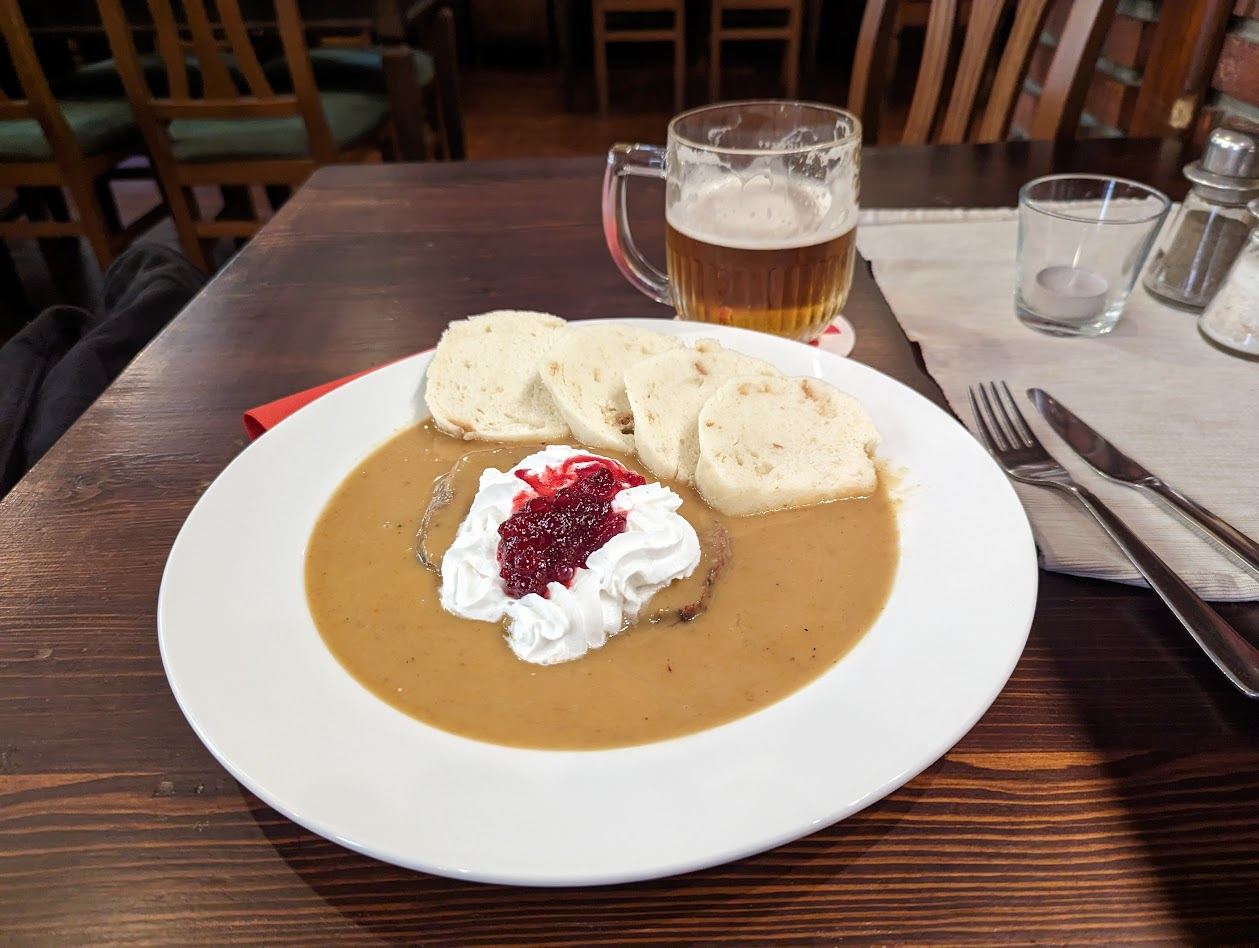 Was curious and wanted to see the city from above, so the tower of the city hall sounded like the perfect place. But there were so freaking many people, I decided for myself it was not worth the wait. So, instead strolled around the old town and small streets.
Since I also wanted to try Trdelník, grabbed one from one of the countless stores throughout the city, got the classic version of it, which I ate on the way. Really delicious and not too pricey. Going a bit off the tourist hotspots was an excellent decision, as it was more for the money and also more authentic.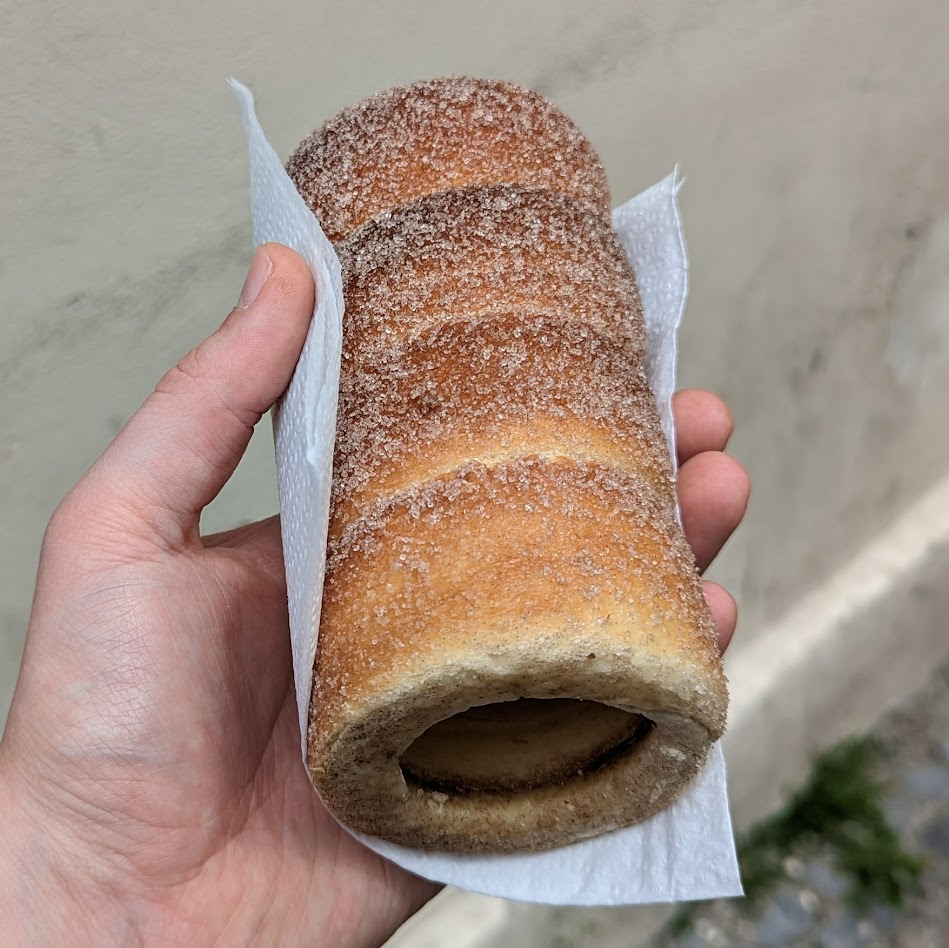 After strolling around a bit more in the city, decided to go back to the hostel and chill for a bit.
The rest of the day was a mixture of strolling around the city with no concrete plan and going back to the hostel since it started to rain a lot.
29.04 – Back to Germany
Checked out of the hotel pretty early, strolling to the central station in Prague, where I waited an hour for the train. Picking a free cabin, putting my luggage above my seat, was all set for the trip. When I wanted to get up, I realized my trousers were wet because apparently the seat was wet. Yay! So, switching seats, a lady approximately 35 came in. Just about to sit down there, immediately warned her. She was confused at first, but realized pretty quickly. This small thing turned into a conversation that lasted half of the way back to Dresden. As it turned out, she also had to get off in Dresden. To my surprise, she was really into lost places as well. We talked about that, how much we both love brick stone buildings and she got into an abandoned hospital in Italy, that had still equipment, blood stains and so on in it. At some point, we came to topics like "the youth from nowadays" making me feel way older than I am. At some point, she became curious and asked how old I was. The answer apparently shocked her a bit, as she was silent for a few seconds. Following the awkward silence, we just continued talking about this and that. As a young couple in the cabin wanted to sleep, she read a book and I listened to music to give them some peace on the train. They were apparently pleased about it, seemed like they didn't really get sleep in a long time.
Arriving in Dresden, said goodbye to the other passengers, wished the lady from Dresden a nice trip back home and got towards the Hostel. The train ride was truly feeling like just a matter of minutes. The hostel was just 700 m from the train station, check-in went super smooth. Dropping off my backpack in my room, buying a public transport ticket and got back outside.
Since I also wanted to meet with a colleague of mine, Zsofia, which just became a proud mother not long ago, also texted her I arrived. She gave me some great tips of what to check out in Dresden.
Based on that, my first stop was the Äußere Neustadt which had a wonderful feeling. Great street art between bars, clubs, restaurants and much more. Strolling around there felt pleasant, an entirely unique experience to what I expected in Dresden.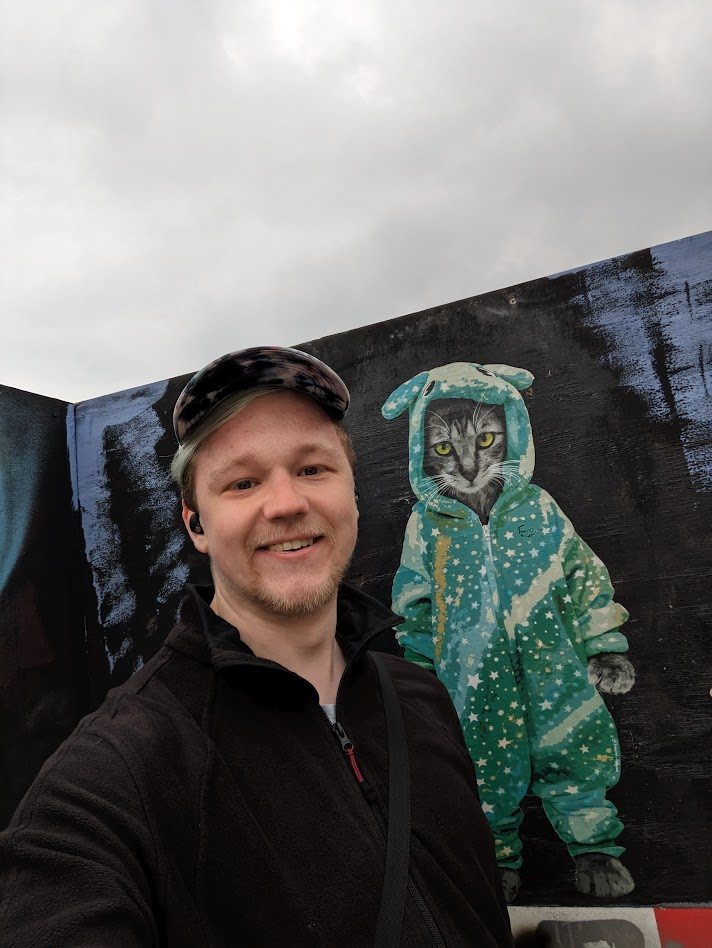 Smoothly transitioned to the Leipziger Vorstadt, which had a similar feeling to me. Delightful to see numerous Antifa stickers along the way, and left wing art really makes me feel comfy.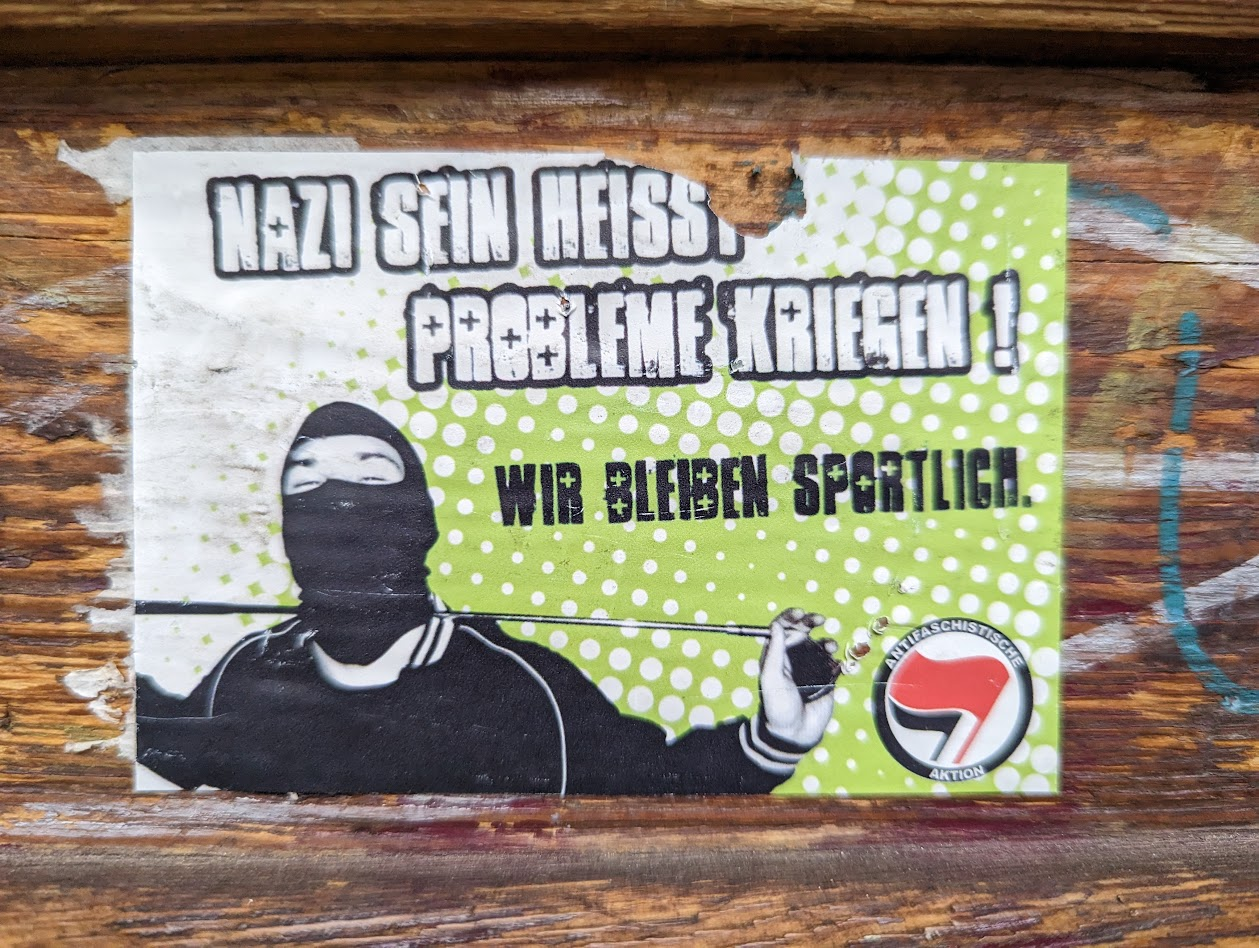 As I also wanted to see something from the old town, hopped onto a tram towards there, on the way, my eyes burned a little seeing the SAP logo. Apparently, they have a branch office here. A bit disgusted, went on with my life.
The old town in Dresden hits differently. It just feels like they put all the important buildings into one place. That also led to the fact, that it felt a bit odd to me. Especially since I was used to seeing the old town grow more natural. That might be because it was reconstructed after the war.
To get a better overview and a nice motive, went to the Brühlsche Terrasse. From here, the "compressed" old town was really charming to me. Enjoying the view there, getting restaurant recommendations from Zsofia. Thankfully, she gave me a lot, so I had quite a variety to choose from.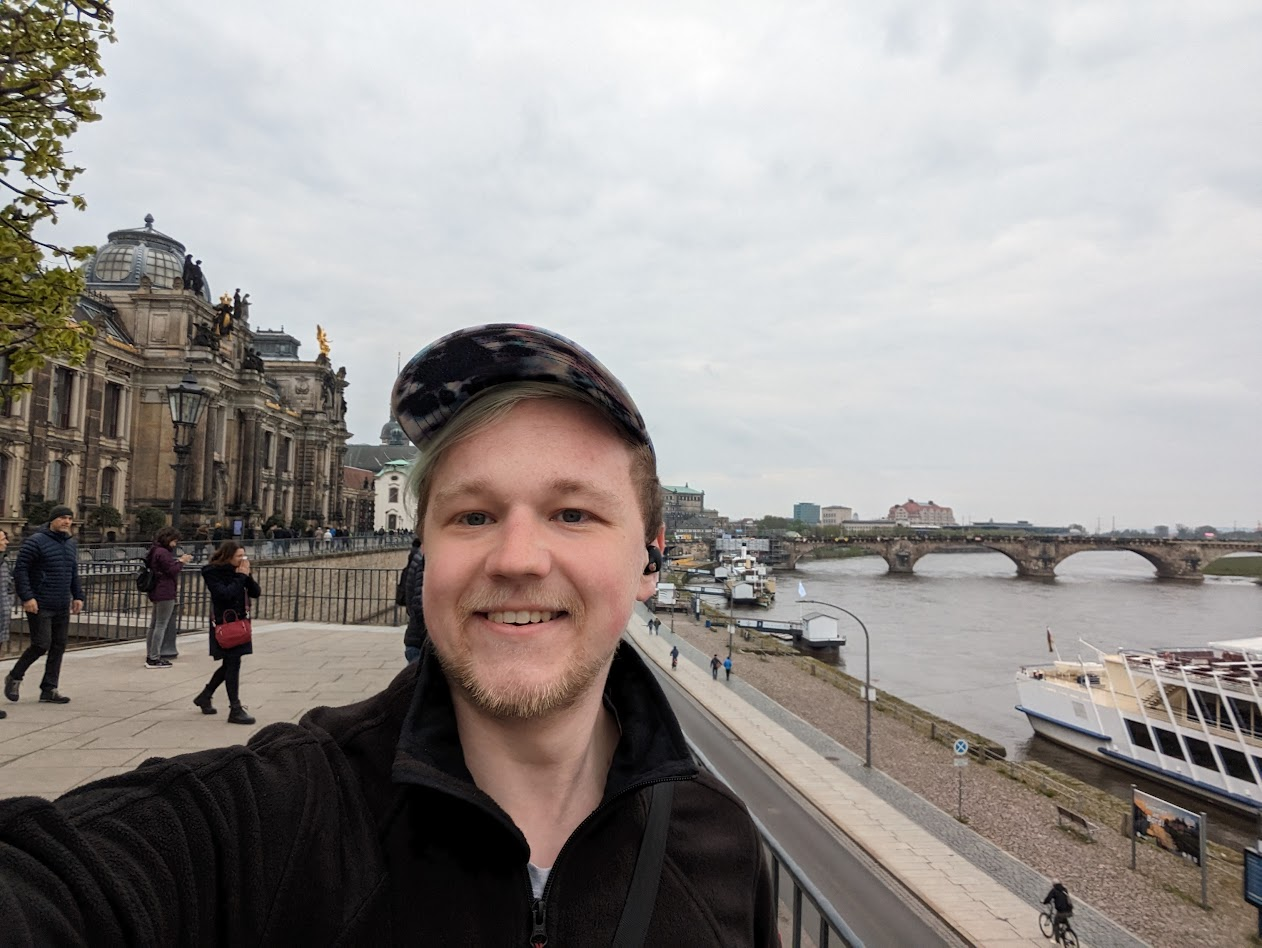 Landed at Sankt Pauli at the end of the day, a restaurant, not the football club. Got a Pils from the private brewery Specht. For the main dish, went for Tafelspitz, which was really delicious.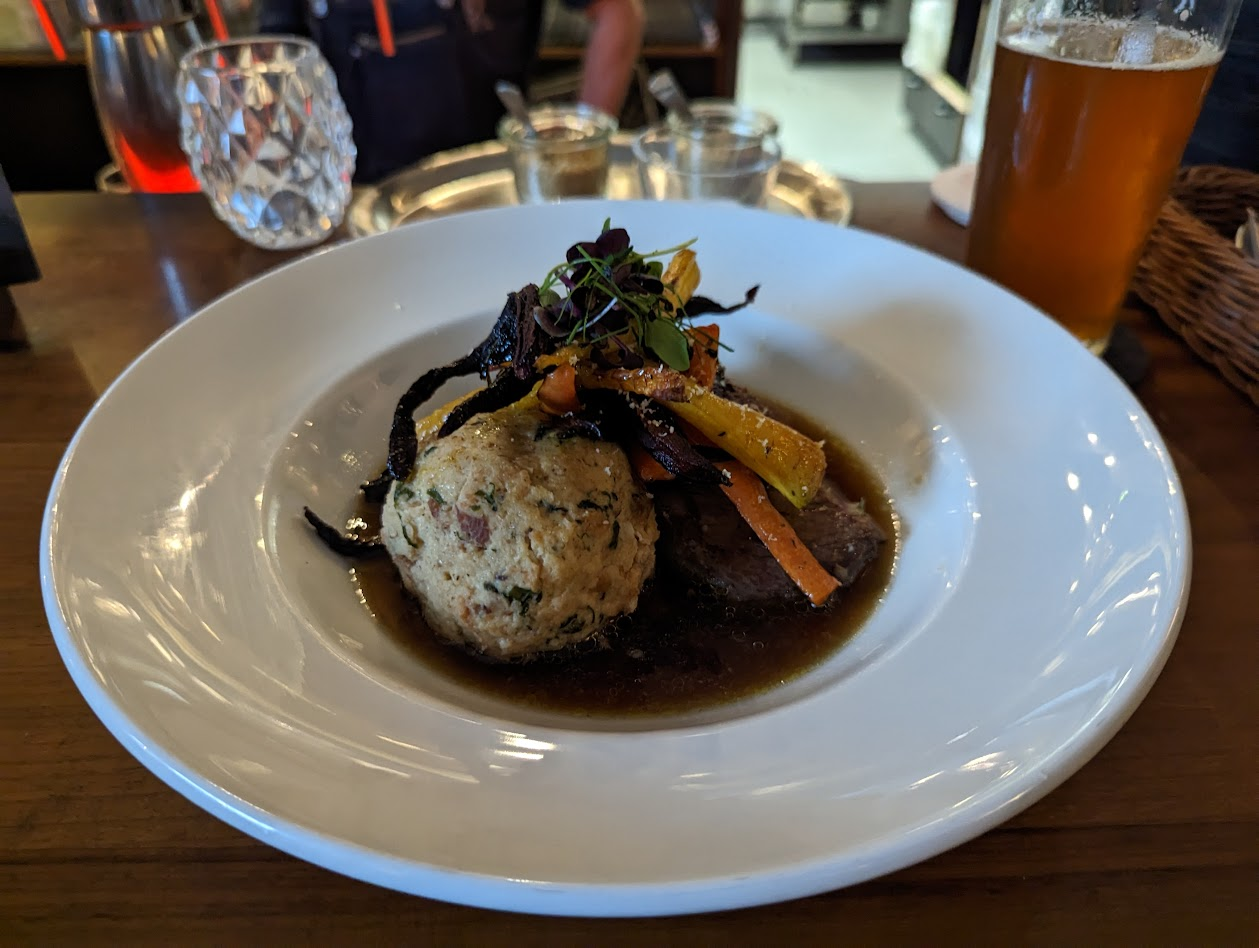 Strolling around Dresden a bit, decided it was time to go back to the Hostel. In the elevator to my room on the sixth floor, there was a young family joining. After a short informal hello, the dad proudly told me they will check for the rooftop bar. That got me curious, so said if it is open we might see each other again. It is open since 19:00 as it turned out, and that was already due for a few hours. Enjoying the view, saw them in the corner, after saying hello, grabbed a Mojito, went outside and enjoyed the view. It got too cold after a while, so went back in, enjoying the atmosphere from the inside.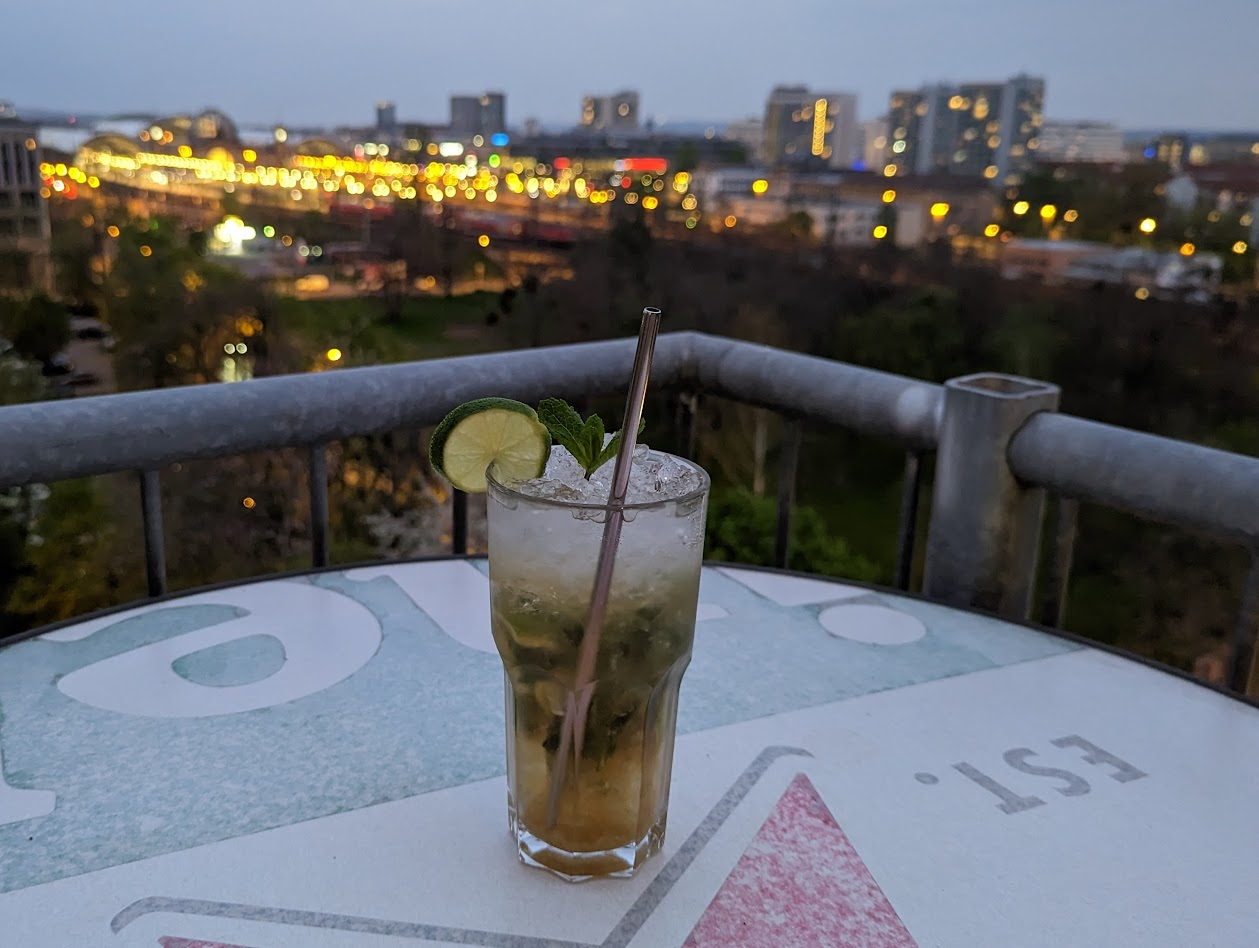 That's basically I wanted to do in Dresden, so tomorrow will be flexible to get to know Zsofia's baby, talk and get back home by train without a hustle.
30.03 – Meeting with Zsofia, little Tilda and getting back home
Checked out smoothly today after waking up right in time. My first stop was the central station, dropping off my backpack, only grabbing a pack of oblates and my day pack with essentials.
With the tram towards Zsofia's place, as she opened the door with the little Tilda on her arm, my heart was really melting. Such a cute and adorable little baby. Getting to know her, a little room tour Zsofia made us coffee, chit-chatted about this and that, about being parents, little children, my trip and much more.
Handing over the oblates, she was delighted with them and also tried some right away. Made me happy, especially since I was uncertain if that was not the right little present at all. Subsequently, got a walk, the little Tilda packed into the stroller. On the way was really fascinated by the stunning view right next to her flat. We talked a bit, chatted until Tilda needed some care. So we split up, me going towards the old town, on a really nice tour Zsofia recommended me as she got home with little Tilda. It was really delightful to meet again and get to know the little rascal.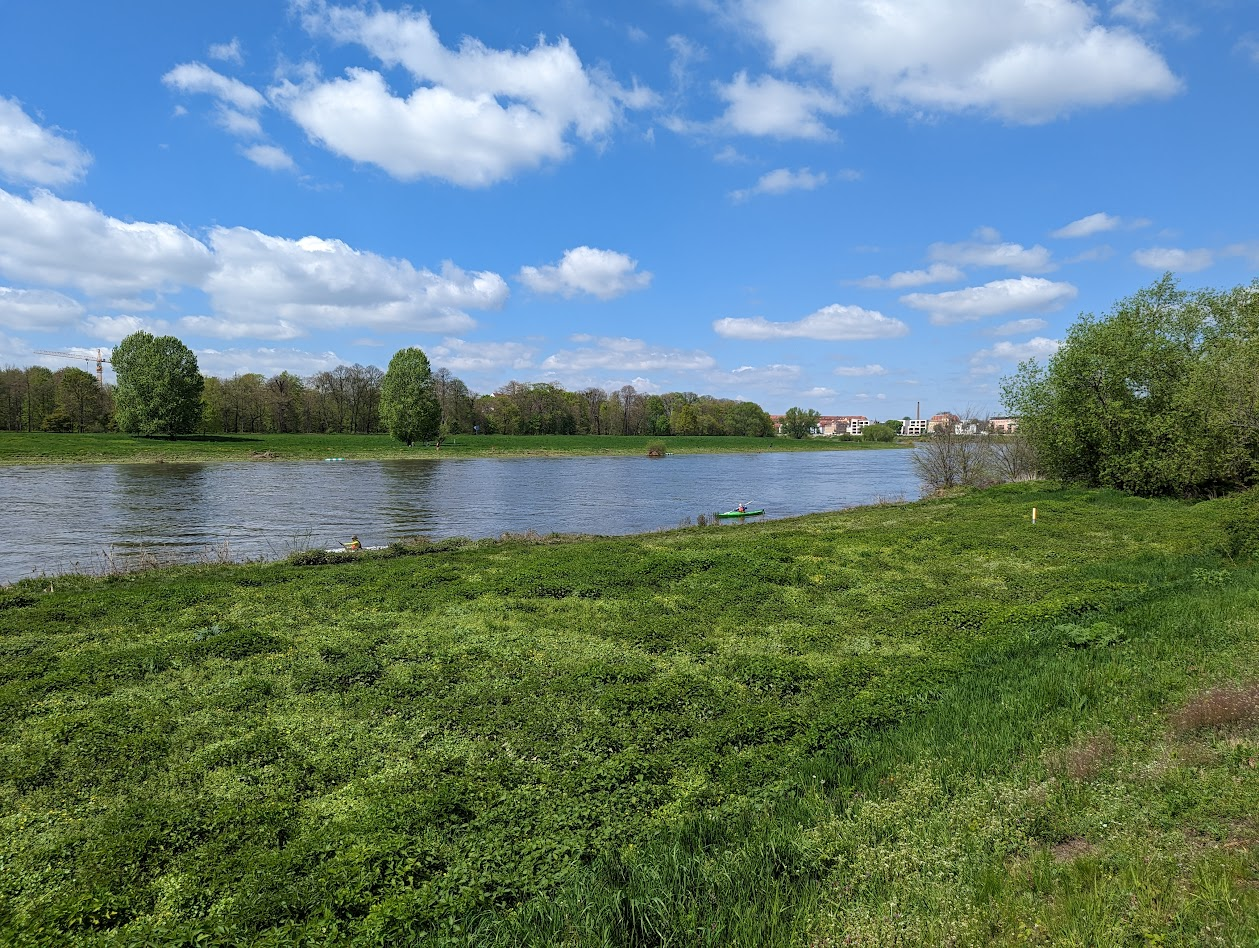 Strolling around a bit, decided it was time to grab something to eat. Stopped by at makamaka, got a big BBQ burger, homemade watermelon ice tea and cheesecake for dessert.
Well-fed, went to the central station, where I only needed to wait roughly 20 minutes until the train already arrived ahead of schedule. Right on time, left towards home. To be honest, I slowly started to realize how crazy and long the trip actually was. But I guess will realize to full extent when I really get back into my daily routine.
At almost midnight came back home, what a weird feeling being home again.
Recap of the last travel week
Prague was really a pleasant surprise and a gem hidden in the Czech Republic for me. Dresden was way nicer than I imagined, simply put, it's a "Cologne in cheaper" for me.
Once I am back at home will motivate myself to write a short summary post for me as a recap, and maybe it is also interesting for you. So stay tuned.
💡
Looking for other posts around the trip? - Check out the tag
EU-Trip 2023